YesWelder's Firstess MP200 is the first multi-process welder to integrate the most common welding processes with a plasma cutter.
As a hobbyist-grade welder, it's going to make a splash in the DIY and entry-level welder markets. It's priced reasonably and offers everything a beginner needs.
Its Kickstarter campaign was a big success. YesWelder has 15 years of experience creating affordable welding equipment, and the MP200 might be their best creation yet.
However, the MP200 is not without limitations and drawbacks. In this article, I take on the pros and cons and explain what users this mulit-process unit best serves.
Overview of the FIRSTESS MP200
The Firstess MP200 was designed as a 5 in 1 multi-process welder with MIG, fluxed-core, DC TIG, Stick, and plasma cutting capabilities. It's aimed at beginners, DIY work, occasional welding enthusiasts, and light welding shop use.
The machine has a beautiful, big, and crisp TFT display. The screen, along with its eye-catching red exterior, make it look far more expensive than it is. It gives off a premium vibe.
The welder comes with everything you need to start using all of its processes. This is an immediate plus because so many "multi" machines can only do one or two processes out of the box.
It's also lightweight, has a durable build, supports dual voltage input, and packs a lot of power under the hood. So, let's see examine the particulars for this interesting offering from Yeswelder…
What's included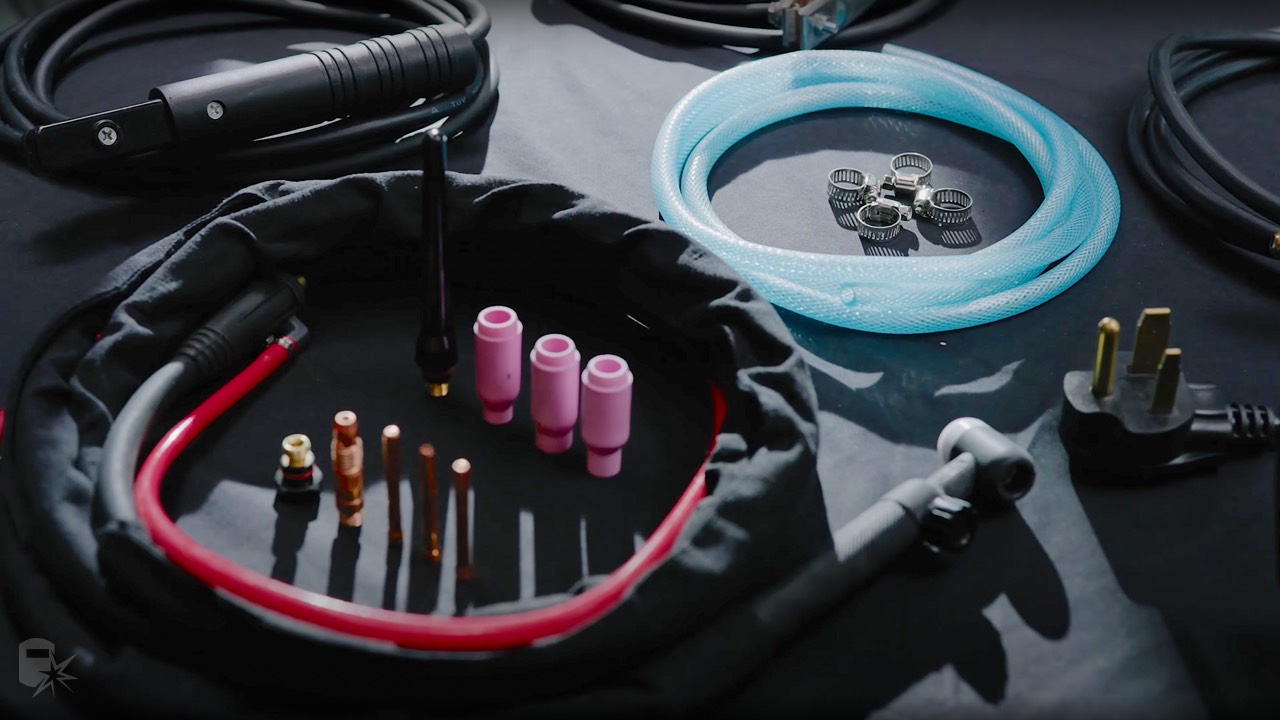 The YesWelder Firstess MP200
10 ft. YW-L150-10E 200A MIG Torch
10 ft.Electrode Holder & Cable
10 ft. Earth Clamp & Cable
8 ft. Gas Hose with 5/8″-18 RH
13 ft. PT31 Cutting Torch
13 ft. WP-17V TIG Torch
Extra .030″ & .035″ contact tip
7 ft. Power cord
0.9 ft. 220V to 110V Power Adapter
Brush/Chipping hammer combo
8 ft. Air Hose
Oil-water separator for plasma process
.030″ & .035″ W-Groove Roller (Flux Core Wire)
.030″ & .035″ V-Groove Roller (Solid Wire)
The package is huge. Honestly, I didn't expect that they would include everything when I first heard about it. I expected they would follow the trend and cut the costs by eliminating things like a TIG torch, W-groove roller, air/gas hoses, or an air filter for the plasma cutter.
However, the gas regulator for the MIG is one thing that was not included.
Getting a regulator when you buy or rent your gas tanks is not a huge deal, but a beginner might forget to do it.
Tech specs
Welder Type
MIG, Flux Core, TIG, Stick, Plasma Cutter
Input Voltage
110 V / 220 V
Output Current Type
DC
Technology
Inverter IGBT
Amperage Output
110 V: 20-160A / 20-30A (Cutting)
220 V: 20-200A / 20-40A (Cutting)
Duty Cycle
110V: 60%@160A / Cut 60%@30A
220V: 60%@200A / Cut 60%@40A
Weldable Materials
Mild steel, stainless steel
Clamp Cable Length
10 feet
Ground Cable Length
10 feet
TIG torch cable length
13 feet
MIG gun cable length
10 feet
Plasma torch cable length
13 feet
Weldable Mild Steel Thickness (Single-pass)
MIG: up to 1/4 in.
TIG: up to 3/32 in.
Stick: up to 3/16 in.
Cutting Mild Steel Thickness
Max clean cut at 1/4 in.
Severance at 1/2 in.
Air compressor for plasma
9-12CFM @ 78 PSI
Wire Drive Rolls
.030″ & .035″ W-Groove Roller
.030″ & .035″ V-Groove Roller
Wire Feed Settings
Synergic (auto)
Wire Feed Speed ("WFS")
2.2 yd/min – 16.4 yd/min
Wire Spool Sizes
D100/D200 rolls (<10lbs) of MIG wire
Spool Gun Ready
❌
Protection Class
IP21S
Welder Dimensions (H x W x L)
15.7in. x 11.6in. x 20.9in.
Weight
28.55lb
Warranty
1 year
Weld Guru Rating
★★★★★
Price
See Best Price
Yeswelder
Pros
Most versatile multi-process welder you can get
Excellent performance with MIG, fluxed-core, and plasma cutting
Good TIG and stick performance considering the price
Everything included in the package
Infinite control knobs
Beautiful, sharp display
Advanced settings allow fine-tuning of your welding/cutting experience
Premium build and finish quality
Full metal drive system
A lot of welding and cutting power
High duty cycle
Compact size and lightweight
Automatic and manual controls
Easy to set up and get to work
Ability to save up to 10 settings for each welding process
Dual voltage input
A stable arc with most applications
Dual-fan heat dissipation design
Handles 6010 electrodes well
Perfect handling of 7018 electrode
Cons
No AC TIG, no HF start, lift TIG only
6010 electrode's arc tends to cut out if you attempt to long arc it
Plasma cutter doesn't work as good at 110v as with 220v input
Wire feed speed can't be manually adjusted
Arc noise can get inconsistent at times
What To Know Before Buying The FIRSTESS MP200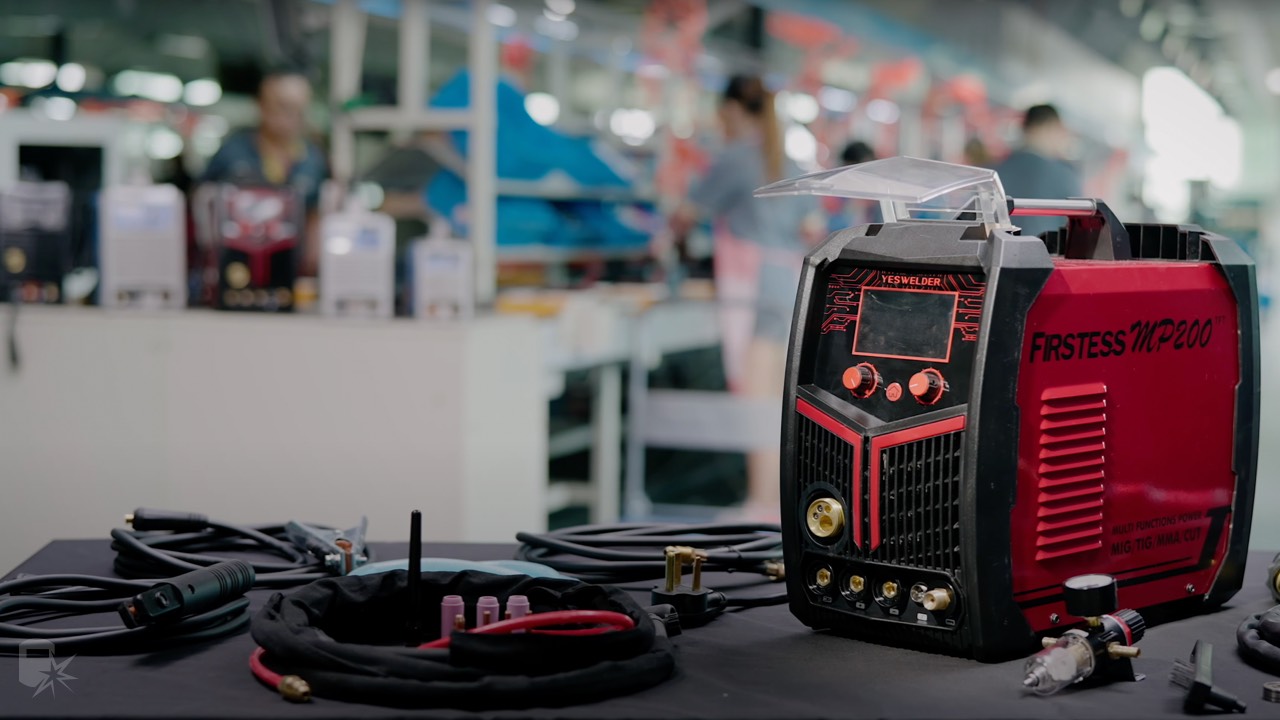 While this machine has its limitations, my overall opinion is that the MP200 is an absolute winner in terms of quality and price ratio.
However, a great ratio between the two won't do you any good if you need some feature this machine doesn't have or if some of its limitations hamper your work.
So, let's go in-depth when it comes to MP200's downsides.
Inability to Weld Aluminum
The MP200 has no support for aluminum. It can't MIG via a spool gun, and it doesn't support AC TIG welding.
Many people wanted this welder to include AC TIG. Unfortunately, that's unrealistic at this price point.
But, I wish YesWelder made it spool gun compatible or designed the MIG lead's liner to work with aluminum. Just like they did with the MIG PRO 250A that welds aluminum natively.
So, if you're considering a welder for aluminum, the MP200 is a no-go. There is no workaround to do aluminum with it.
Not for Professional Use
A lot of hype was created around this machine, and for good reason. It's a beast among DIY home hobbyist welders. However, some people are getting too excited.
Don't get this machine if you plan on using it every day. The MP200 won't handle industrial use, and you're likely to get yourself in a situation when you need some advanced feature that it doesn't have.
It's unfair to use this welder for a heavy-duty workload and be disappointed. It wasn't designed for that and doesn't perform like ESAB 205 that costs three times as much. This is not a con per se. It's just me helping you set realistic expectations.
No Track Record
This is the first machine of its kind on the marketplace. By making an affordable multi-process welder that includes a plasma cutter, YesWelder created something awesome.
However, as with any new model, it might take some polishing to make it shine as bright as its welding arc. I am sure that if issues surface, YesWelder will fix them in the next iterations.
We haven't seen a 5-in-1 welder before so we don't know the long-term issues that users might experience. Only time will tell.
For example, adding a plasma cutter means that the unit will spend more time running compared to users who use a separate plasma cutter. Long-term, this means more time under load than with competing machines on the market.
Stick Arc Struggles at Times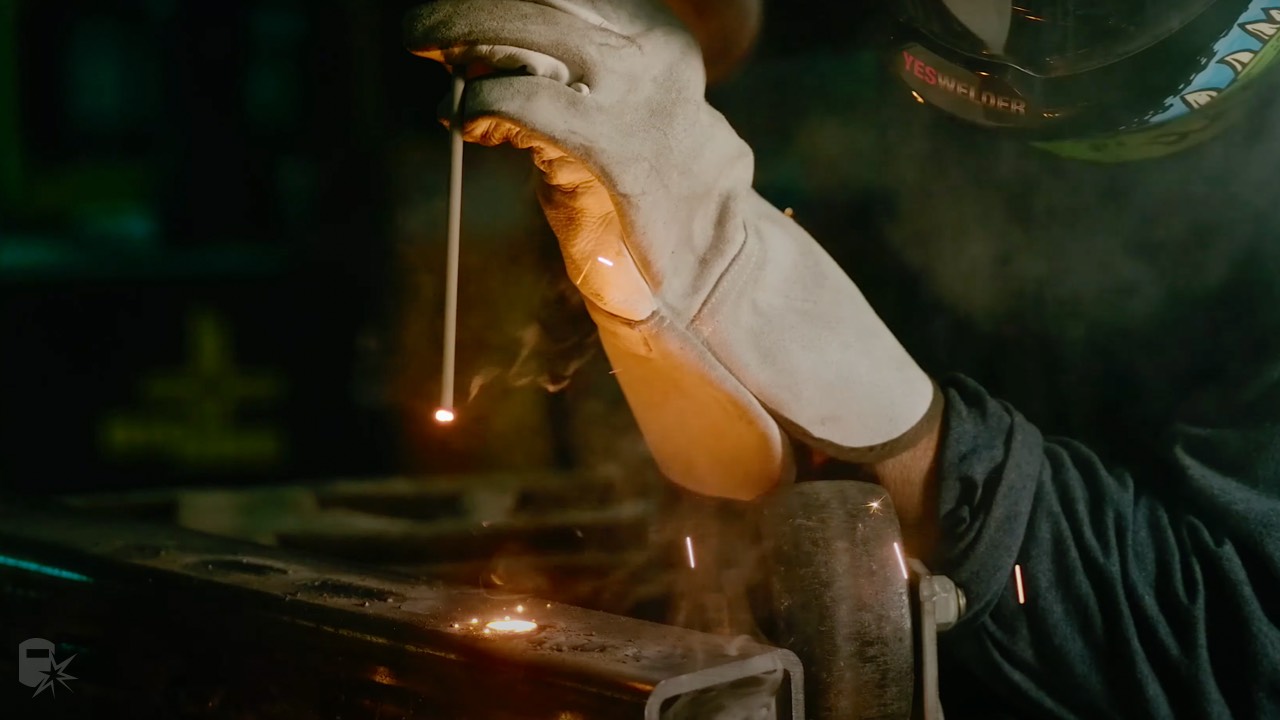 Every inverter-based welder will struggle with 6010 electrodes. But, honestly, at this price range, it handles 6010 quite well.
However, if you need to do 6010s all the time to fill up open root welds, you should probably look elsewhere. I don't think that the MP200 will do well with pipe welding, for example.
For stick welding, the arc is pretty good. However, the start may get cold at times, and the arc will cut out if you attempt to long arc it too soon. So you'll have to get the arc warm first before pulling the electrode away from the puddle and elongating the arc.
If you use professional-grade welders from Miller, for example, the arc will be hot immediately, so there is a difference there. Still, for this price, the MP200 does just fine.
Minor Quality Issues
I will speak of the build quality in a positive sense further below in the article. But let me lay out some minor quality issues I noticed.
First, the transparent control panel cover can pop off quite easily. If you are not careful, you might lose it or break it. And considering that it's supposed to protect your screen, you should be careful with it.
The second issue I see is that the TIG torch lead is 3ft. longer than the MIG torch. This doesn't really make much sense because the MIG process will produce more sparks, and you should keep your machine as far away from them as you can. The 10 ft. on the MIG is good enough for hobbyists, but I wish they reversed the lead lengths between these two.
All Your Eggs in One Basket
If you are a beginner, you should know that getting a multi-process welder can render your entire welding operation useless if only one element inside the machine fails.
While YesWelder is reliable, any machine is prone to malfunctioning. If this happens at the worst possible time, you will not be able to work.
On the other hand, if you get yourself multiple single process machines, and one of them dies, you will still be able to work. For example, if your MIG machine breaks, you can still do some stick welding if that one works.
Top Features That Make This Model Great
Alright, with its shortcomings out of the way, let's talk about the MP200's strongest points.
Let me preface this by saying that YesWelder cuts out the middleman. They design, manufacture, and sell the machines themselves. This is one reason why their welding equipment is well made and costs significantly less than their competitors.
This is important to keep in mind. Otherwise, many people would think that it's too good to be true. It is as good as it sounds, BUT you must understand that their equipment is mainly geared towards DIY hobbyists and welding beginners.
Adjustability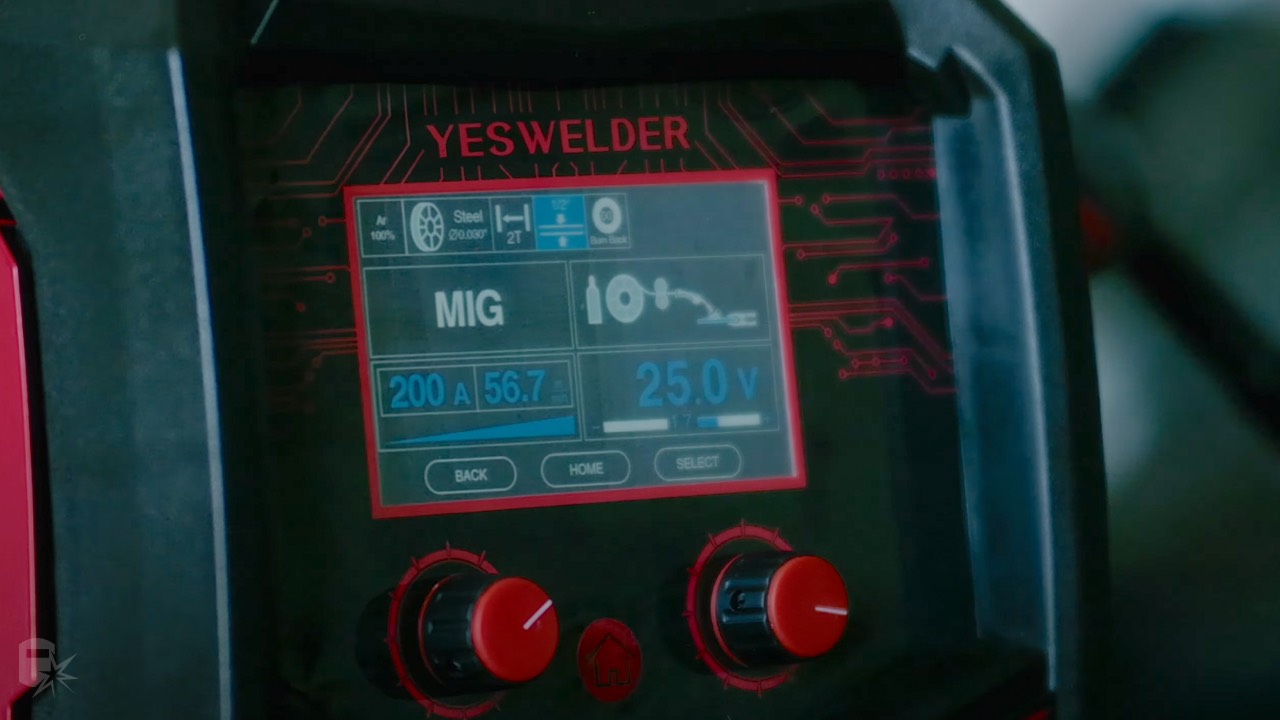 The MP200 supports many advanced settings for its five welding processes.
You can set the type of gas you are using for MIG, the type of wire, 2T or 4T mode, burn back and modify voltage manually.
By selecting the material thickness, the machine determines the amp output. Or you can adjust it manually.
The plasma cutting allows you to modify pre and post-flow air time. The stick mode lets you specify the type and size of the electrode, but the TIG is quite limited with settings.
Modifying the settings is straightforward. The two infinitely adjustable front knobs can either be clicked or rotated. Everything happens on an intuitive display, resulting in pre-welding setup times in less than 30 seconds long.
Furthermore, you can save up to 10 different presets for each welding process. That way, you can significantly shorten the time needed for adjusting the machine when you repeat a weld often and want consistent results.
Screen Quality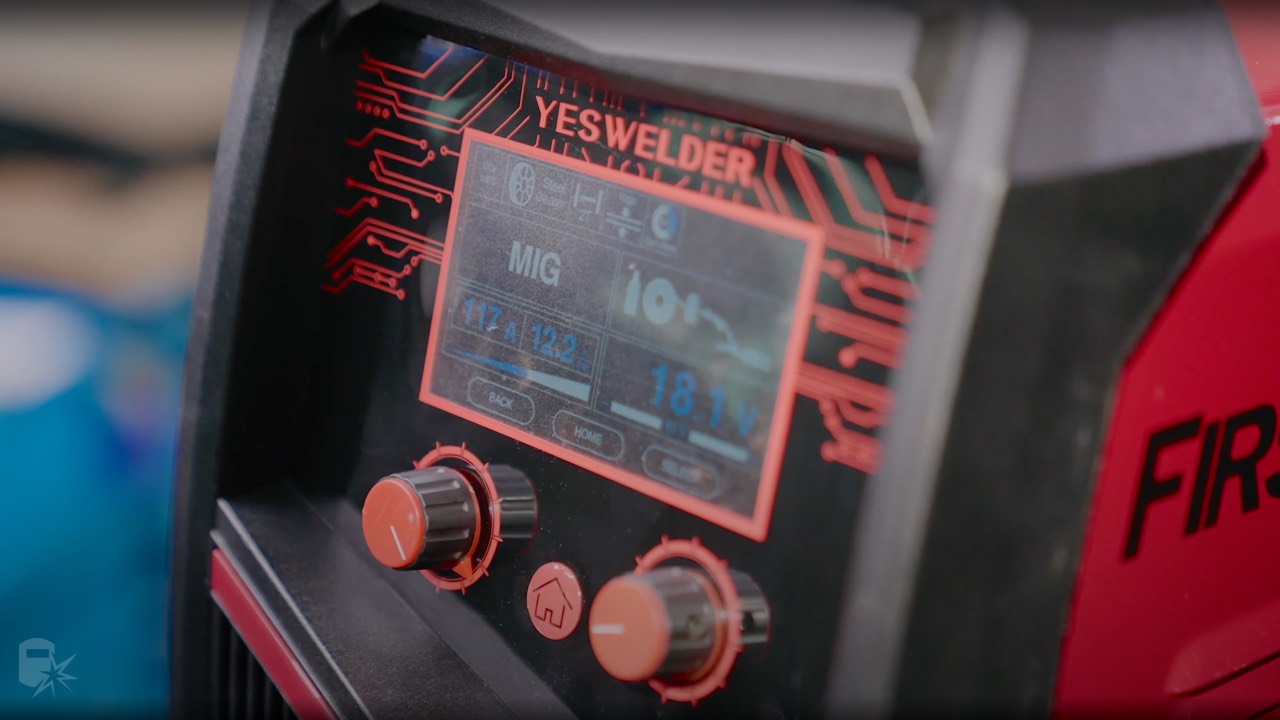 Honestly, this is the best screen I've seen in this price range. Screens of this quality with adjustment menus are reserved for machines twice the price.
The screen has a beautiful YesWelder animation upon start-up. It feels premium; you can bet that your friends will think it's double its price if you ask them to guess.
The pixel density is high enough to make even the smallest fonts easy to read and look crisp. Many welders don't even have displays at this price, even if they are made for professional work.
The MP200 can easily be compared to Miller Multimatic 220 multiprocess welder in terms of screen quality. They both look and work great. However, this MP200 has a bigger screen.
Arc Quality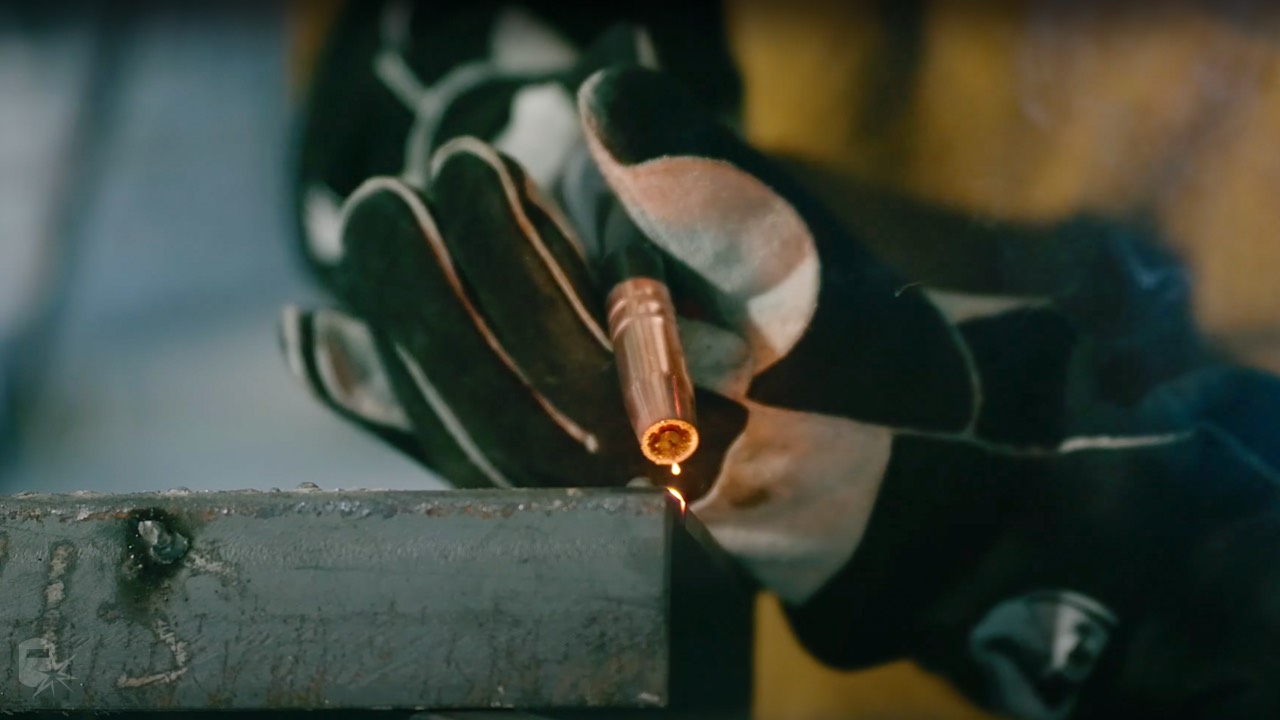 Apart from some issues with the 6010s I outlined before, the MP200 has a beautiful arc. If I were to order its processes by arc quality, I'd say plasma cutter, MIG, TIG, and stick.
The plasma cutter that comes with this unit is excellent Many plasma cutters on the market won't cut as fast or as clean. Multiple people that had these beta units were primarily impressed with the plasma cutter's abilities.
MIG is clean and has a beautiful sound. Plus, the arc behaves well, and overall, this is more than enough for a beginner.
TIG arc is quiet, stable, clean, and sparkless. This makes it good for learning the TIG process.
However, the inability to perform a low amp start will distort thin metal, discolor it, and make a lower quality TIG weld. So, don't expect crazy good results with TIG since you do not you have HF, AC, balance control, squarewave, low amp start, and similar professional capabilities.
Stick arc quality is excellent with 7018s, your typical beginner rod. 6011 will do great, while the 6010s will struggle if doing open root welding. I do wish the stick welding mode had more heat output when striking an arc, though.
YesWelder should consider increasing this unit's open-circuit voltage ("OCV") to increase the electrical push from the stick to the metal piece. But, I also understand this might interfere with the other welding processes.
The electrical schematics of IGBT inverters are complex, and I can't imagine the work it took to put everything together with a plasma cutter included. However, if they found a way to increase OCV for stick-only, the stick welding arc start would be better.
Build Quality
The YesWelder MP200 has an excellent build quality for this price range. The plastics are not brittle like with most machines at lower prices. The metal casing looks durable, and they didn't cheap out on the paint job.
While the two knobs on the front are well made, the button in the middle looks cheap.
But the lead connectors are very well made. They appear durable, professionally cut, and you won't have any issues fitting the leads in their sockets.
The heat dissipation is also well designed. This machine comes with a dual-fan system for expelling heat and cooling down the unit. You are unlikely to find that in this price range. Welding machines typically malfunction due to heat-related wear. So, a good cooling system goes a long way in keeping your welder working for a long time.
When it comes to the MIG, TIG, plasma torches, and stick electrode holder, I can say that they are aligned with the price. Nothing more, nothing less.
So, while you are getting your money's worth, don't expect to get torches reserved for a higher price point. I must point this out because the machine quality is superior for a unit priced so low and I don't want you to get the same impression for the torches.
Muti-Process Alternatives
While there are no multi-process welders that include the four main welding processes and a plasma cutter, there are alternatives if you don't need the ability to cut.
In a similar price range, I'd like to introduce you to the Weldpro 200 and the Eastwood Elite MP200i.
The Weldpro 200 offers spool gun support so you can weld aluminum with it. While it has a lower duty cycle, it does support a few features the MP200 doesn't, like MIG inductance control. That useful feature modifies the welding bead height and the spatter amount.
A bit heavier than YesWelder MP200, the Eastwood Elite MP200i has a lower duty cycle and uses two basic digital displays. However, Eastwood offers an even higher build quality (including the torches), capable of welding thicker material, accepts a spool gun, has a built-in spot welder, and comes with a 3 year warranty period.
The Eastwood Elite MP200i may be the better choice if you don't need a plasma cutter. It's an excellent welder, although it's not as innovative as the Firstess MP200.
YesWelder
Firstess MP200
Eastwood
MP200i
Weldpro
200
MIG & Flux Core
✅
✅
✅
DC Lift TIG
✅
✅
✅
Stick
✅
✅
✅
Plasma Cutter
✅
❌
❌
Duty Cycle
Weld: 60% @ 200A
Cut: 60% @ 40A
20% @ 200A
30% @ 200A
Welding thickness
MIG: 1/4in.
TIG: 3/32in.
Stick: 3/16in.
MIG: 3/8in.
TIG: 3/8in.
Stick: 3/8in.
MIG: 1/5in.
TIG: 1/4in.
Stick: 1/3in.
Spool gun support
❌
✅
✅
Screen type
Digital LCD
Digital only
Digital LCD
Weight
29 lbs
34 lbs
30 lbs
Price
$$$
See Best Price
Yeswelder
$$$
See Best Price
Eastwood
$$$$
Check Latest Price
Amazon
Claim 10% Off Your MP200
YesWelder has offered Weld Guru readers a generous 10% sitewide on any of their products. Meaning you can get about $100 off the FIRSTESS MP200!
To claim this offer, go to the MP200 machine here, then enter the promo code: WELDGURU10 at the checkout.
Final Verdict
The FirstessMP200 is a multi-process welder aimed at beginners/hobbyists and is one of the best options under $1000. It's an innovative machine bringing a first-ever 5 in1 experience. You just about everything a regular home garage would need for cutting and welding.
However, if you need a more heavy-duty machine, the Eastwood MP200i is a better choice. But, you'll have to get a separate plasma cutter once you get tired of cutting with Oxy.
I love what YesWelder did with the Firstess MP200. They firmly positioned themselves as innovators in the DIY welder category. It's no wonder their Kickstarter campaign was a major success. I am certain this machine will be their next bestseller.
If you have any reviews to add to the MP200 please let us know in the comments below.