When you need to weld away from any power source – you need an engine-driven welder generator.
These amazing machines provide uninterrupted power with high duty cycles for quality welds.
But running several different processes can carry a serious price tag.
Make sure you get all the welding power you need without paying more than you should.
With many options online, we've narrowed them down and listed some of the best engine-driven welder generators available.
---
A Quick Comparison
Product
Image
Product
Details

Lincoln Eagle 10,000 Plus

Super versatile & rugged

Processes: Stick, TIG, MIG, Flux-Cored, Gouging

Provides 9000 continuous watts

HOBART Champion Elite

Heavy-duty all-in-one welder/generator

Lightweight and compact design

9500 continuous watts

DuroStar DS4000WGE

Great budget option

Can weld up to 1/2-inch thick steel plate

For stick welding only

HOBART Champion 145

One of the most popular models available

Great value for the money

Only designed for Stick, can be adapted for TIG

Klutch 7500K

Stick welds up to 3/8 in. steel

6,000 watts continuous power can run welder & power tools

Excellent alternative to Hobart Champion 145

Miller Bobcat 225

Multiprocess: MIG, flux-cored, AC/DC stick & DC TIG

Remote start/stop of the engine

9,500 continuous watts

Miller Trail Blazer 325

325 amps for welding, with a 100% duty cycle

Quiet Kohler engine with 10,500 watts continuous power

Remote control options for both generator and welding settings

Lincoln Ranger 250 GXT

Multiprocess: MIG, flux-cored, stick & AC/DC TIG

Engine supplies 10,000 watts continuous power

100% duty cycle @ 250 amps
Best Engine Driven Welder Generator
Here's a list of some of the best engine driven welder generators on the market:
1. Lincoln Electric Eagle 10,000 Plus Engine Driven Welder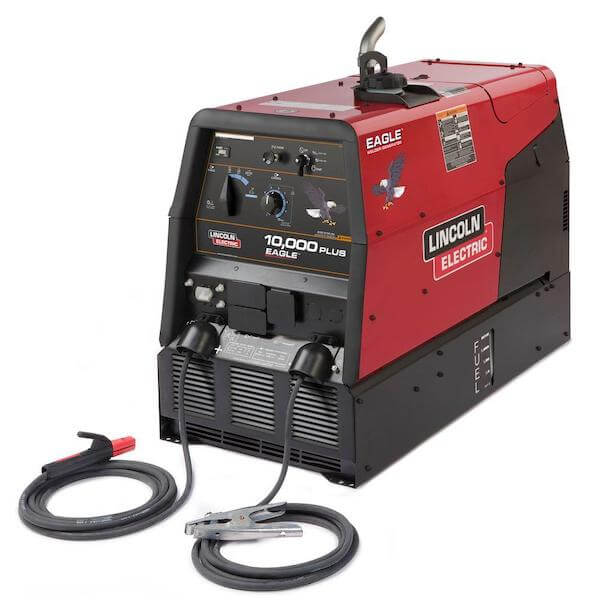 20-foot electrode clamp
23 HP Kohler drive engine
10,500 watts AC max power
15-foot ground cable
Totally enclosed
Weighs 514 lbs
Pros
Stick, TIG, MIG, Flux-Core, Gouging
50-225 amps DC output
Powder coated steel case
76 decibel sound level
Welds up to 1/2-inch steel
Cons
DC welder only
This one is pricey
Overview
The Eagle Plus 10,000 by Lincoln Electric is one of the industry's most commonly seen engine welders. This generator welder provides 9000 continuous watts for welding or power generation and a peak power of 10,500 AC watts for device starts. It's an unusually high-quality unit, fully powder-coated with a completely enclosed engine compartment. The doors are removable for servicing the 23-horsepower Kohler engine and the generator.
The Lincoln Eagle Plus runs multiple processes, including 225 amp DC stick, 200 amp DC TIG, MIG, and flux core wire feed welding from 50 amps to 225 amps. It's also able to do gouging and plasma cutting on up to 3/8-inch thickness of plate steel. Running below its max-rated current output can also run other power tools and small welders off its generator up to the maximum 9000 running watts AC power.
Lincoln Electric is well-known for rugged, well-built machines made to last for decades. The Eagle Plus engine welder is often seen mounted to truck beds for use by piping and steel crews. Lincoln provides a 20-foot electrode connection and a 15-foot work clamp.
---
2. HOBART Champion Elite 225 Engine Driven Welder Generator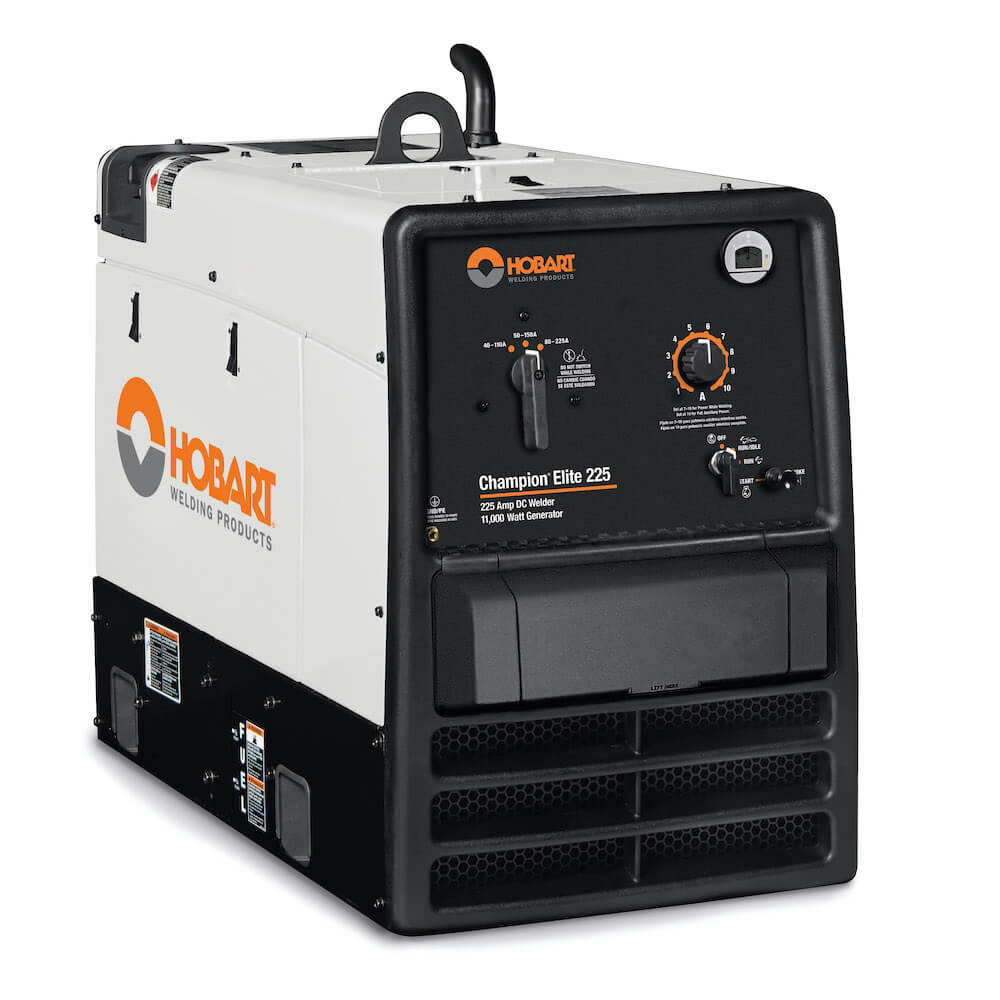 AC/DC stick arc welder
23 HP Kohler Engine
11,000 watts peak power
75 decibels noise rating
40-225 amp current output
100% duty cycle at 225 amps
Weighs 490 lbs.
Pros
9500 watts continuous power
12 gallon fuel tank
Twin cylinder engine
Idle control feature to save fuel
Includes an hours meter
Cons
Doesn't have wheels or bumper frame
No welding leads are included
Stick welding only
Overview
The Hobart Champion Elite 225 is a 23 HP engine-driven welder with an 11,000-watt peak rating and 9500 continuous watts. This one is a lot of machine and Hobart is known for ruggedly built industrial quality machines.
The Champion Elite is aimed squarely at professional welders, with an electric starter and a 100 percent duty cycle at 225 amps. You can start this machine up, strike an arc, and weld 1/2-inch steel until it runs out of gas. The 40 amp lower end will let you get down to thin 1/8-inch plate. Unfortunately, the Hobart Champion elite doesn't ship with welding cables, doesn't have wheels, and isn't available in California.
It's got an idle control feature, which lets the machine throttle down the engine speed when demand drops to save fuel consumption and wear on the machine itself. The Hobart Champion Elite offers 4 20 amp 120-volt ground fault circuit interrupter plugins, one dual voltage 120/240 volt 50 amp outlet, and another 240-volt outlet rated at 50 amps. Hobart offers a 5-year warranty on the Champion Elite, and Kohler warrants the engine separately.
---
3. DuroStar DS4000WGE Generator Welding Machine
3300 running watts, 4000 peak
16 horsepower engine
Electric starter
7 gallon fuel tank
50-210 amp stick welder
Pros
Runs for 8 hours at 50 percent
Pneumatic tires on steel wheels
Power surge protection
Fairly quiet at 69 dB
3 120 volt outlets and 12 volt charger
Cons
Poor quality fuel petcock can leak
Complaints of poor customer service
DC stick only
Overview
The DuroStar DS4000WGE Generator Welder is produced by DuroMax Power Systems of Ontario, California. A 16-horsepower gasoline engine powers this machine with an electric start. This machine is equipped with a large 7-gallon fuel tank, rated at 8 hours of operation at 50 percent capacity. The DuroStar DSD4000WGE offers a generator rated at 3300 watts running capacity, 4000-watt peak, 3 separate 120-volt outlets, and a 12-volt battery charger.
This welding generator is a DC stick arc welder rated from 50-210 amps current output. That's good to weld from 1/8-inch thin steel plate up to 1/2-inch thick steel plate. Users are very pleased with how quiet this generator welder runs, with a noise rating of 69 dB. Many users have complained that the fuel petcock doesn't always close completely, causing the carburetor to flood or a gas smell from a seeping leak. Another similar issue is that the overflow on the gas tank vents back to the air cleaner and can cause flooding if the tank is too full or on a very hot day out.
---
4. HOBART Champion 145 Engine Driven Welder Generator - Best Stick Welding Option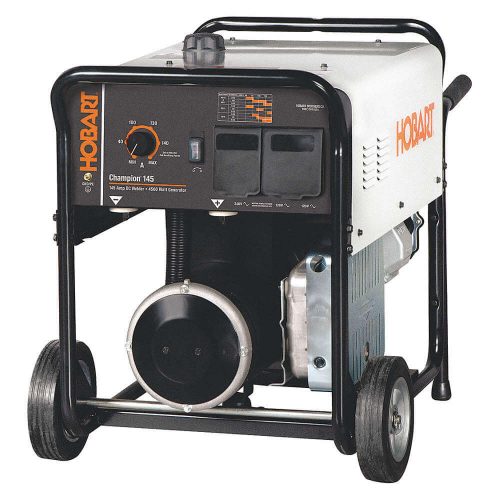 4500 watts starting power
4000 watts continuous
20-145 amp stick welder
Four 120 volt GFCI outlets
20 amp 240 volt outlet
30% duty cycle @ 130 Amps
Pros
Big 6.25 gallon gas tank
Handles steel and iron up to 1/4-inch
14.5 lb-ft of torque; no straining
Can be adapted for TIG
Attach a spool gun for flux core
Cons
Doesn't include welding leads
Wheels feel cheap quality
Overview
The HOBART Champion 145 is a classic engine-driven welder offering 4000 watts of continuous power and a 4500-watt peak for starting demands. It has built-in wheels and handles, making it a portable welder generator. This makes it easier to move around the site and position for access to your work. Owners praise the easy starting and quiet operation of the 10-horsepower Briggs and Stratton engine.
Hobart equipped the Champion 145 with a big 6.25-gallon fuel tank, giving it hours of uninterrupted operation. There's nothing more irritating when you're in the groove than having to stop everything and shut down to take a refueling break.
The owners didn't like the fact that this engine welder comes without any welding leads and the poor quality of the wheels mounted on the machine (full review here). While most users will probably load it into a truck and move it around in storage, you may want actually to take advantage of the mobility of the welder, so it really should have better wheels on it.
The Hobart Champion 145 is extremely durable, made in the USA, and comes with a 3-year warranty at a great price.
---
5. Klutch 7500K Arc Welder - Best Economical
Processes: Stick
Generator power: 6,000 watts
Fuel tank capacity: 5 gallons
Engine size: Kohler 429 cc
Welding power: 170 amps
Duty cycle: 30% @ 170 amps
Weight: 230 lbs.
Pros
Generator puts out enough continuous power to weld and run handheld power tools simultaneously
Powerful enough to stick weld up to 3/8 inch steel
Light enough to move around with included running gear
Economical, budget-friendly choice
Fuel tank provides up to 8 hours run time
Price includes a 3-year limited warranty (2-year limited warranty on Kohler engine) to cover any issues with the unit
Cons
30% @ 170 amps duty cycle will be to low for some users
Limited to DC stick welding process
Recoil pull start, no electric starter
Overview
The Klutch 7500K Arc Welder/Generator uses a 429CC Kohler gas engine to spin the generator, and it puts out a respectable 6,000 watts of continuous power. That's enough power to weld up to 3/8 inch steel and run your handheld power tools. This makes it an excellent alternative to the Hobart Champion 145, providing better value for money.
Engine-driven welders tend to weigh over 400 lbs., even the small ones. But the Klutch 7500K weighs just 230 lbs.
That makes this unit your choice if you do need to move the welder often as you work. Plus, the included running gear lets you roll the machine around like a wheelbarrow.
The negatives for some users are that the Klutch 7500K only welds using a DC stick process, and its duty cycle is 30% at the maximum amperage. But for those who need to do things like weld equipment out in the middle of nowhere, this is plenty to get those remote jobs done.
On the positive side, the Klutch 7500K can arc weld stainless and mild steel, hard surfacing, aluminum, and cast iron. This versatility to remotely weld various types of stock combined with an attractive price tag will appeal to many.
As a bonus, Klutch manufactured this affordable engine-driven welder rugged enough to handle the rigors of welding in unusual places. Plus, they back it with a  3-year limited warranty (2-year limited warranty on the engine).
---
6. Miller Bobcat 225 Multi Process Engine Driven Welder
Processes: Stick, MIG, Flux-cored, DC TIG
Generator power: 9,500 watts
Fuel tank capacity: 12 gallons
Engine size: Kohler 725 cc
Welding power: 225 amps
Duty cycle: 100% @ 225 amps
Weight: 485 lbs.
Pros
Remote starting and stopping of generator engine
Twin-cylinder 725 cc Kohler engine puts out 23.5 HP, 9,500 watts of continuous power for heavy-duty work
Reduced noise, 73.5 dB
Smaller and lighter than some competing engine driven welders, makes it easier to mount and haul
GFCI model available if shocks are a concern with the required work
Cons
Best at stick welding, though other processes are possible
AC TIG welding of aluminum is only possible for "non-critical" welds
Doesn't include welding leads
Weighs 485 lbs., need a trailer or truck
Expensive after adding the optional welding leads and accessories
Overview
The Miller Bobcat 225 is geared mainly as a stand-alone generator or an AC/DC stick and DC TIG welder. You can AC TIG, but Miller states for "non-critical" applications only. If you need to TIG weld aluminum, this may not be your best choice.
With the right accessories, you can also MIG or flux-cored wire weld. However, welding thin stock is not its forte.
This unit includes a handy remote that lets you turn the twin-cylinder gas engine on or off from where you are working. That saves gas and eliminates unnecessary noise when the generator is not needed.
The generator puts out 9,500 watts of continuous power. As a stand-alone generator that can run your power tools or a compressor, blower, etc. With 225 amps of welding power, you can also do some serious welding. Plus, a 100% duty cycle keeps you welding instead of waiting.
The unit does not come with any leads or accessories; you must buy those independently, depending on your needs. But you do have the option to TIG, MIG, stick, or flux-core weld.
A GFCI version of the Bobcat 225 is also offered by Miller for those worried about or are at increased risk of electrical shock.
As for portability, this welder/generator requires a trailer or truck to transport it like other welders in this class. Miller also states they designed it for farm/ranch, maintenance and repair operations, and work trucks, and the included features/benefits certainly back this claim up.
---
7. Miller Trail Blazer 325 Gas Engine Driven Welder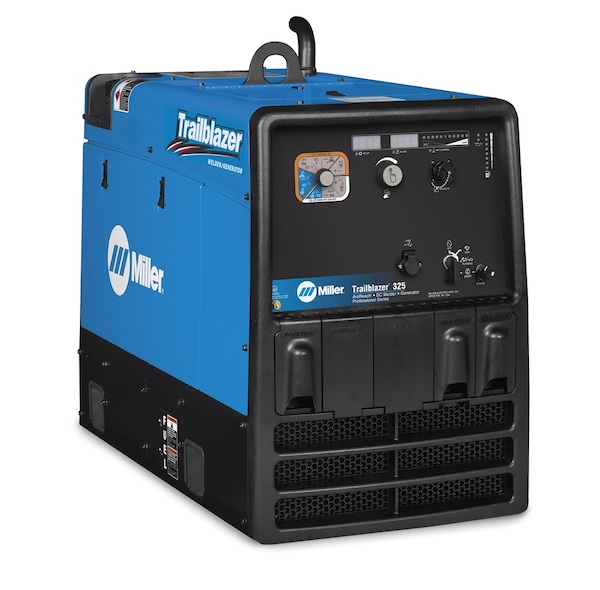 Processes: Stick, MIG, Flux-cored, DC TIG, Air carbon arc cutting/gouging
Generator power: 10,500 watts
Fuel tank capacity: 12 gallons
Engine size: 725 cc
Welding power: Kohler 350 amps
Duty cycle: 100% @ 350 amps
Weight: 460 lbs.
Pros
Versatile, includes many welding processes and settings for various work situations
RMD mode for flat, clean pipe welds
Air carbon arc cutting up to 1/4 inch steel without a separate plasma cutter
AutoSpeed matches the generator's RPM to the workload, saves gas
Electronic Fuel Injection ("EFI") option available increases efficiency and makes for easy starts, even in bad weather
Liquid Propane ("LP") engine option available for those who prefer or have better access to natural gas
ArcReach lets you change the welder settings remotely when using an optional ArcReach feeder or remote
Users like the safer, low noise levels
Cons
No AC TIG welding for those who weld aluminum work
Doesn't include welding leads
Weighs 460 lbs. and requires a trailer or truck to transport
Expensive after adding the needed accessories
Overview
The Miller TrailBlazer 325 brings lots of power and many welding processes all in one machine. But there is no AC TIG. However, this welder accepts a spool gun if you need to weld aluminum.
The Trailblazer 325 also comes with a couple of remote options to control the generator and the welding settings. Minimal running back and forth to the welder/generator keeps you working.
Plus, you can air carbon arc cut or gouge with this unit. Some might use a separate plasma cutter plugged into the generator. But this machine gives you a "built-in" cutting method that may eliminate the need to carry around a separate unit.
An EFI engine option offers better fuel efficiency as well as smoother starts, even in adverse weather. You can also get an LP engine if that is your fuel of preference.
The welder puts out up to 325 amps of power and the generator pumps out 10,500 watts of continuous juice. That is enough for many professional applications, including fabrication, maintenance, repair, structural steelwork, sheet metal, and pipework.
For pipework that needs clean, flat welds, Miller also includes their regulated metal deposition ("RMD") mode. If you do a lot of pipe welds, the Trailblazer 325 may be a good choice.
After adding leads and other accessories, the Trailblazer 325 is at the high end of the price scale. But as already noted, certain included features will appeal to some and they may be willing to pay extra to get them.
---
8. Lincoln Electric Ranger 250 GXT - Best AC/DC TIG and MIG Engine Welder
Processes: Stick, MIG, Flux-cored, AC/DC TIG
Generator power: 10,000 watts
Fuel tank capacity: 12 gallons
Engine size: Kohler 624 cc
Welding power: 250 amps
Duty cycle: 100% @ 250 amps
Weight: 602 lbs.
Pros
50 - 250 amp output with a 100% duty cycle handles various welding tasks
TIG using a foot pedal or finger trigger for fine control
Large engine supplies ample continuous power to run air compressors and blowers
Generator can run a plasma cutter for when you need to cut stock
AC & DC stick welding lets you fine-tune depending on the weld
Electric start eliminates pesky pull starts
Big gas tank minimizes refills
Electric fuel gauge on the control panel provides an easy visual check
Cons
Doesn't include welding leads
Weights 602 lbs. and need trailer or truck to move around
Overview
The Lincoln Electric Ranger 250 GXT Multi-Process Welder/Generator packages all the common welding processes in one machine. It can also put out up to 250 amps of welding power with a 100% duty cycle.
Like most welders in this class, you customize the unit with accessories bought separately. You can add a foot pedal or finger trigger to take your TIG welding to the next level.
Speaking of TIG welding, the 250 GXT can also AC TIG. If aluminum is a metal you must work with in places with no electrical outlets, this Ranger is worth a look. Many engined driven welders omit AC TIG.
As an electric supply, the generator pumps out 10,000 watts of continuous power to run various tools or electric appliances like an air blower, compressor, or plasma cutter in remote locations.
The 12-gallon gas tank gives the engine good run times to keep you working. Plus, Lincoln included an easy-to-see electric fuel gauge mounted right into the control panel. No bending over or using a flashlight to check how much fuel is left.
This is not the cheapest option, but it will please those with serious welding needs. Also, keep in mind this unit weighs just over 600 lbs. You will need a truck or trailer to haul the 250 GXT around.
The Ranger 250 GXT will appeal to professionals who need electricity while tackling various welds and base metals in places with no power outlets. Farms and construction sites for example, or anyone who does remote maintenance/repair work.
---
Buyer's Guide
The most significant advantage to engine-driven welders is not being tied to power outlets. You don't have to search for one whenever you need to weld.
Plus, there's no need to spend money to wire your home or shop with a dedicated 240-volt circuit.
You set up the welding leads, fire up the engine, and start welding with an engine-driven welder—no matter where you need to work.
Work Requirements and Welder Choice
As with any welder, the work you plan on doing is your main concern. An engine-driven welder is useful but may not be your best option.
For example, if you don't expect to weld material more than 1/4-inch thick, won't use the welder more than once a month, or expect to weld a lot of sheet metal, then an inexpensive 120-volt flux core welder might be a better fit.
In an indoor, industrial setting like a factory or commercial construction site where power is readily available, a standard 240-volt welder produces enough welding current to get the job done. Using the available electrical power makes good sense.
Also, in cases where the engine-driven welder would be run in enclosed spaces, it is inappropriate because of the danger posed by engine exhaust.
So, consider the work and site conditions and factor that into your decision when considering which welder works best for you.
Power Needs
An engine-driven welder shines in situations requiring high current levels, especially when no power outlets are available.
Because they make their own power, they can be taken anywhere. Most generate more power than they need. So, you can use the excess capacity to run power tools or other electrical devices.
In general, welders/generators are designed as DC arc welders that use the stick welding process. But some units offer AC welding and an AC power supply for your accessories and appliances.
A 4000-watt engine welder can do a great job running a few power tools. But it isn't going to have enough power left over to weld with a coworker running a grinder plugged into the same machine. So, make sure the generator can produce the wattage you will need.
Related: What Size Generator for a Welder?
Total AC Power Rating
The generator in an engine-driven welder generates AC. Then it's fed to AC outlets or converted into DC power for welding through an inverter or a transformer.
In some units, the generator powers the outlets and welder simultaneously. So, if you plan on welding while your coworker grinds, you will need higher watts.
Total DC Current or Wattage
The welding capability of an engine-driven machine depends on the available DC produced by the welder. A 4000-watt welding generator can produce about 200 amps of current and enough power to stick weld 1/2-inch steel.
With large generator welders, the welder cannot use all the watts produced. Don't assume high continuous generator watts equals a high welding current. Check the DC wattage or DC amps output to assess the welding power.
Special Features
Most of these machines are designed for stick welding. But some allow connecting accessories like gas valves, spool guns, or wire feeders for MIG, TIG, and flux core welding.
So, if you need certain features, be sure to buy an engine-driven welder that includes them or that they can be added in the future. You don't necessarily have to buy all the options right away, but you need a unit that can accept them in the future.
Multiple Welding Processes
Yes, some engine-driven welders include multiple welding processes, which can be handy. So, look for a welder/generator that includes the necessary welding processes.
However, you could run a separate MIG welder, plasma cutter, or TIG welder off the generator. So, remember, the generator portion gives you options. Simply plug in a welder or cutter to the generator that offers the needed process.
For many professional welders, this makes the welders they have collected over the years more useful. They can now use them in the field without power outlets by using their engine-driven welder as a stand-alone generator.
Portability
Most welders/generators are heavy. That's just a fact. So, they are usually mounted to trailers or truck beds to transport them.
But there are smaller ones like the Klutch 7500K Arc Welder/Generator that only weigh around 250 lbs. This is about the same as an average 5000-6000 watt generator.
Many 4000-watt engine-driven welders come with wheels and handlebars to make loading, unloading, and moving easier. But this wheelable unit gets you 6000 watts of continuous power and weighs in at a svelte 230 lbs.
The Final Verdict
Because professional welders often use engine-driven welders as dedicated machines, we've chosen the Lincoln Electric Ranger 250 GXT Multi-Process Welder/Generator as our Pro Selection.
It offers multiple processes, including wire feed and TIG, in addition to the usual stick welding. Plus, there is plenty of generator power to run a separate plasma cutter if you need to break down stock.
With an impressive 10,000 watts of continuous output, a helper can grind, drill, or cut with electric power tools while you're working on something else. This lets you get jobs done faster and more professionally.
However, if you need a more affordable multi-process engine-driven welder, then opt for the Lincoln Electric Eagle 10,000 Plus, as it is the most popular model in this range.
If you only need to stick weld, then save some more money and go with Hobart Champion Elite 225 for AC/DC capabilities, or if you only need DC, save again and opt for the Klutch 7500K Arc Welder.