When you need to weld away from any power source – you need an engine driven welder.
These amazing machines provide uninterrupted power for themselves with high duty cycles for quality welds.
But running several different processes can carry a serious price tag.
Make sure you get all the welding power you need without paying more than you should.
With a lot of options online, we've narrowed them down and listed some of the best engine driven welders available.
---
A quick comparison
Product
Image
Product
Details

Lincoln Eagle 10,000 Plus

Super versatile & rugged

Processes: Stick, TIG, MIG, Flux-Cored, Gouging

Provides 9000 continuous watts

HOBART Champion 145

One of the most popular models available

Great value for the money

Only designed for Stick, can be adapted for TIG

DuroStar DS4000WGE

Great budget option

Can likely weld up to 1/2-inch thick steel plate

For stick welding only

HOBART Champion Elite

Heavy-duty all-in-one welder/generator

Lightweight and compact design

9500 continuous watts
Best Engine Driven Welder with Reviews
Here's a list of some of the best engine driven welders on the market:
1. Lincoln Electric Eagle 10,000 Plus Engine Driven Welder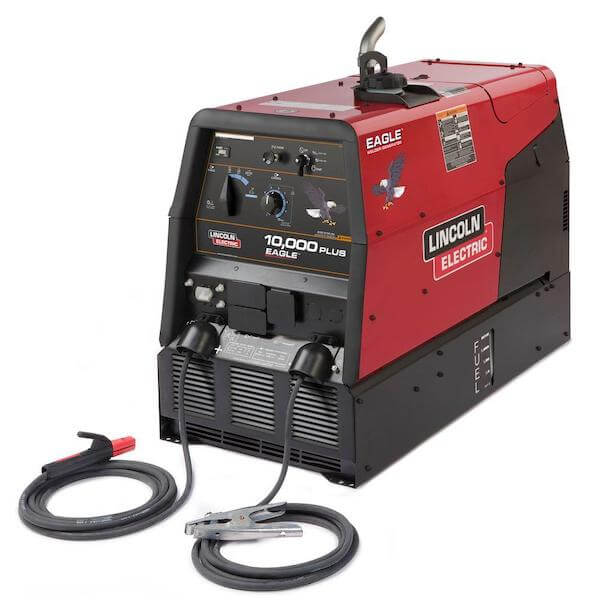 20-foot electrode clamp
23 HP Kohler drive engine
10,500 watts AC max power
15-foot ground cable
Totally enclosed
Pros
Stick, TIG, MIG, Flux-Core, Gouging
50-225 amps DC output
Powder coated steel case
76 decibel sound level
Welds up to 1/2-inch steel
Cons
DC welder only
This one's pricey
Overview
The Eagle Plus 10,000 by Lincoln Electric is one of the most commonly-seen engine welders in the industry. This generator welder provides 9000 continuous watts for welding or power generation and peak power of 10,500 AC watts for device starts. It's an unusually high-quality unit, fully powder coated with a completely enclosed engine compartment. The doors are removable for servicing the 23 horsepower Kohler engine and the generator.
The Lincoln Eagle Plus runs multiple processes, including 225 amp DC stick, 200 amp DC TIG, MIG and flux core wire feed welding from 50 amps to 225 amps. It's also able to do gouging and plasma cutting on up to 3/8-inch thickness of plate steel. When running below it's max rated current output, it can also run other power tools and small welders off its generator, up to the maximum 9000 running watts AC power.
Lincoln Electric is well-known for rugged, well built machines made to last for decades. The Eagle Plus engine welder is a often seen mounted to truck beds for use by piping and steel crews. Lincoln provides a 20-foot electrode connection and a 15-foot work clamp.
---
2. HOBART Champion 145 Engine Driven Welder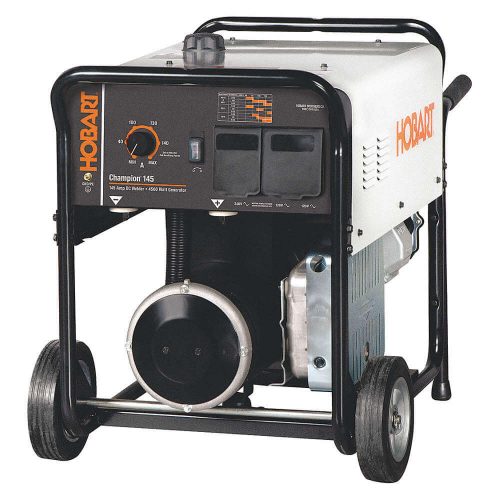 4500 watts starting power
4000 watts continuous
20-145 amp stick welder
Four 120 volt GFCI outlets
20 amp 240 volt outlet
Pros
Big 6.25 gallon gas tank
Handles steel and iron up to 1/4-inch
14.5 lb-ft of torque; no straining
Can be adapted for TIG
Attach a spool gun for flux core
Cons
Doesn't include welding leads
Wheels are very cheap quality
Overview
The HOBART Champion 145 is an engine driven welder offering 4000 watts of continuous power and a 4500 watt peak for starting demands. It has built in wheels and handles to make it easier to move around the site and position for access to your work. Owners praise the easy starting and quiet operation of the 10 horsepower Briggs and Stratton engine. Hobart equipped the Champion 145 with a big 6.25 gallon fuel tank, giving it hours of uninterrupted operation. There's nothing more irritating when you're in the groove than having to stop everything and shut down just to take a refueling break.
Two things that owners didn't like were the fact that this engine welder comes without any welding leads and the poor quality of the wheels mounted on the machine. While most users will probably just load it into a truck and move it around in storage, you may want to actually take advantage of the mobility of the welder, so it really should have better wheels on it.
The Hobart Champion 145 is extremely durable, made in the USA and comes with a 3-year warranty at a great price.
---
3. DuroStar DS4000WGE Generator Welder
3300 running watts, 4000 peak
16 horsepower engine
Electric starter
7 gallon fuel tank
50-210 amp stick welder
Pros
Runs for 8 hours at 50 percent
Pneumatic tires on steel wheels
Power surge protection
Fairly quiet at 69 dB
3 120 volt outlets and 12 volt charger
Cons
Poor quality fuel petcock can leak
Complaints of poor customer service
Overview
The DuroStar DS4000WGE Generator Welder is produced by DuroMax Power Systems of Ontario, California. This machine is powered by a 16 horsepower gasoline engine with electric start. This machine is equipped with a large 7 gallon fuel tank, which is rated at 8 hours of operation at 50 percent capacity. The DuroStar DSD4000WGE offers a generator rated at 3300 watts runing capacity, 4000 watt peak and 3 separate 120 volt outlets, as well as a 12 volt battery charger.
The welder is a DC stick arc welder rated from 50-210 amps current output. That's good to weld from 1/8-inch thin steel plate up to 1/2-inch thick steel plate. Users are very pleased with how quiet this generator welder runs with a noise rating of 69 dB. Many users have complained that the fuel petcock doesn't always close completely causing the carburetor to flood or a gas smell from a seeping leak. Another, similar issue is that the overflow on the gas tank vents back to the air cleaner and can cause flooding if the tank is too full or if it's a very hot day out.
---
4. HOBART Champion Elite Engine Driven Welder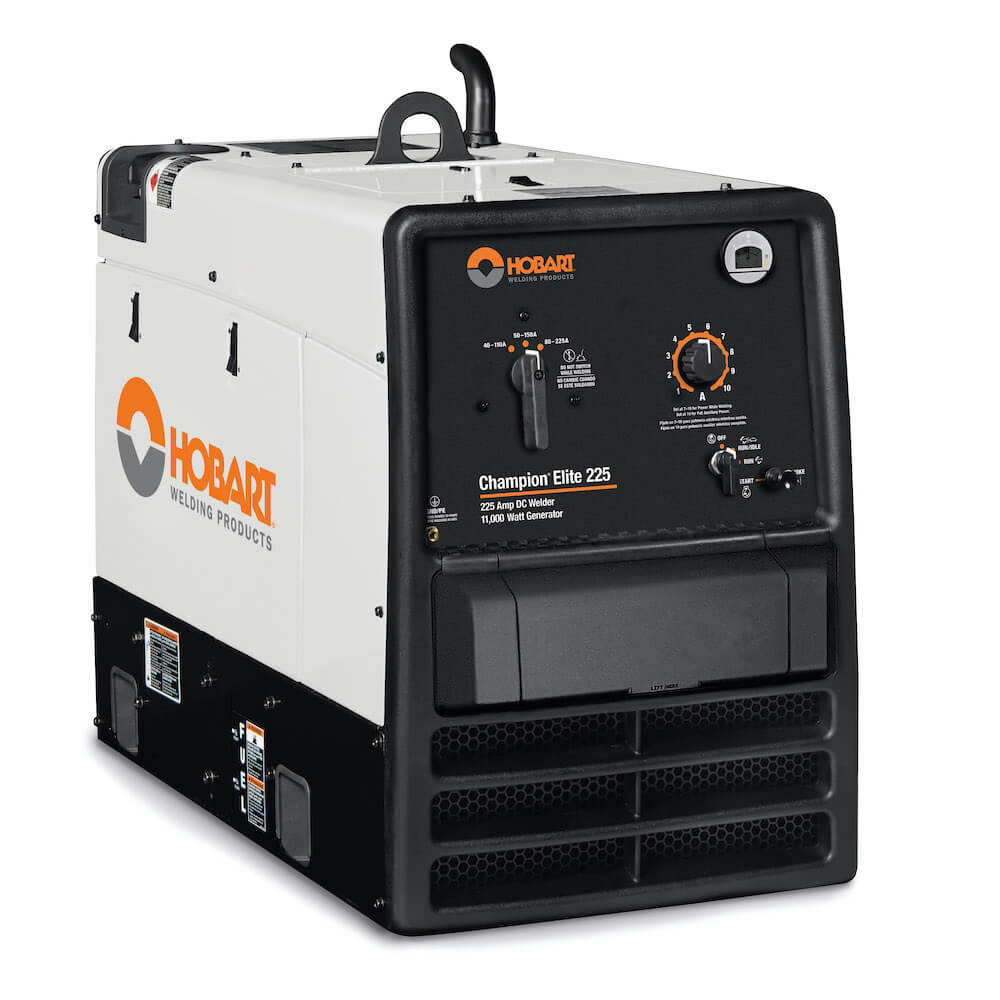 23 HP Kohler Engine
11,000 watts peak power
75 decibels noise rating
AC/DC stick arc welder
40-225 amp current output
Pros
9500 watts continuous power
12 gallon fuel tank
Twin cylinder engine
Idle control feature to save fuel
Includes an hours meter
Cons
Doesn't have wheels or bumper frame
No welding leads are included
Overview
The Hobart Champion Elite is a 23 HP engine driven welder with an 11,000 watt peak rating and 9500 continuous watts available. This one is a lot of machine and Hobart is a company known for ruggedly built industrial quality machines.
The Champion Elite is aimed squarely at professional welders, with an electric starter and a 100 percent duty cycle at 225 amps. You can start this machine up, strike an arc and weld 1/2-inch steel until it runs out of gas. The 40 amp lower end will let you get down to thin 1/8-inch plate. Unfortunately, the Hobart Champion elite doesn't ship wih welding cables, doesn't have wheels and isn't available in California.
It's got an idle control feature, which lets the machine throttle down the engine speed when demand drops to save fuel consumption and wear on the machine itself. The Hobart Champion Elite offers 4 20 amp 120 volt ground fault circuit interrupter plugins, one dual voltage 120/240 volt 50 amp outlet and another 240 volt outlet rated at 50 amps. Hobart offers a 5-year warranty on the Champion Elite and Kohler warranties the engine separately.
---
Buyer's Guide
The biggest plus to engine-driven welders is the independent power. You don't have to find a 120 volt outlet at a commercial work site. There's no need for the expense of wiring your home for a dedicated 240 volt circuit. With an engine-driven welder you just set up the welding leads, fire up the engine and start welding.
Work Requirements and Welder Choice
As with any other welder, the type of work you plan to use the welder for is your main concern. If you don't expect to weld material more than 1/4-inch thick, won't use the welder more than once a month or expect to do a lot of sheet metal, an inexpensive 120 volt flux core welder might be a better fit.
If the welder is going to be used in an indoor, industrial setting such as a factory or in commercial construction where power is available, a standard 240 volt welder will produce enough welding current to get the job done. In cases where the work is indoors, an engine-driven welder may not be appropriate because of the engine exhaust.
Power Needs
The engine-driven welder shines in situations that require high current levels and especially when there is no power source at hand. Because they make their own power, they can be taken anywhere. Most generate more power than they need and can use the excess capacity to run power tools. Most are designed as DC arc welders that use the stick process, but some offer AC welding as well as AC power supply for accessories and appliances.
A 4000 watt engine welder can do a great job running a few power tools, but isn't going to have enough power left over to weld with a coworker running a grinder plugged into the same machine.
Total AC Power Rating
The way these machines are designed, AC power is generated first, then it's either switched over to run AC outlets or converted into DC power for welding, either through an inverter or a transformer.
Total DC Current or Wattage
The welding ability of an engine-driven machine depends on the available DC current produced. A 4000 watt welding generator can produce about 200 amps of current, enough power to stick weld 1/2-inch of steel. The DC power rating determines the amount of welding power in the machine.
Most large generator welders can't use their full capacity solely for welding. Don't assume that a high generation capacity equals a high welding current. Check the number given in the specifications for DC wattage or DC amps output.
Special Features
Most of these machines are designed for stick welding. There are some that allow connecting accessories like gas valves, spool guns or wire feeders for MIG, TIG and flux core.
However, you could run a separate MIG welder, plasma cutter or TIG welder into the generator side for other processes.
Portability
Most welding generators are mounted to trailers or truck beds to transport them. There are smaller ones like the Hobart Champion 145 that only weigh in the 250-pound range, about the same as an average 5000-6000 watt ordinary generator.
Many 4000 watt range engine-driven welders come with wheels and handlebars to make it easier for one or two people to load, unload and move them.
What's the Verdict?
With everything considered, including the fact that engine-driven welders are most often used as dedicated machines by professional welders, we've chosen the Lincoln Electric Eagle 10,000 Plus as our Pro Selection. It offers multiple processes including plasma cutting, wire feed and TIG in addition to the usual stick welding, and with 9,000 watts of continuous output, a helper can be grinding, driling or cutting with electric power tools at the same time you're welding. They don't come any nicer than this big American made Lincoln.