The Hobart Champion 145 welder generator is designed for light use on the go.
This machine is decent, but it is not without flaws and shortcomings. But it is priced accordingly. As long as you get this machine with the right expectations, you will get your money's worth.
Welder generators are expensive. So you should have realistic expectations when you find something as affordable as the Champion 145.
In this review, you will learn what the Champion 145 is best for, its limits, and some critical issues you need to know before getting this machine.
Overview of the Hobart Champion 145 (500563)
The Hobart Champion 145 is a lightweight, portable welder-generator made for light welding applications. It doesn't have enough power to handle heavy-duty jobs or enough features to fulfill the needs of a professional welding business.
But, this is an affordable machine that's often the first buy for people who weld on the go. Then you can upgrade at a later stage to a more powerful unit to handle the more advanced jobs as your business grows.
It's a gas-powered welder, lacks an electric start, includes an inbuilt DC stick welder, provides a relatively decent single-phase output (considering the price), is low in weight, and comes with a portable wheel system.
Now let's take a look at what's included, the pros and cons, and proceed to the in-depth analysis of its limitations and best features.
What's included
Champion145 Welder/Generator
Running gear (two wheels)
Integrated Briggs & Stratton Intek engine
6.25 gal. gasoline fuel tank
Like most welder-generators, you get a pretty limited package. This is expected with pricier machines since the manufacturers need to look for ways to cut costs.
Besides, if you are buying an expensive unit, you are likely to have everything else already. Beginners typically don't start with heavy-duty gear.
So, why doesn't Champion 145 have the work leads included? It is an entry-level machine, after all.
Most people buying this machine will have to purchase the leads since this is their first welder. Hobart should have included them, even if it meant increasing the price. The leads would be less expensive if mass sold with the units than if you were buying them separately.
The only other thing I think should of been include is a protective cover, since it is an outdoor machine. However, this can be purchased separately here.
Tech specs
Welder type
DC Stick
Rated amperage output (integrated welder)
40 – 145A
Maximum Electrode Size
5/32 in.
Duty cycle
130 A @ 25 V, 30% duty cycle
Weld output current type
Constant current (CC)
Weldable metals
Mild steel, stainless steel
Mild steel thickness (single-pass)
Up to 1/4 in.
Engine Brand
Briggs & Stratton Intek
Engine type
One-cylinder, Overhead valve design (OHV)
Engine starter
Pull
Engine fuel type
Gasoline
Fuel tank size
6.25 gal.
Horsepower
10 hp
Auto idle
❌
Oil Capacity/Change
28 oz. (0.8 L), every 100 hours
Continuous Power
4000 W
Peak Power (also referred to as start power)
4500 W
No. of receptacles for auxiliary power

1 x 240V with 50 amp circuit breaker
4 x 120V with a 20 amp circuit breaker

Remote support
❌
Running wheel/gear support
✅
Welder Dimensions (H x W x L)
24.75 in. x 20.625 in. x 31.25 in.
Weight
222 lb. (100.7 kg)
Warranty
Hobart's 5/3/1 industrial warranty
Weld Guru's Rating
★★★★☆
Price
Latest Price
Northern Tool


(free delivery)
Pros
Affordable
Decent quality build
Portable and lightweight when compared to other welder-generators
Energy efficient
Easy maintenance
5 receptacles with support for auxiliary power
Quality engine
Engine choke control for easy startup
Relatively quiet thanks to the inbuilt muffler
Spare parts support
Low oil pressure shutdown to prevent engine damage
Simple to use, intuitive front panel with a helpful amp/electrodes chart
Infinite amperage adjustment knob
Receptacle covers for physical protection
Detailed user manual with illustrations
Hobart's 5/3/1 Industrial warranty
Cons
Low duty cycle
No electric start
Running the unit under 40℉ might cause the carburetor and/or crankcase breather system to ice, which may lead to stalling and other issues
Running gear wheels are poor quality
The generator can't handle stick welding and auxiliary output at the same time (using a grinder while welding, for example)
No manual switch to idle down
Missing a digital display, must estimate between tick marks on amperage dial
Leads not included
No cover include
Where to buy
There are a few retailers selling the Champion 145, however, I recommend taking a look at all of them as they all run their own promotions from time to time:
What You Should Know Before Buying the Champion 145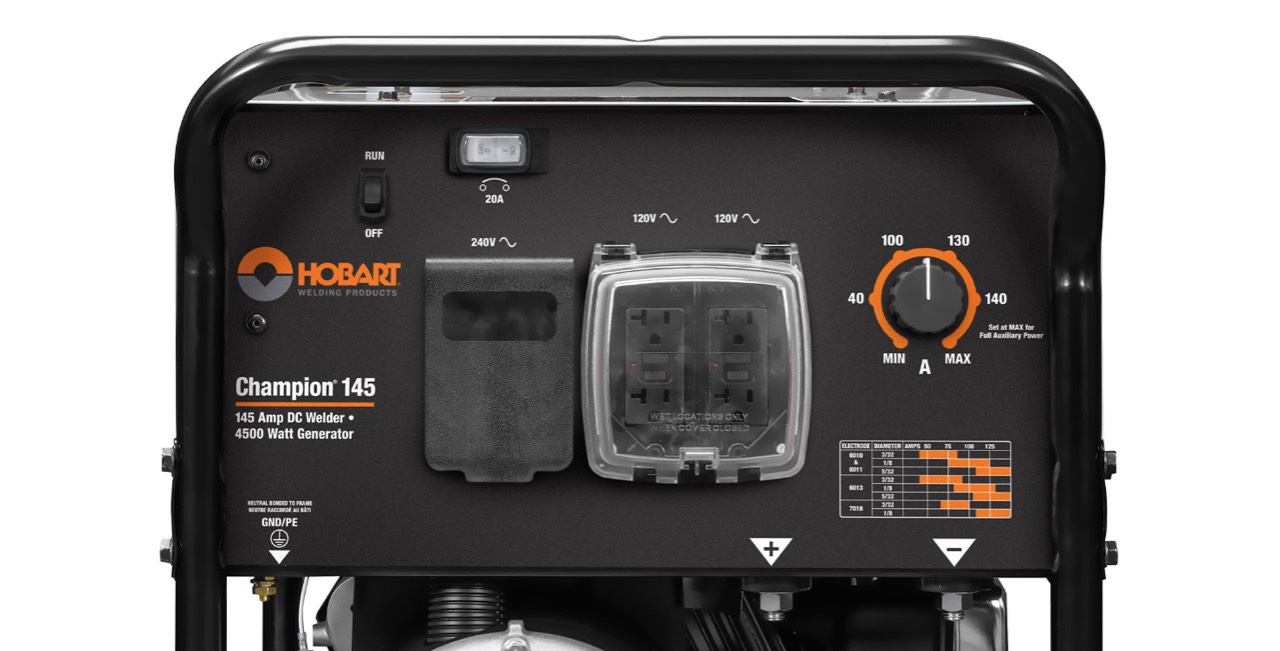 Now that we've gone through some pros and cons, let's address some limiting aspects of this machine.
This generator-welder doesn't deserve any sort of negative review because it's priced fairly. It's not like there are better options in the market.
Still, I want to let you know of its downsides so that you don't get yourself something just because it's cheap. However, you should absolutely get the Champion 145 if it satisfies your needs.
Limited power
The Champion 145 has enough power to weld 1/4" mild steel. With its 145A of output, it will handle light work only.
However, you could grind out the thick metal edges and do multiple passes to weld thicker metal. It's just that Hobart doesn't officially recommend anything over 1/4". Also, the thicker electrodes, like 5/32 in., can't be used with this welder.
Also, the low duty cycle limits the amount of work you can do. This machine can handle just 3 minutes of welding at 130A before it needs to rest for the following seven. This is very low and doesn't allow for heavy workloads.
If you were running this machine and doing an open root weld on a thick piece of metal, you would experience a cold start (not enough power for thick metals). And its 2 to 3 minutes of weld time wouldn't do much if you had to fill in a wide gap with multi-pass welds.
The generator outputs suitable power for the price. However, the auxiliary power is weak or unavailable if you are welding at the same time. This means that you won't be able to run a plasma cutter, grinder, or anything else while the machine is welding.
So, if you have a helper, you'll have to take turns. You can either weld or grind, not both.
Quality
Hobart skipped a few corners with this machine. Nevertheless, it's nothing terrible, especially when you consider the price point.
Still, I don't like that the running gear, it feels a bit cheap. You'll need to be careful pulling the machine, especially on rough surfaces.
The engine doesn't handle low temperatures, and if you search various forums and reviews, you'll find that the fuel tank can leak. Plus, the carburetor can also be problematic.
Additionally, there is no electric start or manual switch to idle down the RPM. I get that this simplifies the engine and lowers its price. Plus, Hobart didn't need to include a battery with a pull start. But this is something you should consider when evaluating the Champion.
Confusing Amperage Knob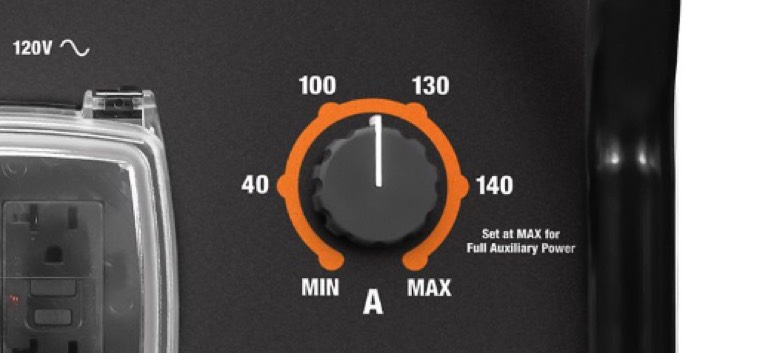 One thing I love about Hobart, they make straightforward machines. This machine is no exception. But the amperage output knob just doesn't feel right. While it's intuitively placed, you will be left wondering about the amp setting on your machine.
The knob has the following values printed around it: min, 40, 100, 130, 140, and max. But the space between these points is equal. So, the distance between 40 and 100 is equal to the space between 130 and 140. This feels very confusing.
Practically, every tiny knob movement between 40 and 100 causes a big difference in amperage output. In contrast, the movement between the 130 and 140 points doesn't really cause that much of a change in welding power.
Things that Make The Champion 145 Great
Alright, we've been critical enough. Now, let's consider the positive aspects of our little Champion.
If you can work within its limitations, and like the features, I am about to share, you should consider this affordable welder generator.
Energy efficiency
What everyone loves about the Champion 145 is just how little fuel it use. So you can work the whole day and still have some fuel left.
In fact, it's recommended to pour gas sparingly to not have it left in the tank at the end of the day.
The engine needs about 0.7 gal./hr if you run the auxiliary power at its maximum single-phase continuous output of 4KW and 0.5 gal./hr if you weld at maximum amperage output. With the tank capacity of 6.25 Gal., you can easily run it for the entire day.
Its fuel efficiency is tied with the fact that this generator doesn't provide a lot of power. This is great for people who don't need more output than 4000W. A more powerful machine would require more gas, so it's a cost-effective solution if this generator can satisfy your work needs.
Arc Quality
The Champion 145 has a fairly decent arc. It's easy to start and doesn't get cold unless you run 5/32" 7018 electrodes. They might get a bit too cold, but it's a matter of taste.
This is a light-duty welder, so don't expect anything special with thick metal. However, when welding up to 1/4", you will be very satisfied with the quality.
The machine is recommended for use with 6010, 6011, 6013, and 7018 electrodes.
Portability
Probably the best aspect of this machine is its compact size and low weight. At just over 220lb, this machine is one of the lightest welder-generators you can buy.
This is not something to overlook and take lightly. If you buy a better welder generator, it will likely be much heavier. Machines that are 500 lbs. or more require a much different approach to transport, making your life more difficult.
Hobart created an easy-to-transport welder-generator that allows regular people with limited resources the ability to weld on the go. So, it's worth considering balancing this against the negatives I outlined earlier in this review.
Hobart Champion 145 vs Lincoln Bulldog
You could consider the Lincoln Bulldog as a viable alternative to the Hobart Champion 145. But the Hobart offers a slightly better value for the money.
The Lincoln Bulldog uses a Kohler engine (better), which has a higher surge single-phase output, is an AC stick welder as opposed to DC, and is a bit lighter. But, the Lincoln is also more expensive, has an even lower duty cycle, and doesn't support running gear.
Plus, DC stick is the preferred method by most. AC stick welding can also get dangerous, especially when welding in humid or wet conditions. Still, there are a couple of use cases when AC is better, like welding with very long leads (no drop in power).
Here is a handy chart to compare these two machines.
Hobart Champion Elite 145
Lincoln Electric Bulldog
Welding processes
DC stick welding
AC stick welding
Max Electrode Size
5/32 in.
1/8 in.
Engine start
Pull
Pull
Amperage output
40 – 145
70 – 140
Duty cycle
130 A @ 25 V, 30% duty cycle
125 A @ 20 V, 30% duty cycle
Max generator output
4000W, 4500W peak
4000W, 5500W peak
Mobility support
✅
❌
Weight
222 lb
198 lb
Price
$$$
Latest Price
$$$$
Latest Price
Conclusion
The Champion 145 is probably the best welder-generator in this price range. While the Lincoln offers a similar unit, I think that the Hobart prevails as best for the money.
This machine is not without its faults. But, it will do the jobs it's designed for and you just need to understand its limitations.
Hobart balanced performance and price in an excellent light-duty, value choice machine It worked. A lot of people love this machine, especially if they know the limitations and keep realistic expectations.
If you need more power and features, I would recommend reading our Hobart Champion 260 review. That's the 145's big brother, and it packs more power, quality, and features. So it's worth your consideration if the 145 is too lightweight for your workload.