You can learn most of the basics of welding in a single day.
Simple to learn, but it takes years to truly master those skills. And you'll still spend a lifetime learning the little things that make an artist. As a beginning welder, you need a machine that's easy to set up and use, to minimize mistakes and build your confidence.
But you still need enough power to do useful work, along with a decent set of features that will let you grow your skill over the years. We've rounded up a nice selection of welders suitable for beginners.
Choosing Your Welding Process
Check your needs in the table below and you'll know right away which direction to go in your search for the perfect machine.
| Process: | Benefits: | Best For: |
| --- | --- | --- |
| TIG | Precision, strong, heat control, beauty | Exposed welds, bodywork, aviation |
| MIG | Easy to learn, versatile, rapid production | Equipment repair, fabrication, fast work |
| Stick | Cheap, most materials, fast | Wind, rusty steel, high strength |
| Flux Core | Cheap, easy to learn, no gas, high volume | DIY, wind, sheet metal, fabrication, repairs |
| Multi-Process | Space and Cost savings | Complex projects |
---
A quick comparison
Product
Image
Product
Details

Hobart Handler 140

Metal feed mechanism

Professional quality

Miller regulator

Eastwood TIG 200

Can weld aluminum

AC and DC TIG welding

120/240 volt input

YesWelder MIG-205DS

2T/4T trigger lock

Dual-voltage power

MIG/TIG/flux/stick

Hobart Stickmate 160i

Weighs under 20 pounds

Dual 120/240v power

Welds up to 3/8-inch steel

Forney Easy Weld 140FC-I

19-pound weight

30-140 amps

Variable wire speed

Weldpro MIG155Gsv

Dual 120/240 volt input

2T/4T trigger lock

Includes regulator
The Best Machines for Beginning Welders
This list of the best beginner machines will have newbies welding in no time.
1. Hobart Handler 140 MIG Welder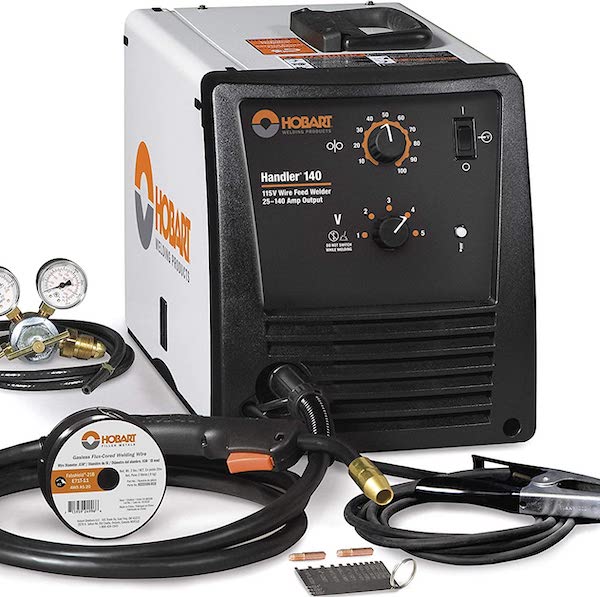 110v Input
24 gauge sheet to 1/4-inch steel
Generator friendly
20 percent duty cycle at 90 Amps
MIG and flux core
25–140 amps
Pros
Only weighs 65 pounds
Industrial-grade ground clamp
Aluminum wire drive
Miller brand regulator
High quality MIG torch
Cons
Inconsistent quality
Wrench needed to adjust tension
Overview
One of the most popular MIG welders for beginners. The Hobart Handler 140 can run on a 4000-watt generator, allowing you to get out of the house or shop and get work done on your property where there's no 110/115/120 input available.
The Hobart Handler 140 MIG 110v Welder features a three-groove drive system, allowing the selection of two different size solid MIG wires or a flux core wire. This machine can mount either 4 inch or 8 inch wire spools. Hobart builds industrial machines for professional welders, and it shows in the build quality of this machine.
The Handler 140 provides 25 to 140 amp power, a range that will weld from 24 gauge sheet metal all the way up to 1/4-inch steel. The duty cycle is 20 percent at 90 amps. Some users mentioned minor quality issues such as disconnected wires. Other users didn't like having to use a wrench to adjust the spool tension instead of a wing nut like other welders.
Hobart includes a high-quality Miller brand gas regulator for the MIG process, and the Hobart Handler 140 MIG 110v Welder comes with a 3-year warranty.
---
2. Eastwood 200 AC/DC TIG Welder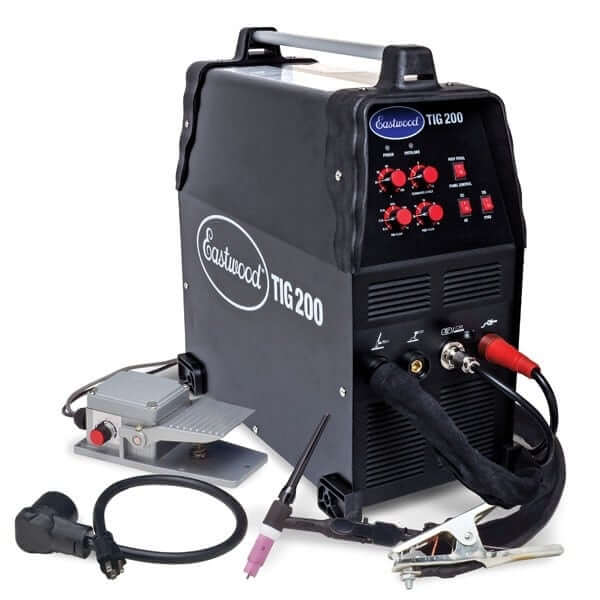 Dual 120/240 input
DC and AC TIG welder
Welds ¼-inch thick steel
Square wave output
Warranty is 3 years
Pros
Preflow-postflow shielding gas
60 percent duty cycle at 90 amps
Industry standard WP-17 torch
12-foot torch hose
High-frequency no touch arc starts
Cons
Foot pedal is stiff
Cheap flow meter
Overview
Eastwood is famous for its body and paint tools and metalworking machinery, used in restoration work. The Eastwood 200 AC/DC TIG Welder is a high-quality machine with advanced features, featuring heavy-duty construction. This machine welds in either AC or DC current. AC welding feature lets you weld aluminum, improving your skills on material up to 3/16-inch thick.
Some users didn't like the pedal control but still felt the Eastwood 200 AC/DC TIG Welder offered outstanding performance. It's easy to find a pedal you like better if that's an issue for you. The same is true for the shielding gas regulator, which some owners felt was a cheap quality piece. This machine has dual input power, offering a high degree of versatility and opportunity. You can conveniently plug in at home, as well as anywhere with 210/220/240 power.
The Eastwood 200 AC/DC TIG Welder is one of the leading TIG welders in its price range. That's because it offers advanced features like a no touch high-frequency arc control, eliminating cross-contamination between the tungsten electrode and your work. It also has preflow/postflow processes that keep the weld shielded from oxygen, improving weld quality. It's got an industry-standard WP-17 torch, meaning consumables and service parts are easy to find. If you're a beginner looking to get in to TIG welding, this machine won't let you down.
---
3. YesWelder MIG-205DS MIG/flux core/TIG/stick Welder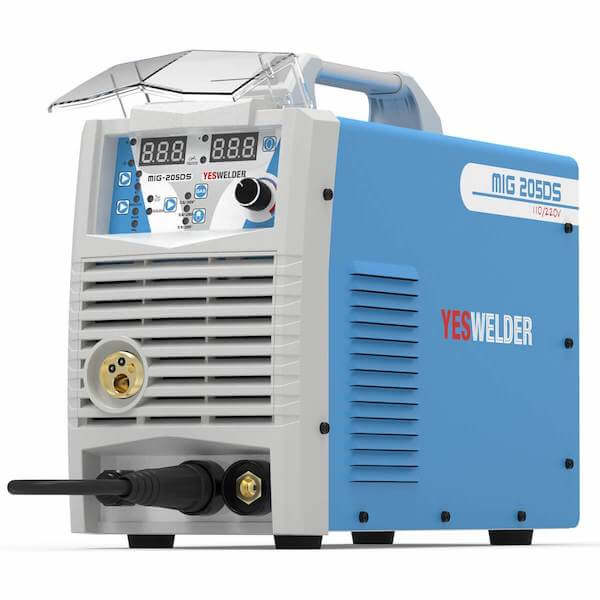 Synergically controlled MIG mode
2T/4T trigger lock
110V/220V input
Mounts 2- and 10-pound spools
MIG/Flux core/TIG/stick
Pros
Front panel cover
Lift-type TIG starts
LCD digital display
One button selects function
Lightweight at 33 pounds
Cons
Only takes 2-pound wire spools
Needs additional gear for TIG/MIG
Overview
The YesWelder MIG-205DS MIG/flux core/TIG/stick Welder offers MIG/flux, TIG and stick welding. Featuring either 120 or 240 volt input, the YesWelder MIG-205DS MIG/flux core/TIG/stick Welder features an LCD digital display and synergic arc control for MIG mode. You can choose one of four welding processes easily by switching with a single digital button.
With a flip-up plastic dust cover, the YesWelder MIG-205DS MIG/flux core/TIG/stick Welder effectively protects its LCD screen and digital buttons from dust, smoke and grinding debris. One drawback of this machine is that it doesn't include a TIG torch as shipped, so you'll need to buy one separately if you're interested in TIG welding.
The YesWelder MIG-205DS MIG/flux core/TIG/stick Welder mounts both 2-pound and 10-pound wire spools. It's equipped with a 2T/4T trigger lock, letting you make long welding runs without needing to keep the trigger pressed. This machine is a DC-only TIG, not suitable for welding aluminum and the MIG/flux core side isn't able to use a spool gun. You can probably manage aluminum welding by going with aluminum electrodes on the stick arc welding mode. You can weld steel up to ⅜-inch thick with this machine.
---
4. Hobart 500570 Stickmate 160i Arc Welder
Welds up to 3/8-inch steel plate
Runs on 120 and 240 volt input
160 amp output power
DC arc welding
5-year warranty
Pros
Weighs less than 20 pounds
Hot start technology
Infinitely adjustable amperage control
Wide 20-160 amps output range
Adjustable shoulder strap
Cons
Designed in the USA, but made in China
Tops out at 80 amps on 120 volts
Overview
As one of the oldest, most innovative and respected of American welding brands, many users buy the machines because Hobart is an American legend. However it bears pointing out that the Hobart Stickmate 160i Arc Welder is actually made in China. It's a high quality machine, but if "Made in USA" matters to you, that's one feature this machine doesn't offer. Having said that, owners overwhelmingly give it good reviews and Hobart backs it with the same 5-year warranty offered on American-made models.
Advanced design makes the Hobart Stickmate 160i Arc Welder powerful enough to weld up to 1/4-inch thick steel while weighing less than 20 pounds. This machine features an infinitely adjustable amps control with 1-amp increments. There are reports by owners that the machine trips breakers when exceeding 80 amps on 120-volt power. This is not a consistent issue, and can be addressed with a higher-rated breaker on the circuit.
The Hobart Stickmate 160i Arc Welder is a dual-input machine, able to run either 120 or 240 volts. Running this welder on 240-volt input is another way to avoid the breaker issue mentioned above. When running 240 volt power, this machine can weld steel up to 3/8-inch thick at 160 amps. This is a convenient and powerful machine featuring industrial build quality and simple operation.
---
5. Forney Easy Weld 140FC-I Flux Core Welder For Beginners
Live exhaust fan
20 amp to 15 amp adapter
45 percent duty cycle at 60 amps
24 gauge sheet to 1/4-inch plate
30-140 amp range
Pros
Wide adjustment range
Infinitely adjustable feed
8-foot MIG gun ground lead
Weighs just 19 pounds
Takes 2-pound and 10-pound spools
Cons
No gas MIG capability
Hard wire won't feed well
Overview
Even without gas MIG, we like the Forney Easy 140FC-I Flux Core Welder For Beginners. This machine is very light, tipping the scale at 19 pounds. This machine incorporates a live exhaust fan that keeps the box cool and improves longevity. When the temperatures aren't tto hot or the machine is idle, the fan shuts off until it's needed again.
Forney has good reputation for high build quality. The Forney Easy 140FC-I Flux Core Welder For Beginners features a duty cycle of 30 percent at 90 amps. The output range is 30-140 amps, pretty wide for a beginner welder running on 120 volts. You can weld 24 gauge sheet metal at 30 amps and 1/4-inch plate at 140 amps.
With Forney's reputation for quality and its extensive dealer network, the 1-year warranty, small footprint and great performance, you're not likely to be disappointed by the Forney Easy 140FC-I Flux Core Welder For Beginners. This machine is at the top of its price range for quality, durability and ease of use.
---
6. Weldpro MIG155Gsv Beginner MIG/Stick Arc Welder
Dual input power 120/240 volt
30 to 155 amps output range
24 gauge sheet up to 3/8-inch plate
Offers DC stick, MIG and flux core processes
Electromagnetic noise free
Pros
2T/4T trigger lock
Optional parts will run TIG
Infinitely adjustable wire speed and heat
Includes a gas regulator
Comes with a stick arc electrode clamp
Cons
Some users complain of poor wire feeding
This machine only mounts 2-pound wire spools
Overview
The WeldPro MIG155Gsv is a powerful, 3-in-1 machine that can run gas MIG, flux core and stick processes right out of the box which is ideal for beginners to start practicing with. You can also order optional parts from WeldPro to make this box DC TIG capable. This welder comes with dual voltage 120 and 240 volt input power, meaning you can plug it into standard household current and weld up to140 amps, or plug it into a 240 utility circuit like dryer service or commercial power at a business location for up to 155 amps output power.
Weldpro equips the MIG155Gsv with an electronic reaction circuit that monitors the arc and adjusts settings dynamically to achieve the optimum performance at the point of weld. Owners love the infinitely adjustable speed and heat controls, which are much better than stepped or tapped type settings for fine-tuning to meet specific conditions.
This machine comes with a gas regulator, hose, MIG torch and a stick arc electrode holder. There are some reports of erratic wire feeding and occasional quality control problems. WeldPro has an excellent reputation for customer service and backs the MIG155Gsv with a 2-year warranty.
---
Beginner's Buying Guide
For any beginner who's looking for a new welder, there are several things you need to ask yourself before making a decision.
How Much Can You Spend?
There are two schools of thought here.
One says find the cheapest machine possible because as a beginner you will make mistakes. You'll also be unaware of how to take advantage of any advanced features so you would be wasting money buying a machine with lots of technology.
The other approach is to spend money on quality and features. The reasoning here is that a good quality machine can take the abuse and will produce more improvement as you learn its advanced features.
As in most things, the real answer lies somewhere in between. You should always buy the best quality you can afford. These are complex technical machines. The case for features is a little different.
Flux core welding may be the easiest process to learn for beginners from the standpoint of technique. It's easy to get good results with a small amount of practice and the machines don't cost a lot.
Stick welding takes a little more work to get good at, but is very versatile, is one of very few processes that work on cast iron and the machines are the cheapest available.
Multi-process welders  allow quick learning at first, with growth and versatility for later. That's not the "cheapest" approach but focuses on cost-effective ideas.
What Processes Interest You?
You should concentrate and practice repeatedly in one process, for the most part, until your skills are well developed in that process, so you can transfer that knowledge to other processes.
Many machines will do gas MIG and flux core, so there's a built-in upgrade path.
TIG welding is similar to MIG and provides a further upgrade path for the skills you learned with flux core.
Interestingly, many stick welders can be equipped to run TIG.
Other Decisions
Think about the number of extra accessories you get with a welder that adds to its value.
Portability can be important. You may want to buy a big name brand so you have nearby service and parts.
You may prefer to forego those benefits in favor of a Chinese welder with a nice feature list at a good price.
Wrapping Our List of Beginner Welders
Best TIG Welder for Beginners
We decided the Eastwood 200 AC/DC TIG Welder offered the best overall compromise between price, quality, brand network, features and convenience for a beginner welder. This is a nice mix with good power that can take your abilities to another level if you're practicing seriously.
Best MIG Welder for Beginners
The Hobart Handler 140 MIG Welder was our choice as the Best MIG Welder for Beginners because it's the industry-leading choice, offering industrial build quality and unquestionable performance credentials at a reasonable price. This machine has real value, runs on a generator and it's simple to use as well. If it's good enough for professionals throughout the industry, it's good enough for you.
Best Stick Welder for Beginners
We liked the Hobart Stickmate 160i Arc Welder as our selection for the Best Stick Welder for Beginners because it brings serious power, modern technology, simple operation and dual 120/240-volt power to the table. Hobart backs this machine with a 5-year warranty and the company is known for both quality and customer service.
Best Multi-Process Welder for Beginners
The YesWelder MIG-205DS is a great choice for beginners who haven't made up their mind on a single process or who want to reserve the ability to choose from multiple options when undertaking different types of work. This machine has automatic setup and a synergic welding processor that dynamically modifies settings while you weld, optimizing your arc quality. The front cover is a nice touch as well.
Best Flux Core Welder for Beginners
The Forney Easy 140FC-I Flux Core Welder topped our list for Best Flux Core Welder for Beginners with ease, due to its inexpensive price range, ability to weld up to 1/4-inch of steel as well as 24-gauge sheet metal, built-in storage and Forney's industrial build quality.
Take your time and consider what welding process you want to learn and the type of projects you want to work on. These are the main factors in your decision. Everything else will fall into line behind these two decisions.