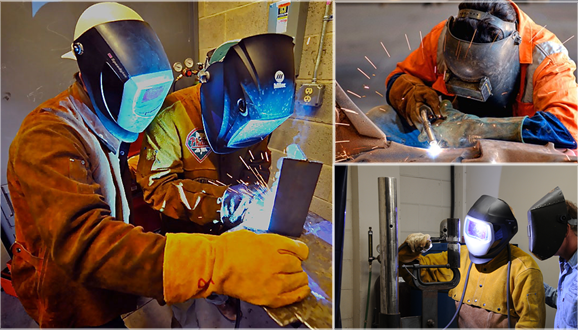 If you want to know how to choose a welding school without getting ripped off, then this could be the most important message you ever read.
There are 5 CRITICAL questions to ask before deciding on a welding school, so you come out making the most money possible in the fastest time possible.
Questions before deciding on a school
1. What type of welding school would you like to attend?
First, you want to decide if you'll get certified in pipe welding, plate welding, or combo welding.
When you get a combo welding certificate this means you can successfully weld on plate and pipe.
These are 2 different beasts, especially when you're talking about welding pipe at a 45 degree angle (also known as 6G welding).
It's important to note that being 6G certified means you can weld in all of the welding positions including:
Uphill welding
Downhill welding
Horizontal welding
Overhead welding
Flat position welding
Make sure your welding school will give you training on all of the major welding processes including TIG (Gas Tungsten Arc Welding), MIG (Gas Metal Arc Welding), FCAW (Flux Core Arc Welding), and Stick (Shielded Metal Arc Welding).
You are likely to start welding school by learning the oxy-acetylene setup.
Gas welding is the basis of all other welding processes and teaches you to manipulate the molten weld puddle.
2. How long will it take before you complete the program?
Welding schools go anywhere from 9 months to 24 months (this depends on whether or not you go for the associates degree).
They can even take as little as 16 weeks to complete, as detailed by Vicki Bell of thefabricator.com…
"With many current welders reaching retirement age, the law of supply and demand is taking over, driving up wages and filling up training programs. The graduates of the WorkNet Pinellas program start at $60,000 after a 16-week training course. With overtime and a little seasoning, they can be making well over $100,000 in short order," Axelrod said."
3. What types of classes should the welding school offer?
Aside from learning the welding processes, and applying these skills in your structural welding classes, you should look for welding schools that also offers classes on metal cutting (oxy fuel and plasma), Metallurgy, pipe fitting, blueprint reading (this one is a must because you'll need to learn welding symbols), and welding inspection.
4. Will you be fighting with students over the use of the welding schools machines?
This is a big one. Make sure you ask if there is sufficient welding equipment and welding booths to accommodate everyone.
The last thing you want to do is be waiting around to use a welder.
Some welding schools will pack their classes too full, and they will try to cram 2 or 3 students into one booth.
Asking this simple question when you talk to a school counselor or representative will save you many headaches.
5. Which welding certificate should you attain?
Not all welding certificates are created equal.
If you want to make 6 figures welding you have to know which certificate employers will value the most.
Make sure you ask your school about getting 6G certified.
This is a really simple secret, but a lot of welding students get this wrong.
Knowing this nugget of truth will allow you to run circles around your peers, and make way more money than they do.
Here's the secret…
When looking into welding schools and certification, you want to make sure you get certified in the one area that is proven to pay six figures – pipe welding
This is the secret to moving ahead fast in your welding career and making the most money.
Walking away with a plate certification might land you in a shop making $14/hour.
You won't make good money this way. Stick with the 6G cert.
Yes, it takes longer to acquire this because your skill level needs to be there, but you can walk out of a welding school with that 6G cert in your hand in just 12 to 18 months.
Compare that to your "genius" liberal arts major spending 4 years at university, only to graduate and work at Starbucks for $14/hr.
The 6G certificate is the most sought-after certification by employers. It also happens to pay really good money.
Being certified in 6G means you have successfully proven you can weld in all the other welding positions.
A Few More Critical Things to Keep In Mind When Choosing A Welding School

Step 1: When you start your school search, a good place to start is to find companies in your area and ask them which schools they like to hire employees from. This may give you a good idea of which school to attend.
With the shortage of welders, many of these companies will start you out at $50K+ and offer you overtime. The demand is so great for good welders (especially pipe and TIG) that you might not have to fight too hard to get on.
Like I said before, I recommend that you go for your 6G welding certificate in school. It basically tells employers you can weld in any and all positions. This is the most sought-after certificate by employers.
Step 2: Next identify some trade schools in your area. Once you've found some, you'll want to request some information. You'll want to know these general questions.
How long does welding school take
Where are your welding school locations
Do you have a welding school near me
What are your welding school prices
What are your welding school requirements
Use this easy welding school locator to find a school near you:
Setup a meeting to talk with an admissions counselor over the phone. Be sure and ask about financial aid, and what you qualify for. Ask about the welding processes they teach, and the welding certificates they offer. All you're doing at this point is getting information.
Step 3: Take a quick tour of the welding shop. You'll want to see how much equipment they have, and how many students are attending. Don't be afraid to talk to the students. Ask them if they like the school, what they don't like, and if they already have job prospects lined up.
How Much Can New Welding School Graduates Expect To Make?
In a recent article from The Wall Street Journal, titled "The $140,000-a-Year Welding Job", they detailed how a 24-year-old from Houston, TX named Justin Friend skipped the 4-year university and is now making more money than he ever imagined.
Styleweekly.com reported on this article, and the incredible opportunity awaiting those smart people who go into the welding trade.
Here's what some experts are saying about this current jaw-dropping opportunity in the welding industry
"With many current welders reaching retirement age, the law of supply and demand is taking over, driving up wages and filling up training programs. The graduates of the WorkNet Pinellas program start at $60,000 after a 16-week training course. With overtime and a little seasoning, they can be making well over $100,000 in short order,"
-Vicki Bell
Contributor, thefabricator.com
"During my career as an industrial welder, I have learned that pipe positions are the highest wages. A welders' income depends on his or her-self, if you want to make $150,000 yearly it's there. I prefer to work eight months out of the year and kick back for the rest. I brought in over 70,000 last year. To become a successful welder learn everything there is to learn in this field. There is a high demand for T.I.G welders these days if I think this process is the best craft to learn. I don't take jobs paying under 25.00 hourly plus P.D. There is no welding process I can't perform while meeting quality standards."
-Brad Houltzhouser
Guest Post, Indeed.com
"I weld for a living, and have for 33 years. The last job I had as a pipe welder foreman paid $35 an hour. A rig welder that welds downhill can easily get $42 an hour with his rig."
-Noel Clark
Guest Post, Indeed.com
"Gotta get your foot in the door somehow though. I've worked for less than $25 an hour, but really, anything less makes me feel like it ain't worth it. Oh, and if you can learn to TIG a root bead and hot pass in a tube, and run a 7018 filler and cap worth a crap, then there are a LOT of jobs out there that pay from 30 to 50 dollars an hour."
-Seth from Shreveport, LA
Guest Post, Indeed.com
These WeldingWeb.com Members Share Their Salary Experiences
According to these weldingweb.com members (a forum for beginner and veteran welders), making 6 figures welding is quickly doable once you get a bit of experience under your belt.
"There are quite a few opportunities to gross $100k per year welding in Alberta and Saskatchewan. You will need your IP Journeyman. A "B" pressure ticket would be a good idea, you're not likely to weld pipe without it. I will do better than that this year and I go home every night and most weekends. Structural welding and fabrication, rarely pipe. I haven't welded in BC so I don't know what the opportunities are like there."
-Dr. Strangepork
WeldingWeb Apprentice
"I work for a hydro generating station. I have various pressure tickets on different alloys that I must maintain every year. I make roughly $120,000 a year +/- depending on maintenance schedules and how much time I take off. I work 8 days on then I'm off for 6 days, so when I take a shift off, I have over 3 weeks off in a row and the same works for OT. If I stay in for a shift I work 24 days in a row, and all the time I spend here on my "off shift" is double time. I took 4 shifts off last year. So basically I worked less than half a year and made $120,000"
-Pressure Welder
WeldingWeb Foreman
While making $100,000/year or more is definitely possible, this isn't for the get-rich-quick opportunity seekers.
Let's get something on the table.
If you're someone who wants to make easy money without doing work then forget about this. This just isn't for you and you might as well stop reading now. Nothing in life that's worth it comes easy.
It does require you to commit some time to learning your trade. If you don't mind using a bit of elbow grease to get paid what you deserve, and you consider yourself someone who can commit to a new career, then this is just for you.
If you're someone who only dreams of success but won't get off your butt to achieve it then seriously, just stop reading this. The rest of this report is for those of you who are ready to:
Take action
Find a good welding school
Graduate in 9-15 months
Walk away with certs designed to pay you good, consistent money for years to come.
How To Go From Welding School To 6 Figures In Under 24 Months
Like landing most jobs that pay a lot of money, it pays to know people.
Landing that 6 figure welding job will be a lot easier once you get your foot in the door, and build trust with your supervisors. These guys want someone they can rely on.
Building trust among your employer, and becoming a reliable figure that they would happily refer to others is how you accomplish this.
You might see some postings for welding jobs that pay $100K, but many of those employers won't give you a chance until you have at least 24 months of solid career experience. Your game plan for your first 24 months should be to just shut up and do your job.
Your supervisors don't want any lip service from you. They just want results.
The first 2 years of your career are the most important for building relationships. Remember this though. It's not about being the greatest welder in the world. That will only get you so far. Whether that's fair or not doesn't matter.
The truth is that relationships will carry you a lot further. So, here are the steps to follow to reach your goal of $100K as fast as possible:
Take action, don't make excuses
Find a good welding school
Get your 6G certification
Get your foot in the door with a good company
Shut up and do your job
Focus on getting in good with decision-makers and supervisors
P.S. I hope you found this report to be a valuable insight into your future welding career.