As an industrial-grade machine, the ESAB Rebel EMP 235ic is light and portable while still taking on almost everything you throw at it.
The EMP 235ic is the most powerful single-phase multi-process welder in the ESAB Rebel line.
It's designed for high amperage output, but it also comes with a high duty cycle to keep you welding.
With portability and power, it will appeal to many, So, in this article, I cover everything you need to know to help you decide if this welder is right for you.
Overview of the ESAB Rebel 235ic
The Rebel 235ic can MIG, Stick, and DC TIG weld. It's designed for professional work, and it's one of the rare industrial-grade single-phase input machines.
Welders of this power and quality are typically designed to use 3-phase 480V input. However, using accessible single-phase power, ESAB blended a perfect mixture of power, arc quality, multi-process features, and professional settings.
Plus, this welder is rugged, built to last. It's manufactured for work in the field or inside a professional welding shop/fabrication environment. Add to that, it weighs just 53 lbs which makes it surprisingly portable. Unlike the two other Rebels in the single-phase category, the 235ic outputs considerable power, up to 250A. So, it can handle thick flux-cored and regular steel MIG wires.
It's also great that they still kept the dual voltage feature; it will work with a typical 120V input when 220V is unavailable.
What's Included
Tweco Spray Master 250A MIG gun with 15ft cable
0.030 in., 0.035 in., 0.045 in. contact tips and Allen key
ESAB stick electrode holder, 12ft, 200A
Ground clamp, 10ft, 250 A
Input cable 10ft with 230V plug (part of power source)
Power adapter cable 230V to 120V, 15A
Victor Flow Meter with 10ft gas hose
ESAB OK AristoRod premium solid wire 0.035 in. spool
ESAB Atom Arc Acclaim 1/8 in. premium stick electrodes sample pack
Drive roll, 0.023in. /0.030in. / 0.035in. / 0.045in.
Guide tubes 0.023in. – 0.045in.
Thickness gauge tool
USB stick including manuals
Safety manual
Quick start guide
This is an expensive machine, so I wish they included the spool gun and a TIG foot pedal in the package. Unfortunately, you'll have to get these separately, which further increases the cost.
But I am even more disappointed that they haven't included the TIG torch at all. I guess they had to cut costs to provide us with this powerful unit while staying at a reasonable price. Still, their 205ic and 215ic models come with pretty much everything, so this is a bit unexpected.
The Tweco Spray Master MIG gun is a high-quality 80% duty cycle torch suitable for spray transfer which this machine supports. This torch features an extended trigger length to reduce the hand's heat exposure. It also uses a three-layer conductor tube for easier welding position adaptability.
The ground lead is short at 10ft, especially at this price tag. But, the clamp itself is of high quality. So, all you have to do is replace the cable with a longer one.
Tech Specs
Welder Type
MIG, Flux Core, DC TIG, Stick
Input Voltage
120/220 V
Output Current Type
DC
Technology
Inverter
Amperage Output

MIG: 15A/14.75V – 250A/30.0V
TIG: 5A/10.2V – 240A/19.6V
Stick: 16A/20.6V – 210A/28.4V

Duty Cycle

MIG: 40% at 235A/25.75V
TIG: 30% at 240A/19.6V
Stick: 25% at 210A/28.4V

Weldable Materials
Mild steel, stainless steel, aluminum
Ground Clamp Cable Length
10 feet
Electrode Holder Length
12 feet
MIG Gun length
15 feet
Weldable Steel Thickness (Single-pass)
Up to 1/2 in.
Wire Drive Rolls

.023″ /.030″ V-Groove
.030″ /.035″ V-Knurled
.045″ V-Knurled

Wire Feed Settings
Auto, manual
Wire Feed Speed ("WFS")
80–700 in./min
Wire Spool Sizes
4–12 in. spools (100–300 mm)
Spool Gun Ready
Yes
Protection Class
IP23S
Open Circuit Voltage (OCV)
68V
Welder Dimensions (H x W x L)
19.5in. x 11.5in. x 26.5in.
Weight
53lbs
Warranty
3 year
WeldGuru Rating
Price
Latest Price


Global Industrial
Pros
An Industrial-grade unit with a single-phase power input
Dual voltage
High amperage output
High duty cycle
Superb arc quality in all welding processes
Professional, settings offer extensive adjustment
Large TFT screen
Ability to save up to four preset settings per process
Multilingual menus
sMIG and manual MIG modes
Handles 6010 stick electrodes well
Welds with thick MIG wires
Rugged, five-handle roll cage for protection
Lightweight and portable
Made to last – attention to detail and build quality are excellent
Quality MIG gun, electrode holder, and a ground clamp
Capable of welding aluminum
TIG foot control ready
Low 5A ability for thin metal
Dual gas inlets for simultaneous MIG/TIG input
High quality gas flow meter included
It supports 12in. wire spools
Cast aluminum wire drive feed system
No tools needed to change the wire drive roll
ECO Power – efficient energy use
Cons
Expensive
Heavy if you load it with a 12in. wire spool
TIG torch not included
Spool Gun and TIG pedal not included
No AC TIG output
No High-Frequency TIG start
The ground lead is short
The screen could be better at this price
Where to buy
There are many retailers selling the Rebel 235ic, so it's worth checking them all out as they all run their deals from time to time.
What To Know Before Buying The ESAB Rebel 235ic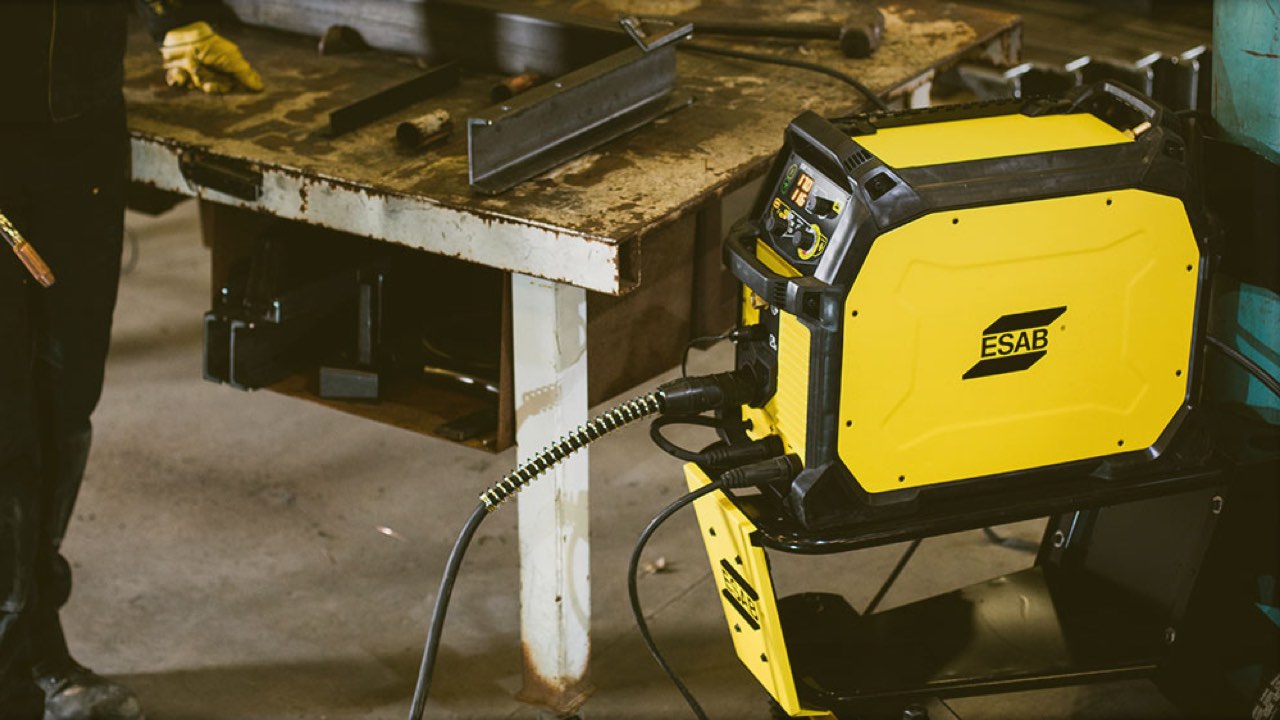 Since this is one of the most expensive inverter welders, you should know how its shortcomings can impact your welding experience. So, let's explore the most egregious flaws in detail.
No AC TIG or HF start
This multi-process welder offers DC TIG only. That means that you can't TIG weld aluminum or other specialty metals. This is acceptable considering that ESAB offers 205ic, which specializes in AC TIG, among other processes.
However, the 205ic also offers HF start for DC TIG, while the 235ic only has lift TIG start. That's a deficiency considering the price of this unit. I wish ESAB had added an HF start even if the machine only supports DC TIG. That way, TIG welds would be completely tungsten contamination-free.
Portable, With a Caveat
This is a hefty unit compared to the most portable welders, thanks to its 53 lbs. But, considering everything that the Rebel 235ic offers, we can say that it's a mobile unit even if it isn't the lightest. Most users can carry a 53 lbs unit.
But, if you put a 12in. wire spool inside the welder and attach all the leads, it gets pretty heavy. You'll need some wheeled support to move the 235ic around. So, if you want this welder for portability and work in the field, you should use a light 4in. wire spool.
Additional Costs
If you need to weld aluminum, you will have to purchase a spool gun. On top of that, if you want a precise amperage output control when TIG welding, you'll have to buy a TIG foot pedal. Not to mention that you'll need to pick up a TIG torch, too.
Considering that this machine is geared towards professionals, many users will need and buy all of these. Add in the cost for a longer than 10ft ground cable, and you'll see that this Rebel's true cost is much higher than the unit's asking price.
In the hands of a professional, this unit will quickly pay for itself. But, you should consider all the additional costs if your budget is tight.
Top Features of the Rebel EMP 235ic
ESAB's Rebel line is iconic in the welding world, and the 235ic is their most powerful unit that'll work with a regular single-phase input.
The Rebel 235ic blurs the line between industrial and professional use by offering substantial welding power, with a high duty cycle, without sacrificing arc quality. So, let's take a look at some its best features that might benefit your work.
Welding Power
With its maximum output of 250A, you'll be able to weld up to 1/2 in. steel in a single pass. Beveling the joint will easily bring that up to 5/8 in.
But, if you do multi-pass welds, you are likely to weld 1 in. thick without issues. Thanks to its maximum wire feed speed of up to 700 in/min, you can bombard beveled, thick metal and do fewer passes to fill the groove.
The smaller Rebels like 205ic and 215ic suffer the most when it comes to their duty cycle. However, the 235ic offers an industrial-grade duty cycle. You can easily spend up to four minutes welding at 235A before letting the machine cool for six minutes, which is enough for most professional welding shops.
You can weld at 100% duty cycle with MIG at 160A output or TIG weld at 170A. This is more than enough for thin to medium gauge metals. But whenever the need arises for thick metal, the 235ic has you covered.
Stick welding is a bit limited, though, as it will give you a 100% duty cycle at only 130A. However, this is not terrible because it will do 170A at 60%. But if you need to stick weld thick metal, it may not be enough for industrial use.
You should also keep in mind that machines of this level have highly sophisticated internal components. An average import welder can't compete with arc quality and adjustability of ESAB's Rebel or Miller's Multimatic lines, for example. That's why the 235ic high duty cycle is an engineering feat worthy of your attention.
Arc Quality
Regardless of which process you'll use the most, the MIG, TIG, and stick will provide you with the finest arc quality in the welding industry.
The arc will not stutter, misbehave, cut out, overheat, or be too cold to start. Additionally, you can adjust it to your liking, thanks to multiple settings per process.
Running a 6010 stick electrode feels great and the arc will not cut out even if you bury it deep in the groove. Every time you long arc it, the voltage will adjust and jump to about 32-36V before you bury it again.
The TIG arc is so stable, smooth, and focused that it seems like it can handle any high-precision work. Regardless of how steep you set the upslope, the arc will behave properly and won't compromise your work.
Smart-MIG Mode
When it comes to MIG, you can run it manually or use the ESAB's famous sMIG mode. This mode automatically adjusts your arc's voltage and amperage based on the material thickness, wire feed speed, shielding gas type, length of the arc, torch angle, electrical stick out, wire type, and travel speed.
Having a computer handle all those for you significantly reduces the effort on your part. That's why the pros love the sMIG. But novice welders like the improved weld quality they get with it, too.
The 235ic has a powerful, stable, and clean MIG arc. You'll experience less spatter while having a beautiful, smooth, liquid weld pool.
Adjustability
The 235ic allows you to fine-tune amperage, voltage, and wire feed speed. Fine-tuning like this is found on professional-grade machines. But it also lets you modify the arc and bead shape thanks to the following features.
Inductance Mode
The inductance mode reduces the welding spatter and stabilizes the arc. Plus it modifies the welding bead profile. There is a dedicated setting to tailor the bead for a concave, flat, or convex shape. The bead's form can also be fine-tuned; you have a lot of space between flat and concave, for example.
Pre and Post Flow Setting
You can set the pre and post-flow shielding gas flow time to shield the weld pool as it cools or to protect the tungsten rod.
Slope Settings
Upslope and downslope settings are crucial when welding thin metal. The 235ic can start the arc at just 5A and upslope slowly or quickly to the desired amperage output. This lets you control how fast the thin metal gets hot and prevents warping, discoloration, cracking, and burn-through.
2T and 4T Modes
Additionally, this welder supports 2T and 4T modes. The 235ic will benefit the most from the 4T mode compared to the 205ic or 215ic. Thanks to its high duty-cycle that lets you weld for a prolonged period, you'll be able to fully use the 4T setting. Plus, by minimizing the strain on your hand when doing long welds, your torch will be more stable. As a result, you'll make better welds.
Final Verdict
The Rebel EMP 235ic is an exceptional multi-process welder. Its rugged build will keep you welding for years, and its arc quality will help you tackle the most demanding jobs.
It's not the most portable multi-process machine. But if you are mindful of the accessories you bring and how much wire you'll need, you can take it into the field.
I only wish it was cheaper or that there were more accessories included. But, thanks to its impeccable quality, ESAB's support, cutting edge inverter tech, and 3-year warranty, the high price is not surprising. Quality comes with a price.