As a professional-grade multi-process welder, the ESAB Rebel EMP 215ic can handle almost everything you throw at it.
This is one of the finest welders you will find in the consumer market. It has the best-in-class build quality and a fantastic arc regardless of the process.
But high-end performance does come with a hefty price tag.
In general, the entire Rebel line is made for heavy-duty work. Each model specializes in certain areas while offering a true high-quality multi-process experience.
In this article, you will learn what you need to know about EMP 215ic to decide if this is a welder for you.
Overview of the ESAB Rebel EMP 215ic
ESAB's Rebel 215ic can MIG, Flux-cored, Stick, and DC lift TIG weld. It's also spool gun capable, so you can also weld aluminum.
This welder is meant for high-level, professional work in the field, workshops, or for demanding DIY applications.
It's built to last thanks to one of the most rugged designs you can get. It's also portable and lightweight, making this one of the best portable welders for professional work.
What's included
Tweco Fusion MIG torch with 10ft cable
Tweco pigtail with 0.023in, 0.030in, 0.035in contact tips
Tweco TIG torch 12.5ft, 8 pin
TIG accessories – collet body, cups, nozzles, and tungsten
Victor GF-250-50-580 argon flow-gauge regulator
Gas hose, 6.5ft
Tweco electrode holder & lead assembly, 13ft
Tweco ground clamp & lead assembly, 10ft
1 bag of 4 general purpose stick electrodes E6013, 1/8 in
ER70S-6, 0.030 in., 2 lb, MIG wire
0.023/0.030in V-groove for mild steel and stainless wires (installed)
Additional 0.023/0.035 in V-groove drive roll
0.030/0.035in V-knurled for flux-cored
Thickness gauge tool
Power adapter (230V–120V)
Safety manual
CD
Welding chart
Quick start guide
Rebel's box comes loaded with accessories, as it should, considering its price. Every part is well made and meant for heavy workloads. I also like how they included the notorious 6010 stick electrodes so that you can see how well they'll perform right out of the box.
But I wish the ground clamp and MIG gun leads were longer than 10 feet. This length will be good enough for a hobbyist, but most professionals will probably upgrade to at least 13 feet.
Additionally, while the TIG torch is high-quality, I wish they went with a flex-head design. A torch that can curve around your hand is very welcome for professional TIG applications, especially when welding pipes.
They didn't include the spool gun or the TIG foot control. If you want to buy these separately, they'll cost you about $500 in total. Still, considering the quality of the machine, I don't think it's fair to expect these two parts to be included at its price point.
Tech specs
Welder Type
MIG, Flux Core, DC TIG, Stick
Input Voltage
120/220 V
Output Current
DC
Technology
Inverter
Amperage Output
MIG: 15A/15V – 230A/26V
TIG: 5A/10V – 200A/18V
Stick: 16A/21V – 180A/28V
Duty Cycle
MIG: 25% at 205A/24.3V
TIG: 30% at 180A/17.2V
Stick: 25% at 180A/27.2V
Weldable Materials
Mild steel, stainless steel, aluminum
Ground Clamp Cable Length
10 feet
Electrode Holder Length
13 feet
TIG Torch length
12.5 feet
MIG Gun length
10 feet
Mild Steel Thickness (Single-pass)
Up to 3/8 in.
Wire Drive Rolls
.023″ /.030″ V-Groove Roller
.023″ /.035″ V-Groove Roller
.030″ /.035″ V-Knurled Roller
Wire Feed Settings
Auto, manual
Wire Feed Speed ("WFS")
80–475 in./min
Wire Spool Sizes
4–8 in. spools (100–200 mm)
Spool Gun Ready
✅
Protection Class
IP23S
Open Circuit Voltage (OCV)
68V
Welder Dimensions
16in. x 9in. x 23in.
Weight
40lb
Warranty
3 year
Weld Guru Rating
★★★★★ (5/5)
Price
Latest Price
Amazon
Pros
Top 10% of all consumer-level welders on the USA market
Perfect arc behavior in all welding processes
Large TFT display with inbuilt manual and part numbers
Quality leads, torches, and ground clamp
Capable of welding aluminum
Low amp start for TIG, MIG, and Stick for thin metal
sMIG mode for flawless, adaptable welds
ECO Power – Highly efficient energy use
Cast aluminum drive roll body with adjustable pressure
Drive rolls are changed without tools
Very simple to set up and use
High-quality gas regulator included
Welds 6010s without issues
Ability to save settings
Settings menu supports 22 languages
Spot timer
Burnback setting to prevent wire from freezing in the puddle
Bead profile setting (concave/convex)
Rugged and built to last
Lightweight and portable
5-handle roll cage
3-Year warranty
Cons
Expensive
Duty cycle on the low end
Not all accessories included
No AC TIG output
Some leads are on the shorter side
The screen could have been better
Where to buy
There are many retailers selling the Rebel 215ic, so it's worth checking them all out as they all run their deals from time to time.
What To Know Before Buying The ESAB Rebel EMP 215ic
Let's have a look at a few points some people may not like. While this is a phenomenal machine, it does have some shortcomings worth your attention.
It Doesn't Support AC Output
If you need AC TIG output, or you might need it in the future, the EMP 215ic doesn't have it.
While DC TIG is just fine for mild steel and stainless, the AC allows for significantly better production. Additionally, it's a must for TIG welding aluminum.
If I were considering the 215ic, this would be the only serious deal-breaker. However, if you don't need the AC output, this won't impact your work.
Low Duty Cycle on High Output
When welding at its maximum output, the Rebel 215ic has a low duty cycle. Doing a MIG weld at 240A will give you just shy of a 10% duty cycle, translating to about 60 seconds of welding per every 10 minutes.
However, as you lower the amperage, the situation gets better. At 200A output, you'll be able to weld for about 3 minutes. Still, this is relatively low, so if you must perform heavy welds constantly, you are likely to need an industrial-level machine.
This is not to be confused with cheap import welders that do a 60% duty cycle at 200A. They don't have the Rebel's arc quality, adjustability, and build quality. But that also means the EMP 215ic has a far more complex internal system that's more difficult to keep cool.
If the Rebel were to offer a better duty cycle, it would probably cost twice as much. Plus, they warrant the unit for three years. So it's expected to have a lower duty cycle since heat is the primary reason inverter welders break.
Not all Accessories Included
To fully experience the Rebel 215ic, you'll have to buy a TIG foot pedal and a spool gun for MIG welding aluminum. If you don't need these, you won't have additional costs.
But if you do, the prices add up fast. You should calculate the total costs before going with this welder. Keep in mind; you might also need an additional low friction PTFE liner, U-grooved feed roller, and outlet tube for aluminum.
TFT Screen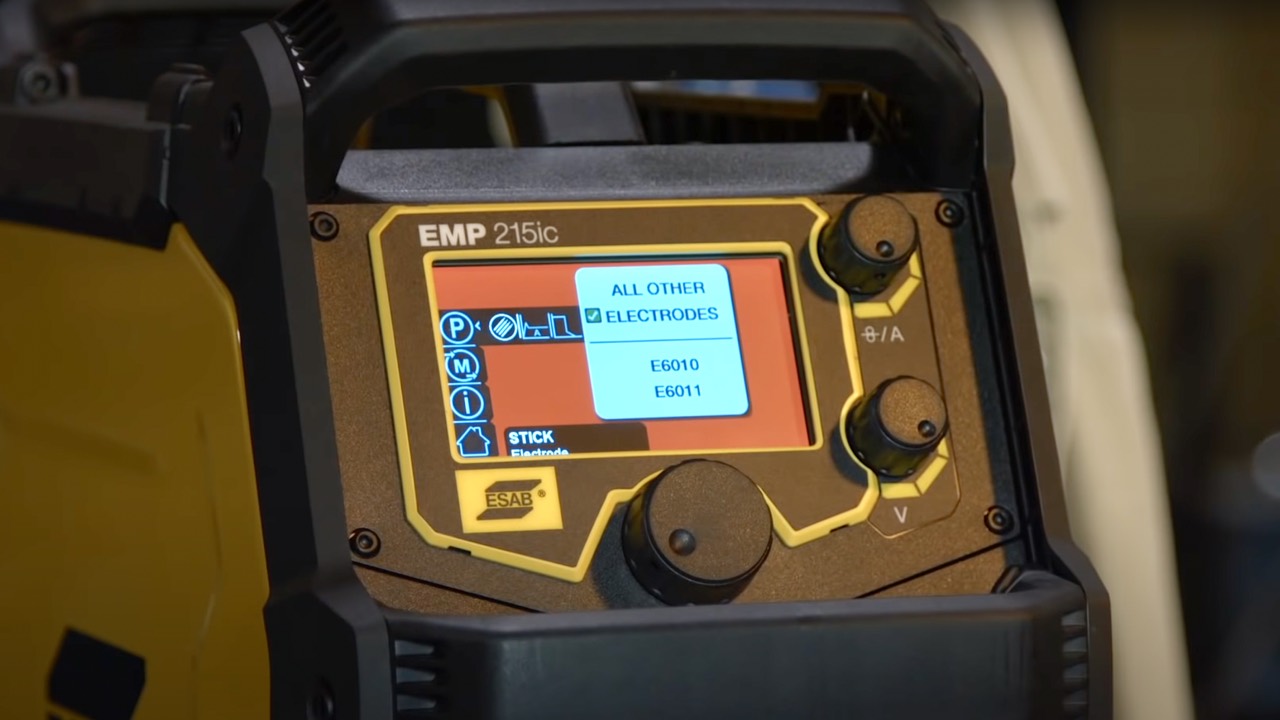 I wish ESAB had installed a better-looking screen. While it works fine, you can tell that it's a bit dated. It just doesn't feel premium or modern. The icon design looks rather basic, and the user interface is often lacking.
The YesWelder MP200 has a much better screen and user interface, for example. Although the ESAB offers a high-end product, they haven't created the same screen experience.
Top Features of the ESAB Rebel EMP 215ic
With the flaws out of the way, let's focus our attention on the best qualities of EMP 215ic. I believe this unit is adequately priced, even with the high price tag. Here's why.
Arc Quality
Whether you are doing MIG, stick, or TIG, the Rebel's arc quality is among the finest in the industry. It won't cut out, misbehave, overheat, or be too cold.
The TIG arc is where it shines the best, though. Even if you give it a low amp start of 5A and adjust it to upslope as fast as150A in a span of 1s, the arc will be stable without any fuss.
The finicky 6010 stick electrode also works very well, even in open root welding applications. Uphill, downhill, flat, or overhead, the arc stays stable, and the metal will deposit effortlessly. Of course, other electrodes will work without any issue.
I love the hot start and arc force adjustability settings. Arc force allows you to modify the penetration based on how cold the metal piece is. Playing around with it will improve your weld quality and arc stability.
Smart MIG Feature
Rebel's sMIG is probably their most notable feature. It automatically adjusts the arc voltage and amperage based on the plate thickness, shielding gas type, wire feed speed, arc length, MIG torch angle, electrical stick out, travel speed, and wire type.
A single setting takes care of a lot of parameters for you. Picking the sMIG mode from the settings menu prompts you to choose the wire diameter and plate thickness before you are ready to weld. The computer will then handle everything else to ensure the optimal short arc for consistent weld output.
This feature significantly improves the weld quality for novice welders. But pros will benefit, too, by saving time and reducing the effort to get things done.
However, you can also use a manual MIG mode and set up everything yourself. Many professional welders have tested methods they've developed over the years, and they will probably be interested in the manual settings.
Adjustability
Regardless of the process type, the Rebel offers the needed settings for professional-level adjustability.
Infinite voltage, amperage, and wire-speed to help fine-tune the output settings
Pre and post-flow gas time to shield the weld pool at the arc start and protect the tungsten and weld puddle from oxidation as the weld cools.
Upslope and downslope settings to help improve TIG welds – especially on thin sheet metal. When welding thin gauge metal, you have to start at low amperage like 5A and increase it over a shorter period to avoid cracks, metal becoming brittle, burn-through, and discoloration. ESAB handles these perfectly, and the advanced settings are very much welcome.
2T and 4T modes better adjust to the weld's length. If you weld a longer bead, it's better to use a mode that doesn't require you to hold down the trigger. That way, your hand won't get tired, and as a result, your hand will be steadier.
Inductance mode modifies the welding bead profile and stabilizes the arc. Additionally, it reduces the spatter when you are in the short circuit process.
There are a few other adjustments the 215ic offers, but this list encompasses the most notable and those with the most significant benefits.
Portability and Ruggedness
Rebel 215ic weighs just 40 lbs, and that is very light considering its robust build. The 5-handle roll cage design enhances portability and acts as a guard around the most sensitive parts of the unit.
If you need a portable, powerful welder that can handle a harsh work environment, the Rebel is up to the task.
ESAB Rebel 215ic vs 205ic vs 235ic
The main difference between these three models is the amperage output and the intended work. The 205ic is an AC/DC welder, which allows for professional AC TIG welding. While 215ic and 235ic are quite similar DC output units.
The 235ic offers more power than 215ic; it's heavier, handles 300mm wire spools, and has dual gas inlet valve.
The 205ic is an entire metalworking setup if you don't weld over 235A. It's got a professional AC TIG setup with balance control, ac frequency up to 400hz, EN/EP amplitude offset, pulsed DC TIG, and many other features. It also has everything the 215ic does but with the AC addition while staying roughly the same weight.
205ic
215ic
235ic
Output current
AC/DC
DC
DC
Amperage output
Up to 235A
Up to 240A
Up to 250A
Dual gas inlet
✅
❌
✅
Duty cycle MIG
60% at 125A
60% at 125A
60% at 170A
Wire Spool Sizes
4-8in
4-8in
4-12in
Weight
49lb
40lb
53lb
Price
$$$$
Latest Price
$$
Latest Price
$$$
Latest Price
ESAB Rebel 215ic vs Miller 215 Multimatic vs Lincoln 210MP

Miller Multimatic 215 and Lincoln 210MP are good alternatives to consider. They cost less money but offer less equipment out of the box, fewer features, and lower welding power.
The 215 Multimatic doesn't come with a TIG kit at all, has an even shorter duty cycle, and it's less robust. On the other hand, it's got a premium build, Miller's arc quality, better screen, angled cast aluminum drive, and it's 2lb lighter than the 215ic.
Geared towards novice welders, the Lincoln 210MP costs less than the Rebel, has a lower duty cycle, less amperage output, and doesn't come with the TIG kit. While Lincoln offers a very intuitive experience and high build quality, I'd say that both ESAB and Miller are a better deal. Especially the ESAB if used in a professional environment.
ESAB 215ic
Miller 215 Multimatic
Lincoln 210MP
Amperage output
Up to 240A
Up to 240A
Up to 220A
Duty cycle MIG
25% at 205A
20% at 200A
25% at 200A
Mild Steel Thickness (Single-pass)
Up to 3/8in
Up to 3/8in
Up to 5/16in
Rugged build
✅
❌
❌
Weight
40lb
38lb
40lb
Price
$$$$
Latest Price
$$$
Latest Price
$$$
Latest Price
Final Verdict
The ESAB 215ic is a serious machine meant for heavy-duty work in a welding shop or in the field. Its rugged build means it's made to last in rough working conditions.
Its arc quality is among the best you will find, and the sheer amount of included features justifies the hefty price tag.
The Miller and Lincoln units we also covered offer good alternatives at a lower price, but with fewer features, a reduction in build quality, and fewer accessories in the box.
Other Reads