ESAB Rebel EMP 205ic is a professional multi-process welder that can do just about anything.
Thanks to its incredible arc quality, versatility, build quality, and top-of-the-line features, the Rebel 205ic is one of the best welders on the worldwide consumer market.
The introduction of 205ic sparked lots of interest a few years ago. But this model is still dominating as the high-end inverter welder to own.
In this article, you'll learn why it's so popular and if this is a machine for you.
Overview of the ESAB Rebel Emp 205ic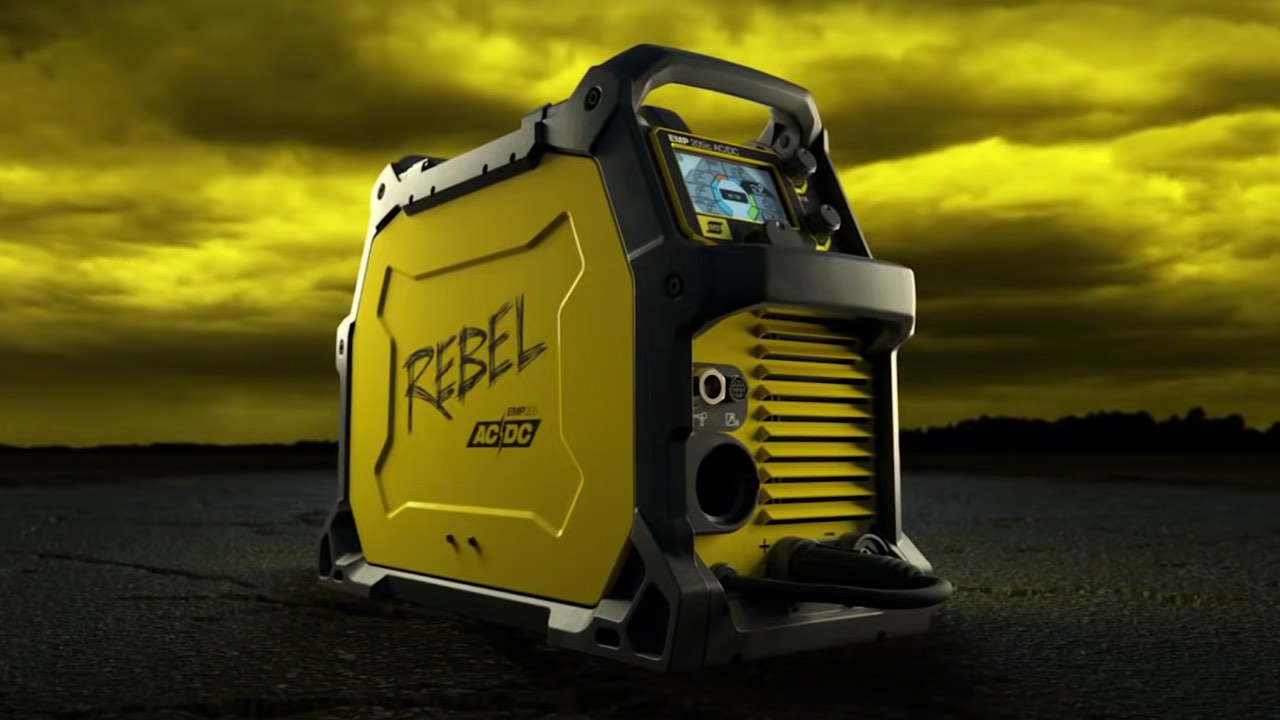 The Rebel 205ic includes MIG, Flux-Core, Stick, DC TIG, and AC TIG. All processes run flawlessly and have professional-grade features.
While this model caters to the AC TIG user, it doesn't lack one bit in any of the other process. That being said, AC TIG is its biggest selling point. It offers professional features you can't get with any other welder in the consumer-level market.
ESAB built this machine to last thanks to its rugged build and excellent finish. Its compact, beautiful, lightweight, and every detail is made for a heavy-duty work environment.
If it didn't max out at about 230A, you could easily use it in an industrial setting. But that makes the 205ic perfect for regular welding shops, professionals working in the field, or a hobbyist who wants it all.
What's Included with the 205ic
Tweco Fusion 180A MIG 10ft torch with contact tips
ESAB Heliarc HW17 TIG torch 12.5ft with accessories (Tungstens, collets, cups, etc.)
Tweco 200A electrode holder with 13ft cable
Tweco 200A earth clamp with 10ft cable
120/230V power adapter
Victor flow meter with 10ft gas hose
Remote amperage foot control
ESAB sample spool .030″ 70S–6 wire
ESAB atom arc acclaim 1/8″ premium stick electrodes
Drive rolls for .023″, .030″, and .035″ wire diameter
Guide tubes .023″ -.045″
Thickness gauge
Welding chart
USB Stick including manuals
Quick start guide
Safety manual
The 205ic package includes pretty much everything you'd need to get started out of the box. This is completely expected in this price tag. The only thing not included is the spool gun for MIG welding aluminum. But arguably, you don't need it since the machine does AC TIG.
I love that they include the foot pedal in the box. Additionally, all of the included accessories are high quality, especially the TIG torch. Still, this is a rigid HW17 model, not the flex head, which I'd recommend for more accessible work.
A USB stick is a nice upgrade from the CD and adds to the whole premium feel of the setup.
However, the ground clamp and MIG torch leads are not long enough for a professional environment. A hobbyist will do just fine with 10ft, but pros will likely need to upgrade.
Tech specs
Welder Type
MIG, Flux-Core, AC/DC TIG, Stick
Input Voltage
120/230 V
Output Current Type
AC/DC
Technology
Inverter
Amperage Output

MIG: 15A/14.75V – 235A/26V
DC TIG: 5A/10.2V – 205A/18.2V
AC TIG: 10A/10.4V – 205A/18.2V
Stick: 16A/20.6V – 180A/27.2V

Duty Cycle

MIG: 25% at 205A/24.25V
AC/DC TIG: 25% at 205A/18.2V
Stick: 25% at 170A/26.8V

Weldable Materials
Mild steel, stainless steel, aluminum
Ground Clamp Cable Length
10 feet
Electrode Holder Length
13 feet
TIG Torch length
12.5 feet
MIG Gun length
10 feet
Weldable Steel Thickness (Single-pass)
Up to 3/8 in.
TIG Start
HF, Lift-TIG
Frequency Range
25-400Hz
Balance Control
60-90%
Pulsed TIG-DC
Up to 500PPS
Wire Drive Rolls

.023″ /.030″ V-Groove
.030″ /.035″ V-Groove
.030″ /.035″ V-Knurled

Wire Feed Settings
Auto, manual
Wire Feed Speed ("WFS")
80–475 in./min
Wire Spool Sizes
4–8 in. spools (100–200 mm)
Spool Gun Ready
Yes
Protection Class
IP23S
Open Circuit Voltage (OCV)
68V
Welder Dimensions (H x W x L)
16in. x 9in. x 23in.
Weight
49lb
Warranty
3 year
Weld Guru Rating
★★★★★
Price
Latest Price
Amazon
Pros
Top 5% of all consumer-level welders on USA marketplace
Best-in-class arc quality in every welding process
AC TIG with HF start, Lift-TIG optional
Low amp start for thin metal (MIG/TIG/Stick)
sMIG mode for adaptable welds
Excellent handling of 6010s
Large TFT display with intuitive controls, user manual, and part numbers
High adjustability for every welding process, especially AC TIG
Dual voltage input (works down to 90V input)
ECO Power for efficient energy use
Amplitude offset – feature reserved for industrial machines
Just about everything included
Cast aluminum drive roll system
LED light on the inside
Double gas inlets for both MIG and TIG
Setting to modify bead profile
Burnback to prevent wire freezing
Rugged, durable, lightweight design
5-handle roll cage
Supports saving settings
The menu is translated into 22 languages
100 days no questions money-back guarantee
Cons
Expensive
Duty-cycle on the lower end
MIG torch and ground clamp leads are a bit short
Spool gun needs to be purchased separately
What To Know Before Buying The ESAB 205ic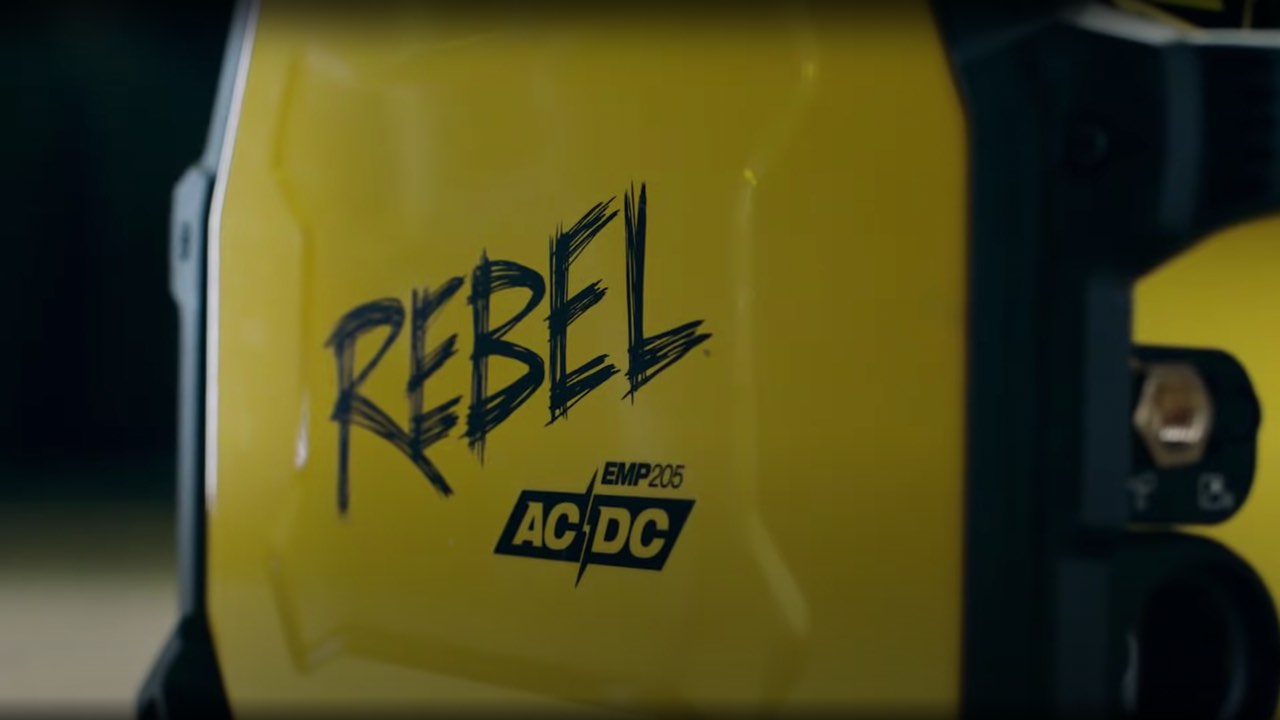 If you have read our other reviews, you'll see that we go above and beyond to set realistic expectations for the buyer. But, in this case, there is a limited number of "negative" things to point out. Since this welder is so good, the only real drawback is its price.
However, here are a few things to keep in mind before you buy it.
Low duty cycle
The 205ic has a low duty-cycle, especially at high amps and when stick welding. It will do about 25% duty-cycle at 210A of AC TIG output, but only 170A at 25% when stick welding.
While the situation gets better at lower amps, people who do stick welds often should be aware of this. I am not sure why stick has the lowest duty-cycle, but it might have something to do with the powerful arc force feature, which improves heat output and arc stability.
One thing to keep in mind is that ESAB's Rebel units shouldn't be compared with cheap imports that offer 60% at 200A. That's because ESAB offers impeccable arc quality and adjustability that demand highly sophisticated internal components.
Keeping it all in a portable package means high heat outputs. And to provide durability and keep things running long-term, you have to sacrifice some on the duty-cycle.
MIG Torch Gas Connection
Many people had a problem with the gas flow in the MIG torch. However, the issue is that the MIG torch needs a final push when you attach it to the unit.
Welders who encountered this issue figured it out in a minute or two, or they just asked ESAB's support. This is a minor issue ESAB could resolve by adding this to the manual.
Top Features of The ESAB Rebel Emp 205ic
Now let's see what this machine can do for you and why it's expensive.
There are many more features that I can't cover in this review. So, I'll do a detailed breakdown of the things that matter for most people.
AC TIG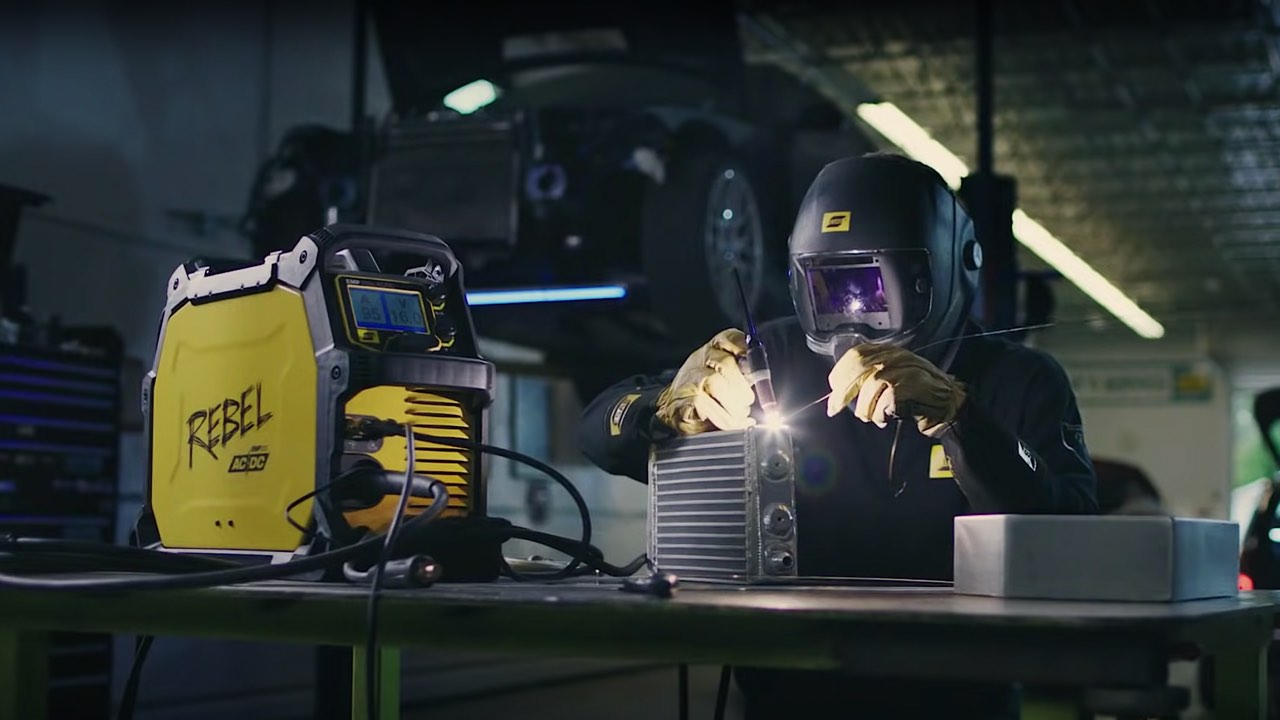 The 205ic offers AC TIG welding capabilities rivaling those found in dedicated high-end TIG welders.
It comes witha High-Frequency (HF) start to keep your weld pool tungsten free, but you can also use this setting on DC.
Plus, the broad balance control allows you to modify the amount of cleaning and penetrating action when welding aluminum. Proper use of this feature will let you fine-tune your weld and avoid the aluminum oxide ending up in your pool, or overheating the base material and causing melt through.
On top of that, it supports amplitude offset. This high-end feature lets you set amperage output values for Electrode-negative (EN) and Electrode-positive (EP) individually. So, when the AC switches between the EN and EP, it will use your preferred amperage for cleaning and penetration.
As one example, this feature allows you to have a narrower bead with deeper penetration, but without the visible cleaning action. It can significantly improve your work quality, and it's only available on machines that cost a lot more.
The 205ic also has one of the widest frequency ranges you can get. You can go as low as 25Hz or as high as 400hz. This setting determines how many times per second the unit will switch between EN and EP.
You can considerably modify the arc's cone shape, narrow or expand the weld bead, and improve arc stability by fine-tuning the frequency.
DC TIG Pulse
Besides standard DC TIG, you can also use pulsing to control the amount of heat in the base metal.
This feature is essential when welding the thin sheet metal. It modifies the peak current, background current, pulses per second ("PPS"), and the peak time which determines the timeframe when the peak current is applied to the metal.
PPS can be set between 0.1 and 500, allowing you to go slow and steady or bombard the weld with peak current. If you set a high peak time percentage and high PPS, you will output massive power into the weld pool, which is excellent for thick sections. So, this feature is practical in both light and heavy gauge metal.
Adjustability
The 205ic has so many adjustability settings that it's difficult to name them all. Every welding process can be significantly altered to suit your needs.
You can modify pre and post-flow shielding gas output for weld pool and tungsten protection. Plus, it includes upslope and downslope settings for a proper low amp start and tapering off heat.
You can fine-tune the bead profile between concave and convex, and utilize the inductance setting for additional arc and bead modification.
Every process can be used in 2T or 4T mode. This is very helpful for production lines when doing long welds. Going with 4T can reduce hand fatigue and increase control over the torch or electrode holder.
sMIG
Besides manual MIG, the ESAB's Smart-MIG mode adapts your arc based on multiple factors to help you get consistent quality welds.
This mode automatically modifies voltage and amperage in real-time based on the plate thickness, wire feed speed, arc length, shielding gas, torch angle, travel speed, electrical stick out, and wire type.
This feature made Rebel's 215ic famous because so many professionals and beginners loved it.
All Stick Electrodes Supported
Of all inverter welders on the market, ESAB's Rebel line welds 6010s the best. This machine will run them even when doing open root.
Pipe welders love the arc force setting, which modifies the arc heat to how cold the metal is. If used at 100%, the 6010 will run the best. It won't cut out unless you bury it in the weld pool aggressively. Of course, all other electrodes are supported, even the 308L for stainless.
ESAB Rebel 205ic vs. 215ic
The 215ic is similar to the 205ic but without the AC TIG support. It's much cheaper, a few pounds lighter, doesn't support dual gas inlets, and lacks less vital settings.
If you don't need AC TIG, the 215ic is a much better choice just because it's cheaper. The 205ic was made to specifically cater to the AC TIG users. Aside from AC TIG, the 215ic supports every other essential element of 205ic at a lower price.
ESAB Rebel 205ic vs Miller Multimatic 220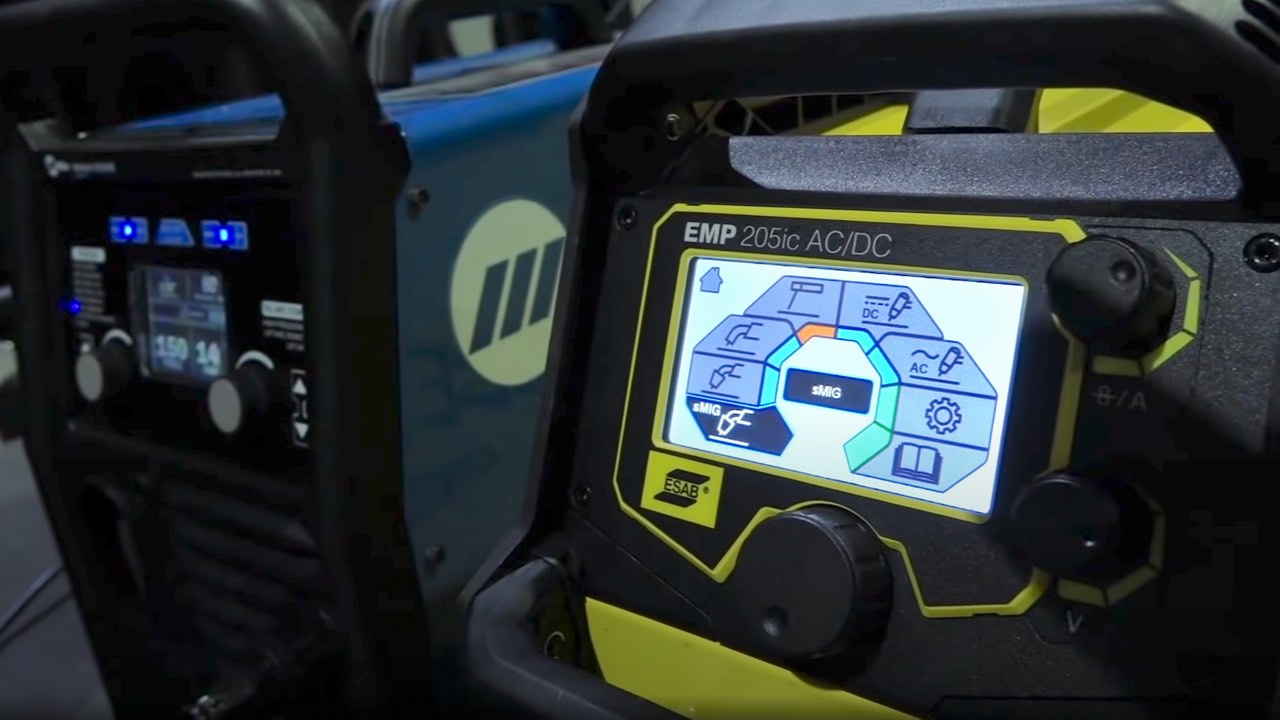 The Miller Multimatic 220 is a phenomenal welder and a very strong competitor to the Rebel 205ic.
However, in my opinion, the ESAB is a better multi-process welder. The Multimatic doesn't have a frequency range as wide, outputs less power, and can't go lower than 20A (bad for thin metal).
Additionally, Miller's balance control is narrower, the DC TIG pulse offers fewer PPS, the screen is not as good, 6010s tend to cut out, it doesn't support amplitude offset, it's heavier, and it has a worse IP rating.
But Miller also has an incredible arc quality, dual gas support, an angled cast aluminum wire feed, and comes with everything included.
The Multimatic 220 has an outstanding QuickTech feature that lets you switch between processes with a touch of the torch/gun button. This significantly speeds up the setup process, mainly because it recalls the previously used settings.
It also has a Pro-Set feature which simplifies adjusting a weld's parameters and it is available for AC/DC TIG and stick settings. It's very beneficial for newbies and saves on time and effort for experienced users. But, Rebel's sMIG does a better job with MIG settings.
ESAB Rebel 205ic
Miller Multimatic 220
Amperage Output
MIG: 15A-235A
DC TIG: 5A-205A
AC TIG: 10A-205A
Stick: 16A-180A
MIG: 30A-230A
AC/DC TIG: 20A-210A
Stick: 30A-200A
Duty Cycle
MIG: 25% at 205A
AC/DC TIG: 25% at 205A
Stick: 25% at 170A
MIG: 20% at 200A
AC/DC TIG: 20% at 210A
Stick: 15% at 200A
AC TIG Frequency Range
25–400Hz
60–150Hz
Balance Control Range
60%–90%
60%–80%
DC TIG Pulses Per Second
Up to 500PPS
Up to 150PPS
Amplitude Offset Support
✅
❌
Rugged Build
✅
❌
IP Rating
23
21
Weight
49lbs
56lbs
Price
$$$$
Latest Price
Amazon
$$$$
Latest Price
Amazon
Final Verdict
In my opinion, the ESAB Rebel 205ic is a 5 out of 5 stars welder. It's one of the best inverter welders you can get, and if you do, your work quality will significantly improve.
However, the Miller Multimatic is also a fantastic choice. It is more user-friendly but lacks some ESAB's features.
ESAB built the entire Rebel line for high-end work quality, and the 205ic is the most capable among them. Hopefully, we'll see a Rebel like the 205ic in the future, but with an even higher amperage output.
Other ESAB Reviews