Hobart. Miller. Two well-known brand names that every welder knows.
If you are in the market for a heavy-duty MIG welder that runs on both 120 and 240 volts and can handle up to 3/8 in. steel in a single pass, these two welder manufacturers are likely to be on your wishlist.
The Hobart Handler 210MVP MIG and Miller Millermatic 211 MIG run with dual input voltage. Amperage output of both maxes out in the 210 to 230A range, which lets you weld mild steel up to ⅜ in. in one pass. Plus, both can accept a spool gun and weld aluminum.
Further, each can run C100 gas, and these quality welders come from established brands and have a good warranty. On the surface, they appear similar. But look closer, and there are significant differences.
Picking the one right for you requires details for each welder before you buy. Luckily, all the needed information is already assembled for you below. Read on to learn each machine's features and which MIG welder fits your shop best.
NOTE: We also included an alternative that rivals both of these welders for those who are on a tight budget at the end of this comparison…
Side-by-Side Comparison
Hobart Handler 210MVP
Miller Millermatic 211
Image
Welder Type
MIG, Flux Core
MIG, Flux Core
Input Voltage
120V / 240V
120V / 240V
Technology
Transformer
Inverter
Duty Cycle
20% @ 90A (115V)
30% @ 150A (230V)
20% @ 115A (115V)
40% @ 150 A (230V)
Amperage
25 – 140A (115V)
25 – 210A (230V)
30 – 130 A (120V)
30 – 230A (240V)
Voltage
4 Fixed Positions (120V)
7 Fixed Positions (240V)
Infinite Positions
Weldable Materials
Mild & stainless steel, aluminum
Mild & stainless steel, aluminum
Wire Feed Speed
Infinite
Infinite
Torch Lead Length
10 ft.
10 ft.
Ground Cable Length
10 ft.
10 ft.
Mild Steel Thickness (Single-pass)
24 ga. – 3/8 in.
24 ga. – 3/8 in.
Aluminum Thickness
18 ga. – 1/4 in. (w/ spool gun)
24 ga. – 3/16 (120V)
18 ga. – 3/8 in.(240V)
Wire Thickness
0.023 – 0.035 in. (steel)
0.030 – 0.045 in. (flux cored)
0.030-0.035 in. (aluminum)
0.024 – 0.035 in. (steel)
0.030 – 0.045 in. (flux cored)
0.030 – 0.035 in. (aluminum)
Wire Feed Speed ("WFS")
40 – 680 IPM
60 – 600 IPM
Wire Spool Sizes
4-in., 8-in.
4 in., 8-in.
Spool Gun Ready
✅
✅
Dimensions (H x W x L)
12.375 in. x 10.625 in. x 19.5 in.
12.5 in. x 11.25 in. x 20.5 in.
Weight
79 lbs.
38 lbs.
Warranty
5/3/1 years
3 years
Price

Check on Northern Tool


—
Check on Amazon
Check on Amazon
Hobart Handler 210MVP [500553]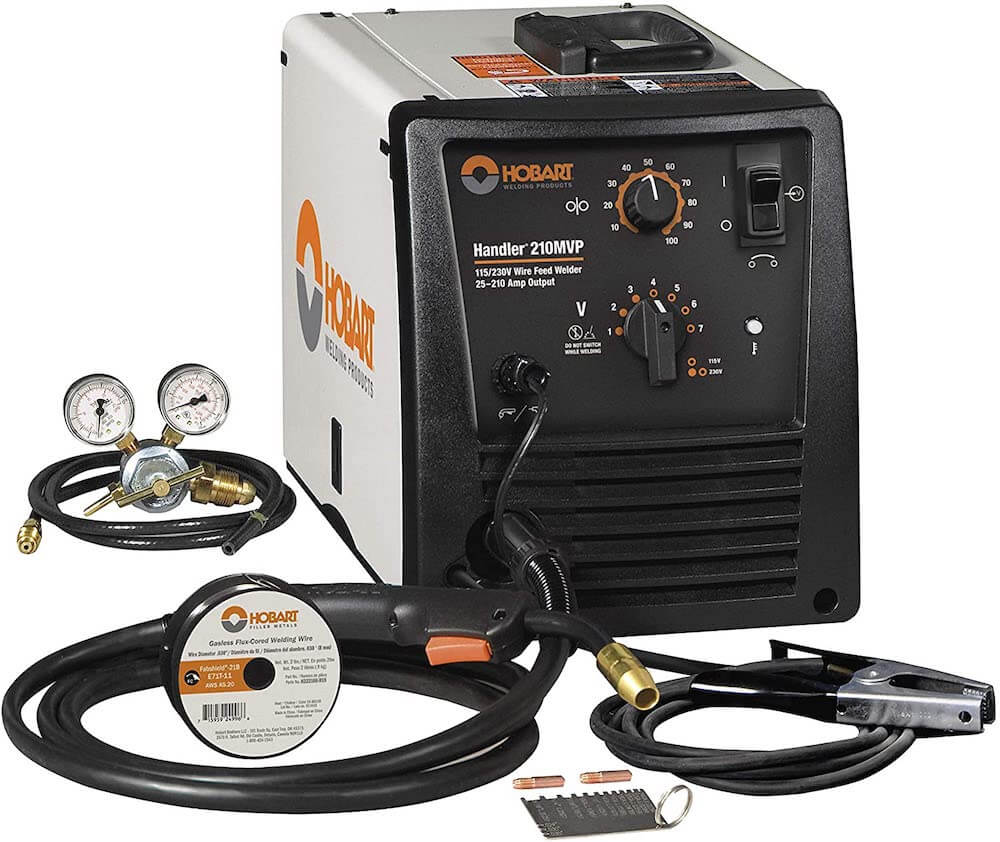 The Hobart Handler 210MVP sits in a sweet spot for small to medium-sized shops. It offers more power than many of the budget-priced MIG welders. But it still does not break the bank.
So, it is no surprise this welder is recommended for maintenance/repair, auto body, farm/ranch, construction, boat/marine, and metal artwork. The 30% @ 150A (230V) duty cycle is adequate for these applications, and users often comment they rarely trip the thermal protection.
A wide thickness range allows you to use just one MIG welder for a variety of jobs, a must for many shops. The 210MVP does not disappoint and can go down to 25A to weld as thin as 24 ga. stock.
On the top end, 210A of output power lets you tackle ⅜ in. steel in a single pass. Plus, add the optional spool gun and you can weld up to ¼ in. aluminum.
The controls, two knobs and an on/off switch, are simple to learn and use. With the settings chart printed right on the welder, you can set up and start laying down nice beads in no time at all. That includes new welders, too, who find this machine makes learning to MIG weld easy.
When you need to switch over polarity for flux-cored wire, again Hobart kept it simple. You have easy access to the leads and flipping them is easy to do with clear instructions printed on the welder.
Ease of use continues when you change wire size or type. The Hobart Quick Select system offers toolless changes and the wire drive is made from cast aluminum. For many units, the wire drive system is a weak link, but not so with this Hobart MIG welder.
It is not the lightest welder, but you can move it around when needed. Plus, the ability to switch over and use 120V makes it easier for you to go to work when needed.
Related: Hobart 210 MVP Review
What's Included
10 ft. (3m) HR-100 gun
10 ft.(3m) work cable with clamp
Owner's manual with installation, operation and maintenance guidelines
Built-in gas solenoid valve and dual-gauge regulator with gas hose
Spool hub assembly accommodates 4 or 8 in. spools
Sample spool of .030 in. self-shielding flux-cored wire
.030 (0.8mm) contact tips
Quick Select™ drive roll for .024 in. (0.6 mm) or .030/.035 in.
Power cord with 5-15 P (115 V, 15 A) and 6-50 P (230 V, 50 A) MVP (TM) plugs
Welding guide
Material thickness gauge
Handler 210MVP Compared to the Millermatic 211
Pros
Lower price
Simple to learn and use controls
Uses proven transformer technology to power the welder
Gets down to 25A for thin stock
Strong warranty
Cons
Heavier
Only welds aluminum 1/4 in. thick
Slightly less top end amps
In addition to these pros and cons versus the Millermatic 211, it is also worth noting that compared to newer competing machines, the Hobart 140 also has the following shortcomings:
Lower duty cycle than some competing models
Heavy and difficult to move around
It doesn't support any advanced welding settings like 2T/4T
Uses an outdated current polarity switch method to change from MIG to flux-cored welding by changing the connection inside the unit
Ground clamp lead is integrated into the welder
It doesn't support infinite voltage selection
No digital display
Not great value for money
Where to buy the Hobart 211
Miller Millermatic 211 [907614]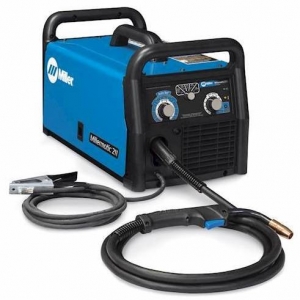 Miller and Hobart are both owned by Illinois Tool Works. So, what is the difference?
Well, at the risk of oversimplifying, Miller is often considered the "pro" grade machine.
As already noted, there are many similarities. One we did not mention yet, the wire drive system is the same Quick-Select mechanism found in the 210MVP. So, yes, it is a fine line, but "pro" grade is a handy way to compare the Miller to the Hobart welder.
For starters, the 211's 40% @ 150 A (230V) duty cycle is higher than the Hobart's. Also, the 230A output is slightly higher but still tops out at ⅜ in. steel in a single pass. It also handles ⅜ in. aluminum with the optional spool gun, which is thicker than the 210MVP.
But the real difference is inside. The Millermatic 211 uses an inverter-based design to power the machine. The result, the Millermatic 211 is half the weight compared to the transformer-based 210MVP.
So, the 211 is easy to carry and transport, and using dual input voltages, it can easily go to work when needed. Also, the 211 and 210MVP can both run on generators if necessary. (The 210MVP requires a little less continuous power than the 211 when run with a generator.)
The Millermatic 211 controls are a bit more complex. But the built-in program is designed to help improve the arc quality. It is not as intuitive as the 210MVP, but once you know how to use the controls, setup is just about as fast as the 210 MVP.
You will notice the 211 has an additional knob you use to set the "combination." The wire/gas combination works with the volts/thickness and wire-speed/size knobs to help get you the best quality arc.
Note that both the voltage and wire feed speed knobs serve a second purpose. This is part of an "auto-set" function designed to help you get the best settings for your weld.
So, the setup process is not as simple as the 210MVP. But it is designed to help you improve arc quality for your wire/gas combination. And if your settings are not recommended, the auto-select will blink to let you know.
If the auto-set function feels constraining, you can still use the wire feed speed and voltage settings. Some users may feel that this "manual mode" is more natural and provides more control for fine-tuning a weld. If that is you, reconsider the 210MVP which costs less.
In summary, if you need one of the Millermatic 211 additional features, you may be willing to pay the added cost, especially if you want a light welder, the ability to weld ⅜ aluminum or the fancier auto-select system.
What's Included
Millermatic 211
Hook-and-loop cord wraps
6.5 ft (2 m) power cord and MVP™ adapter plugs for 120V and 240V
10 ft (3 m) MDX™-100 MIG gun
10 ft (3 m) work cable and clamp
Argon and AR/CO2 mix regulator/flow gauge with hose
Spool of Hobart® .030 in (0.8 mm) solid wire
Two contact tips for .030 in (0.8 mm) wire
Quick Select™ drive roll for .024 in (0.6 mm) or .030/.035 in (0.8/0.9 mm) solid wire, and .030/.035 (0.8/0.9 mm) flux cored wire
Material thickness gauge #229895
User manual
Millermatic 211 Compared to the Handler 210MVP
Pros
Lightweight, portable
Welds aluminum 3/8 in. thick
Uses newer inverter technology
Auto set for specific wire/gas combinations
Fan on demand
Cord wraps to keep things organized
Cons
More expensive
Controls are more complicated
Only goes to 30A for thinner stock
Some want to wait and see if the inverter technology can hold up in a MIG welder that pumps out 230A
Where to Buy the Miller 211
Hobart 210 vs Miller 211: The Main Differences
Technology
The Handler 210MVP uses transformer technology. It is an established design with a long track record. The biggest con, transformers are heavy.
Miller designed the Milleratic 211 using inverter-based technology. It weighs less but is newer technology and some users are a bit leary of how it will hold up in real-world use.
So, the core technology driving these welders is a key difference. The Miller is your choice if you want more control in a lighter welder. But for some, the newer technology is unknown with a higher price tag.
If you want a proven track record with simple-to-use controls, the heavier transformer-based Handler 210MVP is a fine choice. It gets evens better when you remember that the Hobart costs less than the Miller.
Read more on inverter and transformer differences here.
Portability
As touched upon in the previous section, the technology used in these welders impacted how much they weigh. The Handler 210MVP comes in at 79 lbs., while the Millermatic tips the scales at 38 lbs.
For a light, easy-to-tote welder, Miller is half the weight and therefore edges out the Hobart unit. But the Handler 210MVP can still be transported, it will just take a bit more elbow grease to move it around.
Controls
Most welders want a simple-to-use, easy-to-understand set of controls. They want to weld, not set knobs, pushbuttons, etc. If that is you, the Hobart is your pick.
The Hobart Handler 210MVP keeps things simple. Two knobs and an on/off button. To make it even easier, the welding settings chart is printed on the wire compartment door for quick reference.
The Miller 211 includes the settings chart on the machine, too. But the Millermatic comes with three knobs that serve different purposes depending on how you use the welder. It is harder to learn, but you do have more options at your disposal.
So, if you like tweaking with many options, you may be willing to pay extra for the fancy controls on the Millermatic 211. But for ease of use at a lower price, the Hobart will appeal to many users.
Aluminum Welding
Yes, both welders are spool gun ready. But the Millermatic 211 can weld up to 3/8 in. thick aluminum. The Hobart only claims to handle 1/4 in. aluminum.
So, for those who work with lots of aluminum, the extra thickness offered by the Miller welder may make a difference.
Price
Finally, the Handler 210MVP is priced lower than the Millermatic 211.
So, unless you need one of the features specific to the Miller unit, most will lean towards saving some coins and opt for the Handler 210.
A Better Value Alternative To Consider
With the rising cost of MIG welders, it would be wise to consider the alternatives on the market.
This side-by-side review wouldn't be complete without showing you what else you could get for your money.
Let me introduce you to the Eastwood MIG 180.
Eastwood 180 MIG Welder
If you do not need the full amperage power of the Hobart 210 or Millermatic 211 to weld thicker metals, then the Eastwood 180 should be on your watchlist.
Here's a breakdown of all 3 welders compared:
Eastwood MIG 180
Hobart 210
Miller 211
Technology
Inverter
Transformer
Inverter
Dual Voltage Input
✅
✅
✅
Weldable Mild Steel Thickness
Up to 5/16 in.
Up to 3/8 in.
Up to 3/8 in.
Amperage Output
30-180A
25-210A
30A-230A
Duty Cycle
30% at 180A
60% at 130A
100% at 100A
30% at 150A
15% at 200A
40% at 150A
20% at 115A
Spool gun ready?
✅
✅
✅
DINSE Sockets
✅
❌
❌
Integrated Ground Clamp
No
Yes
No
Digital Display
✅
❌
❌
Infinite Voltage Adjustability
✅
❌
❌
2T/4T
✅
❌
❌
Tack Weld
✅
❌
❌
Fan-On-Demand
❌
❌
✅
Auto settings
❌
❌
✅
Smooth-Start tech
❌
❌
✅
Weight
25.3 lbs
79 lbs
38 lbs
Warranty
3-Years
5/3/1
3-Years
Weld Guru Rating
★★★★★
★★★★☆
★★★★★
Price
$$
Best Price
Eastwood
$$$


Check on Northern Tool


—
Check on Amazon
$$$$
Check Price
Amazon
Wrapping it Up
The Hobart Handler 210MVP price beats the Miller 211 while doing most of the same things. Plus, it comes with one of the best warranties for a MIG welder on the market.
So, the performance-to-price ratio for the 210 MVP wins out for most welders.
However, if you need a light, a portable welder with new features, you may be willing to spend more for the Miller 211. Using inverter-based technology, it weighs half the poundage of the Hobart 210MVP. Plus, you can weld up to 3/8 in. aluminum with the optional Miller spool gun. It also gives you more control that considers the gas you are using.
However, if you don't need the power of either machine and want the latest technology from a welder, consider the Eastwood 180. It's not as powerful, but it certainly packs a punch from a value standpoint and has many happy welders.
If you think we missed any important details in this comparison, let us know in the comments below.