When Hobart revamps one of their best-selling engine-driven welders, it's bound to draw some attention.
Which is exactly what happened then Champion Elite 260 was released. Demand for Hobart Champion Elite 260 shot up, and these machines are back-ordered all over the US.
The Champion Elite 260 is a fascinating machine with so much power, capabilities, and quality that it's a miracle how they got it down to a price of just about $4000.
However, This Champion is not without flaws. You should know a few details that'll help you decide if it's suitable for your work.
Engine-driven welders add layers of complexity to the already complex topic of selecting a welder. So let's unpack this machine and see if it's worth your while.
Quick Overview of the Champion Elite 260 (500577)
The Hobart Champion Elite 260 is an upgrade to the well-known Elite 225. It brings more power and a bit more weight as well.
It's a gasoline-powered generator/welder combination that has integrated support for DC stick welding. It's power-efficient, relatively quiet, built to last, and low priced. Plus, it includes a Kohler engine.
This machine is built for heavy-duty work like construction, auto repair, field operations, fabrication, and farm work.
While it has some flaws, but it's more important o understand all the little details. A machine of this caliber is not for everyone.
What's included
Champion Elite 260 Welder/Generator 500577
Kohler CH-730 gasoline engine
12 gal. (45.4L) fuel tank
And that's it; nothing else is included – not even the welding leads.
However, this is fairly standard with the engine-driven welders. Most of these machines are for professionals, so it's expected that you already have your own work leads.
If you do need the leads, you can also get these from Hobart. They offer two different sets. One is 50 feet and the other 20/15ft for work clamp and electrode holder, respectively.
Tech specs
Processes
DC Stick, DC scratch start TIG
Manufactured
USA
Amperage output
40 – 260A
Duty cycle
260 A @ 25 V, 100% duty cycle
Weld output current type
Constant current (CC)
Weldable Metals
Mild steel, stainless steel
Mild Steel Thickness (Single-pass)
Up to 1/4 in.
Engine Brand
Kohler
Engine Type
Twin-cylinder, Overhead valve design (OHV)
Engine fuel type
Gasoline
Fuel Tank Size
12 gal.
Engine Idle Speed
2400 RPM
Horsepower
23 hp
Continuous Power
9500 W
Peak Power
11000 W
No. of receptacles for auxiliary power
1 x 120/240V with 50 amp circuit breaker
1 x 240V with 50 amp circuit breaker
4 x 120V with two 20 amp circuit breakers
Sound Rating
72 dB
Engine Battery Size
Group Size 58 (12 Volt/550 CCA)
Remote Support
❌
Running wheel/gear support
❌
Welder Dimensions (H x W x L)
28 in. x 20 in. x 41 in.
Net Weight
523 lb. (237 kg)
Warranty
3 Years
Weld Guru Rating
★★★★★
Weld Guru Rating
Latest Price
Acme Tools
Pros
2 in 1 Design (welder and generator)
Compact
High-quality Kohler industrial-grade engine
Large fuel tank
Efficient fuel use
Auto idle mode
Low oil pressure shutdown to prevent engine damage
Easy access to all internal parts, effortless cleanup from dust and dirt particles
Wide availability of spare parts (air and fuel filters, internal carbon brushes, etc.)
Fast and straightforward oil change process, no tools necessary
Quiet when in idle mode
6 receptacle auxiliary power
Very high single-phase power output
Rugged protection cover for receptacles
Engine choke control for effortless startup
Ability to fine-tune amperage output settings
100% duty cycle at maximum welding amperage output
Easy arc starts without sticking
Built to last and based on a proven best selling design
Cons
Heavy, need to devise a method to transport the machine
Hobart does not offer a wheel kit or cart for this unit
Besides stick, it supports TIG with a scratch start only. I wish it were at least lift arc capable
Slightly confusing front panel interface
Gasoline generators may be prohibited on some job sites because of the flammable gasoline
No remote start
Some people find it is loud when in full power mode
Hobart Champion Elite 260 vs 225 – What's Changed?
Hobart's Champion Elite 225 is perfect as it is. The Elite 260 brings us slightly more power, as well as a slight increase in price and weight.
But, I don't think that Hobart remade the same machine to offer slightly more welding power. They've probably improved its electronics since the 225 is an older machine. Plus, they may have worked on its design to be more future-proof.
Even their own presentation for Elite 225 says that it welds up to 1/2 in. mild steel, just like their sales video for Elite 260. While a slight increase in amperage output will make welding thick metal faster, it doesn't warrant a full-on model re-release.
So, it's likely that they'll discontinue the 225 at some point. But that remains to be seen. It's not good business practice to offer similar machines, and high-end brands don't typically do that.
| | Hobart Champion Elite 260 | Hobart Champion Elite 225 |
| --- | --- | --- |
| Amperage output range | 40 – 260A | 40 – 225A |
| Weight | 523 lb. (237 kg) | 490 lb. (222 kg) |
| Price | $$$$ | $$$ |
What Should You Know Before Buying the Champion Elite 260
There are some aspects of Champion Elite 260 that are less than perfect. There aren't many, but you should keep these in mind while considering your engine-powered welder-generator combo.
Gasoline-powered
Gas-powered welders are the most affordable, and this fuel type fits perfectly in this machine's price range.
Still, there are certain things you should know if you are new to engine-powered welders.
Diesel-powered engines are better. They are significantly more energy-efficient, aren't prohibited in worksites, and have longer lifespans. Naturally, machines with diesel engines are more expensive and not found in the affordable range.
Gasoline-powered engines require more frequent service, which increases their lifetime cost. Additionally, with high RPM use, they wear down faster. They also need more fuel for the same energy output.
While gas-powered engines cost less upfront, their overall lifetime cost might reach the costs of diesel units thanks to the high gas prices and their lower energy efficiency.
Don't take this as a con for Hobart because no other brand will offer anything better in this price range. This is just me letting you know what to expect.
Confusing Amperage Selection
This machine has two knobs on the front panel for welding amperage output. One knob does a coarse range control while the other allows for fine-tuning.
While this sounds fine in theory, I am very confused with their overly broad amperage ranges on their first knob.
You can select a range of 40-130A, 60-160A, 80-225A, and 100-260A.
Why do these ranges have so many overlapping values? If you select the first option of 40-130A, you already cover the range of 60-130A. So, why provide the same range in the following selection?
It just feels confusing.
To add to the confusion, the second knob that does the fine-tuning also has another function. If set to a value of 7 or higher, the generator will provide "best power," as Hobart says, while the value of 10 (maximum) is meant for generator-only use.
Most people will catch on fairly quickly and find their way of using the machine. I just don't see why they didn't make it more straightforward as Hobart usually does.
No Hobart Wheel Cart
Hobart doesn't offer any wheeled cart for this 523 lb unit. That's strange because the unit doesn't have any handles, and even if it did, it'd probably take four people to lift it.
Thankfully, it has a perfectly positioned lifting eye that's rated for almost three times its weight. This makes sense because Champion 260 is designed to be mounted onto a truck bed or a trailer. Still, I wish they offered the wheel cart for more effortless machine movement.
Additionally, the user manual prohibits using the machine in a closed trailer so keep that in mind when you mount the machine.
Top Features of the Hobart Champion Elite 260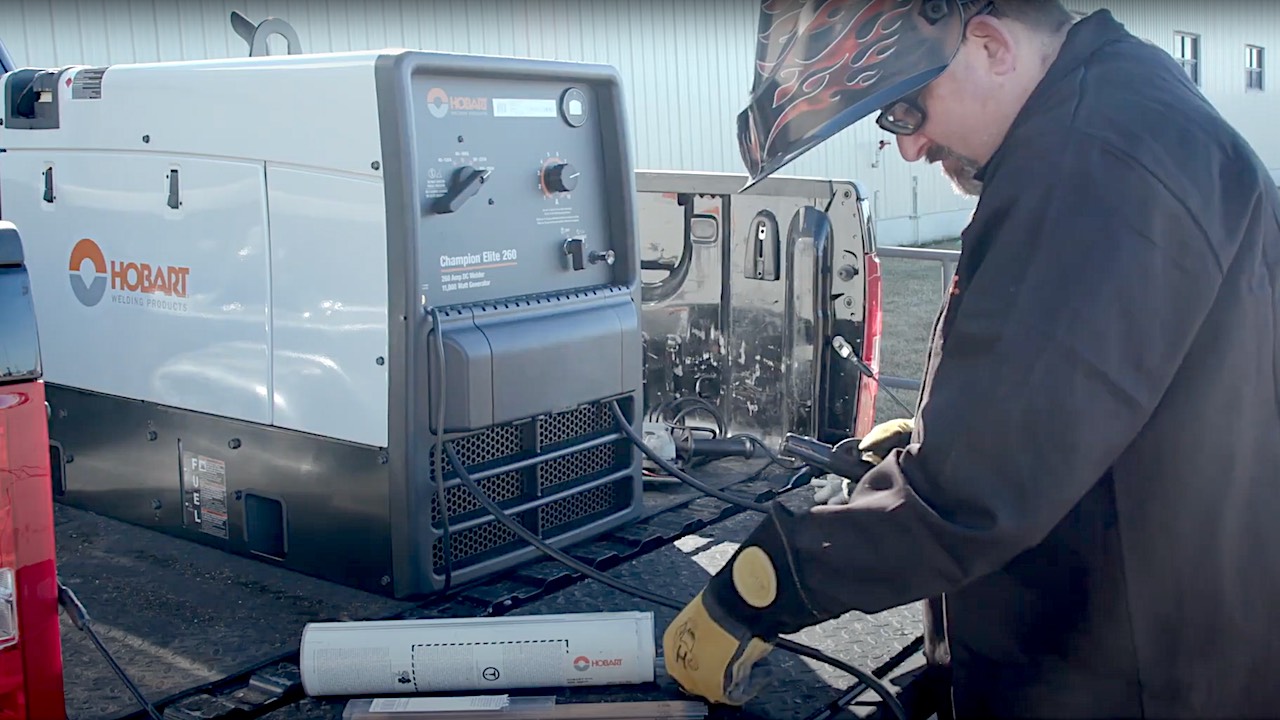 The Champion Elite 260 has so many positive things that it's hard to name them all, let alone detail them.
So, let's take a look at the best things you'll find helpful in everyday scenarios.
Stand Alone Generator
This is a generator on the high end of the spectrum. People out there have used the Champion 225's generator for more than 300 hours straight to power their entire homes in emergency scenarios like hurricanes.
Having a single-phase output of 9500W at a 100% duty cycle (continuous use) is more than enough to power almost every device in a demanding household. Generators of this power and build quality are often priced higher than this 2 in 1 unit.
The generator peaks at 11000W of single-phase output in a short run. This is used in high power surge instances such as starting a pump or other inductive loads. After the initial energy burst, the generator will stabilize at its continuous power output level while the pump or other device reduces its power draw.
Arc Quality
The built-in stick welder is impressive. But, of course, it's a Hobart, so this doesn't come as a surprise.
The arc is smooth and won't cut out with most applications. You can easily use this welder in a professional environment without worrying about how the arc will behave.
This machine will handle 6010, 6011, 6013, 7014, 7018, 7024, Ni-Cl, 308L, and others without issues. And it will run electrodes up to 3/16 of an inch in diameter.
The arc start is easy as the machine outputs enough amps as soon as you scratch the metal. You are unlikely to experience any cold starts with a welder of this quality.
Build Quality
This is one of the strongest suits of this machine. Everything is built with incredible quality. The metal case, plastics, receptacles, engine, and control knobs are built to last.
The Kohler CH-730 is a heavy-duty engine. A beast among generator engines. It features heavy-duty air filters, extra-large sleeve bearings, and excellent quality piston heads.
The Kohler's engine is constructed from an aluminum block and features cast-iron cylinder liners. It's a rugged little engine that will get you through the toughest times. These engines often power equipment used in harsh work environments. You'll find them in wood chippers, concrete saws, curbers, generators (obviously), pumps, stump grinders, and similar.
The engine is manufactured in the USA and can be a faithful companion as long as you treat it well.
The Elite 260 itself is built as a sturdy machine for tough work conditions. You don't need to handle it with kid gloves. This machine performs like a workhorse as long as you follow the proper service and maintenance protocols.
Ease of Maintenance
Every welder generator combo needs maintenance.
Hobart employed an excellent design with the Champion Elite 260, allowing you access to every internal component in seconds. You can easily use an air compressor and dust off the engine and other internal elements.
Hobart installed a handy little indicator letting you know exactly how many work hours have passed when it comes to oil changes. After 100 work hours, the oil needs to be refilled, and this is a straightforward process. No tools are necessary.
Look, you are not paid to cater to your equipment. But maintenance is a hassle we must endure. But Hobart's design takes the "hassle" out of the equation by letting you get this done in mere minutes.
And as you might already know, the oil and air filters need to be checked daily in harsh work environments. You don't want your equipment to suffer because of dust and other debris, so Hobart's easy part access design is something that makes your work easier.
Champion Elite 260 vs Miller Bobcat 260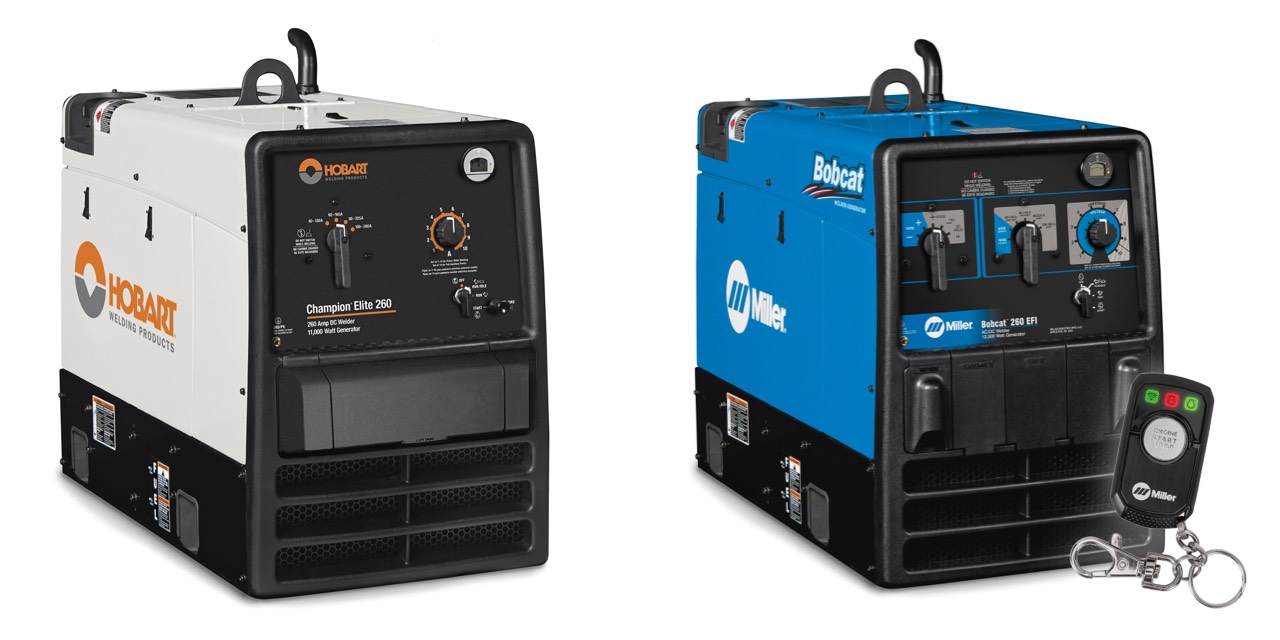 Usually, when comparing Hobarts machines to their Miller equivalent, the difference is not immediately apparent. But this is not the case here because the Miller Bobcat 260 offers more features at a higher price.
First, the Miller Bobcat 260 is a multiprocess machine capable of both DC and AC output. This is a significant difference. You can do DC and AC TIG, stick, and you can do wire welding with it.
Additionally, it offers remote control operation. Miller claims this will save you $1500 in fuel and spare parts costs, which may or may not be exaggerated. But it will save you some money, that's for sure. This cost efficiency can easily bridge the price gap between the Hobart and Miller units. So, the Bobcat 260 is worthy of your consideration, even if it costs more.
While many of the other features are the same, Miller also offers rugged running gear for mobility. If you need to roll your unit around on site, this could be an essential difference for you to know.
A side-by-side comparison is made in the table below.
Hobart Champion Elite 260
Miller Bobcat 260
Processes
DC Stick
AC/DC TIG & Stick, MIG/Flux core


(No support for Low amp TIG)

Spool gun support
❌
✅
Remote start/stop
❌
✅
Mobility support
❌
✅
Weight
532 lb
501 lb
Price
$$$
Latest Price
Acme Tools
$$$$$
See on
Miller
Conclusion
The Hobart Champion Elite 260 really is a Champion among affordable welder-generator machines. The powerful generator alone is worth the price. But you get a powerful stick welder as well.
It's built upon the Elite 225's proven design that has stood the test of time. So, if you are considering the 260 model, feel free to go for it as long as everything you've read here aligns with your needs.
The Elite 225 is also an excellent choice. But that model may eventually be phased out. If you need more features and support, the Miller Bobcat 260 is a cost-effective alternative.
If you think we missed anything in this review, please let us know in the comments below!