When Hobart revamps one of its well-established welders, it is bound to draw some attention.
So it is with the Hobart Ironman 240 MIG welder, which comes to us as an upgrade to the Ironman 230.
In short, the Ironman 240 adds extra power and more control. But that is a bit of a simplification since the details reveal all the improvements.
If you are one of the curious, the review below summarizes all you need to know about this new entry into the Hobart line of welders.
Quick Overview of the Hobart Ironman 240 MIG Welder
What's Included
15 ft. 200-amp MIG Welding gun
Regulator/flow gauge
5 ft. gas hose
Primary input cable with plug
Dual-groove drive roll – .030/.035 in.
10 ft. work cable with clamp
.030 and .035 contact tips
Built-in running gear/cylinder rack
Weld, set-up, and parts information chart mounted on welder
Thickness gauge
User manual
Technical Specifications
Technical Specifications
Welder Type
MIG, Flux Core
Input Voltage
208V or 240 V
Technology
Transformer based
Duty Cycle
32% @ 240A
60% @ 200A
100% @ 160A
Amperage Output
30 – 280A
Voltage Settings
Infinite between min. and max.
Weldable Materials
Mild and stainless steel
Aluminum (w/ optional spool gun)
Torch Lead Length
15 ft.
Ground Cable Length
10 ft.
Mild Steel Thickness (Single-pass)
24 ga. – 1/2 in.
Wire Drive Rolls
Solid Wire:
0.030 and 0.035 in. (included)
0.023 and 0.045 in.(optional)
Knurled for Flux-cored:
0.030 in. (optional)
0.045 in. (optional)
Wire Feed Settings
Infinite between min. and max.
Wire Feed Speed ("WFS")
50 – 700 IPM
Wire Spool Sizes
2, 10, 33, 45 lb. rolls
Spool Gun Ready
✅
Welder Dimensions (H x W x L)
30 in. x  19 in. x 40 in.
Weight
186 lbs.
Warranty
5/3/1 years
Weld Guru Rating
★★★★☆
Price
Check Latest Deal
Northern Tool
(free shipping)
Pros
Simple to use, only two knobs to set
30 – 280A of power
Welds 24 gauge to 1/2 inch steel
Optimized arc for less spatter and reduced cleanup
Run-in technology for smoother starts and less spatter
Can use larger, heavier wire spools
60% duty cycle at 200A of power
Storage compartment for consumables and small parts
Flip down settings chart right under controls (inside the consumables storage compartment)
Indicator light lets you know whats going on inside the machine
Wheels/running gear incorporated into the welder and includes a tank mount
Cons
Expensive
Heavy, not portable
Need to purchase extra rollers for some wire sizes
32% duty cycle at 280A may be too low for some users
No advanced timers found on more expensive units
Where to buy the Hobart Ironman 240
The Ironman 240 is not as widely available at retailers as other Hobart welders.
Mainly due to how new it is and also it is not as popular as some of the smaller welders they offer.
Here are some retailers I found so far:
Northern Tool – Spoolgun package available – Free shipping
AcmeTool – Spoolgun package only – Free shipping
Hobart Ironman 240 vs 230 – What's Changed?
The Ironman 240 expands on the Ironman 230 heritage. So, there are some similarities.
Both are spool gun-ready and have "infinite" wire speed control, for example. But improvements were made to the 240. The major revisions are highlighted below.
| | Ironman 240 | Ironman 230 |
| --- | --- | --- |
| Power Output | 30 – 280 amps | 30 – 250 amps |
| Open Circuit Voltage | 40VDC | 38VDC |
| Duty Cycle | 60% @ 200 amps | 60% @ 175 amps |
| Number of Voltage Settings | Infinite between min. and max. | 12 |
| Run-in Technology | ✅ | ⛔ |
| Diagnostic Indicator Light | ✅ | ⛔ |
| Settings Chart | Flip down chart on the front (inside storage compartment), directly under controls | Sticker inside wire compartment door |
In summary, you get more power and a better duty cycle. For a machine intended to handle just about any task, having plenty of power is important.
Also, there is better control with the voltage setting infinite choices now included. Plus, the inclusion of Run-in technology helps to make starts smoother and reduces spatter.
Overall, the new control panel is also more user-friendly. A new flip-down settings chart right on the front of the machine puts the information right under the controls. This makes it easier to find the parameters and set the knobs accordingly.
A new indicator light added to the control panel lets users know when the welder overheats or experiences a problem. Again, this gives you more control since you know when something is wrong and why.
The one feature "lost" with the 240 is the torch and ground cable hangers on the side of the welder. But the redesigned, split handles on the front of the 240 also hold the cables if desired, eliminating the need for hangers on the side of the welder.
What Should You Know Before Buying the Ironman 240?
Power Input
Not surprisingly, a powerful unit like the Ironman 240 runs on a 240V or 208V electrical input only. No 110V option on this machine.
For those who want to know, you will need a 60 Amp breaker on your 240V outlet. This may be more than some residential installations can provide.
As an alternative, a 70 Amp breaker is needed for a 208 V supply. You also need to reposition a jumper cable on the inside of the wire compartment if you run on 208V.
Running on a Generator
New products can raise a lot of questions. In particular, the Hobart website was peppered with frequent inquiries on using the Ironman 240 with a generator.
After getting in contact with Hobart, they suggested a generator with a minimum of 11,000 continuous watts. But they do not recommend running the IronMan 240 on generator power. While it does not harm the unit, it does degrade the welder's performance.
Related: What Size Generator Do You Need to Run A Welder?
Weight
Do not expect to just throw this machine into the back of your truck and haul it around. It weighs almost 200 lbs.
Fortunately, it does come with wheels and serves as its own cart. So moving it around a shop with concrete floors is fairly easy. But this is not a "portable" unit.
Consumables
While you do get a couple of contact tips to get started, one 0.030 and one 0.035 inch tip, they will not keep you welding for long. Throw some additional contact tips into your initial order if you do buy this machine. You will need them.
In addition, you will need some wire. None is included in the box. One last thing you will need. If you want to MIG right out of the box, you must have your own tank of gas.
"Timer" Control
If you want advanced timer features like spot/stitch, burnback, run-in, and pre/post gas flow, they are not included in the Ironman 240. You will need to spend more money to get a far more expensive machine that includes these features.
Features that Make the Hobart Ironman 240 Great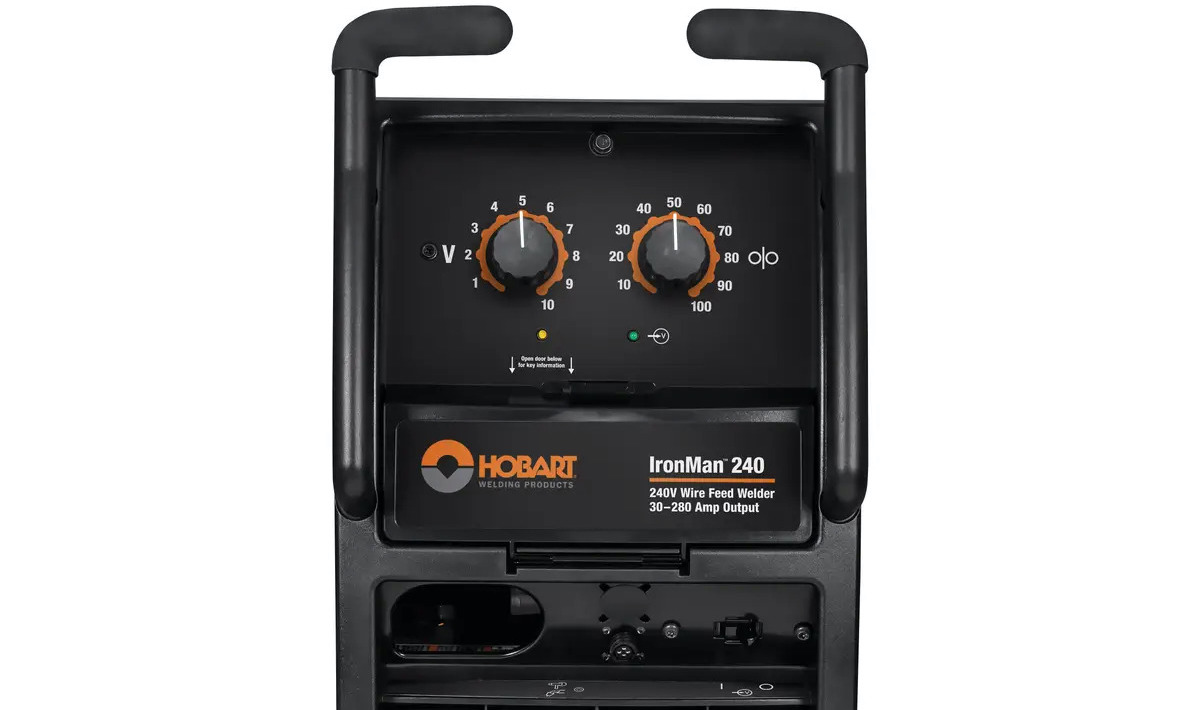 Power
Power is often one of the first things mentioned when talking about the Ironman 240. That makes sense since this machine puts out 280 amps and allows you to weld up to 1/2 inch steel in a single pass.
But you can go down to 30 amps, too. That fact can be lost since most tend to focus on the high end. But is also important to remember the low end. This allows you to tackle thin stock when needed, down to 24 gauge.
While this may not be a welder for "delicate" work, it does have a good range and lets you take on a wide assortment of stock thicknesses. Hobart even mentions in some promotional videos that this welder is designed to handle whatever you throw at it.
Run-in Technology
Start-ups can sometimes be a challenge and get messy at times. But Hobart included a special feature to help make your starts better. The Run-in Technology slows the wire feed speed until an arc has formed. This allows for smoother, spatter-free starts.
Simple Knobs/Switches
If you like keeping things simple, the setup of the Ironman 240 will make you happy. It is old school, meaning you only need to set two knobs; the wire feed speed ("WFS") and the voltage. The only other switch on the front is the power-on toggle.
Infinite Control
When you want to tweak a setting, both the WFS and voltage use an infinite control knob. That means you are not limited to a certain number of "taps" and can make fine adjustments as needed for both parameters. Tweaking for a difficult weld? No problem.
Indicator Lights
Again keeping things simple, there are only two lights on the control panel. One is simply a light to let you know when the machine is powered up. No mystery there.
The second light is a little more complicated but helps to protect you and your expensive machine. When the machine overheats, or there is a problem, this diagnostic light communicates information to you as:
Steady Light Unit has overheated
Single Flash Trigger engaged when the machine was turned on
Double Flash Short, check for wire stuck to or touching the workpiece
Triple Flash Wire-feed warning, check gun and wire drive system
Large Spools of Wire
With a workhorse or "Ironman" welder, you will consume lots of wire. Fortunately, Hobart designed this welder to accept larger spools. You can use 2, 10, 33, or 45-pound rolls.
Spool Gun Ready
Since it is spool gun ready, the Ironman 240 has you covered if you do weld aluminum. You can add the SpoolRunner 200 spool gun later if you want to wait.
Or, Hobart offers a package deal (found here) if you want to buy the Ironman 240 and spool gun at the same time.
Consumables Storage/Flip Down Settings Chart
There is a door that flips down on the front of this welder. It reveals two important features. First, you have a nice compartment for small parts and torch consumables. This keeps you organized and working like a pro.
Second, the settings chart is mounted inside. It flips down so you have all the information at your fingertips, with the WFS and voltage knob just above. So, you can actually set the parameters with the chart in full view.
Running Gear
Hobart includes an integrated set of wheels that turns this welder into its own cart. This makes moving the heavy unit around on hard floors easy.
This design also includes a spot for your gas tank. Strap in your cylinder with the included chain, and your gas tank conveniently moves with the welder.
Fan on Demand
Fans are important in welders that use transformers, like the Ironman 240. They keep the electrical components cool and extend their useful life.
But fans can be noisy and annoying when they run non-stop. Luckily, the Ironman 240 has a fan on demand. When it is not needed, the electronics are smart enough to simply shut off the fan, even though the unit is still powered on.
Warranty
Hobart offers an impressive 5/3/1 guarantee that competes well with the more expensive competitors. It covers:
5 Years:  silicon controlled rectifier ("SCRs"), diodes, and discrete rectifier modules, reactors, stabilizers, and transformers
3 Years:  drive systems, idle module, PC Boards, rotors, stators, brushes, solenoid valves, switches, and controls
1 Year:  MIG flow gauge regulators (no labor), MIG guns, and spool guns
Alternatives in this Range
Interestingly, the Ironman 240 compares well to machines costing up to twice as much. The power and control are similar.
But there are some "high-end" features on the more expensive, competing units not found in the Hobart Ironman 240.
For 90% of users, the extra features found in the more expensive units will not be worth the extra money. But you can see for yourself in the comparison table below.
Hobart
Ironman 240
Lincoln
Power MIG 256
Millermatic
252
Amp Output Range
30 – 280A
30 – 300A
30 – 300A
Duty Cycle
40% @ 250A
40% @ 250A
40% @ 250A
Mild Steel Thickness (Single-pass)
24 ga. – 1/2 in.
22 ga. – 1/2 in.
22 ga. – 1/2 in.
Infinite Voltage Control
✅
✅
✅
Digital Displays
⛔
✅
✅
Run-in Technology
✅
✅
✅
"Timer" Controls
⛔
✅
✅
Spool Gun Ready
✅
✅
✅
Push-Pull Gun
⛔
⛔
✅
Running Gear/Gas Tank Rack
✅
✅
✅
Auto Gun Detection
✅
✅
✅
Fan-on-Demand
✅
⛔
✅
Easy Access Settings Chart on Front
✅
⛔
✅
Warranty (years)
5/3/1
3
3
Price
$$
Latest Deal
$$$
Latest Deal
$$$
Latest Deal
Conclusion
For those searching for a true workhorse, take a look at the new Ironman 240 MIG welder. It offers a wider power range and an improved duty cycle compared to the old Ironman 230. Plus, you now get infinite voltage control, and all of this comes with a reasonable price tag.
With its impressive specs and good control, this welder can handle a wide range of stock, including aluminum with the optional spool gun. This means the Ironman 240 competes well against units with similar power ranges/duty cycles at half the price.
The 240's feature set should be ample for most users. But if you require more advanced timers or a push-pull gun, you may need to spend the extra money on a competing unit.
Given the Ironman 240's capabilities, Hobart justifiably notes racing, customizing, restoring, DIY, maintenance/repair, autobody work, manufacturing, construction, farm/ranches, and metal art/sculptor as typical applications.
But the potential user list could be much longer. This welder can satisfy almost any experienced welder with varied work (i.e., 24 gauge to 1/2 inch thick stock). Plus, the 100% duty cycle at 200A should help to make many shops more productive.
Add in the convenience of the useful indicator light, run-in technology, fan-on-demand, running gear, and flip-down settings chart on the front of the unit. The value of this simple to use, capable welder becomes apparent.
Is there anything about the Ironman 240 you like or dislike? Let us know in the comments below!