Not long ago, plasma cutters were about as portable as a car without wheels.
You needed a DC power brick the size of a refrigerator. You needed water cooling, and you'd tear through consumables pretty quickly.
But once you had everything together, you could tear through an inch of steel like it was wet paper.
Although plasma cutter welding machines are still pretty bulky by modern standards, just about every other aspect of their operation has immeasurably improved.
With the right instrument, plasma cutters are now one of the most time-efficient and cost-effective methods of cutting through metal.
SUPER DEAL DC Inverter Plasma Cutter Welding Machine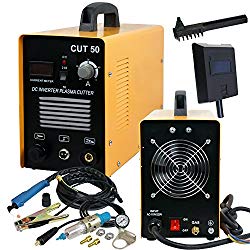 SUPER DEAL constructs everything from commercial ice shavers to electric towel-warming cabinets.
When you're shopping for quality instruments, it's often a good idea to apply extra skepticism to products from generic brands like this.
But the DC Inverter Plasma Cutter Welding Machine is a bit of an exception.
If nothing else, it's an excellent example of how far plasma cutters have come in recent years.
Intended to be an efficient, economical alternative to more traditional methods of slicing metal, this welding machine is a high-duty instrument that's ready for light industrial use.
For professionals and do-it-yourselfers, this machine is a fairly capable and cost-effective solution.
Finding the Right Cutter
When choosing new equipment, one of the most important variables to consider is the cost and lifespan of consumable components.
Those concerns are magnified by other questions, like:
How often are you using the instrument?
How much portability do you need?
How thick are the pieces you're cutting through?
These kinds of questions can quickly narrow down if you've found the right equipment.
Another thing to watch for is consumable replacement costs.
Inexpensive cutting machines like this often lock you into proprietary consumable ecosystems, you end up paying more in the long run.
But SUPER DEAL's included torch, the LG-40, has seen decades of service. Consequently, consumables are both cheap and easy to find.
Performance Capabilities
When selecting a plasma-cutting tool, you typically don't want to cut corners on power.
The included power supply is a standard 110V/60Hz, but the inverter is capable of using a 220-volt plug. And it's equipped to handle 20-50A current.
With that much power behind it, the torch can slice anywhere between 1-12mm.
Cutting smoothly so you don't have to return to polish, the torch rips through thin material in seconds. Given ten minutes of use, you can have this torch in operation for six minutes before it needs to cool off.
It's a duty cycle that compares well to any other cutter as portable as the SUPER DEAL DC Inverter Plasma Cutter Welding Machine.
Nearly All-Inclusive Instrument
With a fairly compact 18.5 x 11 x 13.5-inch design, the chassis of the inverter is also fairly rugged.
The orange-yellow body of the device was constructed from heavy-duty iron, giving its electronic guts IP21 protection.
The front-side makes use of a digital display and highly visible air pressure gauge. The digital readout makes it easy to see where you're dialed in, helping keep you in control over your weld.
The DC inverter includes an air regulator, LG-40 cutting torch, earth clamp, PG Head, wire brush, chipping hammer, and welding face mask.
It includes a pair of plasma tips, gas pipe claspers, hoops. And it includes a user manual, but it's not particularly well-written.
If this is your first time using a plasma cutting torch, it will take you a moment to get your bearings.
The kit does not include a plug-end for a 220/110 connection. Depending on what you're trying to do, you may need to purchase a plug-end, an air supply line, and a replacement for the non-adjustable welding mask included in this kit.
Picking up those things will tack on a few more dollars to the price tag, while helping to keep an exceptionally high cost-to-performance ratio.
Who Should Choose the SUPER DEAL Inverter Welding Machine?
The Super Deal DC Inverter CUT50 is a plasma cutter that can be purchased for under $300 and is suitable for lighter industrial use, sheet metal, automotive, ducting, maintenance, and site work.
For the do-it-yourself crowd, it's an almost-all inclusive and highly economical option for what can be an essential instrument.
Plasma cutters tend to involve more of an upfront investment, especially compared to alternatives like oxy-fuel cutting.
Cutters like this pay for themselves over time, usually in the form of lower operating costs and time efficiency.
If you can benefit from either of those things, and you're not looking to invest heavily in a top-shelf instrument intended for heavy industrial use, then this welding machine is worth careful consideration.
See the latest price here
Other product reviews: