When compared to the point-and-shoot simplicity of MIG welding, it's true TIG welding is somewhat specialized.
But integrating a solid TIG platform into your toolkit has considerable benefits, helping you perform beautiful work with minimal spatter and cleanup.
Unfortunately, cheaper TIG welding equipment tends to suffer arc stability issues. And they can have a dire impact on the overall look of your weld.
The shortcomings of more affordable equipment have even kept some people away from using a TIG torch.
But there are some noteworthy exceptions to the rule.
Amico Power – 200 Amp TIG Torch/Arc/Stick DC Inverter Welder
Amico Power is an American based company, specializing in engines, generators, and a variety of service-oriented tools.
Arguably one of the more formidable instruments in their lineup, this 2-in-1 style TIG Stick Arc machine delivers a multi-purpose design with very few drawbacks. It's adaptable enough to slash through thick steel, then turn around and almost immediately be applied to gentler tasks.
Dynamic Build
One of the first things you might notice about this machine is its generally small size. The inverter's chassis is composed of a mixture of lightweight aluminum and ABS plastic, measuring 16.6 x 11.8 x 7.5-inches. Compared to similar TIG equipment, that's actually quite compact and portable. Even with respect to its seemingly bulky 25lb weight, portable TIG welders are often twice as heavy.
The 200 Amp TIG Stick/Arc machine includes just about everything you need to start welding out of the box. Its scratch-start system centers around the included TIG torch, with the included cabling providing you a maximum range of 13 feet.
Among its long series of included extras, there's a pair of 1/8" and 3/32" electrodes, as well as and a pair of tungsten measuring 5/64". The electrode holder, work clamp, and transfer plug cabling runs marginally shorter than the torch itself, reaching to 10 feet.
Performance Capabilities
Conveniently placed along the front face of the machine, you'll find every control necessary for operation. That includes supporting 110/230V dual voltage inputs, enabling you to connect through any ordinary power supply, and giving this platform full range of control options.
Using a red analogue dial on its front, you can modulate the system between 20-200 amperage, granting both precision and power. It's enough raw force to carve through ½" copper, alloy steel, stainless steel, chrome, and cast iron. Equally important, the equipment has a modestly heavy duty cycle of 60%, helping to deliver on its promises of time efficiency.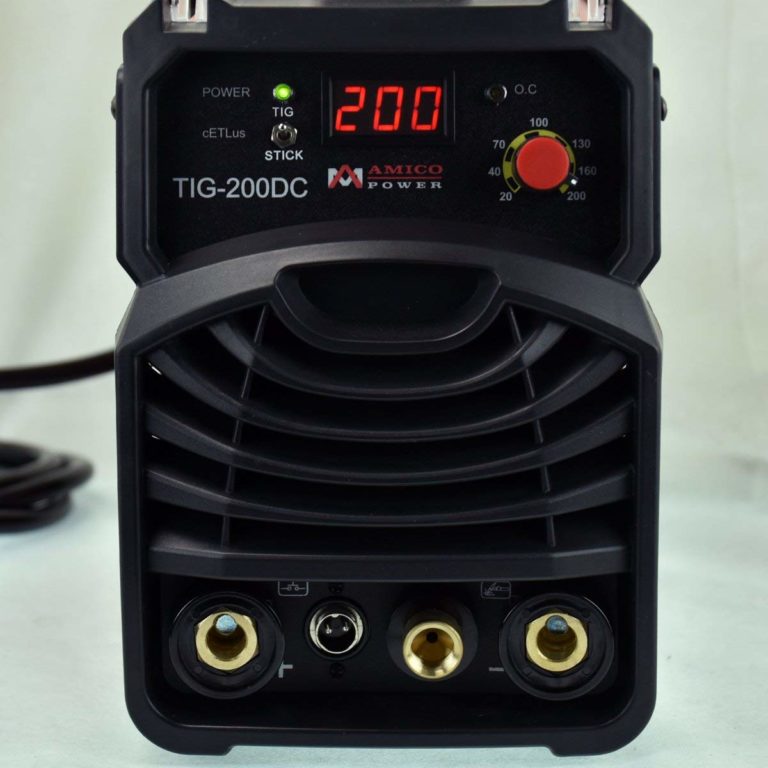 Other Considerations
Hypothetically speaking, you could splice the wire running from the machine to the torch, and run a foot pedal through the splice. But ignoring that extreme possibility, this TIG Stock/Arc machine does not allow you to attach a foot pedal.
Instead the torch makes use of a readily-accessible button on its handle. It's great for welding within tight spaces, many of these being spaces where a foot pedal wouldn't help you to begin with. In any case, it's hard to hold this against the torch because it was always intended to be more of a compact and portable instrument.
The 200 Amp TIG Torch/Arc/Stick DC Inverter Welder was constructed in China. Before reaching market, each unit is tested in the United States. Amico Power also includes a 1-year warranty with all their equipment.
Who Should Choose the Amico Power 200 Amp TIG Torch?
After a few minutes of handling, it's easy to see why people like this torch. The equipment is made to deliver a near-flawless weld, leaving you with very little post-weld cleanup. Its multi-purpose design, letting you toggle between stick and plasma cutting with the flip of a switch, can be a huge time-saver.
With a close examination, you find a standardized design from top to bottom. From the standard threaded fitting used to connect the gas, to the commonality of its replacement consumables, there are no secrets or surprises waiting for here. And there's no proprietary design that locks you within the Amico Power ecosystem.
Every tool has its limits. This torch isn't appropriate for working with aluminum, and it has all the previously mentioned limitations with respect to remote pedal control.
But if you can put those restrictions aside, you'll find the Amico Power 200 Amp TIG Torch/Arc/Stick DC Inverter Welder is a fairly impressive instrument.  Between the ability to dynamically adapt to new conditions as they come along, and its exceptionally strong price to power ratio, it's not hard to find reasons to look past its shortcomings.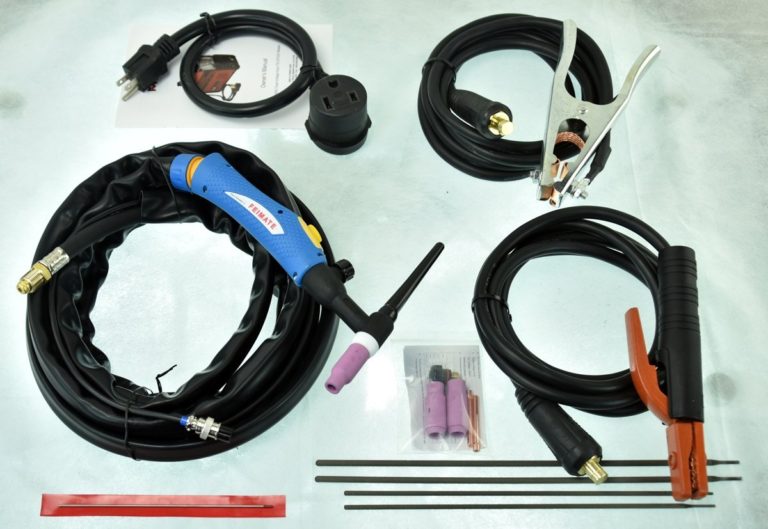 Other reviews: