Sure, those big expensive welders with enough power to dim the entire town's lights on every arc start do a lot.
But they are expensive, big, and heavy. Not everyone needs all that power.
Some may want a smaller, more mobile welder and not every shop can afford one.
For many, a compact, affordable welder is all that is needed. But when you go shopping for a MIG unit that fits this description, you run into a problem.
Alas, the market is filled with affordable welders making dubious claims, made under brand names you may not recognize.
But you can find the one.
No, we are not talking Neo in the matrix.
But the Hobart Handler 140 MIG welder might check all the right boxes for you if you are one of the masses that will never need to cut through the bulkhead of a battleship.
Quick Overview
What's Included with the Handler 140 [500559]
HR-100 gun with 10 ft. (3 m) cable
Owner's manual
10 ft. (3 m) ground cable with clamp
Built-in gas solenoid valve
Dual-gauge regulator with gas hose
Spool hub assembly for 4 in. or 8 in. spools
Sample spool of .030 in. (0.8mm) self-shielding flux-cored wire
.030 in. (0.8mm) contact tips
Quick Select™ drive roll for .024 in. (0.6mm) or .030/.035 in. (08/.9 mm) solid wire, and .030/.035 in. (0.8/0.9 mm) flux-cored wire
Power cord with plug
Welding guide
Material thickness gauge
Technical Specifications
Manufactured In

USA

Welder Type

MIG, Flux Core

Input Voltage

110V/115V/120V (20A)

Duty Cycle

20% @ 90A(18.5V)

Amperage

25 – 140A

Voltage

5 Fixed Positions

Wire Feed Speed

Infinite between min. and max.

Weldable Materials

Mild steel, stainless, aluminum

Mild Steel Thickness (Single-pass)

24 ga. – 0.25 in.

Wire Thickness

0.024 – 0.035 in.

Wire Feed Speed

40 – 700 ipm

Wire Spool Sizes

4-in., 8-in.

Spool Gun Ready

⛔

Welder Dimensions (H x W x L)

12.375 in. x 10.625 in. x 19.5 in.

Weight

57 lbs.

Warranty

5/3/1 years

User Ratings

★★★★★

Price
Latest Price
Northern Tool
Pros and Cons
Pros
Comes ready to flux core weld
Runs on 120V (20A circuit)
Welds 24 ga. to ½ inch mild and stainless steel
Reliable wire feed system up to 700 inches per minute (including aluminum)
Infinite wire speed control between the min. and max feed rates
Wide WFS range of 40 – 700 ipm
Welds aluminum without the additional cost of a spool gun (20-16 ga.)
5 voltage settings for better heat control
User-friendly 3-groove drive roller ("Quick Select")
Strong 5/3/1 Warranty (e.g. transformer covered for 5 years)
Made in the USA
Cons
Not spool gun ready
Regulator not C100 compatible
Work clamp is light and undersized
The aluminum thickness range is small (only 16 to 20 gauge.)
Only comes with (2) .030 contact tips
Solid wire sample included for MIG welding
Where to buy The Hobart 140
The Hobart 140 is widely available at many retailers. Here are some of the more popular places which great pricing.
Tip: you may want to check a few of these, as time to time they run promotions.
What You Should Know Before Buying The Hobart 140
Duty Cycle
For all the good things about this welder, you need to understand it is not an "industrial" machine. That becomes apparent when you consider the duty cycle. A 20% @ 90A(18.5V) duty cycle will get most small, common tasks done.
(Duty cycle measures performance over a 10 minute period of time. This unit as rated at 20% and can weld for 2 minutes at 90 amps. Then it needs to cool for the other 8 minutes. Hence the 20% rating.)
For industrial applications, 20% is too low. But DIYers, auto mechanics/restorers, farmers/ranchers, steel sculptors, and home repair warriors will find this duty cycle adequate.
Stock Thickness
You can weld 24 ga. to ¼ inch mild and stainless steel. Not shabby given the affordable price. But if you need to handle thicker material, you will need a bigger, more expensive MIG welder.
Consumables
You do get some consumables in the box. But if you plan on MIG welding, you will need to buy some solid wire as none comes included. Also, you will need to get a bottle of gas before you can MIG weld.
Also, you will likely need to get some extra tips, in different sizes, as you only get (2) 0.030 contact tips.
Aluminum
With the Handler 140, you can MIG weld aluminum. But only in the 20 to 16 ga. Range. Plus, it is not spool gun ready. So, if you plan on working with aluminum often, in different thicknesses, this welder is not your choice.
CO2/Miller Regulator
You get a Miller regulator, which is a good thing. Miller has earned a good reputation making welders for 100 years and is the largest manufacturer of arc welders in the world. (Miller and Hobart are both brands of the Illinois Tool Works, or "ITW.")
However, if you plan on running pure CO2, Hobart recommends against it with this regulator. The frosting of CO2 can impact the regulator. So, you may need to swap the regulator if you plan on running C100.
Work Clamp
The MIG gun and cable leads measure 10 feet long. The 6 gauge ground cable comes with quality sheathings and is easy to manage.
But Hobart's work clamp is smaller than some and lacks a braided bonding wire to connect the clamp jaws. You can easily swap the clamp on the Hobart unit for not too much money. But it is an additional expense you may run into.
Top Features that Make The Hobart 140 Great
Price/Performance Ratio
We all know welders can cost thousands of dollars. In contrast, this Hobart welder can be had without destroying your budget. Watch for a sale and shop around, the price does vary.
While many competing welders in the same price range are little more than toys, the Handler 140 is the real deal. It will perform and hold up in most DIY or small workshops. Plus, you get one of the best warranties in the business, but more on that later.
Because of the strong price to performance ratio, the Hobart Handler 140 has become one of the more popular welders on the market.
Portability
This unit uses 115V as the input power supply, which frees you from hunting for that ever-elusive 220V outlet. In other words, plug-in wherever there is a standard wall outlet. Just make sure it is a 20A circuit and not 15A. That makes the Handler 140 more versatile.
But to be truly mobile, a unit needs to be compact and light. Well, the Handler 140 weighs 57 lbs. and measures 12.4 in. x 10.6 in. x 19.5 in. That qualifies as portable under just about any definition.
Wire Feed Mechanism
One of the things users note with the Handler 140, the wire feed system. It is all-metal construction, easy to set up, and it works better than most. For the price, you would not expect to find a feed mechanism of this quality.
Also, you can change the roller size with your fingers. That's right, no tools to find. Just set the roller with a pull and a twist. Ease and quality like this are rarely included with a welder at this price level.
Ease of Use
With a quick glance at the control panel, you see an uncluttered, clean space. Two knobs, an on/off switch, and one light. And they are intuitive to use and understand.
The two knobs control the voltage setting and wire feed speed ("WFS"). You can set the WFS anywhere between the minimum and maximum and the voltage can be set to one of five different settings.
Changing wire sizes is easy, too. The Quick Select drive system allows you to change the roller size without tools, fast and easy.
When you are ready to weld, Hobart included a settings chart on the inside of the wire compartment door. No need to memorize voltage settings or wire speeds. You always have a convenient settings chart on your welder to remind you of the settings for a particular weld.
The ease and simplicity make the welder friendly to new welders but also endears itself to the more experienced welders. When you want to weld, you want to weld and not program a supercomputer.
Warranty
The quality of what you get at this price level is often questionable. But not so with this Hobart welder. The included gun and clamp, as well as the welder, are the real deal.
For the doubters, a 5/3/1 warranty has you covered if there is a problem. It is one of the best in the industry and lets you know that Hobart believes in and stands behind its products.
The 5/3/1 indicates coverage of parts and labor for 5 years on the transformer and 3 years on the wire drive system, control boards, and the regulator. The MIG gun, contactors, and relays are covered for 1 year (or 90 days for industrial use).
Protection Circuits
Welding draws large amounts of electricity and the various mechanisms can overheat or overload. To protect against damage, Hobart built in protection that includes:
Wire Drive Motor Protection – Both wire drive motors are protected by an automatic overload circuit.
Output Overload Protection – If you exceed the maximum output, a circuit breaker will trip. This breaker then must be manually reset.
Thermal Protection – The Handler 140 monitors the power supply temperature and will shut down the welder if it gets too hot. You then need to wait for fans to cool the unit.
Hobart put an overload light on the control panel that comes on when this overheating protection is engaged. It is nice to have so you can visually know when the Handler 140 has cooled enough to resume.
What other users say about the Hobart Handler 140
On reading customer reviews, there are a few comments that sum up the most repeated points.
First, you will see why this is a best-selling MIG welder. It is easy to use and lays down a nice bead. At this price point, many users are surprised at how easy it is to get a good bead with a welder running on 115V.
Also, there are many comments that this product feels more solid compared to other welders at the same price. The price and quality are appreciated by those working in DIY or smaller workshops, like weekend warriors, artists, auto enthusiasts, maintenance/repairmen, and farmers/ranchers.
Alternatives to Consider
For those that are curious, yes, there other products out there that offer a number of features at a reasonable price like the Hobart Handler 140.
Eastwood 135 MIG Welder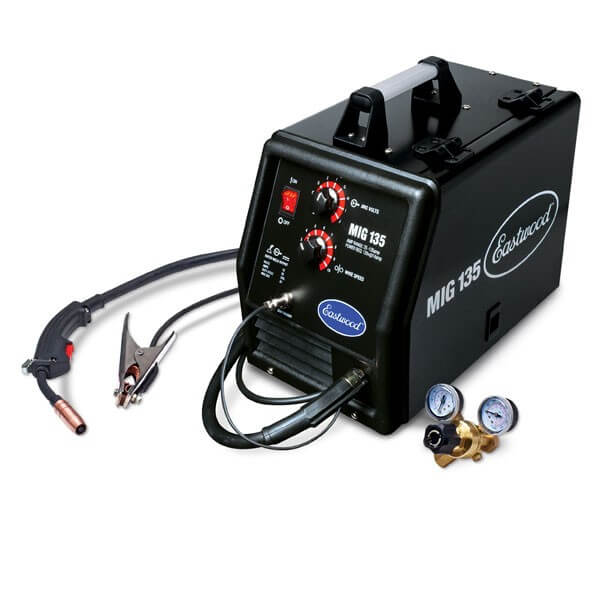 The Eastwood 135 MIG welder comes with a strong auto repair and restoration heritage and has built a good reputation in the welding market. We did a full review of this welder here.
Or, you can find more information in our detailed comparison of both these welders here.
Lincoln Easy MIG 140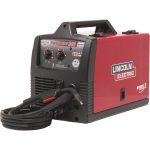 A similar MIG welder that gets compared to the Handler 140 the most is the Lincoln Electric Easy MIG 140.
We have already done a direct comparison of the Handler 140 and Lincoln Easy MIG 140 to highlight the similarities and differences between the two. Check out the detailed comparison here.
Conclusion
Hobart executed the balance of quality and price point almost perfectly with the Handler 140. This welder makes welding easy and fun, at a price many can afford.
But they also snuck in enough durability (a.k.a. quality) to surprise users. Running on 115V, professional-level welds are possible.
Set up is made easy and even seasoned welders appreciate not fussing with settings. Rookies can learn faster and experienced welders can focus on the work to get more done.
While Hobart should include some solid wire and different size contact tips, you do get a welder that can flux weld right out of the box until your gas bottle arrives.
There few welders that offer an easy to use, capable welder, at a low to moderate price point. But the Hobart Handler 140 hits that sweet spot and will be a valuable asset in most small shops.
Where to Buy The Hobart 140
Other Reviews