On occasion, you might need a MIG welder kit with enough raw power to carve through the bulkhead of a ship.
But when you're working on a smaller scale, for the sake of efficiency, you generally want the most lightweight and portable equipment that's still appropriate to the task at hand.
Oddly enough, it can actually be more difficult to choose a great MIG welder with introductory or mid-range pricing. Because you're at much greater risk of encountering poorly made imitations and knock-offs. When that happens, you don't just waste money, you waste time.
Hobart 500559 Handler 140 MIG Welder 115V
Among the numerous Hobart wire-feed welders on the market currently, the Handler 140 is easily their most popular model.
Because it's a completely independent kit that's still MIG ready. Equally important, it has a highly portable design which makes it easy to move the Handler 140 from one location to the next.
MIG Welding Power
The Handler 140 is driven by 115-volts of current, so it only needs a 20-amp circuit to perform well. On the front side of the Handler 140, a five-position voltage control selector lets you alter the arc, allowing you to keep it smooth and stable as you move between materials of different thickness.
Additionally, the Handler 140 was constructed with an industrial cast aluminum drive system, alongside a heavy-duty work clamp. On its upper settings, it welds mild steel and stainless steel with confidence. You can actually work through about a quarter inch of thickness when welding stainless steel. Not bad.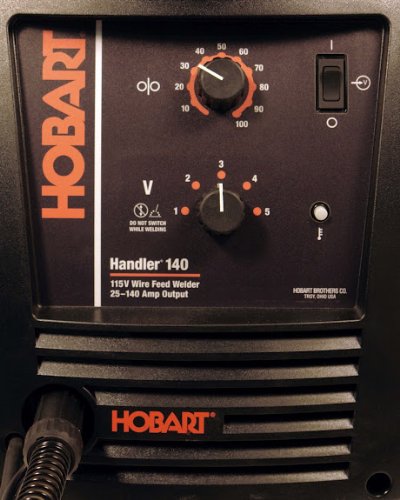 Design of the Kit
From a superficial point of view, the Handler 140 looks like a fairly ordinary corded-electric MIG welder. It measures about 19 x 11 x 13-inches, and weighs about 57lbs. Relative to its capabilities, that's certainly quite portable. The only thing really limiting this instrument is the duty cycle, which is 20% at 90A.
The Handler 140 includes basically everything you would need to get started with a new MIG welder. That includes a MIG gun, gas hose, dual gauge regulator, 10ft power cord, and cable clamp. It also includes an eight-inch spool adapter and pair of extra 0.03 contact tips and 0.03 sample spool of flux-cored wire. None of these pieces seem particularly cheap, either.
Other Considerations
Another thing that makes the Handler 140 popular is it's terribly welcoming to inexperienced users. Even for someone who's not familiar with MIG welding, the cover includes a setup guide that ensures the process is about as simple as possible.
But you don't have to be a novice to appreciate intuitive design. It's frustrating when things are more difficult than they need to be. Preventing that kind of needless frustration is what Hobart's design is really all about. Finally, it may be worth noting, the Hobart Handler 140 is manufactured in the United States, and is supported by their industrial 5-year warranty.
Click here for the latest price
Who Should Choose the Hobart 500559 Handler 140 MIG Welder 115V?
Hobart stands out in this price range because of the quality of the equipment.
Most MIG welding units in this price range are cheap junk because there are plenty of places to cut corners on a unit like this. The other shell could be made of mostly plastic components, or you could end up with a substandard regulator.
The Hobart 500559 Handler 140 MIG Welder is basically the antithesis of cheap junk.
It doesn't have TIG welding capabilities, but that's something you'll have to forgive, given its price.
Though the power of this welder is more suitable to hobbyists than professionals, it does provide a kind of site-to-site portability that almost anyone should be able to appreciate.
Click here for the latest price
Other Reviews