Sure, those big expensive welders with enough power to dim the entire town's lights on every arc start do a lot.
But they are expensive, big, and heavy. Not everyone needs all that power. The Hobart Handler 140 may be a good solution because it's not as heavy and offers enough power for most hobbyists.
However, Hobart 140 is slowly becoming outdated just as many of its predecessors it strived to replace. Today, there are competing brands offering lighter, more powerful MIG machines for less money.
In this article, you'll learn about the Hobart 140 pros and cons. But we will also discuss possible alternatives that offer better value for the money.
Quick Overview
What's Included with the Handler 140 [500559]
HR-100 gun with 10 ft. (3 m) cable
Owner's manual
10 ft. (3 m) ground cable with clamp
Built-in gas solenoid valve
Dual-gauge regulator with gas hose
Spool hub assembly for 4 in. or 8 in. spools
Sample spool of .030 in. (0.8mm) self-shielding flux-cored wire
.030 in. (0.8mm) contact tips
Quick Select™ drive roll for .024 in. (0.6mm) or .030/.035 in. (08/.9 mm) solid wire, and .030/.035 in. (0.8/0.9 mm) flux-cored wire
Power cord with plug
Welding guide
Material thickness gauge
Technical Specifications
Manufactured In

USA

Welder Type

MIG, Flux Core

Input Voltage

110V

Duty Cycle

20% @ 90A(18.5V)

Amperage

25 – 140A

Voltage

5 Fixed Positions

Wire Feed Speed

Infinite between min. and max.

Weldable Materials

Mild steel, stainless, aluminum

Mild Steel Thickness (Single-pass)

24 ga. – 0.25 in.

Wire Thickness

0.024 – 0.035 in.

Wire Feed Speed

40 – 700 ipm

Wire Spool Sizes

4-in., 8-in.

Spool Gun Ready
❌
Welder Dimensions (H x W x L)

12.375 in. x 10.625 in. x 19.5 in.

Weight

57 lbs.

Warranty

5/3/1 years

Weld Guru Rating
★★★★

☆

Price

Price on Northern Tool


——
Price on Amazon
Pros and Cons
Pros
Runs on 120V (20A circuit)
Excellent build quality
Flawless Hobart's arc quality
Reliable wire feed system up to 700 inches per minute (including aluminum)
Infinite wire speed control between the min. and max feed rates
User-friendly 3-groove drive roller ("Quick Select")
Strong 5/3/1 Warranty (e.g. transformer covered for 5 years)
Made in the USA
Cons
Not spool gun ready
Welds aluminum using a regular MIG gun which is more prone to wire nesting
Significantly lower duty cycle than competing models
Lower amperage output and weldable thickness range compared to other brands
110v input only
Heavier than new competing models
Requires you to rewire the connection inside the spool wire compartment to switch from MIG to flux-cored welding, which is an outdated method
No support for advanced settings like inductance control, 2T/4T, and others
It doesn't support infinite adjustability for voltage output
No digital display
Its ground clamp is integrated, making it difficult to change
Regulator not C100 compatible
Work clamp is light and undersized
Aluminum thickness range is small (only 16 to 20 gauge.)
Where to buy The Hobart 140
The Hobart 140 is widely available at many retailers. Here are some of the more popular places which great pricing.
Tip: you may want to check a few of these, as time to time they run promotions.
What You Should Know Before Buying The Hobart 140
Duty Cycle
The Hobart Handler has a duty cycle of 20% at 90A output which is quite low. While it can complete many hobbyist-level welding tasks, we can't help but point out that its duty cycle is significantly lower than many competing models.
For example, one of our alternative picks has a 100% duty cycle at 100A, allowing you to weld indefinitely at that amperage. The 20% at 90A limits the welder to 2 minutes of welding before requiring another 8 minutes to cool down, which barely competes with other brands.
Heavy Transformer Core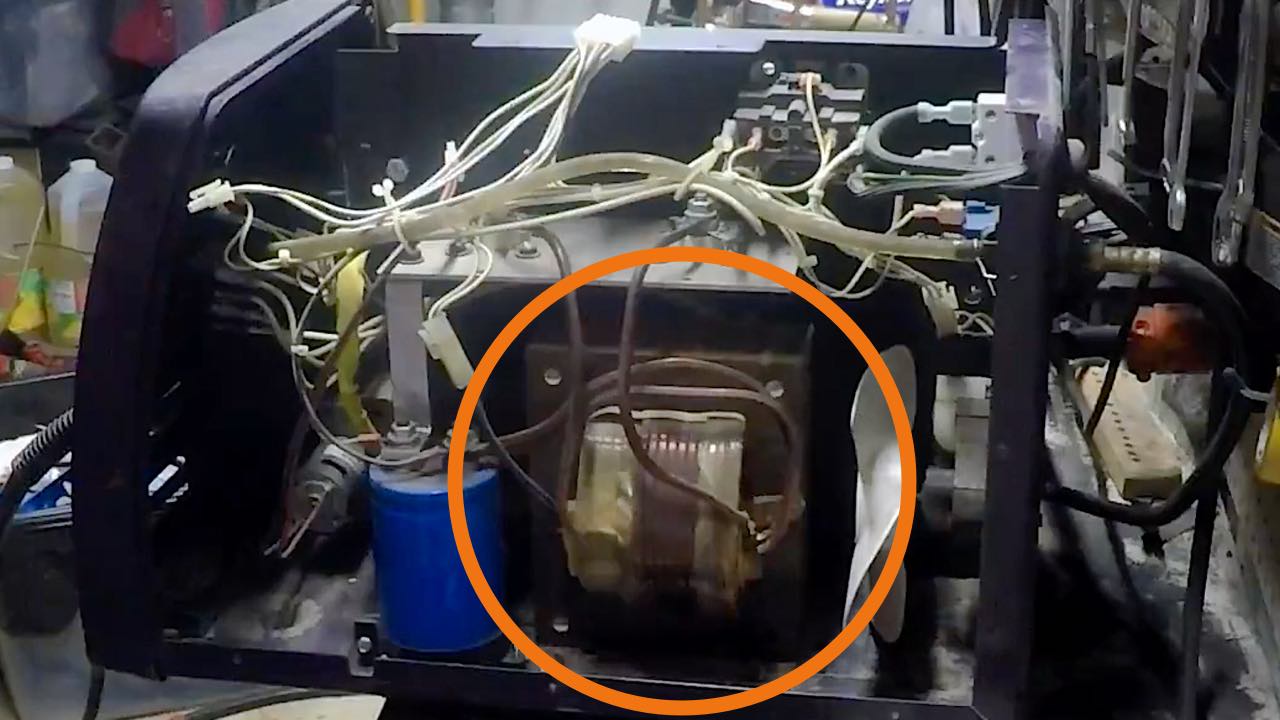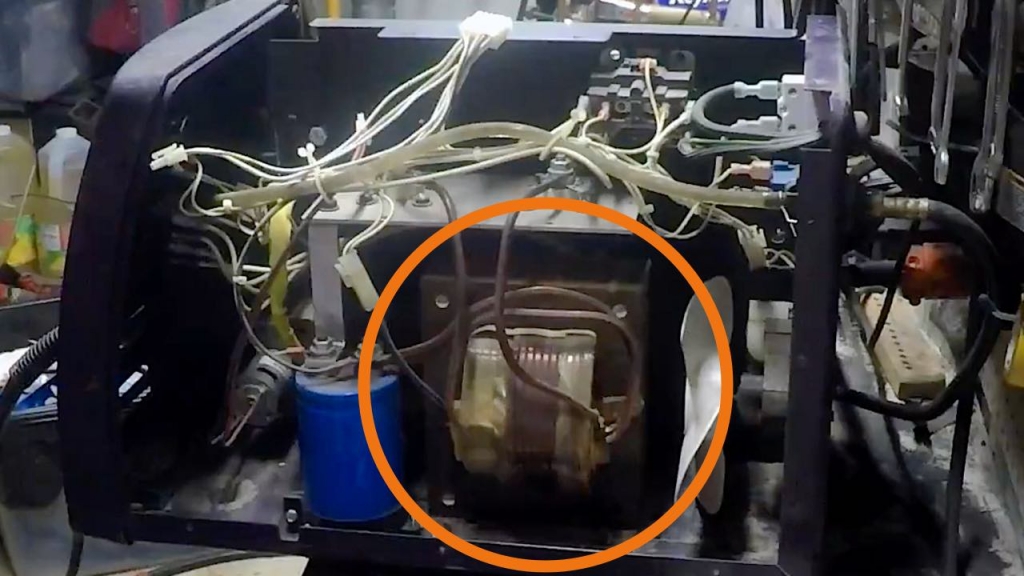 While transformer welders have longevity on their side, they are heavy and difficult to move. The Hobart markets the Handler 140 as a "portable" MIG welder, which is true. You can move its 57 lbs body. But the question is, should you?
With the way IGBT inverters have developed, there isn't a reason to get a transformer welder if you value portability. The inverter technology can reduce the weight by more than 50%. In addition, quality brands offer durable inverters backed by lengthy warranties, making inverters desirable as transformers.
I covered the main differences between transformers and inverters here.
Stock Thickness
You can weld 24 ga. to ¼ inch mild and stainless steel. Not shabby given the affordable price. But if you need to handle thicker material, you will need a bigger, more expensive MIG welder.
Fixed-Voltage System
The Hobart Handler 140 uses an outdated, 5-points fixed-voltage range. While this is good, nothing beats infinite voltage adjustability.
What if you thinned out the metal too much while grinding the rust off? What if the metal thickness doesn't match the recommended settings chart? There are many reasons why you would like to fine-tune the voltage output.
Hobart recognized this. That's why their Ironman 240 (upgrade of Ironman 230) now provides an infinitely adjustable voltage. However, their Handler 140 never got such an update yet.
This wouldn't be an issue if Handler 140 were cheaper. But, at this price, today, I expect better.
No Advanced Functions
Since Hobart 140 uses an older transformer technology, it can't support advanced functions possible with inverter welders.
There are no 2T/4T functions for easier welding in tight corners or long welds. Likewise, it doesn't support inductance control or tack welds. This is something to consider because many modern welders have these useful functions at no increase in price.
Consumables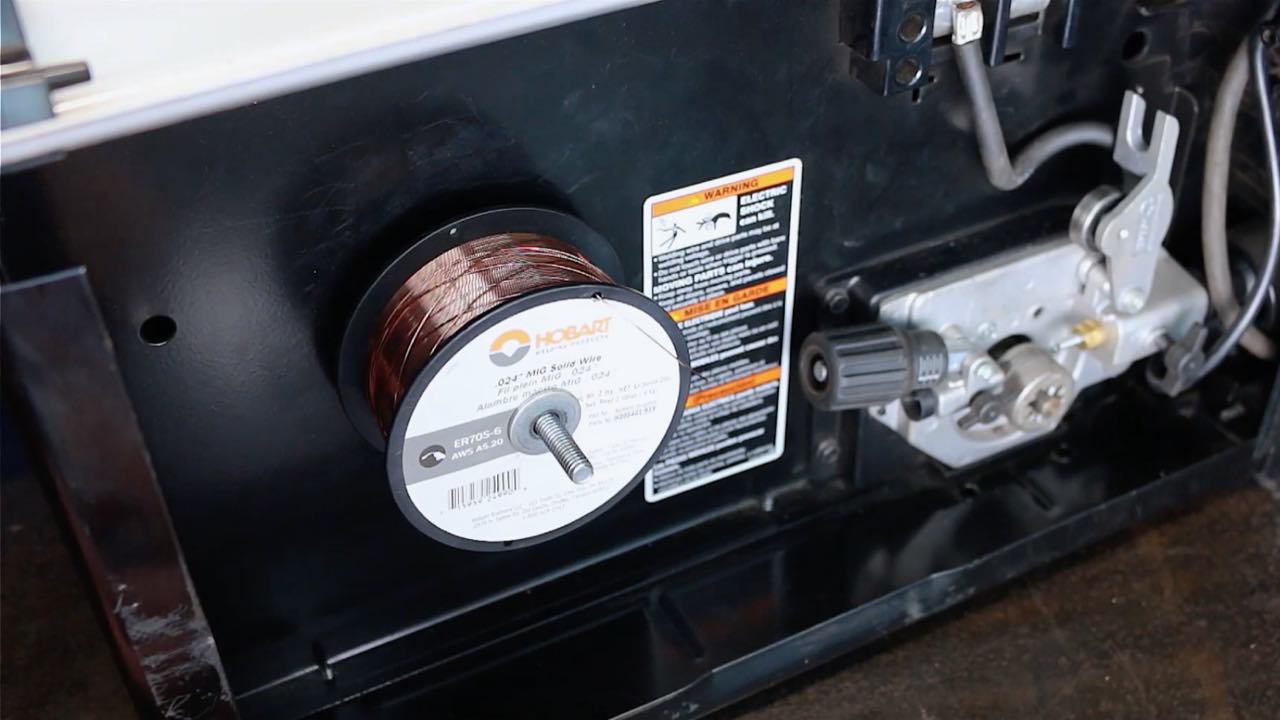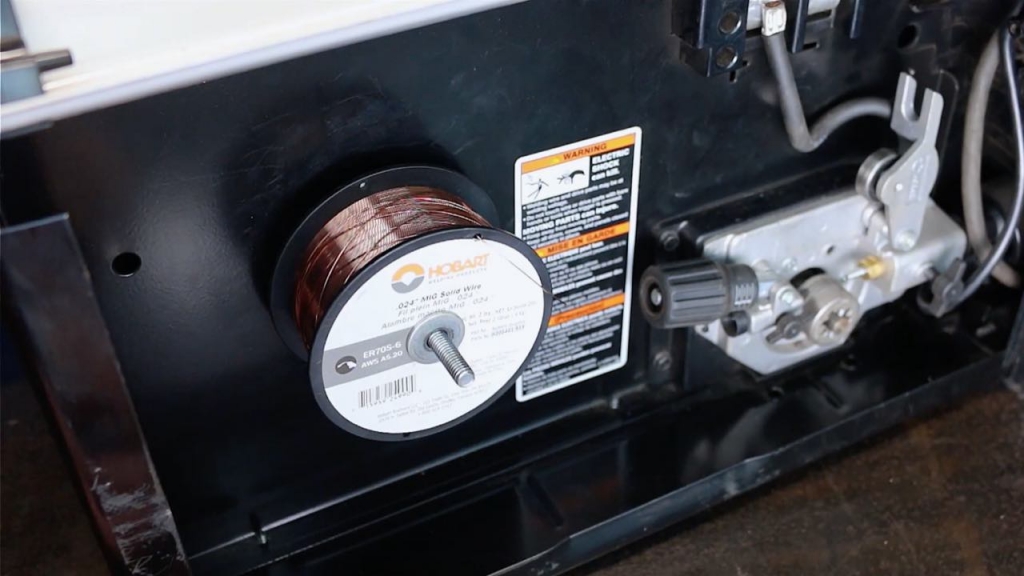 You do get some consumables in the box. But if you plan on MIG welding, you will need to buy some solid wire as none comes included. Also, you will need to get a bottle of gas before you can MIG weld.
Also, you will likely need to get some extra tips, in different sizes, as you only get (2) 0.030 contact tips.
Aluminum
With the Handler 140, you can MIG weld aluminum. But only in the 20 to 16 ga. Range. Plus, it is not spool gun ready. So, if you plan on working with aluminum often, in different thicknesses, this welder is not your choice.
The fine print of Hobart Handler 140 spec sheet notes that you must keep the MIG lead as straight as possible and that the wire feed-ability is not as good when welding steel. This is expected, considering that the machine doesn't support a spool gun.
CO2/Miller Regulator
You get a Miller regulator, which is a good thing. Miller has earned a good reputation making welders for 100 years and is the largest manufacturer of arc welders in the world. (Miller and Hobart are both brands of the Illinois Tool Works, or "ITW.")
However, if you plan on running pure CO2, Hobart recommends against it with this regulator. The frosting of CO2 can impact the regulator. So, you may need to swap the regulator if you plan on running C100.
No DINSE Connectors For Polarity And Ground Clamp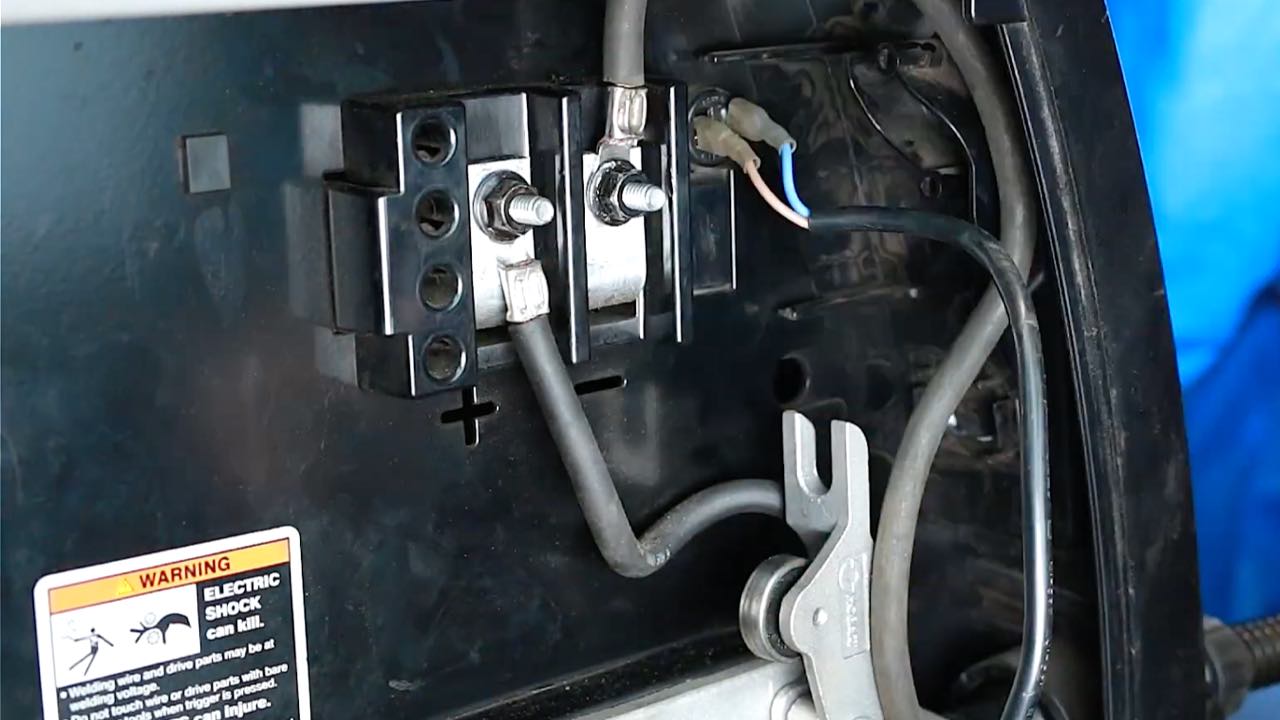 Many inexpensive welders have an integrated ground clamp and don't have standard plugs on the front of the unit. However, in 2022 and beyond, the Hobart Handler 140 can no longer be observed as an inexpensive model because other brands have raised the bar.
The ground clamp is integrated, making it difficult to replace the lead if it gets damaged or if you are not satisfied with the length. Additionally, this makes switching polarity more complex than necessary. To switch from MIG to flux-cored welding, you need to open the welder and rewire the lead connectors for DCEN or DCEP.
Some brands use standard DINSE plugs in this price range, making this process much easier, and we will review one of such models later in the article.
Work Clamp
The MIG gun and cable leads measure 10 feet long. The 6 gauge ground cable comes with quality sheathings and is easy to manage.
But Hobart's work clamp is smaller than some and lacks a braided bonding wire to connect the clamp jaws. You can easily swap the clamp on the Hobart unit for not too much money. But it is an additional expense you may run into.
Price/Quality Ratio
The Hobart Handler 140 is still a good welder, no doubt about that. But in our opinion, it's overpriced compared to models offering more with a lower price.
If Hobart decides to drop the price of this unit for about $200, it will be a great choice. But currently, it doesn't provide the best price to quality ratio in todays age.
Top Features that Make The Hobart 140 Great
Wire Feed Mechanism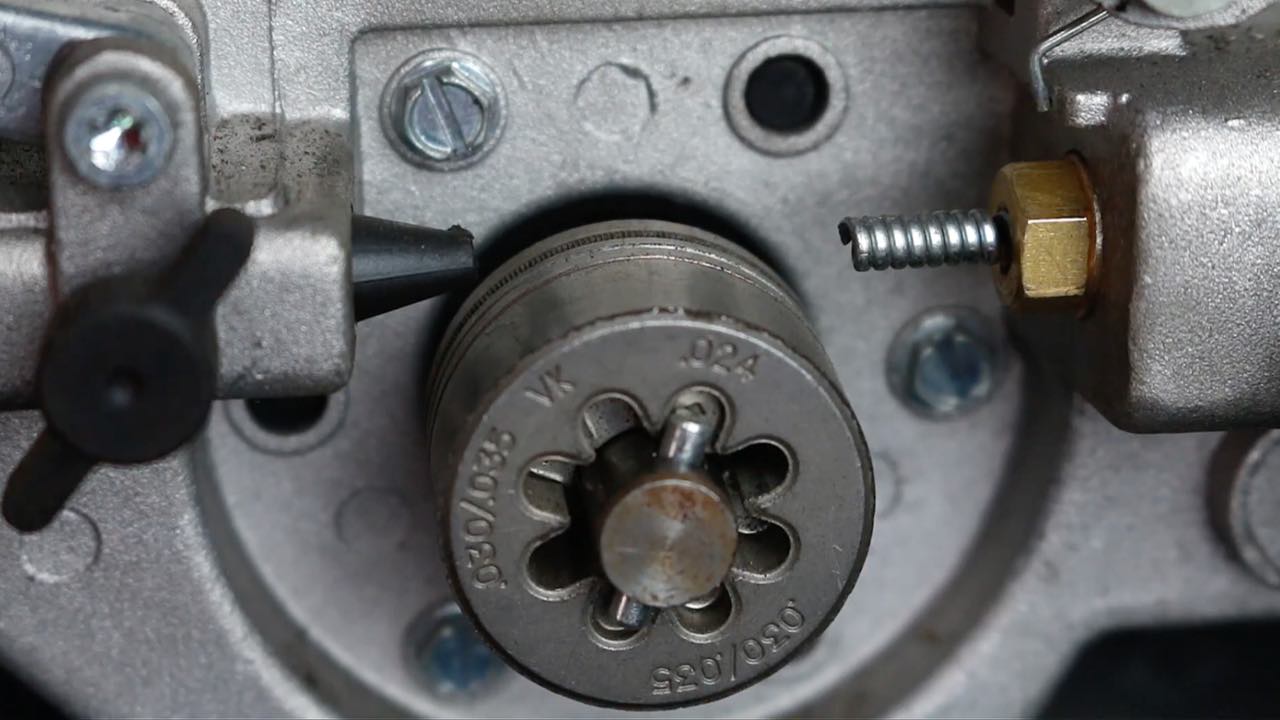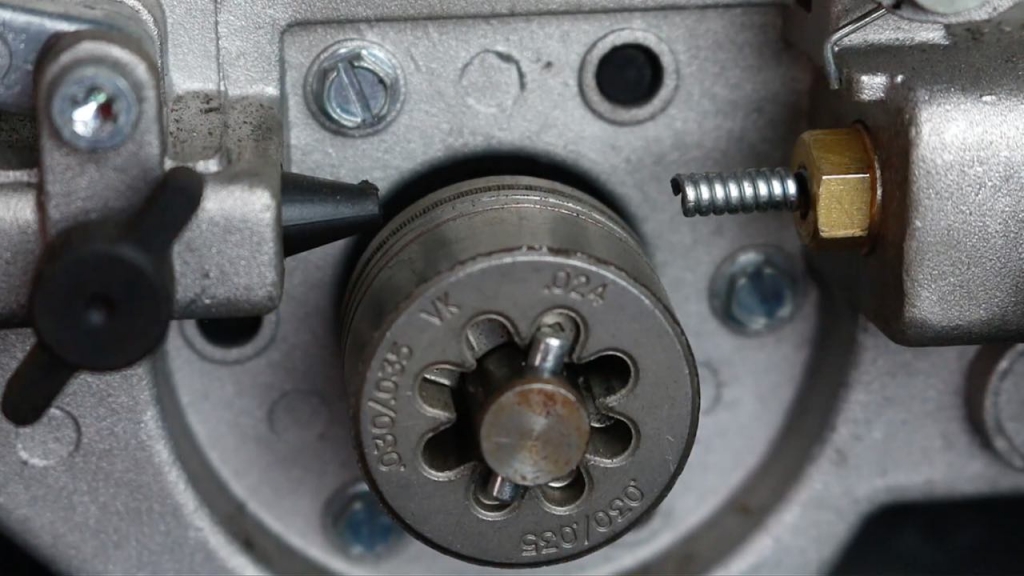 One of the things users note with the Handler 140, is the wire feed system. It is all-metal construction, easy to set up, and it works better than most. For the price, you would not expect to find a feed mechanism of this quality.
Also, you can change the roller size with your fingers. That's right, no tools to find. Just set the roller with a pull and a twist. Ease and quality like this are rarely included with a welder at this price level.
Ease of Use
With a quick glance at the control panel, you see an uncluttered, clean space. Two knobs, an on/off switch, and one light. And they are intuitive to use and understand.
The two knobs control the voltage setting and wire feed speed ("WFS"). You can set the WFS anywhere between the minimum and maximum and the voltage can be set to one of five different settings.
Changing wire sizes is easy, too. The Quick Select drive system allows you to change the roller size without tools, fast and easy.
When you are ready to weld, Hobart included a settings chart on the inside of the wire compartment door. No need to memorize voltage settings or wire speeds. You always have a convenient settings chart on your welder to remind you of the settings for a particular weld.
While the welder is easy to use, the Quick Select drive system is what I appreciate the most. The 5-point fixed voltage system needs to be upgraded to infinite adjustability if Hobarts wants to remain one of the best. Many brands offer easy-to-use interfaces, but they don't lack essential features.
Long Term Track Record
One of the benefits of being an old machine is that it has a great track record of happy users. You only have to search online reviews to find out.
Time will tell if Hobart will be forced to update this machine soon as newer competing MIG machines enter the market.
Warranty
The quality of what you get at this price level is often questionable. But not so with this Hobart welder. The included gun and clamp, as well as the welder, are the real deal.
For the doubters, a 5/3/1 warranty has you covered if there is a problem. It is one of the best in the industry and lets you know that Hobart believes in and stands behind its products.
The 5/3/1 indicates coverage of parts and labor for 5 years on the transformer and 3 years on the wire drive system, control boards, and the regulator. The MIG gun, contactors, and relays are covered for 1 year (or 90 days for industrial use).
Alternatives to Consider
As we noted a few times, there are alternatives that provide more value for the money, in our opinion. The Eastwood MIG 180 and Eastwood MIG 140 make the best models for comparison.
They offer a similar build quality and warranty, while providing better specs. Plus, Eastwood is a USA brand with a long history, just like Hobart.
Eastwood MIG 180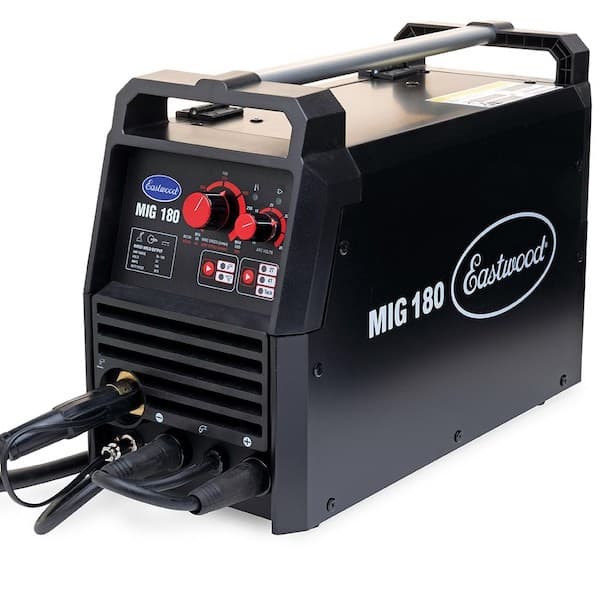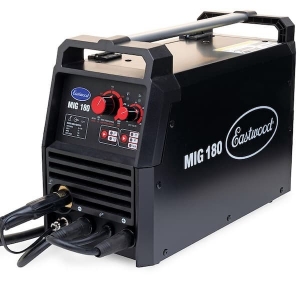 The Eastwood MIG 180 is a dual-voltage, inverter MIG welder with a significantly longer duty-cycle, higher amperage output, and supports more functions than the Hobart Handler 140. Additionally, it's more than 50% lighter and less costly.
It also has a cast aluminum wire drive system, a stable arc, support for MIG and flux-core welding, and comes with everything included. However, unlike Hobart, switching between MIG and flux-cored welding is significantly easier thanks to the standard DINSE plugs on the Eastwood model.
With its 180A of maximum output, and a duty cycle of 30% at 180A, the Eastwood 180 is an excellent choice for hobbyists and light shop work. It can weld up to 5/16 in. thick and take fewer breaks to cool down. Plus, if welding a thin gauge, you can weld indefinitely under 100A output.
Unlike Hobart 140, the Eastwood 180 supports the infinitely adjustable voltage. This makes the Eastwood model much better at adapting the arc to your work, letting you tune it just right every time.
The Eastwood 180 includes 2T/4T and tack weld settings. The 2T (two touch) is a standard MIG torch setting that ignites the arc when the trigger is pressed and cuts it out when depressed. The 4T lets you weld without keeping the trigger depressed and reduces hand fatigue.
The tack weld setting is helpful when working with sheet metal and car auto body. It provides consistent tack welds regardless of how long you keep the torch trigger depressed.
The Eastwood MIG 180 is a bargain model for sure. So, if you are looking to get something more powerful and portable, it's one of the best alternatives to Hobart Handler 140.
Eastwood MIG 180
Hobart Handler 140
Technology
IGBT Inverter
Transformer
Dual Voltage Input
✅
❌
Weldable Mild Steel Thickness
Up to 5/16 in.
Up to 1/4 in.
Amperage Output
30-180A
25-140A
Duty Cycle
30% at 180A
20% at 90A
Spool Gun Support
✅
❌
DINSE Sockets
✅
❌
Integrated Ground Clamp
No
Yes
Infinite Voltage Adjustability
✅
❌
2T/4T
✅
❌
Tack Weld
✅
❌
Weight
25.3 lbs
57 lbs
Warranty
3-Years
5/3/1
Price
$$
Best Price
Eastwood
$$$


Price on Northern Tool


——
Price on Amazon
Eastwood MIG 140
The Eastwood MIG 140 is like a smaller brother of the Eastwood 180. It's a 120V input welder with equal welding power to Hobart 140, but with a slightly higher duty cycle.
It's lightweight, thanks to the latest IGBT inverter technology, and has the same features as the MIG 180. It's a good choice if you don't need the additional welding power the Eastwood MIG 180 provides, and you plan to weld using a 120V input only.
Eastwood MIG 140
Hobart Handler 140
Technology
IGBT Inverter
Transformer
Weldable Mild Steel Thickness
Up to 3/16 in.
Up to 1/4 in.
Amperage Output
30-140A
25-140A
Duty Cycle
30% at 90A
20% at 90A
Spool Gun Support
✅
❌
DINSE Sockets
✅
❌
Integrated Ground Clamp
No
Yes
Infinite Voltage Adjustability
✅
❌
2T/4T
✅
❌
Tack Weld
✅
❌
Weight
24.15 lbs
57 lbs
Warranty
3-Years
5/3/1
Price
$$
Best Price
Eastwood
$$$


Price on Northern Tool


——
Price on Amazon
Conclusion
The Hobart Handler 140 was one of the best entry-level welders for a long time. It's still a good machine, but the newer technology available on inexpensive welders today has a significant edge over the Hobart 140.
The Eastwood company is a well-established brand, and their MIG welders offer quality on par with Hobart. Considering that they are backed by a 3-year warranty, and deliver better specs at a lower price, the Eastwood 180 and 140 make a better value for the money.
Other Reviews