Not all shops need a heavy-duty welder. Some users weld with thicknesses 1/4 inch or less.
So, why pay big bucks for a welder designed for heavy-duty use?
Fortunately, welders like the Weldpro 155 are very affordable and come with some nice features.
It's primarily a MIG welder but also offers flux-core and stick welding, making it more of a multi-process welder.
I took a deep dive into this machine to find out if it's really worth it and what alternatives are on the market.
Quick Overview
What's Included
MIG 155GSV Welder
MIG Torch w/ 8 ft. lead
Ground w/ 8ft. lead
Stick Electrode Holder ("stinger")
(3) Wire drive rollers (2 smooth, 1 knurled)
(2) Spool tension springs (medium and high tension)
Gas Flow Meter
Gas Hose
Contact Tip
Sample spool of 0.030 flux-cored wire
115V to 230V adapter
User Manual
Technical Specifications
Welder Type
MIG, Flux-Cored, Stick (TIG w/ optional torch)
Input Voltage
115V / 230V
Output Amperage (115V input)
MIG: 30 – 120A
Stick: 30 – 110A
Output Amperage (230V input)
MIG: 30 – 155A
Stick: 30 – 140A
Duty Cycle (115V)
MIG: 30% @ 120 A
Stick: 30% @ 110A
Duty Cycle (230V)
MIG: 30% @ 155 A
Stick: 30% @ 140A
Voltage & Amp Control
Infinite (from min. to max.)
Wire Feed Speed
78 – 396 IPM (infinite control min. to max.)
Wire Spool Size
4 in.
Wire Size (diameter)
MIG: 0.023 – .030 in.
Flux-cored: 0.030 – 0.040 in.
Transformer Technology
IGBT Inverters
Weldable Materials
Steel, Stainless Steel
Weld Thicknesses
22 ga. – 8 ga. ("appropriate") (up to 1/4 inch max.)
Power Switch
On Back
Stick Electrode Holder
✅
2T/4T Tigger Control
✅
Welder Dimensions (H x W x L)
20.7 in. × 11.6 in. × 22.4 in.
Weight
35.7 lbs.
Warranty
3 years
WeldGuru Rating
★★★★☆
Price
Check Latest Price
Amazon
Pros
Affordable
Runs on 115V or 230V input power
MIG, Flux-core, and stick welding with one machine as supplied
Portable
2T and 4T Modes
Safe "current off" wire feed system
Inverter-based design
Gas regulator and hose included
Can stick weld with the included stinger right out of the box
Can TIG weld with optional accessories
3-year warranty
Cons
Duty cycle will be low for some
Wire spools are limited to 4 in.
No guidelines for using this welder with a generator
Torch and ground leads on the short side
Not spool gun ready
Wire drive housing is plastic
The user manual is hard to read at times
Weldpro 155GSV vs. 155GD
If you want to work with aluminum, you are out of luck with the MIG155GSV. It cannot accept a spool gun. But no worries, there is another version. However, it does create some confusion.
So for the record, the Weldpro MIG155GD is basically the MIG155GSV with the ability to accept a spool gun. In my opinion, the user manual is better, too.
Bottom line, you do get more with MIG155GD for just a couple of dollars more. If you want to weld aluminum, though, this difference is extremely important. You need to make sure to get the "GD" flavor of this welder if you want to work with aluminum.
Alternatives in this Range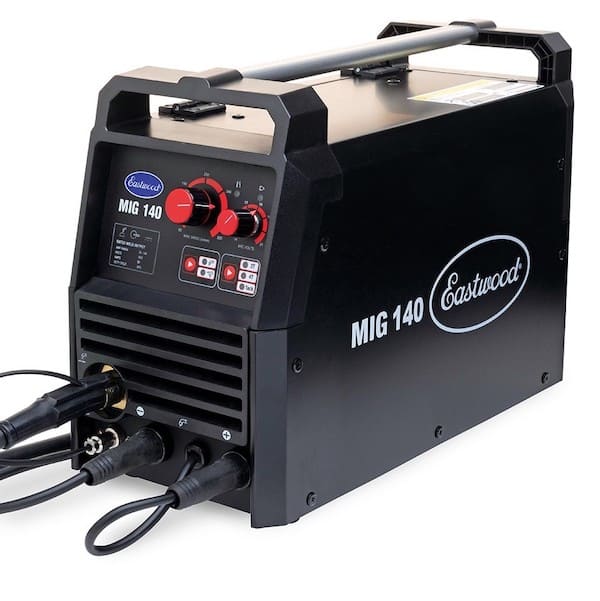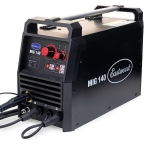 If you are only going to MIG weld and use tack/spot welds often, as in bodywork, for example, the Eastwood MIG 140 welder may be a better alternative for you. With its dedicated tack mode, you can make professional, consistent spot welds.
Another big difference, the Eastwood unit accepts a spool gun. Plus, the wire drive uses both 4 and 8-inch rolls of wire. You also get a Tweco style MIG gun which accepts easy-to-find parts. And as a bonus, the Eastwood MIG 140 is lighter (the MIG155GSV weighs almost 50% more).
In short, you give up stick welding to get better MIG welding capabilities with the 140 amp MIG welder in a smaller and lighter welder.
Weldpro MIG155GSV
Eastwood MIG 140
Input Power
115 / 230V
120V
Duty Cycle
30% @ 120A
30% @ 90A
Spool Sizes
4 in.
4 & 8 in.
SpotWeld Mode
⛔
✅
2T & 4T modes
✅
✅
Spool Gun Ready
⛔
✅
Stick Welding
✅
⛔
Size
20.7 in. × 11.6 in. × 22.4 in.
18 in × 8.5 in. × 13.25 in.
Weight
35.7 lbs.
25 lbs.
Price
Latest Price
Amazon
Latest Price
Eastwood
What should you know before buying the Weldpro 155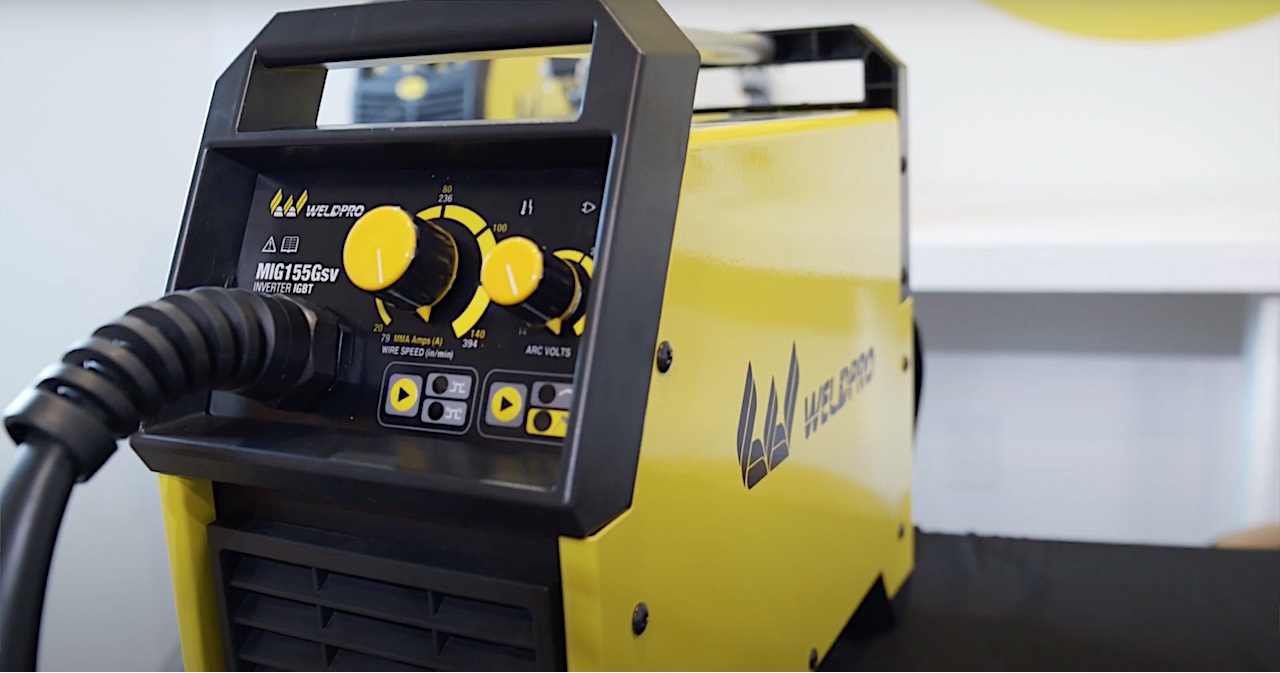 Aluminum Welding
With the MIG155GSV, you cannot weld aluminum. It will not accept a spool gun, and there are no other options to work with aluminum. If you need to weld aluminum, look at the Weldpro MIG155GD or Eastwood MIG 140 discussed earlier.
Leads
For some, the 8 foot leads will be too short. This means you may end up replacing them in the future. If you have a small shop or move your welder around, this may not be an issue. But it is something to keep in mind.
Heavy-Duty Use
This machine is best for smaller shops that do not need to run a welder as an industrial shop would. The duty cycle is a bit low, and the use of only 4-inch spools of wire limits this machine to lighter use.
Top Features
Price
For a multi-welder, the price for this unit is reasonable. Smaller shops often work with smaller budgets, so the price and capabilities of this machine make it a good option for the people like the DIYer, handyman, and auto bodyworker.
115 of 230V Input Power
A budget machine that uses both 115V and 230V, and includes the power adapter, brings versatility and value. The unit is small and light enough to move around, so the ability to use 115V allows you to go to work when necessary.
If you are in the shop and need more power for thicker stock, you can do that with this welder. You do not always find dual power options at this price.
Portable
While not the lightest welder, it is far from the heaviest and is certainly compact and light enough to move this unit around. It has a carry handle on top, making it easy to pick this welder up and throw it in your truck when you have to head out to work.
Multi-Welder
As supplied, you can stick, MIG, and flux-core weld with this unit. (Of course, you will need a bottle of gas to MIG weld, which is not in the box.) Combined with the dual power input option, this welder offers flexibility, which many small shops need.
2T and 4T Modes
I am pleased to see more welders include this option. 4T is handy for those long welds, but it is also nice to have when you are out of position; by eliminating the need to hold the trigger while welding, you can focus better on those difficult welds.
And of course, for the shorter, run-of-the-mill beads, you can use the "normal" 2T mode. Pull and hold the trigger while you weld. When you are done, just let go of the trigger.
Service
While this may not be a true feature, I felt it is worth mentioning. I had some questions regarding this welder on the Weldpro site; they have a place to enter your phone number for someone to call you back. So, I did.
Within just a few minutes, I received a call, and the person who helped me was very knowledgeable about the product. All my questions were answered in under 5 minutes, and that is increasingly rare these days.
Conclusion
If you need a no-frills multi-welder, the Weldpro MIG155GSV brings MIG (GMAW), flux-cored (FCAW), and stick (SMAW) welding to smaller shops at a reasonable price.
You do get 2T and 4T modes, which is great for long runs or if you are out of position. And you can buy an optional torch to do DC TIG welding. But the inability to weld aluminum will be a deal-breaker for some users.
If you are looking to MIG weld, then I recommend going with a dedicated machine that's highly rated like the Eastwood MIG 140.
Overall, the Weldpro 155 is a good budget unit for small shops that work with steel and stainless steel. DIYers or anyone else that welds steel occasionally will appreciate the low price and portability.
Other Weldpro Reviews