Tools that multi-task save space and money in the shop. That includes multi-process welders that combine different welding processes into one product.
The concept is sound, but for a couple of stark realities…
It is hard for a welder to offer multiple welding procedures in one box and do them well. In addition, stuffing the necessary software and hardware into one unit can make a multi-process welder expensive.
But you can find the 2020 Weldpro 200 3-in-1 Multi-Process welder for under $1,000, and it can MIG, flux-core, TIG, and stick weld while putting out up to 200 amps. It deserves a closer look.
Quick Overview
What's Included
MIG torch: 10 ft. ERGOPLUS15
Tig torch: 13 ft. WP-17
Electrode holder: 5awg x1 0 ft.
(all torch/stinger cables w/ 35-50 quick connector, rated for 200a)
Goose bill ground clamp (5awg x 10 ft. Cable 35-50 quick connector, 300a)
Gas hose
240 to 115V Power adapter
Flowmeter
0.8/1.0 V-drive roller; 0.6-0.8/0.9 V-drive roller; 0.8-0.9 knurled drive roller
Two contact tips (0.030 and 0.040 inch)
User manual
Technical Specifications
Welder Type
MIG, Flux-cored, DC Lift TIG, Stick
Stated Input Voltage
115V / 240V
Duty Cycle
115V: 30% @ 120A, 100% @66A
240V: 30% @200A, 100% @110A
Output Amperage
115V: 40-120A (MIG)
40-120A (MMA)
15-120A (TIG)
240V: 40-200A (MIG)
40-200A (MMA)
15-200A(TIG)
Wire Feed Speed
78-550 inches per minute
Transformer Technology
IGBT Inverters
Weldable Materials
Steel, Stainless Steel – Aluminum w/ optional spool gun – Copper, Magnesium, Brass, Bronze w/ lift TIG
Appropriate Thicknesses
22 ga. – 13/64 in.. (1/2 in. w/ "low" speed TIG welding)
Power Switch
On Back
Stick Electrode Holder
✅
Square Wave Technology
⛔
Pre and Post Flow Control
⛔
MIG Inductance Control
✅
2T/4T Tigger Control
✅
Foot Pedal
⛔
Welder Dimensions
25.2 in. x 12.8 in. x 23.8 in.
Weight
30 lbs.
Warranty
3 years
WeldGuru Rating
★★★★☆
Price
Check Latest Price
Amazon
Pros
Runs on 115V or 240V power supply
200 amps of output power
2T and 4T modes
Spool gun ready
MIG inductance control
Welds many kinds of metal as supplied in the box
DC lift TIG torch and stinger included
Light and portable
VRD to protect against accidental shocks while the machine is on but not welding
Cons
Not for heavy-duty work
No AC option for TIG welds
Need to buy a spool gun to weld aluminum
No foot pedal available for TIG
Weldpro 200 vs. 210 LCD
The sharp-eyed reader will have noticed this review is for the 2020 version of the welder. The 2021 version of this multi-process welder is the Weldpro 5-in-1 210 LCD. Both run on 115 or 240V inputs, accept a spool gun, put out 200 amps, and have a 30% duty cycle.
But that is where the similarities end. So, let's see how they stack up to one another.
WeldPro
200
WeldPro
210 LCD
Screen
Dual Digital
LCD Color Screen
Control Mode
Synergetic
Synergetic or Full Manual
Gas Choice Setting
⛔
✅
Wire Run In
⛔
✅
SpotWeld Mode
⛔
✅
Polarity Changes
Swap Plugs on Front of Machine
On-Screen Selection
Stick Hot Start
⛔
✅
Stick Arc Force
⛔
✅
Strick Electrode Setting
⛔
✅
Size
25.2 in. x 12.8 in. x 23.8 in.
16.5 in. x 8.7 in. x 17.3 in.
Weight
30 lbs.
28.2 lbs.
Price
Check Latest Price
Amazon
Check Latest Price
Amazon
Not surprisingly, the 210 LCD does cost a few dollars more. But scan the table above and you will see you get a lot for not much more money.
For MIG welding, you get a wire run-in feature, specific gas settings, and a true synergetic mode to simplify the setup. Polarity changes are simple since they are done right on the color LCD screen. And if you need full control of your amps and voltage, you can use a manual mode, too.
Also, in stick welding mode, you can set the machine for a specific electrode, as well as select the arc force and hot start features.
Add the fact that the 2021 Weldpro 210 LCD Multi-Process welder is slightly smaller and lighter, and you are well rewarded if you do opt to spend a few extra bones for the 2021 version.
Alternatives in this Range
There are two alternatives you can consider. Both offer useful features, but the type of work you do will influence which alternative is best for you.
This is how the Eastwood Elite MP200i and Yeswelder MIG-205C stack to the Weldpro 200 side-by-side.
In short, if you do spot welds often and work with aluminum, the Elite MP200i offers those features and is one of the best-selling multi-process welders for DIY.
It is spool gun ready, but the gun is not included. However, it does come with the lift TIG torch and stinger.
If you need a stronger duty cycle and/or 4T mode for long welds, the MIG-205DS is your choice. It's another popular model, and as a bonus, the MIG-205DS is also the cheapest of the three. But remember, you cannot weld aluminum, and the lift TIG torch is not included.
What to Know Before Buying the Weldpro 200
No Foot Pedal Control
If you think because this welder comes with a TIG torch, you can do everything a dedicated TIG does, think again. This is a DC lift TIG process, and you do not have a foot pedal to adjust your amps as you weld.
For those who think it is an option, that is a mistake. You cannot add a foot pedal later, even if you were willing to buy one.
Welding Aluminum
Since the TIG process cannot weld aluminum, you must use a spool gun. Luckily, the 200 3-in-1 is spool gun ready. But that also means you need to buy the spool gun separately. You will need to factor that into your budget if you need to weld aluminum.
Duty Cycle
The 30% at 200A is fine for light to moderate work. But that is not enough for heavy-duty jobs or industrial shops to produce the needed production. You should look for a machine with a better duty cycle if you plan on running your welder constantly.
Top Features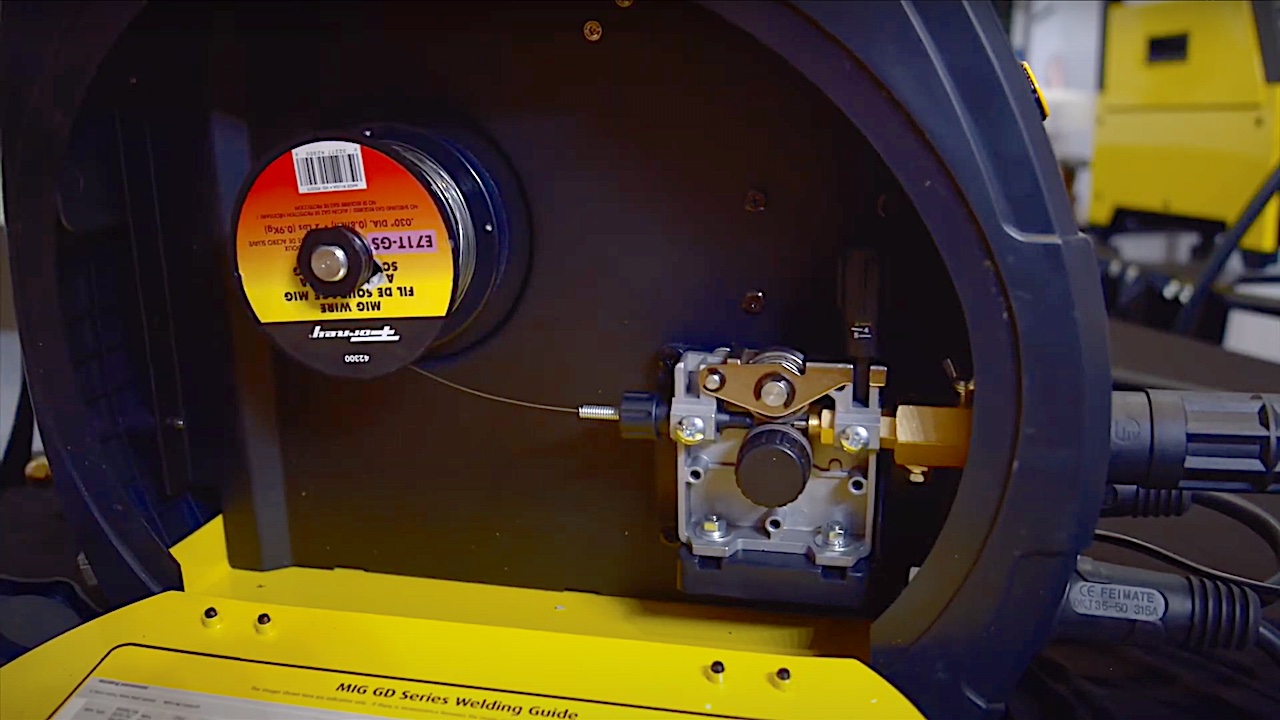 Wide Range of Metal Work
With this unit, you can weld metals like steel, stainless steel, magnesium, and copper right out of the box. With some practice, you can even work on brass and bronze. That is versatility with a capital "V."
Voltage Reduction Device ("VRD")
This feature is never fully explained in the Weldpro literature, but it is a nice safety feature. When the unit is on but not welding, the voltage is reduced.
That means if there is an accidental short of the electrode and ground clamp when not welding, you are not harmed or killed by an electrical shock. In my book, that is nothing to sneeze at.
Dual Input Voltages
Versatility is the name of the game with multi-process welders. And that should include running on 120V or 240V. Luckily, the Weldpro 200 does weld on both power supplies and extends where you can weld.
Spool Gun Ready
Since the DC TIG process is not aluminum capable, a spool gun becomes your only option if you do work with this light metal. The Weldpro 200 is spool gun ready. Once you buy the optional spool gun, it is simply a matter of swapping the MIG torch for the gun.
2T and 4T Modes
If you do a lot of longer welds, 4T can be an important feature. It eliminates the need to hold the trigger for the entire weld.
In 2T, you pull and hold the trigger to weld. When done, you release the trigger to stop.
For 4T, you pull and release the trigger to start, then run your bead. To stop, you pull and rerelease the trigger to stop.
MIG Inductance Control
This feature is a nice surprise and is usually found on more expensive machines. But it gives you the ability to tweak the inductance up or down.
At higher inductance settings, the bead lays a bit flatter and there is less spatter. As you lower the inductance, the bead gets taller but you get more spatter. Having control like this can help you fine-tune your welds.
Portable
For some of us, moving to work is just part of the job—farmers and ranchers, for example. The Weldpro weighs just 30 pounds, and the size is not too large. So, you can easily throw it into the back of a truck and head out.
Conclusion
Many of us need to get the most out of every tool. A welder like the Weldpro 200 can do that for your shop. It brings the MIG, flux-core, TIG, and stick welding processes in one welder at a reasonable price under $1000.
Just remember what the included welding methods can and cannot do. For example, the TIG process is DC only, so it will not weld aluminum. Also, the duty cycle is fine for small to medium-sized shops. But it will not be sufficient for larger operations.
But it accepts a spool gun for aluminum welding and includes useful features like 4T for longer welds. While the Weldpro 200 will not have all the features needed by everyone, it will fit some shops just fine.
If you need different or more features, consider the Weldpro 210 LCD or one of the two alternatives we presented in the article.
Related: Top Multi-Process Welders for The Money
Other Weldpro Reviews:
Weldpro Digital TIG 200GD Review – How Good Is It?