TIG welders work with far more than just steel, and they make clean, neat beads when your finished piece needs to look good.
But TIG welders can get pricey.
However, welders like the Weldpro Digital TIG 200GD hit a sweet spot. It offers a solid set of features at a price that many can afford.
While not for industrial operations, the Digital TIG 200GD is a viable option in less demanding environments. That last comment might lead you to ask, well, what's it best suited for then and what's included?
Good question, and I wrote this article to answer those questions.
Quick Overview
What's included
Gas hose
Gas flow meter
Rocker style foot pedal
Power adapter (230V to 115V)
Stick electrode holder ("stinger")
Torch trigger button
CK17 super-flex head torch
CK 17 torch protection cover
Torch lead (5AWGx15 ft. cable with 35-50 quick connector)
5AWGx10 ft. ground cable (35-50 quick connector, 300A T-shape ground clamp)
3/32'' collet and 3/32'' collet body
Electrode 3/32″ Pure Tungsten Green
Electrode 3/32″ 2%Thoriated Red
Long back cap
Ceramic nozzles #4, 5, and 6 ("gas cups")
User manual
Tech Specs
Welder Type
TIG, Stick
Stated Input Voltage
115 / 240 V
Duty Cycle
40% @ 200 A (240V, DC TIG)
60% @ 200 A (240V, AC TIG)
Output Amperage
5 – 200A (TIG)
20 – 280A (Stick)
Current Output
AC/DC
Transformer Technology
IGBT Inverters
Weldable Materials
Steel, Stainless, Aluminum, Copper, Chromoly, Brass, Bronze
Weld Thicknesses in Settings Chart
28 ga. – 1/2 in.
Power Switch
On Back
Foot Pedal
✅
Trigger Switch on Torch
✅
Stick Electrode Holder
✅
Square Wave Technology
✅
Pulse
Peak: 10-90% adjustable
Frequency: 0.5-200 HZ
Pre and Post Flow Control
✅
High-Frequency Start
✅
2T/4T Tigger Control
✅
Welder Dimensions (H x W x L)
17.6 in. × 7 .9 in. × 16 in.
Weight
31.3 lbs.
Warranty
3 years
WeldGuru Rating
★★★★★
Amazon Rating
Check Latest Price
Amazon
Pros
Runs on 115V or 240V input power
CK17 flex head Torch and Superflex hose
5-200A of TIG output power
Digital Display
Light and portable
Square wave, inverter-based design
High frequency starts
Finger switch on the torch
Gas regulator and hose included
Pre and post flow gas control
Stick welds with the included stinger
3-year warranty
Cons
The duty cycle will be low for some
No water-cooled torch option
Argon gas only
No settings chart in the user manual
No guidelines for using this welder with a generator
Alternatives in this Range
In today's world, people like choices, and that includes welders. For those who do like options, we have two alternatives for your consideration.
Eastwood TIG 200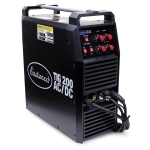 If you like a straightforward easy to use TIG welder, the Eastwood TIG 200 may be a great choice that has just recently been revamped in 2021.
The TIG 200 keeps things simple with a control panel that is much simpler and intuitive than other TIG welders. It's a favorite in the auto industry and is one of the best-selling TIG welders.
It puts out a DC or AC, meaning it can take on aluminum, steel, and many other types of metal. Plus, the duty cycle is better than the TIG 200GD. But it lacks features like the digital display and 4T trigger control found on the Weldpro unit.
YesWelder TIG250P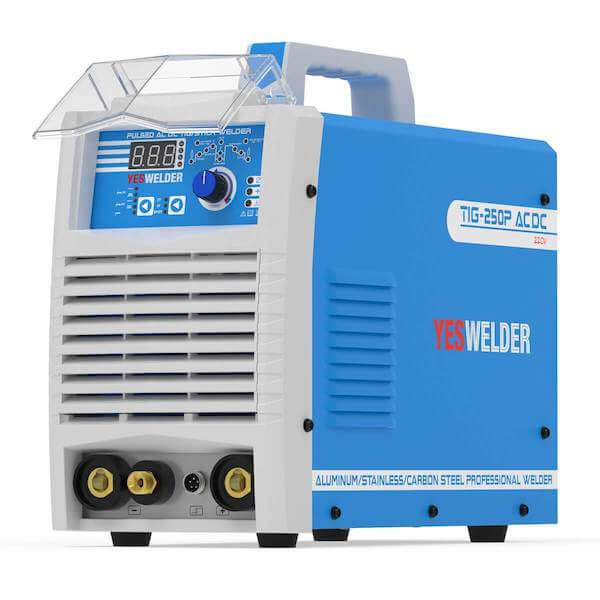 The Yeswelder TIG 250P is a good fit if you plan on running your TIG welder with only 240V. It's a hugely popular digital model for those looking for value that offers many of the same features as the Weldpro TIG 200GD, except dual power input options. In addition, you get another 50 amps of power output and a spot welding mode.
YesWelder takes a slightly different approach and offers you the TIG-250P with or without the foot pedal. If you do not need the foot pedal, you don't have to pay for it. But if you do need it, most will make sure you choose the option with the foot pedal when ordering.
Alternatives Summary
Weldpro Digital
TIG 200GD
Eastwood
TIG 200 AC/DC
YesWelder
TIG-250P AC/DC
Power Input
115 / 240V
120 / 240V
220V
Output Amperage
5 – 200A
10 – 190A
5 – 250A
Duty Cycle
40% @ 200A
60% @ 190A
60% @ 250A
Pulse Control
✅
Clearance Mode Adjustment
✅
Digital Display
✅
⛔
✅
Foot Pedal
✅
✅
Optional
Stick Electrode Holder
✅
⛔
✅
Spot Mode
⛔
⛔
✅
2T/4T Welding
✅
⛔
✅
Price
Latest Price
Amazon
Latest Price
Eastwood
Latest Price
Yeswelder
What should you know before buying the Weldpro TIG 200GD
No Settings Chart
For new welders, the lack of a settings chart to help them with starting points for a given weld will be frustrating. I do not understand this oversight. WeldPro would do themselves a favor by including a weld settings chart in the manual and even on the welder.
If you are a new welder, you will need to do some experimenting at first to find the right settings for the various welds you need to perform.
Generator Power
This should be a straightforward issue. A welder can or cannot run on generator power. If it does, then you need to size the generator properly.
But for some reason, Weldpro seems to be okay with running the Digital TIG 200GD on a generator, but they do not state what size generator is needed or best.
Details like this are important to users, and multiple customers have asked Weldpro for an answer, to no avail. So, if you plan to run on a generator, it seems that 10 KVA is sufficient based on user experiences. But you are on your own.
Things that Make The WeldPro TIG 200 Great
Control Panel
The control panel allows users to set several parameters for the weld. Pre and post-flow gas rates, 2T or 4T mode, stick or TIG welding, pulse height, and frequency, etc., are all set on the control panel.
The panel includes a digital display to show values for things like amperage and flow rates. To help users enter the settings, the control panel also includes several buttons and LED indicator lights to let you maneuver and help know what parameter you are adjusting.
It may seem a bit complicated at first, but it gives lots of control over your welds.
Dual Input Power
Finding 240V outlets can be a challenge at times, especially when you must travel to work. But the TIG 200GD can use 115V when there is no 240V outlet in sight. That gives you the versatility to do more work. Plus, the 240V to 115V adapter is included with the unit.
AC Output for Aluminum
TIG welders can make pretty welds on aluminum. But to do so, you need a welder that can output an AC. Fortunately, the Digital TIG 200GD does, so you are ready to make those professional aluminum welds right out of the box.
2T/4T Modes
For long welds, having the 4T mode can make the job easier. Pull and release the trigger to start an arc, then weld without the need to hold the trigger. When done, simply pull and rerelease the trigger to stop—no tired fingers.
In contrast, the 2T option is the typical mode of operation. Press the trigger to start and hold the trigger for the entire weld. When done, you release the trigger to stop. If you do lots of long welds, the 4T option may be an important feature for you.
CK17 Superflex Torch
Weldpro included a CK17 Superflex torch. Experienced welders know that means you get a product that comes from a well-respected manufacturer with a long track record of making good torches. Plus, you can find parts for it easily.
In addition, this torch also includes the red Superflex hose. This hose does not fight you like other hoses and allows you to move freely, which results in more comfort and improved welds.
Torch Lead Cover
A zippered cover is included with the WeldPro TIG 200GD. Simply slide it onto the torch/lead and zip it up. Then you have an extra layer of protection for your red Superflex lead.
Rocker Style Foot Pedal
The Digital TIG 200GD includes a rocker-style foot pedal, which is preferred by most users. While not the best rocker pedal around, it is better than some of the other styles of foot pedals that come with TIG welders.
Conclusion
The Weldpro Digital TIG 200GD is a viable option for those who do not need or cannot afford an industrial unit. The price is reasonable, but it still comes with a fair number of useful features.
For example, the 4T trigger control will appeal if you do long welds often. Or, those who move their welder around or travel to the work will appreciate the dual power input feature. Most importantly, the digital panel gives you lots of control to make welds in various conditions.
Not for industrial or heavy work, this unit will work in small to medium-sized shops and will appeal to DIYers, auto restorers, artists, farmers/ranchers, hobbyists, or welding enthusiasts.
Other Weldpro Reviews:
Weldpro 200 Amp Inverter Multi Process Welder Review – Is it Any Good?