Do you have a small shop that requires a basic MIG/flux welder for sheet metal or stock less than 1/4 in. thick? If so, two units that will be of interest are the Eastwood MIG 135 and Hobart Handler 140.
Both run off a standard 120V plug, come in fairly small cases, and weigh less than 60 lbs. They can be moved around and plugged in just about anywhere. Plus, both can weld mild and stainless steel, as well as aluminum, making them a valuable addition in many workshops.
So, which one provides the features you need? That depends on your budget, work preferences, and the projects you do. To help you find which of these two welders fits best in your shop, we did all the legwork and assembled the key information for each product below.
The Eastwood MIG 135 is still for sale, however, it has now been upgraded with a newer model: the Eastwood MIG 140. View the
full MIG 140 review here
.
Side by Side Comparison
Eastwood MIG 135
Hobart Handler 140
Image
Welder Type
MIG, Flux Core
MIG, Flux Core
Input Voltage
110v/120v
110v/120v
Duty Cycle
20% @ 90 A
20% @ 90A
Amperage
25 – 135A
25 – 140A
Voltage
Infinite Positions
5 Fixed Positions
Weldable Materials
Mild steel, stainless, aluminum
Mild steel, stainless, aluminum
Wire Feed Speed
Infinite
Infinite
Torch Lead Length
8 ft.
10 ft.
Ground Cable Length
8 ft.
10 ft.
Mild Steel Thickness (Single-pass)
24 ga. – 3/16 in.
24 ga. – 1/4 in.
Aluminum Thickness
14 ga. – 1/8 in.
16 ga. – 12 ga.
Wire Thickness
0.023 – 0.035 in
0.024 – 0.035 in.
Wire Feed Speed ("WFS")
40 – 450 IPM
40 – 700 IPM
Wire Spool Sizes
4-in., 8-in.
4-in., 8-in.
Spool Gun Ready
✅
⛔
Welder Dimensions (H x W x L)
14.5 in. x 9.5 in. x 16.1 in.
12.375 in. x 10.625 in. x 19.5 in.
Weight
56 lbs.
57 lbs.
Warranty
3 years
5/3/1 years
User Ratings
★★★★★
★★★★★
Price
Latest Price
Eastwood
Latest Price
NorthernTool
Eastwood MIG 135 [12011]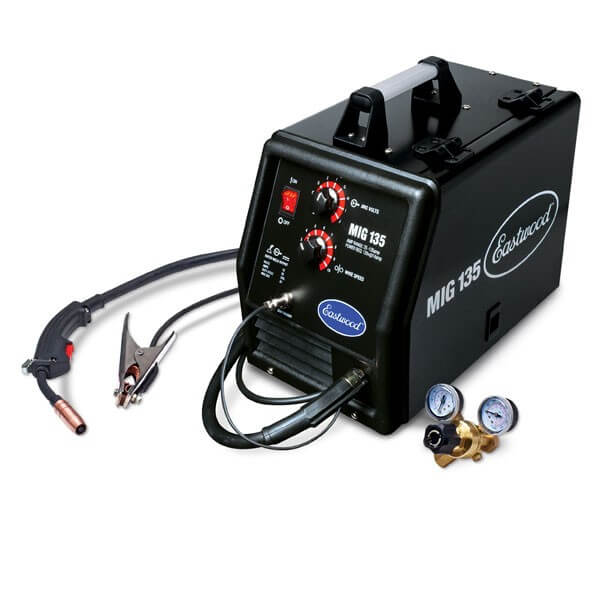 Car enthusiasts and hobbyists know Eastwood. The company was started by a young car fanatic to serve the needs of the auto restoration and customization hobbyists market. That included manufacturing welders, too.
One of the first things you may notice about the Eastwood MIG 135 is it costs less than the Hobart Handler 140. For a small shop on a budget, you do get a lot for the price.
For example, need to fine-tune the volts (or "heat") for a perfect weld? This Eastwood welder can be turned to any voltage setting between the min and max on the dial. You have "infinite" control. With the Hobart unit, you must choose one of five preset voltage settings.
Also, you can add an optional spool gun for welding aluminum. The competing Hobart welder is not spool gun compatible and is limited to 16 to 12 gauge aluminum. Adding a spool gun to the package allows you to work on aluminum up to 1/8 inch thick.
With the addition of a spool gun, your initial costs do increase. But you will still be around the cost for the Handler 140 and have more range with the aluminum thicknesses you can weld.
For those who are wondering, even though it costs less, this unit gives up nothing when it comes to the duty cycle. Both the Eastwood MIG 135 and the Hobart Handler 140 have a duty cycle of 20% @ 90A, which is appropriate for smaller shops.
The supplied Tweco style MIG gun also uses common, easy to find parts. You can pick up most of what you need at almost any welding supply house, or even at a big box store.
In short, DIY, auto restoration, welding hobbyist, or similar workshops on a budget will appreciate the favorable price to performance ratio of this welder. Some of the features, like the infinite voltage control, even beat out the more expensive Handler 140.
Related read: Eastwood MIG 135 Review
What's Included
Extra 0.023″ Contact Tip
Gas Regulator with hose
Tweco-Style Gun and Consumables
Switchable Drive Roller
8′ Ground Cable and Gun Cable
Wire Brush
Welding Face Shield
3-Year "No Hassle" Warranty
Eastwood MIG 135 Compared to the Hobart Handler 140
Pros
Infinite voltage ("heat") control
Spool gun ready, can weld aluminum up to 1/8 thick
MIG torch uses standard, easy to find parts
Affordable
Cons
Welds 3/16 inch thick steel in a single pass, a bit thinner than the Handler 140
Shorter ground and torch leads
Smaller wire feed speed range
Where to buy the Eastwood 135
Not many retailers stock Eastwood machines.
While they do run offers from time to time, I found that it is almost always cheapest to buy from their official store.
The only other retailer I know that sells their machines is Amazon.
The Eastwood MIG 135 is still for sale, however, it has now been upgraded with a newer model: the Eastwood MIG 140. View the
full MIG 140 review here
.
Hobart Handler 140 [500559]
The Hobart Handler 140 has a reputation as a reliable, versatile, straightforward machine. This is due in large part to the wire feed system which has won many fans with its good design, ease-of-use, and dependability.
Maintenance, auto body, car repair, DIY, farm/ranch, home repair, and artist workshops that need a portable, reliable, simple to use a welder for mild and stainless steel welding, with some aluminum every now and then, will appreciate the Handler 140.
The Handler 140 lets you MIG and flux core weld a variety of jobs. This unit is portable and welds ¼ in. steel stock down to 24 gauge.
Also, you can weld aluminum. The unit's wire feed system can feed aluminum wire directly to the MIG torch. This lets you weld 16 to 12 gauge aluminum without a spool gun.
The WFS also goes up to 700 IMP, which is needed when MIG welding aluminum. But you are stuck with the 16 to 12 gauge range. The Handler 140 is not compatible with a spool gun and the thickness range of the Handler 140 may not be sufficient for some.
The Handler 140 has a nominally higher amperage output, 140 amps compared to the MIG 135's 135 amps. It can also weld slightly thicker steel in a single pass, 1/4 inch compared to 3/16 inch for the Eastwood MIG 135.
Another feature that some may notice, the ground and torch leads are 2 ft. longer on the Hobart Handler 140. This provides 20% more lead compared to the Eastwood MIG 135. For some shops, that may be important.
Plus, Hobart offers a strong warranty. Both units have a 3-year warranty on most of the welder parts (except for the consumables). But Hobart also warrants their transformer for 5 years. For those that will rely on their welder in the long term, the better warranty may matter.
You can check out my full review of the Hobart 140 here.
What's Included with the Handler 140
HR-100 gun with 10 ft. (3 m) cable
Owner's manual
10 ft. (3 m) ground cable with clamp
Built-in gas solenoid valve
Dual-gauge regulator with gas hose
Spool hub assembly for 4 in. or 8 in. spools
Sample spool of .030 in. (0.8mm) self-shielding flux-cored wire
.030 in. (0.8mm) contact tips
Quick Select™ drive roll for .024 in. (0.6mm) or .030/.035 in. (08/.9 mm) solid wire, and .030/.035 in. (0.8/0.9 mm) flux-cored wire
Power cord with plug
Welding guide
Material thickness gauge
Hobart Handler 140 Compared to Eastwood MIG 135
Pros
Handles ¼ in. mild steel in a single pass
Reliable wire feed system up to 700 inches per minute (including aluminum)
Welds aluminum without the additional cost of a spool gun down to 16 gauge
User-friendly 3-groove drive roller ("Quick Select")
Longer ground and torch leads
Wide WFS range
Strong Warranty (e.g. transformer covered for 5 years)
Cons
Not spool gun ready
Work clamp is light and undersized, and it lacks a braided wire connecting the jaws
The aluminum thickness range is smaller (only 16 to 12 gauge.)
More expensive
Where to buy the Hobart 140
Unlike Eastwood, Hobart allows its machines to be sold at various retailers.
I've watched the price of this machine for some now and noticed it fluctuates up and down, as well as the stock levels.
It's pointless me telling you where the current cheapest place is as this will change next week. So it's best to check out a few retailers to see where the current best deal is.
Here are a few retailers I found that I know run deals from time to time:
Eastwood MIG 135 vs Hobart Handler 140: What's different?
Control Panel
Both units are compact and simple to use. The controls on each unit are usable with gloves and clearly marked. Also, both include the on/off switch on the front, which is far more usable than other units that put it in the back.
Each also comes with two vertically oriented dials, one for the voltage setting and one for the wire feed speed ("WFS"). For the nitpickers out there, the Hobart puts the WFS dial over the voltage, and the Eastwood puts the voltage over the WFS dial.
But there is one significant difference. The Hobart gives you 5 voltage settings to pick from. The Eastwood lets you set the voltage dial anywhere between the min. and the max. If you like to fine-tune the arc, the infinite dial on the Eastwood is undoubtedly an advantage.
The Hobart also has one additional feature on the control panel that Eastwood does not. The Handler 140 has an overheat light, that lets you know when the unit is shut down because it is too hot.
The overheat light is handy as it goes off when the welder is cool again. So, you know when the machine is ready for more welding. With the Eastwood, you have to pull the trigger to test if it has cooled enough to weld some more after it overheats.
As for circuit protection, both units include a breaker that will trip if the unit is overloaded. Both include the breaker reset on the back of the machine.
Amperage
The MIG 135 provides 135 amps, and the Handler 140 puts out 140 amps. Hence the designations in the names.
This is a small difference, but Hobart recommends the Handler 140 for welding up to ¼ inch steel in a single pass. Eastwood recommends welding up to 3/16 inches in a single pass with the MIG 135.
Torch and Ground Clamp
Both come with a torch and ground clamp with leads. But there are differences.
For starters, the leads on the Eastwood are 8 feet, on the Hobart they are 10 feet. For some, that 2 feet may make the difference.
When it comes to the ground clamps, the Eastwood MIG 135 comes with a braided wire connecting the jaws to help you establish a good electrical ground. The braided wire is missing on the Handler 140. The Eastwood unit has a better clamp.
Another difference, the MIG 135 comes with a Tweco style torch, which means you can find parts/consumables just about anywhere. The Handler 140 uses Miller-style parts, and these need to be bought from a Hobart dealer/distributor which may be a little harder to find.
Welding Aluminum
If you want to weld aluminum, both units can do it. But depending on your work, you need to know the differences between these two to select the right one.
The Handler 140 utilizes its wire feed system to weld 16 to 12 gauge aluminum. This is slightly thinner than the MIG 135. So, if you work with the real thin stuff, the Handler 140 may be your choice. But you are limited to 16 to 12 gauge since this machine cannot accept a spool gun.
If you want to go up to 1/8 inch thick aluminum, the MIG 135 allows you to do that. It does not come ready to weld aluminum, you have to buy an additional spool gun for that capability. But with the spool gun, the Eastwood MIG 135 will let you weld 14 ga. – 1/8 inch aluminum.
The MIG 135 with the addition of a spool gun will cost about the same as the Hobart Handler 140, depending on where you make your purchase. But for the shop that deals with various aluminum thicknesses, the MIG 135 with a spool gun is a better choice.
Price
Hobart has manufactured welders for over 100 years. They earned a good reputation and provide a strong warranty for the Handle 140. But you do pay for brand names and good support, so it is no surprise this unit is the more expensive of the two welders.
The Eastwood MIG 135 provides a great welder for mild and stainless steel for less. If you are on a budget and do not need to weld aluminum, you should give this unit a serious look. And if in the future you need to work with aluminum, then you can simply buy the spool gun.
Of course, you can purchase the MIG 135 and the spool gun together. The combined cost will be about the same as the Handler 140, depending on where you buy and the specials being offered.
Warranty
Hobart offers a 5/3/1 warranty. It covers parts and labor for 5 years on the transformer and the wire drive system, control boards, and the regulator for 3 years. The MIG gun, contactors, and relays are covered for 1 year (or 90 days for industrial use).
Eastwood offers a 3-year warranty for materials, workmanship, and defects. Items not covered under the warranty: contact tips, nozzles, wire, and the ground clamp and cable.
Both warranties are strong, but the Handler 140 may be the best choice for those who value the product warranty.
Conclusion
The MIG 135 and Handler 140 are both capable welders. How you work and the projects you tackle can make one a better choice for your shop.
In general, for those on a budget, the Eastwood MIG 135 gets you MIG and flux core welding of mild or stainless steel at a great price. If in the future you need to add aluminum to your repertoire, then you can purchase a spool gun to weld 14 gauge to 1/8 inch aluminum.
Also, the ability to tweak the voltage setting makes the Eastwood welder more enjoyable for some to use. The ability to nudge the heat up or down allows you to get a more refined arc to get the best welds possible.
The Handler 140 can handle the thinner 16 gauge aluminum (compared to the 14 gauge lower limit of the MIG 135). If you need to work with thinner aluminum, then the Hobart welder may be a better choice for you. But you will be limited to 16 to 12 gauge aluminum.
Also, if you want a better warranty, the Handler 140 may be your unit. But you will pay more for the brand name and sense of security.