The welding market offers many options for sheet metal and light fabrication. But in March 2021, Eastwood introduced an update to their popular MIG 135 welder.
Smaller shops that do work like car restoration or metal sculptors may be intrigued by their new Eastwood MIG 140.
With the addition of new features and the inclusion of the latest IGBT technology, this new Eastwood 110V welder offers a lot at a fair price.
Keep reading to find out what they improved and if this new welder might right for you.
Quick Overview of the Eastwood MIG 140
What's Included
MIG 140 Welder
MIG Wire Spool 0.023 (0.7mm), 4 inch (2 lbs)
Gas Regulator and hose
8.5' Cable and Ground Clamp
MIG Torch w/ Nozzle and 8.5' lead
0.023" (0.7mm) Contact Tip
Face shield with lens and handle
Welding brush/hammer
Contact tip wrench
Additional contact tips (.030" and .035")
Contact tip wrench
Instruction Manual
3-Year "No Hassle" Warranty
Tech specs
Welder Type
MIG, Flux Core
Input Voltage
120 VAC 60 Hz
Required Circuit Breaker
20A
Duty Cycle
30% @ 90 A
60% @ 65A
Amperage Range
30 – 140A
Voltage Control
Infinite between min. and max.
Weldable Materials
Mild steel, stainless, aluminum
Mild/Stainless Steel Thickness (Single-pass MIG)
24 ga. – 1/8 in.
Mild/Stainless Steel Thickness (Single-pass Flux Core)
20 ga. – 3/16 in.
Aluminum Thickness
14 ga. – 1/8 in. (w/ optional spool gun)
Wire Feed Speed Control
Infinite between min. and max.
Wire Sizes
0.023"– 0.035" MIG
0.030" – 0.035" Flux core
Wire Feed Speed ("WFS")
80 – 314 IPM
Wire Spool Sizes
4-in., 8-in.
Spool Gun Ready
✅
Torch & Ground Lead Length
8.5 ft.
Dimensions
18" x 8.5″ x 13.25"
Weight
24.15 lbs.
Warranty
3 years
Price

Lastest Deal


Latest Deal on
Eastwood
Pros
Affordable
2T and 4T options
Tack weld mode is handy
Control panel now has indicator lights
IGBT inverter technology makes the unit compact, light, and portable
Infinite voltage ("heat") and wire feed speed control
Easy polarity changes; just swap lead plugs on front of the machine
Tweco-style MIG torch uses standard, easy to find parts
Ground clamp jaws connected with a braided wire strap
Quick Set chart on the wire compartment door
3-year no-hassle warranty
Cons
On/Off switch is on the rear of the unit
30% duty cycle @ 90A may be too low for some users
Knurled roller for flux-core wire is not available at this time
Ground and torch leads are short
MIG welding aluminum as supplied is possible, but users who work with aluminum frequently should buy the optional spool gun
Eastwood MIG 135 vs MIG 140 – What's Changed?
After getting in touch with Eastwood, they confirmed that the MIG 140 might replace the popular MIG 135 later this year. But that remains to be seen.
However, if it does happen, they also mentioned introducing a new MIG 90 welder as an entry-level welder to fill out the line. In the meantime, Eastwood usually has the 135 on sale on their site. My best guess is this was likely done to clear out the remaining stock.
So if you had your eye on the 135, what has changed in the new MIG 140? Well, quite a bit actually. The upgrades are summarized in the table below.
Higher Amperage
For starters, the output amperage is slightly higher. But more importantly, the duty cycle increased from 20% at 90A in the MIG 135 to 30% at 90A with the MIG 140. A 50% increase means more time welding.
More Control & Indicators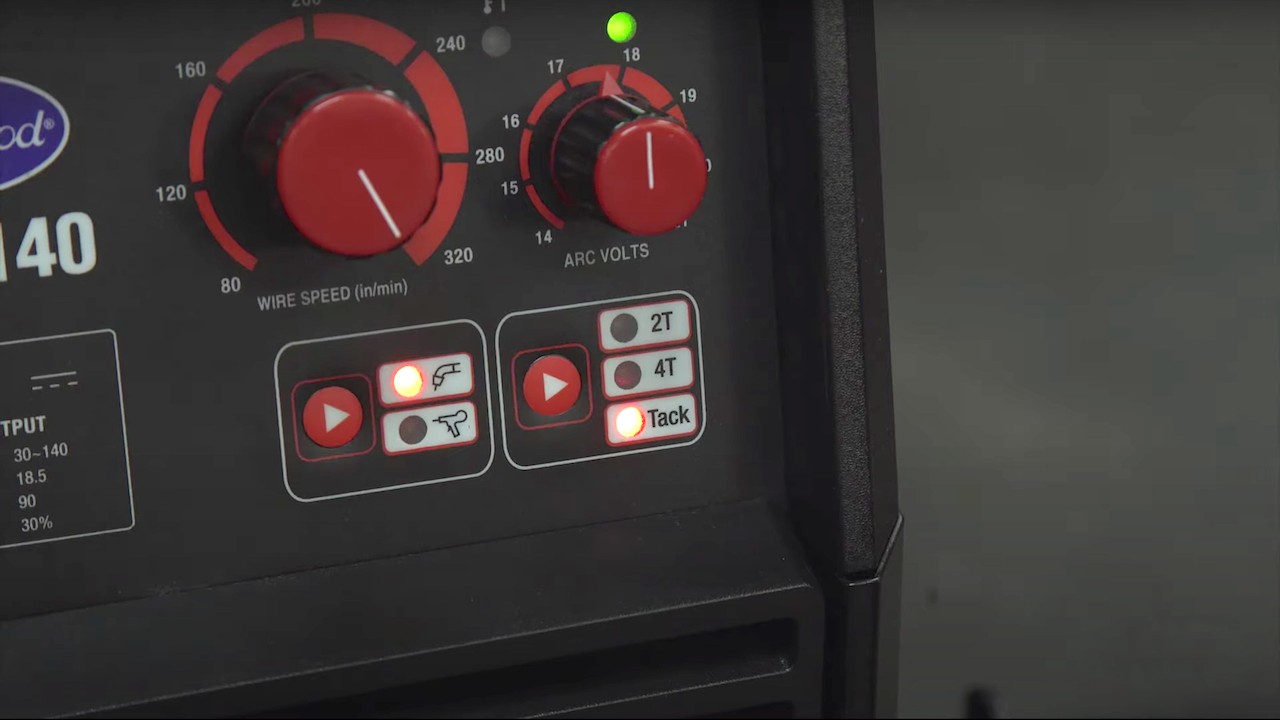 You also have more control with the 140 via the dedicated, timer-controlled tack mode and 2T or 4T trigger operation. Both features are not found on the 135.
Plus, you have a blister button with indicator lights on the control panel to easily switch between the spool gun and MIG torch. This is more convenient, yes, but it also lets you know if you have the right setting with just a glance, without opening the wire compartment.
Other new indicator lights were added to the 140's control panel. You now have a power-on and overload light on the control panel. If you overheat the unit, the overload light lets you know when the MIG 140 has cooled off enough to run again without sporadically tapping the trigger.
More durability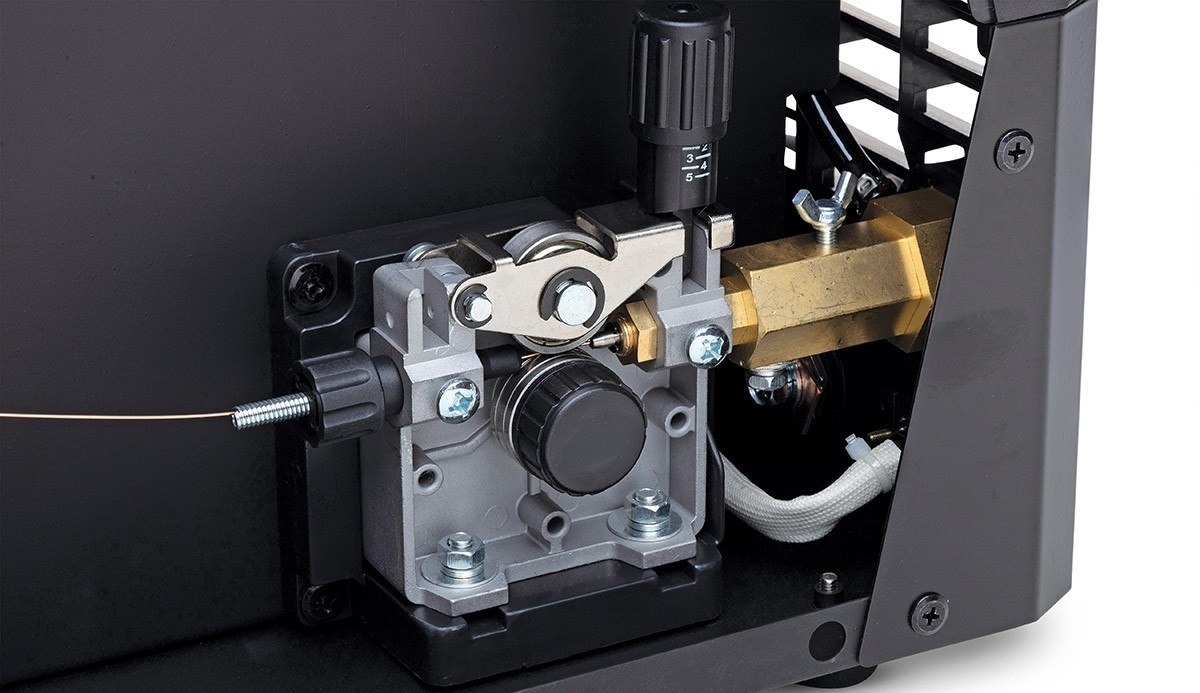 An all-metal housing is included in the 140 wire drive mechanism for added durability. The 135 used a plastic housing which some users reported giving it a "cheap feel".
Last but not least, the 140 eliminates opening the wire compartment and using wrenches to change polarity. The torch and ground leads now swap on the front of the panel. This makes changing over to use flux-cored wire fast and easy.
Summary of Changes
MIG 140
MIG 135
Amp Range
30 – 140A
25 – 135A
Duty Cycle
30% @ 90A
20% @ 90A
Wire Feed Mechanism Housing
Metal
Plastic
Spool Gun Switch
Button on Control Panel
Switch Inside the Wire Compartment
Tack Mode
✅
⛔
2T & 4T Trigger Control
✅
⛔
Overload Light
✅
⛔
Polarity Changes
Switch Lead Plugs on Front without Tools
Change Wires Inside Wire Compartment w/ Wrenches
RRP
$399.99


Lastest Deal


Best Deal Here
No longer available
What You Should Know Before Buying the MIG 140
Weld Thickness & Applications
Do not expect to weld metal over 3/16 inches thick with this welder. It is a limitation for most 110V welders, including this one.
Eastwood recommends this welder for applications like car restoration, DIY tasks, or metal artwork. If you expect to take on stock 1/4 inch or thicker, you need to look at a more powerful and more expensive welder.
Consumables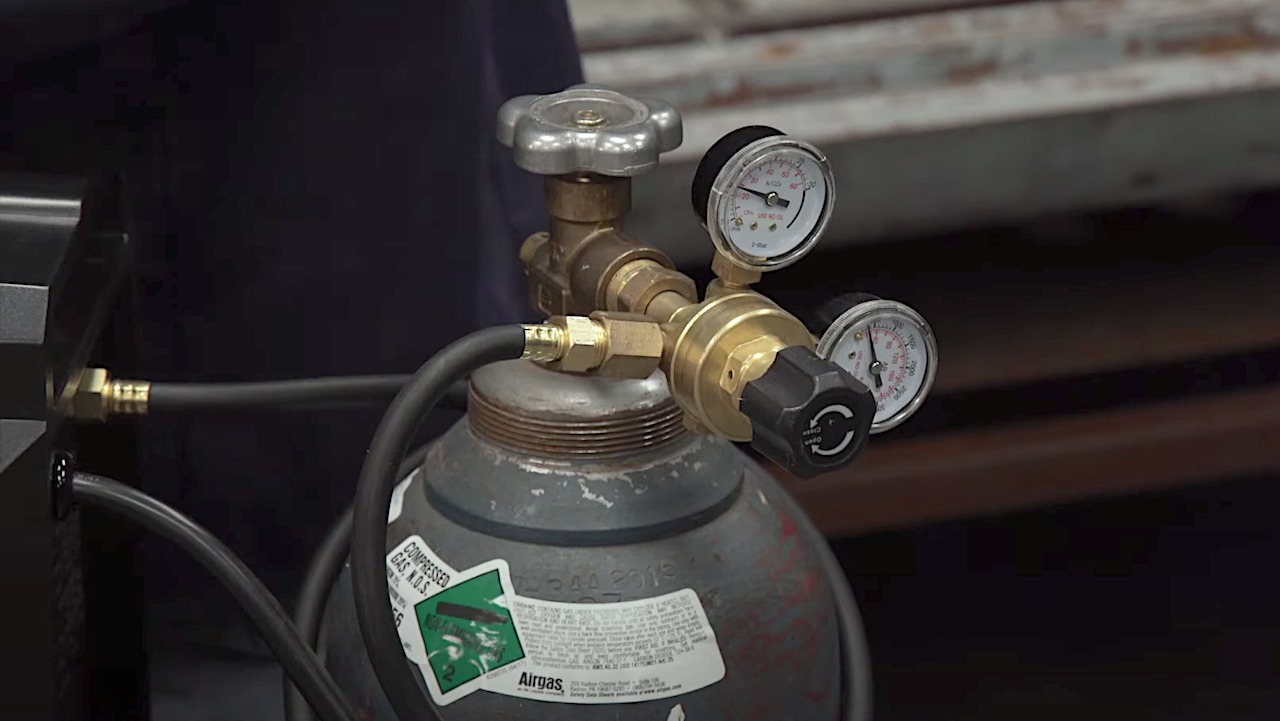 Some might forget or may not know that you need to supply your own gas to start MIG welding with this unit right out of the box.
That is true with all MIG welders, so do not forget to get your gas tank ahead of time if you expect to MIG weld right away.
Also, you get enough consumables in the box to get you started (a 2 lb. roll of wire, 3 contact tips, and 1 nozzle). So if you want to keep on welding, you will need more than this. So, consider adding the consumables needed for your work to your initial order.
Limits without a Spool Gun
Finally, the settings chart includes parameters for MIG welding aluminum from 17 ga. to 1/8 inch.
So, you can MIG aluminum, but you will run at or near the maximum WFS.
Be patient and prepared to deal with bird nests and tangled wire. Or, the optional spool gun is a better choice.
Features I Find Great on The Eastwood MIG 140
IGBT Inverter Based Technology
Technology has improved so many things in our lives, including welders. Many now use insulated-gate bipolar transistor ("IGBT") inverters to power the arc.
IGBTs are much lighter than transformers and can run off generator power (which is "dirtier" and more difficult for welders to use). Also, IGBTs allow for a smooth, user-friendly arc.
Control Panel
Eastwood chose to keep the control panel simple. No digital displays or complicated layouts. All you have to deal with is two knobs and two blister buttons.
The layout is dead simple to use and easy to understand. Even new welders will be confidently setting this unit up in a snap.
Also, there is no digital display to get mucked up or broken. Some like a digital display as it looks more modern. But they are susceptible to damage in a welding environment, and many welders will like the simplicity of using nothing but dials to set the parameters.
2T & 4T Options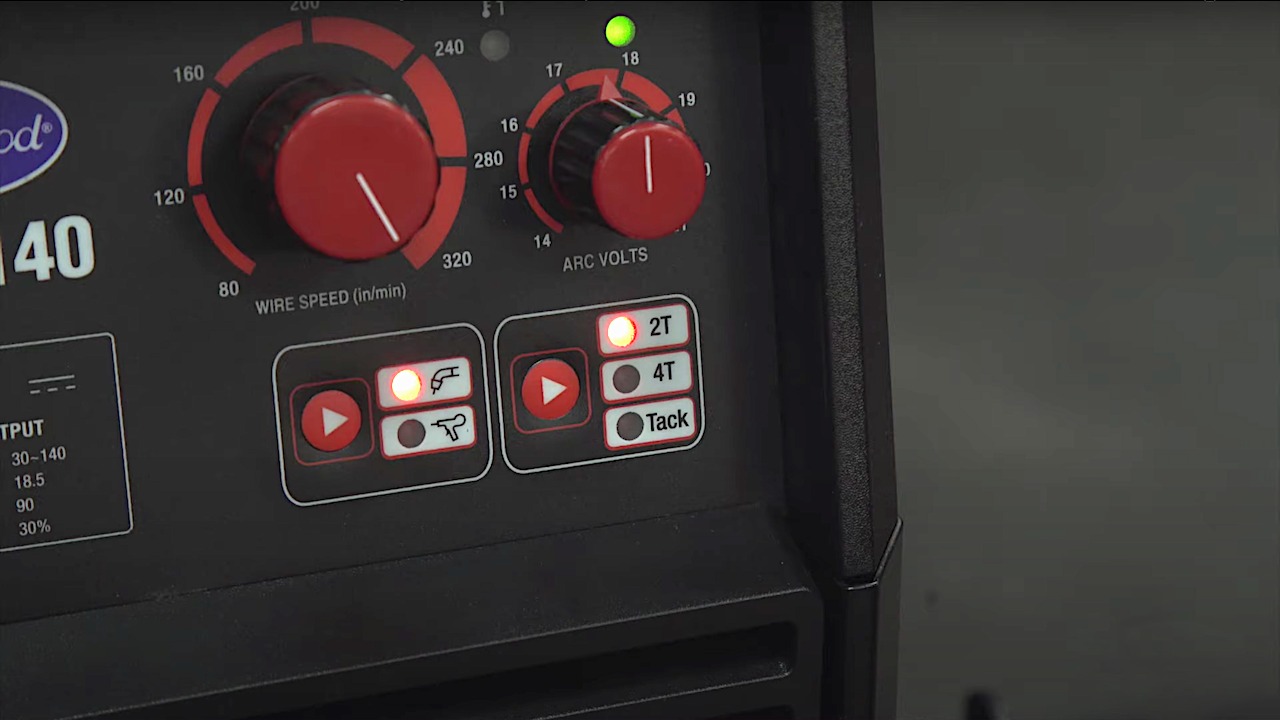 At this price level, you may not expect to have a choice on how to operate your trigger. But you do with the Eastwood MIG 140. Choose either 2T or 4T operation mode with a single press of a button.
2T is the standard operating mode. Pull the trigger to start welding, and release it stop.
But with 4T, you can be more comfortable on long welds – no burning your hand or tuckering out your trigger finger.
For those who may not know, 4T works as follows. You pull the trigger and release it to start the weld (2 touches). Then at the end of the weld, you pull and rerelease the trigger (2 additional touches). This eliminates the need to hold the trigger on long welds. You can read more on the details of 2T and 4T modes here.
Spool-Gun Ready
With the MIG 140, you can MIG weld aluminum, but it also comes spool gun ready. When you need to get serious about welding aluminum, buy and attach the optional spool gun (found here): no adapters or complicated setup.
Part of the easy spool gun setup can be seen on the control panel. No opening the wire compartment door and flipping a switch inside.
There is a blister button right on the control panel. Simply select the MIG torch or spool gun option right on the front of the unit.
Tack Mode
Light fabrication and autobody work often involve a lot of tack welding. But the constant on-off can be hard on the unit and on you, too. The included tack feature is timed, so you get consistent, perfect tacks with each pull of the trigger. This is also easier on you and your welder.
Tweco-Style Torch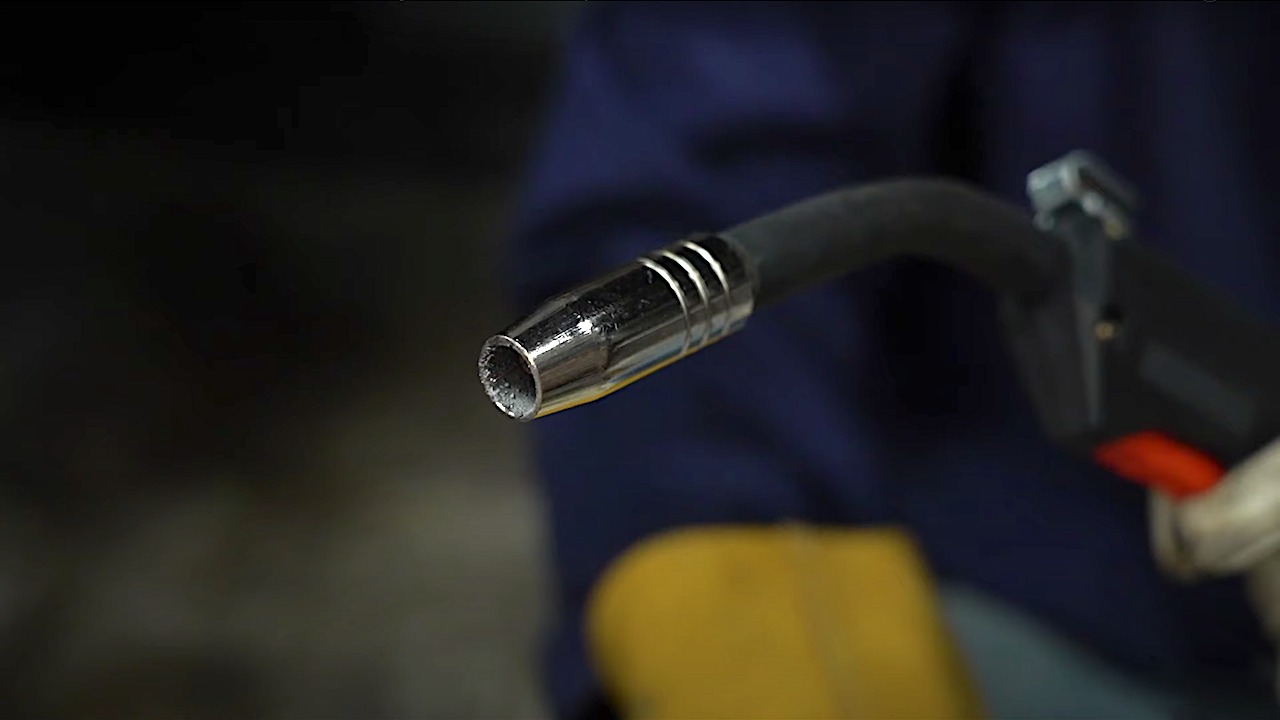 The Eastwood MIG 140 comes with a Tweco-style torch. So, you have no worries since you can get parts just about anywhere.
That includes big-box stores, which are handy "after" hours, or if it is hard for you to get to a local welding supply store.
Price
A knowledgeable welder will not expect much from a welder that costs under $400. But with the Eastwood MIG 140, that is a bad assumption.
The Eastwood MIG 140 welder comes with useful features and a quality build. In short, this welder provides excellent value.
Things That Could Be Improved
Flux-Cored Wire Roller
In my humble opinion, one item that needs to be improved is the drive roller used with flux-cored wire.
Right now, Eastwood recommends using the supplied drive roller with the smallest groove (0.023 in.). This is not ideal since this roller has smooth grooves.
For running the soft flux-cored wire, it is common to have a special, knurled roller. But as of now, there is no knurled roller offered by Eastwood for the MIG 140.
I would like to see Eastwood offer a knurled roller better suited to drive flux-cored wire in the not-too-distant future.
Leads
The leads for the ground and torch are 8.5 ft. These are on the short side, and I suspect that many users will replace or modify these to have better reach.
Inductance Control
Eastwood omitted inductance control in the MIG 140. For budget 110V welders, this feature is not something you would normally expect. It is found on one of the competing welders. This feature helps to fine-tune the arc for difficult welds, and it would be nice to see it included.
Alternatives to Eastwood MIG 140
Of course, there are comparable 110V welders in this price range. For those for example, you have most likely come across the famous Hobart 140…
Hobart Handler 140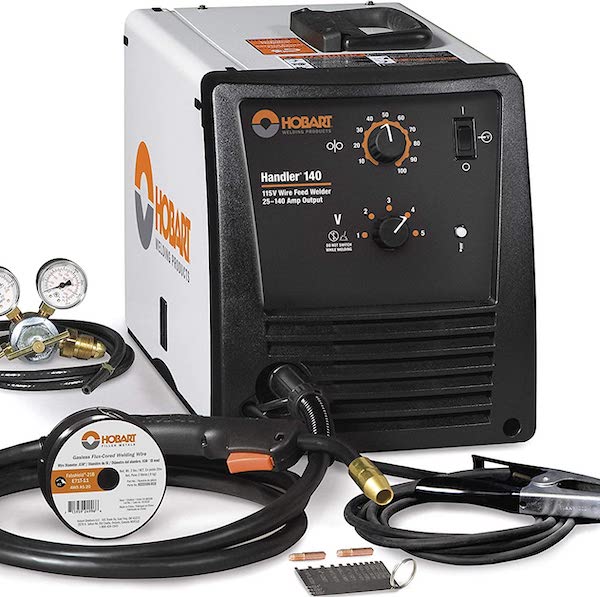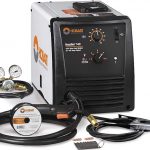 Hobart offers the popular Handler 140 (our review here). It has a proven track record and strong reviews. As a basic, easy-to-use welder, many will compare it to the Eastwood MIG 140.
But a head-to-head comparison highlights the strong feature set found in the Eastwood MIG 140 (see table below). Eastwood includes a better price and duty cycle, too.
Comparison Table
Eastwood MIG 140
Hobart Handler 140
Duty Cycle
30% @ 90A
20% @ 90A
Mild Steel Thickness (Single-pass)
24 ga. – 3/16 in.
24 ga. – 1/4 in.
Spool Gun Ready?
✅
⛔
2T and 4T?
✅
⛔
Tack Mode?
✅
⛔
IGBT inverter tech?
✅
⛔
Inductance Control?
⛔
⛔
Digital Display?
⛔
⛔
Price
$


Lastest Deal


Lastest Deal
Eastwood
$$$
Check Price on Amazon
Rounding it Up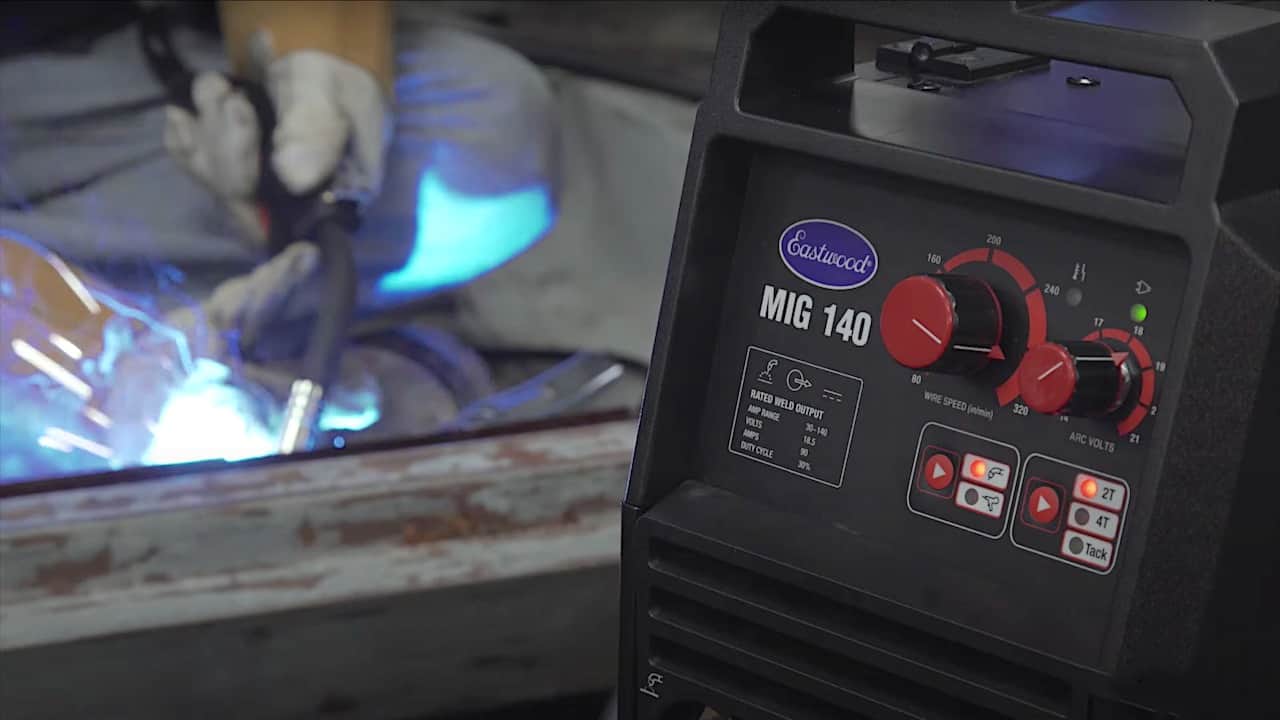 For sheet metal and light fabrication work, a 110V MIG welder like the Eastwood MIG 140 may be all that your shop needs. It will not weld stock over 1/4 inch, but it can handle 24 gauge to 3/16 inch thick steel/stainless well. Plus, it is compact and light, meaning it is portable.
The new Eastwood MIG 140 kept many of the best features of the old MIG 135. For example, it runs on the 110V found in most homes (w/ a 20A circuit breaker) and comes spool gun ready. Plus, you have infinite WFS and voltage control to tweak your welds.
But the improvements made to the MIG 140 are many — things like a dedicated tack mode and 2T or 4T trigger operation. Convenience is improved, too. For example, you now change the polarity by just switching the lead plugs on the front of the machine.
Some of these useful features are usually found on more expensive machines, which leads us to one of the best features of the Eastwood MIG 140, the cost. You get a strong feature set at a reasonable price. Plus, for the skeptics out there, you also get a no-hassle, 3-year warranty.
In summary, the Eastwood MIG 140 Eastwood MIG 140 fits well into an auto restoration, metal art, DIY, or any operation with sheet metal or light fabrication needs. The price works for most small shops or DIYer's while providing practical features that were previously not included in this price range.
Other Eastwood Reviews