A basic MIG welder extends a small shop's capabilities instantly, and most of their jobs deal with stock less than 1/4 inch thick. That means they do not need and often cannot afford a bigger industrial-rated machine.
Fortunately, today's market offers all kinds of low-priced MIG welders for occasional use, like the Eastwood MIG 135.
But companies with unfamiliar names and few or no reviews sell many of these. So, are any of them worth it?
In short, no. Many are little more than toys that lack the needed capabilities and durability for even small shops. So, shopping for a budget-priced MIG welder becomes a minefield, even for experienced welders.
But some products deliver features and quality if you know which ones to consider.
For example, the Eastwood MIG 135 is one of the products you should have on your shortlist. Keep reading to find out why.
Quick Overview of the Eastwood MIG 135
What's Included
MIG 135 Welder (57 lbs.)
0.023″ Steel MIG Wire
Extra 0.023″ Contact Tip
Gas Regulator with hose
Tweco-Style Gun and Consumables
Switchable Drive Roller
8′ Ground Cable and Gun Cable
Wire Brush
Welding Face Shield
3-Year "No Hassle" Warranty
Technical Specifications
Manufactured
China
Welder Type
MIG, Flux Core
Input Voltage
110V / 120V
Duty Cycle
20% @ 90 A
Amperage
25 – 135A
Voltage
Infinite Positions
Weldable Materials
Mild steel, stainless, aluminum
Wire Feed Speed
Infinite
Torch & Ground Lead Length
8 ft.
Input Power Cord Length
6 ft.
Mild/Stainless Steel Thickness (Single-pass MIG)
24 ga. – 3/16 in.
Mild/Stainless Steel Thickness (Single-pass Flux Core)
24 ga. – 1/4 in.
Aluminum Thickness
14 ga. – 1/8 in. (w/ optional spool gun)
Wire Thickness
0.023 – 0.035 in
Wire Feed Speed ("WFS")
40 – 450 IPM
Wire Spool Sizes
4-in., 8-in.
Spool Gun Ready
✅
Dimensions (H x W x L)
14.5 in. x 9.5 in. x 16.1 in.
Weight
56 lbs.
Warranty
3 years
Price
Discontinued
See the updated model
Pros
Affordable for almost any shop
Compact, light design makes the unit portable
Infinite voltage ("heat") control
Weld up to 3/16 in. mild and stainless steel with solid wire
Weld up to 1/4" in. thick steel with flux-cored wire
Spool gun ready, can weld aluminum up to 1/8 in. thick with the added option
MIG torch uses standard, easy to find parts
Newest model with inverter-based power supply can run off of a generator
Ground clamp jaws connected with a braided wire strap
Quick Set chart on the wire compartment door
3-year no-hassle warranty
Cons
20% duty cycle is too low for constant, heavy use
Knurled roller for flux-core wire is not included, must buy separately
Ground and torch leads are on the short side
Wire feed speed range too low to MIG aluminum as supplied, need to add optional spool gun for aluminum
Older models with a transformer power supply are not recommended for use with a generator
Where to buy
You can no longer buy this machine. It has now been discontinued.
See the new Eastwood MIG 140 here.
Alternatively, check out the list of MIG welders that are recommended.
What You Should Know Before Buying The Eastwood MIG 135
Duty Cycle
As implied in the introduction to this article, the Eastwood MIG 135 should not be considered an industrial unit. That is because the 20% @ 90 A duty cycle is too low.
But DIYers, auto mechanics/restorers, farmers/ranchers, steel sculptors, and handymen will find this duty cycle adequate. But if you plan to weld on a steady, heavy basis, this duty cycle will not work for you.
(FYI – Duty cycle measures the welding time over a 10 minute period of time. This unit is rated at 20% and can weld for 2 minutes at 90 amps. Then it needs to cool for the other 8 minutes. So, the 20% rating.)
Stock Thickness
Using solid wire to MIG weld, the Eastwood MIG 135 can handle up to 3/16 in. mild and stainless steel.
That is 1/16 inch less than some competing units (e.g., the Hobart Handler 140 at a higher price), but you can go thicker with multiple passes or by using flux-cored wire.
Related read: Eastwood 135 vs Hobart 140 Comparison
WFS Range/Welding Aluminum
This unit cannot MIG weld aluminum as sold. The WFS is too slow, so you need a spool gun to weld aluminum.
Fortunately, the Eastwood MIG 135 is spool gun ready. But that means the spool gun is bought separately, an additional cost you may need to factor in.
Flux-Core Wire Roller
The knurled roller needed to run flux-core wire is not included in the box of the MIG 135. So, you have another add-on you may need to purchase separately.
Plus, remember to pick up some flux-core wire while you at it. The MIG 135 does not come with any. For that matter, pick up all your consumables if you buy this unit; it comes with very few in the box.
Torch and Ground Leads
This might be considered a nitpick by some, but the leads are only 8 feet long on the Eastwood 135.
For many small shops, that length works fine. It will be too short for others, and you may end up replacing the torch and/or ground cable, which is an additional expense to you.
Eastwood 135 Stand Out Features
Price
Eastwood priced the MIG 135 aggressively. It is lower than many of its competitors while delivering most of the same features.
In fact, you can add the optional spool gun, and still be in the same price range as some competing welders without a spool gun.
Even so, Eastwood ensured the build quality was suitable for the intended applications.
That means the cost to buy the MIG 135 includes more than most at this price level. For this reason, you may even hear some users say the quality to price "ratio" is favorable.
Controls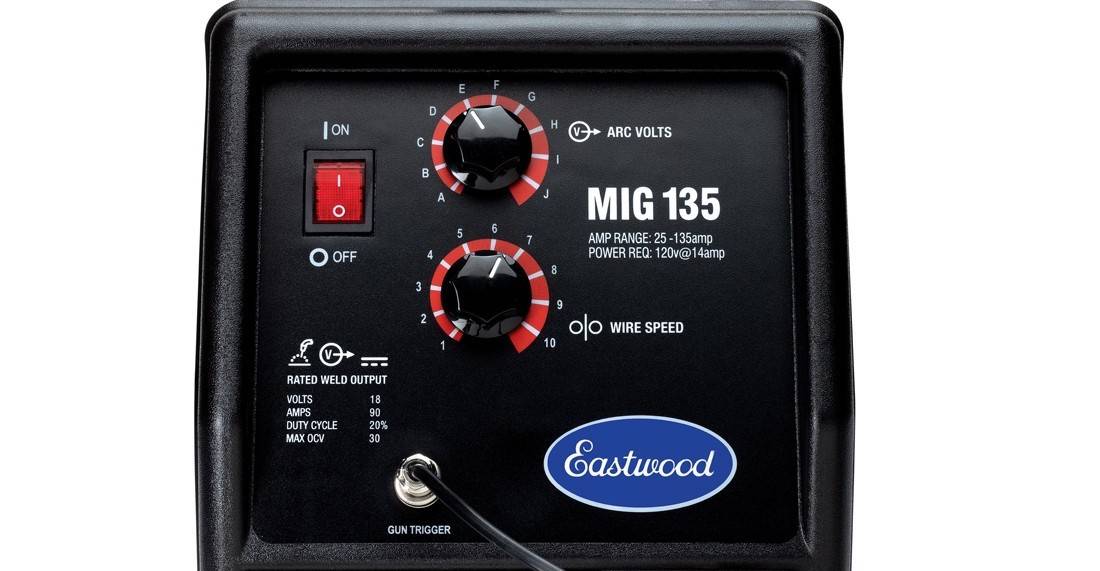 The MIG 135 offers small shops with many new abilities, but Eastwood kept the control panel simple. It has an on/off switch, a voltage control knob, and a WFS knob. That is it.
At this price level, it is common to find a stepped voltage control selector switch. That means you often get only four or five voltage settings to choose from, but not so with the MIG 135.
The voltage knob offers infinite control from the minimum to the maximum setting. For those who like to tweak the "heat," this is a nice feature often found on more expensive units. Plus, the WFS knob also offers infinite control.
Experienced welders will appreciate all this control, particularly with tough welds. And rookie welders will find it easier to learn when they have the ability to set the voltage and WFS to just the right amount. More control usually equals a more enjoyable welding experience.
Quick Set Chart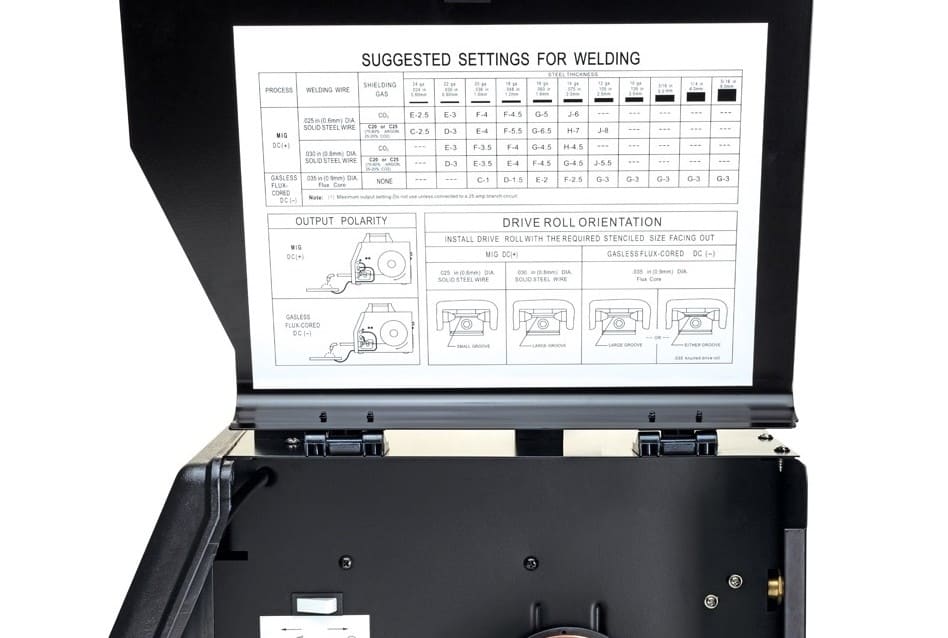 The inclusion of a settings chart on the wire compartment door of the MIG 135 is handy. It should be included on every welder if we are being honest, but it is often excluded.
Eastwood understood the importance of having easy access to the settings chart while working in the shop, and they included one printed right on the unit's door.
Spool Gun Ready
Need to weld aluminum? Then you should take a long hard look at the Eastwood MIG 135. It is spool gun ready.
Yes, that means you must purchase it as an extra. Keep that in mind when considering your budget.
But that also means you can weld aluminum 14 gauge to 1/8 in. thick with the spool gun. Plus, there is less chance for the wire to bind or a bird's nest to form with the shorter wire path of a spool gun.
Given the cost for the Eastwood MIG 135, with the spool gun added, the price-to-performance ratio is still excellent for those who need to work with aluminum and steel.
MIG Torch and Ground Clamp
The MIG torch is a Tweco style gun. For those who have ever had to find parts on a weekend or after hours, you know that is a huge plus.
You can find replacement parts for the gun in just about any place, including big box stores.
Also, the gound clamp has a braided wire strap connecting the jaws.
On some more expensive, competing units, this is usually missing, most likely to keep costs down. But we are happy to see Eastwood included it to help establish a good ground.
Eastwood Heritage
A car enthusiast, Curt Strohacker, started the Eastwood company. He knew what auto restorers and customizers needed because he was one. He understood firsthand that the right tools of good quality saved time and money.
So, as the company product line grew, Curt ensured the tools met his standards. It showed to his customers, and over time the Eastwood name earned a good reputation. When it came time to add welders, he continued that philosophy.
While this welder is made for Eastwood in China, they took care to put together a product worthy of carrying the company's name. Even as a relative newcomer to the welding market, that care has shown, as they have grown a devoted fan base.
Why tell you all of that? Well, because this product has a track record. Many of the budget-priced MIG welders on the market do not. An established product provides peace of mind for many buyers since they are not buying an unknown.
Use with a Generator
The newest model of the Eastwood MIG 135 uses an inverter-based design. That means it can run using a generator as your power supply. Of course, that means you have even more flexibility where you can weld.
(For those with the older model, which used a transformer-based power supply, keep in mind you cannot power that version with a generator.)
3-Year Warranty
A track record is good, but a warranty to back up the Eastwood MIG 135 is even better. Eastwood provides a respectable 3-year warranty.
They also go out of their way to note their warranty is "hassle-free" and that they have a "100% Customer Satisfaction Guarantee" with free technical support.
Eastwood appears to back up that claim from actual user experiences, which is part of why the fan base has grown.
Alternative MIG Welders to Eastwood 135
If you are looking for a 110v MIG welder in this range, you will also want to consider a few other models than the Eastwood MIG 135.
Unless you really want to step up your budget and go for a Lincoln Easy MIG 140, I would also recommend taking a look at the following…
Hobart Handler 140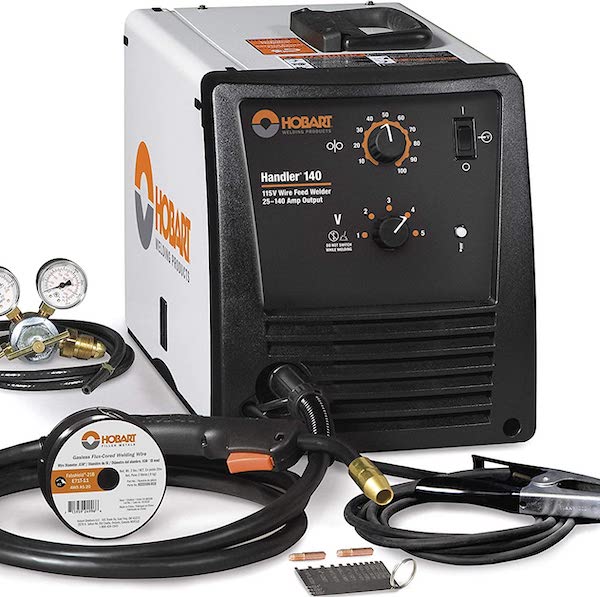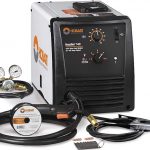 The Hobart 140 is an obvious like-for-like alternative to the Eastwood 135.
Slightly more expensive, but also can't go wrong with its popularity and the reviews that back this up.
I cover a full review of this which you can find here.
What Other Users are Saying
Visit a forum and read the threads on the Eastwood MIG 135, and you will see the word "love" used quite a bit. The same is true if you skim reviews of the unit.
If you had to sum up most comments, it might say something like this well-built welder lays down a nice bead and does not break the bank. Oh, and we cannot forget "it is easy to use."
The other comment that seems to appear often, Eastwood responds to its customers. Answers to many questions on several forums and online stores actually come from Eastwood.
Plus, Eastwood maintains an active Q & A section on the webpage for the product. Customers like knowing the manufacturer cares about their concerns and communicates with them well.
Conclusion
As consumers, we should not expect a budget welder to be perfect. The Eastwood MIG 135 should probably include a knurled flux-core roller in the box. Plus, the leads may be a bit short for some. But those are issues that can be easily addressed if the need arises.
Aside from those nitpicks, the Eastwood MIG 135 is easy to use and brings many advantages to most small workshops. The pluses far outweigh any minor complaints we may have, which cannot be said of most budget-priced welders.
For a well-built, compact welder at this price level, the bead quality exceeds expectations. That may be due in part to the good control you have over both the voltage and WFS. Both new and experienced welders will appreciate how easy it is to learn and use the Eastwood MIG 135.
The bottom line, DIYers, auto restorers/customizers, artists, farmers/ranchers, and handymen can obtain a basic, quality MIG welder at an affordable price. The Eastwood MIG 135 can ably fill the welding void in these shops.
In fact, the Eastwood MIG 135 should be considered by anyone looking for an affordable MIG welder. But keep in mind this is not an "industrial" unit.
The build quality and duty cycle are fine for small shops that weld occasionally but not for industrial/commercial operations.
Other Eastwood Reviews