The welder in your shop controls the types of metal you can weld and the thicknesses. For those who take on diverse challenges, a MIG welder that runs on 230V gives you more power to do a wide array of jobs.
If this describes your shop's needs, the Hobart Handler 190 and the Lincoln Easy MIG 180 are two good choices. They can handle thin sheet metal up to more rugged, thicker stock.
In addition, both are spool gun ready and come from respected manufacturers. The simple, reliable performance of each unit has earned praise from users.
Side by side, these two units appear to be quite equal.
So, which one is right for you? Well, the answer lies in the finer details, and a closer examination is needed.
Note: These time-tested machines are slowly losing their competitive advantages in the modern welding world. I have included a worthy and better value alternative in this comparison for you to compare against.
Side-by-Side Comparison
Handler 190 (500554)
Easy MIG 180 (K2698-1)
Image
Manufactured In
USA
Mexico
Welder Type
MIG, Flux Core
MIG, Flux Core
Input Voltage
220/230/240 V
208/230 V
Duty Cycle
30% @ 130 A (21.5V)
30% @ 130A (20V)
Amperage
25 – 190A
30-180A
Voltage Control
7 Positions
5 Positions
Wire Feed Speed Control
Infinite
Infinite
Mild Steel Thickness (Single-pass)
24 gauge to 5/16 in.
24 gauge – 3/16 in.
Wire Thickness
0.023 – 0.035 in. solid wire
(0.030 – 0.045 in. flux-cored wire
0.025 – 0.035 in. solid wire
(0.030 – 0.045 in. flux-cored wire)
Wire Feed Speed
40-740 ipm
50-500 ipm
Wire Spool Sizes
4-in. and 8-in
4-in. and 8-in
Spool Gun Ready
✅
✅
Weight
68 lbs.
56 lbs
Warranty
5/3/1 years
3 years
Weld Guru Rating
★★★☆☆
★★★☆☆
Price
Latest Price
Northern Tool
Latest Price
Northern Tool
Hobart Handler 190 (500554)
Hobart is no stranger when it comes to welder manufacturing. They have been at it since 1917 and built a strong reputation.
The Handler 190 can work in an autobody garage, farm or ranch, maintenance/repair shop, metal art studio, or even the home. Also, for DIY work, the simple but reliable operation makes this a workhorse for welding enthusiasts who want the power of a unit running on 230V.
Plus, Hobart makes all their welders in the United States. For some, American-made indicates good build quality. But to stand behind their product, Hobart also includes a strong 5/3/1 warranty.
With this welder, you get a wider welding amperage range. You can output lower or higher amps compared to the Easy MIG 180. The Handler 190 can deftly weld 24 gauge sheet metal or 5/16 thick mild steel in one pass.
The Handler 190 also gives you seven voltage options, which is two more than the Easy MIG 180. And its wire feed range is broader compared to the Lincoln. In short, you have better control over the welder settings to get the ideal arc.
The duty cycle is a bit low for heavy industrial or fabrication shops. But the welder does come with everything you need to start welding. So if you are starting your welding career, this makes the Handler 190 a good choice. 
However, for rookies and experienced welders alike, the ease of use and dependable operation make it a favorite. In particular, users find the wire feed system easy to set up, and it just works. Wire clogs and other problems are few, even with the "soft" flux-cored wire. View the full Hobart 190 review here.
What's Included
10 ft. (3 m) MIG gun
10 ft. (3 m) work cable with clamp
Power cord with plug
Built-in gas solenoid valve
Dual-gauge regulator with gas hose
0.030 in. (0.8 mm) contact tips
Quick Select™ drive roll for .024 in. (0.6 mm) or .030/.035 in. (0.8/0.9 mm) solid wire, and .030/.035 in. (0.8/0.9 mm) flux-cored wire
Sample spool of .030 in. (0.8 mm) self-shielding flux-cored wire
Material thickness gauge
Hobart Handler 190 Compared to the Lincoln 180
Pros
7 voltage settings
Quick change drive roller with 3 grooves
Broader wire feed speed range
Strong warranty
Welds thicker mild steel and aluminum in one pass
Better user manual
Cons
Does not include 0.025 tips
Heavier
Cannot run on 208V
Regulator not rated for use with CO2
Where to buy
Lincoln Easy MIG 180 (K2698-1)
Lincoln also comes with a long history of making welders, over 100 years in fact. They have become well-known on a global scale, manufacturing well-respected products.
You will find the Easy MIG 180 in light fabrication shops, farms, autobody garages, and home workshops for a reason. It is versatile and lighter than the Handler 190.
Lincoln also packed the Easy MIG with modern electronics. For example, it works with a 208V input right out of the box. In this respect, it is more flexible than the Handler 190. The Easy MIG 180 also provides a forgiving arc; some feel it produces less spatter.
The ease of use makes this a favorite among welders. It can handle thin 24 gauge to 3/16 inch stock in one pass. But it can also go to ½ inch steel using self-shielded Lincoln Electric Innershield® (FCAW-S) wire.
As supplied, you get more extras with the Lincoln, like an extra spool of 0.025-inch wire. You also get a Learn-to-Weld DVD. For new welders, this would give the Easy MIG 180 a slight edge over the Hobart unit.
Also, the supplied regulator can run pure CO2. That is something the Handler 190's regulator cannot do. If you plan on running straight CO2, the Easy MIG 180 comes ready to handle it.
Lincoln designs and warehouses product in the U.S. but manufactures its units in Mexico. To provide a level of confidence for buyers, they include a 3-year warranty for the Easy MIG 180.
Note regarding the Lincoln 180 models:
Lincoln Electric makes many versions of the MIG 180 welder, creating confusion. You will find a variety of 180 models sold under several brand names geared for specific vendors. But most share identical features and specifications. These include:
Weld-Pak 180
MIG-Pak 180
Easy-Mig 180
Pro-Mig 180
What's Included
Magnum® 100L gun 10 ft. (3.0 m) cable assembly with brass gun connection and 4-pin MS-Type connection for trigger control
Work clamp and 10 ft. (3.0 m) cable
0.025 in (0.6 mm) contact tips (Qty. 3)
0.035 in (0.9 mm) contact tips (Qty. 3)
Gasless nozzle for Innershield® welding
Gas nozzle for MIG welding
Spindle adapter for 8 in. (203 mm) diameter spools
Harris® 3000290 Gas Regulator
52 in. (1.3 m) gas hose for use with Ar/CO2 or CO2 gases. (For use with CO2 shielding gas, order a Lincoln Electric CO2 shielding gas bottle adapter.)
Sample spool of .025 in. (0.6 mm) diameter SuperArc® L-56® premium MIG wire
Sample spool of .035 in. (0.9 mm) diameter Innershield® NR®-211-MP flux-cored wire
Learn-To-Weld DVD
Lincoln 180 compared to the Hobart 190
Pros
Lighter
Works on 208V or 230V
Can run CO2 with the included regulator
Easier to use with a generator
Brass gun connections to improve electrical continuity
Better set of "extras" included in the box
Cons
Fewer voltage selections
Narrower range for the wire feed speed
Weaker warranty coverage
Where to buy
The price of the Easy MIG 180 can fluctuate with retailers as they run offers from time to time. So it's worth checking where has the best deal at the moment. When researching, I found the following retailers offer the best prices:
Hobart 190 vs. Lincoln 180: What's different?
Input Voltage
This is a review of two powerful, versatile welders that run on a 230V power supply. No 110/120V options on either. So, at a quick glance, you may think these two are identical in terms of power input. No difference here, right? Well, not quite.
The Lincoln Easy MIG 180 includes advanced electronics that allow it to run on 208V right out of the box. So, you can use 208V or 230V with the Easy MIG 180. For some, the available power supply in their shop will push them to the Easy MIG 180.
It may be splitting hairs, but some feel the starts with the Easy MIG 180 are smoother, and the arc is more forgiving with less spatter. But the Handler 190 offers seven voltage options, giving the user finer arc control. Plus, the 190 has better control over the wire speeds.
For what it's worth, the Easy MIG 180 can run off a generator that supplies 6900 watts. The Handler 190 requires 7000 watts minimum, according to Hobart's recommendations. But many users have worked with both units running successfully on generators rated a bit lower.
Guns and Cables
As supplied, both units provide MIG gun assemblies and work cables in 10 feet lengths. The guns on each welder are easy to use and ergonomic, with quality sheathings. They are easy to manage, but some feel they could be longer.
The work cables found on the two welders are a respectable 6 gauge. But Hobart's work clamp is smaller.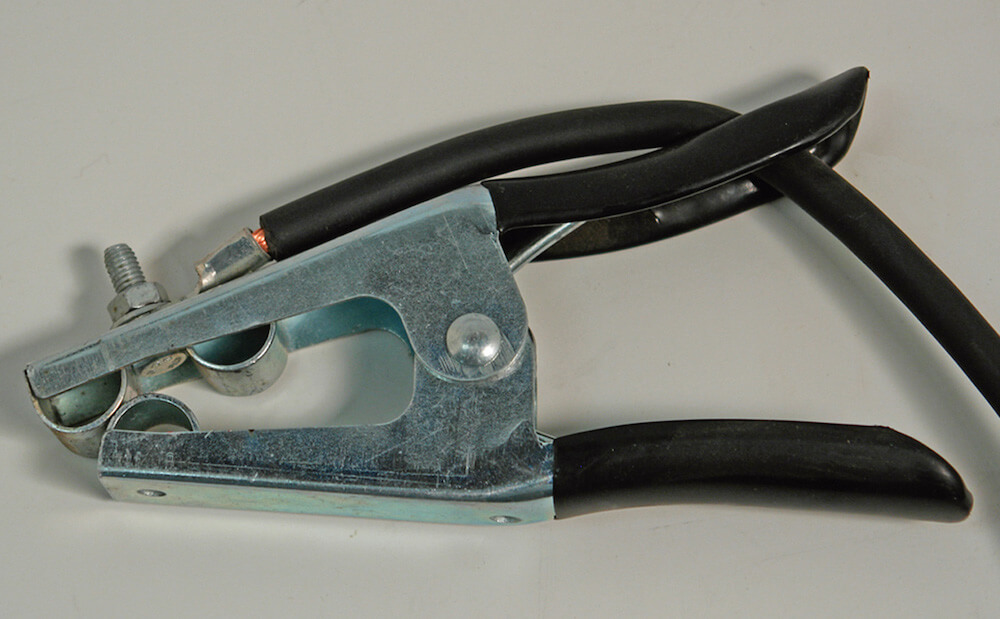 Notably, the Hobart 190 clamp also lacks a braided bonding wire to connect the clamp jaws. The Lincoln Easy MIG 180 clamp includes a bonding wire, and the clamp is larger.
This bonding wire allows the clamp to work no matter which jaw makes good contact. As a result, it is easier to establish good ground with the Easy MIG 180.
The Easy MIG 180 comes out of the box with a better work clamp. 
Controls
The operating panel on both units is pretty straightforward. A simple on/off toggle and two control knobs. One dial controls the WFS, and the other selects the voltage setting.
With both welders, you can operate the controls with gloves on, even though the knobs are a bit small.
On the Handler 190, the supplementary electrical protection is reset with the on/off switch on the control panel. On the Easy MIG 180, the on/off switch does not include this feature and the supplementary protection reset button is separate, located on the back of the unit.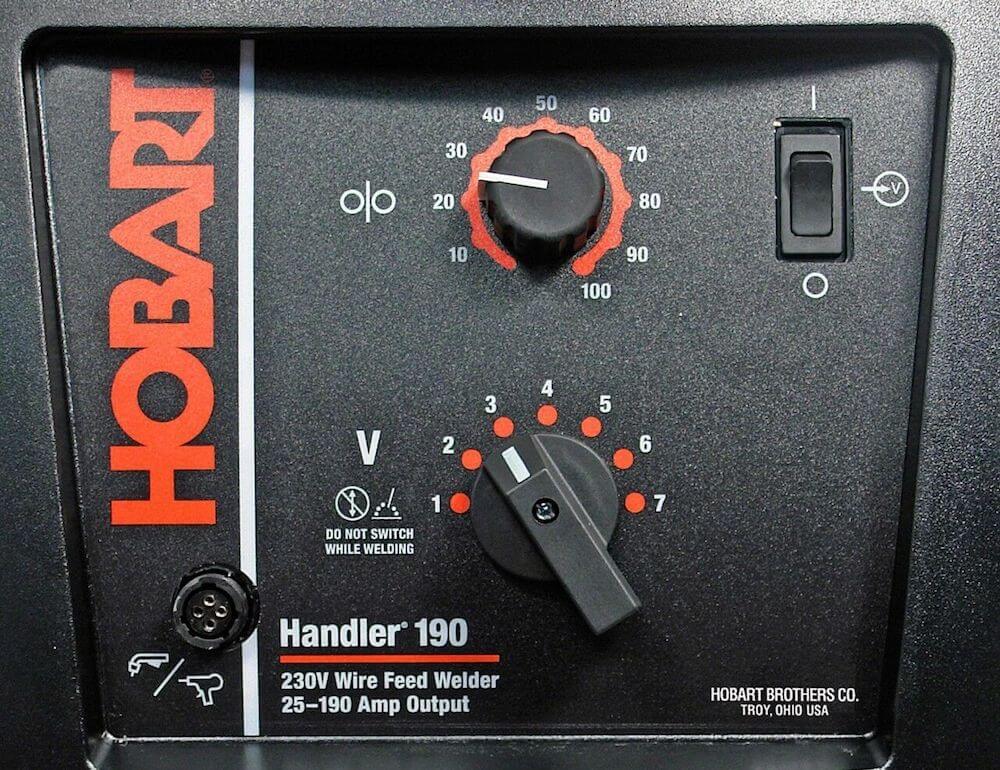 So, there is not much difference between the controls, except for orientation. The Hobart 190 uses a vertical stacking of the two dials, while the Lincoln 180 sets the two knobs side by side. Some may find one or the other more convenient, but this is a minor difference.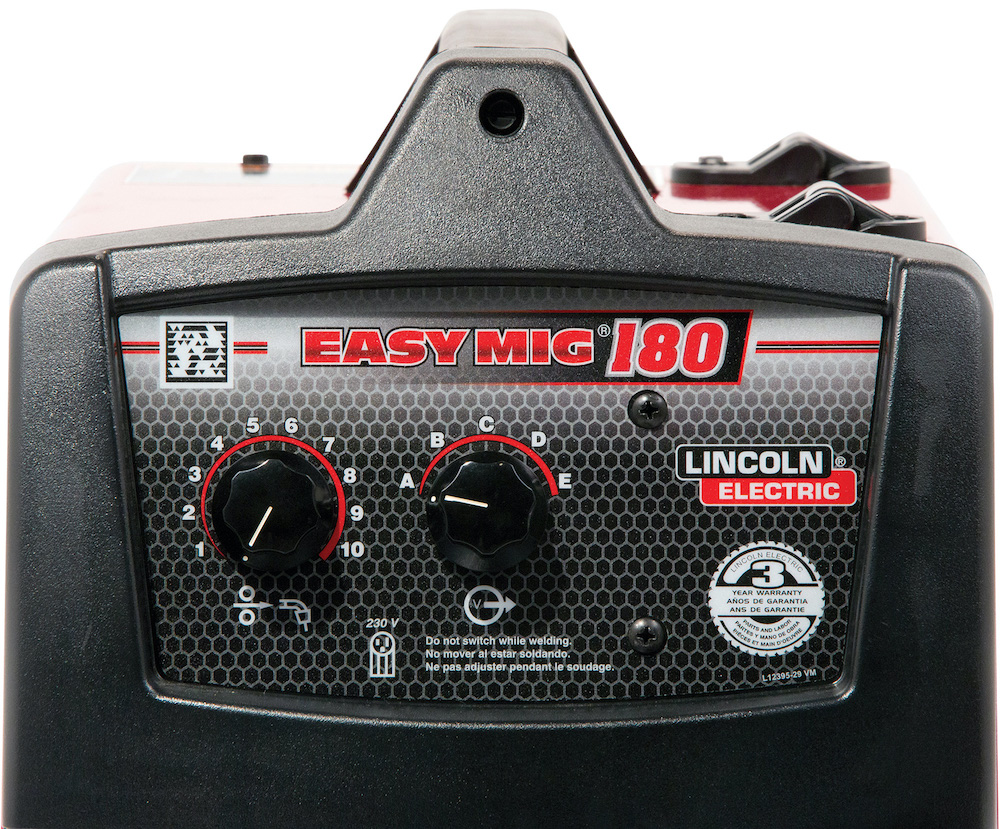 Shielding Gas Regulator and Hoses
Both welders include a regulator and gas hose in the kit. Each regulator comes with dual gauges and brass connections for attaching them to the gas tank.
For both welders, one gauge indicates the gas flow in cubic feet per hour ("CFH"), and the other shows how much gas is left in the tank as pounds per square inch ("PSI").
Lincoln supplies a Harris regulator that is compatible with Argon and Argon blends (e.g. C25). It can also run pure CO2 if you use a special CO2 tank adapter (the adapter is not included in the Lincoln 180 kit).
The Miller-branded regulator supplied with the Handler 190 works with Argon and Argon blends. But it is not recommended for use with 100% CO2.
So, the Lincoln unit can run pure CO2 with the supplied regulator (if you buy the adapter) and the Hobart cannot. Since CO2 is cheaper to use, some welders consider that to be an advantage for the Lincoln welder as supplied.
Protection Circuits
To protect against possible damage, both units come with protection that includes:
Wire Drive Motor Protection: Both wire drive motors are protected by an automatic overload circuit.
Output Overload Protection: On each of these welders, if you exceed the maximum amperage output, a circuit breaker will trip. This breaker then must be manually reset.
Thermal Protection: Both the Lincoln and Hobart units monitor the power supply temperature and will shut down the welder if it gets too hot. You then need to wait for internal fans to cool the unit before you can use it again.
The manufacturers know overheating can be an issue and they provide a way to rate the machines' ability to "work" and handle the load. This what they call a duty cycle, and it rates the time you can weld at a given output level.
The stated duty cycle for each of the units being reviewed is 30% at 90 amps. So what does that mean?
Over a 10 minute period, you can weld for 3 minutes with an output of 130 amps (the 190 at 21.5V, the 180 at 20.0V). Then the unit needs to cool for the other 7 minutes. Hence, the 30% rating.
If you increase the output amps, the duty cycle goes down. If you decrease the output amps, the duty cycle goes up. Hobart supplies a graph of the duty cycle vs. the output amps on their cut sheet for this welder to help you understand how the duty cycle changes with output amps.
If you do overheat the unit, this will trip the thermal protection. You then need to wait for the internal fans to cool it off enough to continue.
The Handler 190 has an overload light on the control panel that comes on when the overheating protection is engaged. The Lincoln welder does not.
The overload light is not a huge difference, but it is nice to have so you can see when the Hobart welder has cooled enough to resume work. With the Lincoln, you have to guess and test with the trigger to see if it has cooled enough.
Voltage Selections
The Handler 190 has 7 voltage options you can choose, the Easy MIG 180 has 5. With the slightly better amperage range and 7 options, the Handler 190 has an edge over the Easy MIG 180 when it comes to thin sheet metal or thicker stock.
Wire Drives
The Lincoln and Hobart welders each come with dependable cast aluminum wire drives. You can change the drive roller for different size wire without tools on each. Plus, both also provide tension control with clear markings to aid in properly setting the wire tension.
The Lincoln 190 uses a dual groove roll. To change from the 0.025 in. to the 0.030/0.035 wire groove, you need to remove the drive roll and flip it over, which can be done without tools.
But the Hobart 190 has a triple groove roller. Simply push in and twist the roller to select the proper wire size, then let go. No removing or flipping the roller and no tools. It is easier to change over compared to the Lincoln design.

Plus, the Hobart 190 wire drive has two "smooth" grooves, same as the Lincoln welder. But there is a third, textured groove. It is designed for 0.030/0.035 in. flux-cored wire. It lets you use less tension to avoid squashing or deforming the "softer" wire.
Both units include dependable drive mechanisms. But for versatility and ease of use right out of the box, the Handler 190 edges out the Easy MIG 180.
Wire Feed Speed
Both welders have "infinite" control on the wire feed speed ("WFS"), which simply means you can set the dial anywhere between the min and max. There are no click stops on either unit.
But on closer examination of the specifications, you will see the Handler 190 has a better wire speed range, 40-740 ipm. The Easy MIG 180 can feed wire at 50-500 ipm.
If you want the widest control over the wire feed speed for jobs that require very slow or fast wire feed, the Handler 190 is a better choice.
Included Extras
You will find more extras included with the Easy MIG 180. For example, you get 2 spools of wire and 6 contact tips, in two different sizes. The Handler 190 comes with 3 contact tips, in one size, and 1 roll of flux-cored wire.
The Handler 190 does come with a handy material thickness gauge. While the Easy MIG does not have a thickness gauge, it does include a Learn-to-Weld DVD. The Lincoln also includes a special nozzle for flux-cored welding.
For someone new to welding, the extra contact tips, and roll of solid wire, included with the Lincoln might be appreciated.
User Manuals
Okay, this is a minor point. But there is a difference between the two user manuals.
Hobart has done a better job of writing a clear, informative manual that genuinely helps users get up and running with the welder. Lincoln does an adequate job, but it is not as clear or helpful.
For example, the welder settings are not included in the 180 manual, while the 190 manual includes the settings chart. These types of details make operating the welder easier and more enjoyable.
Weight
Scanning the specs, you may have noticed the Easy MIG 180 is 12 lbs lighter than the Handler 190. That is enough to be significant.
But add a 10 lb spool of wire, the gun, ground wire with clamp, and both units start to get a bit too heavy to carry around regularly. You will likely need a cart for both of these welders. However, if you want the lightest welder, the Easy MIG 180 is your choice.
Warranty
Lincoln offers a 3-year warranty on the Easy MIG 180, which is respectable. The exceptions are the MIG gun, covered for 90 days, and the gas regulator which is warranted for 1 year. Wear and tear on the cables is not covered at all.
In contrast, Hobart offers a 5/3/1 warranty. This breaks down as follows: 5 years on the transformer; 3 years on the wire drive system, control boards, and the regulator; and the MIG gun, contactors, and relays are covered for 1 year (or 90 days for industrial use).
When it comes to warranty coverage, the Handler 190 has a better guarantee.
A Better Value Alternative To Consider
With the rising cost of MIG welders, it would be wise to consider the alternatives on the market.
This side-by-side review wouldn't be complete without showing you what else you could get for your money.
Let me introduce you to the Eastwood MIG 180.
Eastwood 180 MIG Welder
The Eastwood 180 is a newly updated welder from 2021 and uses inverter technology. Inverters for welders have come a long way and are now present in almost all new welders, giving them many more features than their transformer counterparts.
On top of that, the biggest saving comes from the weight. Inverters weigh so much less than heavy transfers making them the preferred choice to carry around.
Unless you work in extremely dirty environments where transformers hold up well, you will unlikely benefit from them. The main argument for transformers is their long durable life. But if that is now being contested with newer and more reliable inverters.
The Eastwood 180 is popular among DIY any hobby welders should be on your watchlist if you are considering the Hobart or Lincoln machines. Here's comparison of all three:
Eastwood MIG 180
Hobart 190
Lincoln 180
Technology
Inverter
Transformer
Transformer
Dual Voltage Input
✅
❌
❌
Weldable Mild Steel Thickness
Up to 5/16 in.
Up to 5/16 in.
3/16in. – MIG
1/2in. – FCW
Amperage Output
30-180A
25-190A
30-180A
Duty Cycle
30% at 180A
60% at 130A
100% at 100A
30% @ 130A
30% at 130A
Spool gun ready?
✅
✅
✅
DINSE Sockets
✅
❌
❌
Integrated Ground Clamp
No
Yes
No
Digital Display
✅
❌
❌
Infinite Voltage Adjustability
✅
❌
❌
2T/4T
✅
❌
❌
Tack Weld
✅
❌
❌
Weight
25 lbs
68 lbs.
56 lbs.
Polarity Change
Plugs on front of unit
Inside wire compartment
Inside wire compartment
Warranty
3-Years
5/3/1
3 Years
Weld Guru Rating
★★★★★
★★★☆☆
★★★☆☆
Price
$$
Best Price
Eastwood
$$$
Check Price
Amazon
$$$
Check Price
Amazon
Wrapping it up
The Lincoln Easy MIG 180 is simple to use and comes with more "extras," including a Learn-to-Weld DVD. For rookies, the 180 is a bit easier to set up and learn when starting out.
You can also run pure CO2 with the regulator included with the 180. Some welders consider this an advantage since CO2 gas is cheaper to run.
Plus, you can use 208V and 230V, and the Lincoln MIG gun uses brass connections to ensure you have no shorts or loss of power.
If you are more interested in user control, the Handler 190 provides you with more voltage and WFS choices. The 190 also has a broader working amp range. In short, if you value maximum control and power, the Handler 190 beats out the Lincoln.
When it comes to the wire feed system, both come with good drives. But the Hobart Quick Select drive system is more user-friendly and reliable. Handler has an edge with the Quick Select drive and a strong warranty.
Lastly, before you go, you might want to also consider the Eastwood 180. It's another great value welder that can hold up against the Lincoln and Hobart in every compartment – and at a lower cost.
Other Comparisons
Hobart Handler 210MVP vs Handler 190 – A Detailed Comparison
Lincoln 140 Easy MIG vs Hobart Handler 140  – A Detailed Comparison
Eastwood 175 against the Lincoln 180
Resources