We know it: Hobart and Lincoln, two well-known and trusted names when it comes to welders.
They make similar 140 amp models, and for most welders, both are a good option. They have surprisingly similar features and specifications. But, depending on the work you intend to do, one or the other might be a better fit.
However, these two welders are getting old and newer machines on the market have developed a significant edge over them.
With that in mind, let's dig in and explore the particulars for these two units and take a look at a newer alternative worthy of your consideration.
A Quick Comparison
Hobart Handler 140
Lincoln Easy MIG 140
Image
Manufactured In
USA
Mexico
Welder Type
MIG, Flux Core
MIG, Flux Core
Input Voltage
110V/115V/120V
110V/115V/120V
Duty Cycle
20% @ 90A(18.5V)
20% @ 90A (19.5V)
Amperage
25 – 140A
30 – 140A
Voltage
5 Fixed Positions
4 Fixed Positions
Wire Feed Speed
Infinite
Infinite
Weldable Materials
Mild steel, stainless, aluminum
Mild steel, stainless, aluminum
Mild Steel Thickness (Single-pass)
24 ga. – 0.25 in.
24 ga. – 3/16 in.
Wire Thickness
0.024 – 0.035 in.
0.025 – 0.035 in
Wire Feed Speed
40 – 700 ipm
50 – 500 ipm
Wire Spool Sizes
4-in., 8-in.
4-in., 8-in.
Spool Gun Ready
⛔
✅
Welder Dimensions (H x W x L)
12.375 in. x 10.625 in. x 19.5 in.
13.7 in. x 10.15 in. x 17.9 in.
Weight
57 lbs.
50 lbs.
Warranty
5/3/1 years
3 years
Weld Guru Rating
★★★☆☆
★★★☆☆
Price

Check on Northern Tool


—
Check on Amazon

Check on Northern Tool


—
Check on Amazon
Hobart Handler 140 (#500559)
Welding enthusiasts know the Hobart Handler 140 for a reason. This particular welder earned its reputation as a reliable, versatile, straightforward machine. In particular, the wire feed system has won many fans with its great design and dependability.
For the hobbyist or small business owner, the Handler 140 performs MIG and flux core welding for various jobs. From welding of rugged suspension parts on a tractor to thin sheet metal, this unit performs various tasks and is easy to use. One of the many reasons it made it onto our 110v MIG buying guide.
Plus, manufacturing in the USA matters to some people, and the Illinois Tool Works owns Hobart and Miller Electric. Both brands are made in the midwest, in separate plants, with Hobart focusing on the design and manufacture of welders for homeowners and small businesses.
However, as we will see soon, the Hobart Handler 140 is still using some outdated tech, and some of its crucial specs are lower than what our alternative pick offers.
Full Hobart Handler 140 review
What's Included with the Handler 140
HR-100 gun with 10 ft. (3 m) cable
Owner's manual
10 ft. (3 m) ground cable with clamp
Built-in gas solenoid valve
Dual-gauge regulator with gas hose
Spool hub assembly for 4 in. or 8 in. spools
Sample spool of .030 in. (0.8mm) self-shielding flux-cored wire
.030 in. (0.8mm) contact tips
Quick Select™ drive roll for .024 in. (0.6mm) or .030/.035 in. (08/.9 mm) solid wire, and .030/.035 in. (0.8/0.9 mm) flux-cored wire
Power cord with plug
Welding guide
Material thickness gauge
Hobart Handler 140 Highlights Compared to Lincoln 140
Pros
Reliable wire feed system up to 700 inches per minute (including aluminum)
Excellent build quality
User-friendly 3-groove drive roller ("Quick Select")
Wide WFS range
Strong Warranty (e.g., transformer covered for 5 years)
Made in the USA
Cons
No native spool gun support
Regulator not C100 compatible
Work clamp is light and undersized
The aluminum thickness range is smaller (only 16 to 20 gauge.)
In addition to these pros and cons versus the Lincoln 140, it is also worth noting that compared to newer competing machines, the Hobart 140 also has the following shortcomings:
Lower duty cycle than some competing models
No dual voltage input support
Low maximum amperage output
Heavy and difficult to move around
It doesn't support any advanced welding settings like 2T/4T
Uses an outdated current polarity switch method to change from MIG to flux-cored welding by changing the connection inside the unit
Ground clamp lead is integrated into the welder
It doesn't support infinite voltage selection
No digital display
Not great value for money
Where to buy
A few retailers are selling Hobart Handler 140. However, the main 3 selling this at the best price are:
Lincoln Electric 140 Easy MIG (#K2697-1)
The Lincoln Electric Easy MIG 140 comes with a solid heritage. With over 100 years of manufacturing welders, Lincoln Electric boasts a proud history and a significant worldwide presence. They are based in Ohio but manufacture the welders in Mexico.
This Easy MIG 140 finds a home in many home enthusiasts and small business shops for a reason. It is easy to use and capable, especially with sheet metal. Plus, with flux-core wire, you can weld up to 5/16 in. thick mild steel with multiple passes. So, it is a versatile welder.
However, the MIG 140 is one of the weakest welders from Lincoln, and it's pretty outdated. While Lincoln's quality is difficult to dispute, some quality brands today offer machines with better specs. The best example is a welder from Eastwood, which we will cover later in the article.
Lincoln Electric makes many different welders, and that can create confusion for the consumer. You will find a variety of 140 models sold under several brand names. But most share identical features and specifications. These include:
Weld-Pak 140
MIG-Pak 140
Easy-Mig 140
Pro-Mig 140
(Note: the Power MIG 140C and 140MP are NOT the same. They have differences in the power supply, wire drive, and voltage control.)
What's Included with the Easy MIG 140
Magnum® 100L gun and 10 ft. (3.0 m) cable assembly
.025 in (0.6 mm) contact tips (Qty 3)
.035 in. (0.9 mm) contact tips (Qty. 3)
Gasless nozzle for Innershield® welding
Gas nozzle for MIG welding
Spindle adapter for 8 in. (203 mm) diameter spools
Dual track drive roll for MIG and flux-cored welding of .025 – .035 in. (0.6 – 0.9 mm) diameter wire
Harris® 3000290 Gas Regulator
52 in. (1.3 m) hose for use with Ar/CO2 or CO2 gases. (requires an adapter to use with C100 gas tanks, not included.)
Sample spool of .025 in. (0.6 mm) diameter SuperArc® L-56® premium MIG wire
Sample spool of .035 in. (0.9 mm) diameter Innershield® NR®-211-MP flux-cored wire
10 ft. (3.0 m) cable and work clamp
How TO MIG Weld DVD
Instruction manual
Lincoln Easy MIG 140 Highlights Compared to Handler 140
Pros
Spool gun ready, which allows welding 22 to 10 gauge aluminum
Rugged clamp with braided strap
Comes with more contact tips
No tools needed for wire spool, wire drive, and polarity adjustments
Cons
Extra expense to add the spool gun needed to weld aluminum
WFS more limited
Made in Mexico
Shorter warranty
Fewer voltage selections
In addition to these pros and cons versus the Hobart 140, it is also worth noting that compared to newer competing machines, the Lincoln 140 also has the following shortcomings:
Integrated ground clamp lead, making it difficult to replace
Low duty cycle and amperage output compared to other models on the market
It doesn't support infinite voltage regulation
Heavy and difficult to move around the shop
No dual voltage input support
It uses an old method of switching polarity, requiring you to unscrew and reattach the wires inside the welder to switch between MIG and flux-cored welding
Spool gun switch is located on the inside of the unit
It doesn't have a digital display
No advanced settings like tack welding or 2T/4T
Not great value for money
Where to buy
The Lincoln Electric 140 Easy MIG seems to be more widely available. However, there can be a big difference in what you pay depending on where you shop. Here are a few online retailers we found:
Hobart 140 vs Lincoln 140 – The Main Differences
With similar features and specs, you might want to know the differences that do exist. That is only natural since these variances will be what helps you decide which unit is right for you. To make that easy, we have summarized the differences below.
Welding Controls
The operating panel on both units is pretty straightforward—a simple on/off toggle and two control knobs. One dial controls the WFS, and a second to select the voltage setting.
You can operate the controls with gloves on with both welders, even though the knobs are on the small side.
So, there is not much difference between the controls, except for orientation. The Hobart 140 uses a vertical stacking of the two dials, while the Lincoln 140 sets the two knobs horizontal or side by side. Some may find one or the other more convenient, but this is a minor difference.
Wire Feed Speed
The wire feed speed ("WFS") control found on each welder allows "infinite" control over the machine's WFS range. This enables fine-tuning that is often needed to get that perfect arc. And both welders do produce good arcs, with little difference, when the controls are set right.
But these machines do differ in the WFS range. The Hobart 140 range is wider at 40 to 700 inches per minute ("ipm"). For comparison, the Lincoln 140 offers 50 to 500 ipm.
When welding aluminum, the Hobart wire feed system feeds soft aluminum. But the feedability is not as good as with a solid steel wire. Additionally, Hobart notes that you should keep the MIG gun lead as straight as possible. With the Lincoln, you can weld aluminum, but you need to purchase a separate spool gun. More on welding aluminum later.
In general, if you compare the two welders straight out of the box, the Handler 140 wire feed system is a better design and more versatile than the Easy MIG 140.
Voltage Selection
Both units have preset voltage selections. But the Handler 140 from Hobart offers 5 presets. The Easy MIG 140 offers 4.
With one more preset, the Handler 140 provides you with more options to adjust the heat. That means better tuning of your arc.
However, 4 or 5 voltage selections are nothing compared to infinite voltage adjustability offered by many brands today. Sometimes the metal may be too cold, or the thickness doesn't match any of the recommended settings. It's always better if your welder allows fine-tuning the voltage output because that's the only way to get the perfect weld every time.
Welder Parts
Wire Drive Mechanism
The Lincoln and Hobart welders come with dependable cast aluminum wire drives, and you can change the drive roller for different size wire without tools on each. Plus, both also provide tension control with clear markings to aid in properly setting the wire tautness.
The Lincoln 140 uses a dual groove roll. To change from the 0.025 in. to the 0.030/0.035 wire groove, you need to remove the drive roll and flip it over, which can be done without tools.
However, the Hobart 140 comes with a triple groove roller. You simply push in and twist the roller to set it for the wire size you want to use, then let go. Done. No removing the roller and no tools. It is easier to change over compared to the Lincoln welder.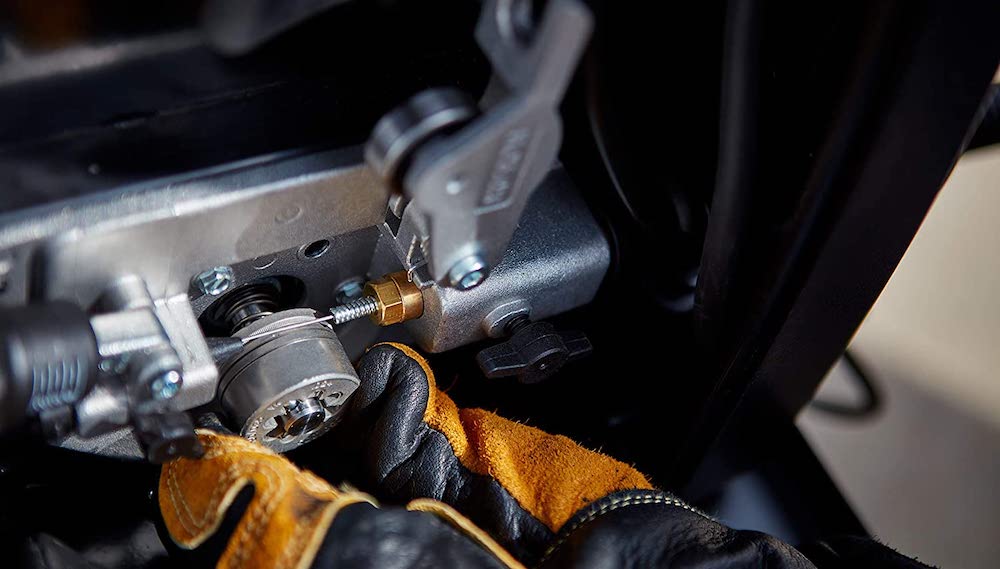 The Hobart 140 wire drive has two "smooth" grooves, the same as the Lincoln welder. But there is a third, textured groove. It is designed for 0.030/0.035 in. flux-cored wire and lets you use less tension to avoid squashing or deforming a "softer" wire.
At this welder level, this is unique to the Handler 140. It is hard to push soft wire without jams, birdnesting, or other problems. But the textured groove allows for the use of flux-core wire without issue. The solid performance is actually surprising for a welder in this price range.
So, both units include quality drive mechanisms that you can rely on. But for versatility and ease of use, without buying additional accessories, the Handler 140 edges out the Easy MIG 140.
Guns and Cables
As supplied, both units provide MIG guns and cables, all 10 feet long. The guns on each welder are easy to use and fit the hand well. The cables come with quality sheathings, and they are easy to manage.
While the provided MIG guns and ground clamps are well made, the alternative model we will show later is cheaper and offers the same quality MIG gun. Plus, its ground clamp is not integrated.
The ground cables found on the two welders are 6 gauge, thick enough to handle the load without becoming too hard to manage. But Hobart's work clamp is smaller.
Notably, the Hobart 140 clamp is also missing a braided bonding wire to connect the clamp jaws. But the Lincoln Easy MIG 140 comes with one, and their clamp is larger.
This bonding wire allows the clamp to work no matter which jaw makes good contact. As a result, it is easier to establish a good ground with the Lincoln 140.
You can easily swap the clamp on the Hobart unit, and it is inexpensive to do so. But it is still an additional expense plus your time and effort after buying a brand new welder.
So, out of the box, the Lincoln 140 comes with a better work clamp. The Hobart clamp works, but it is small and not as forgiving.
Shielding Gas Regulator and Hoses
Both welders include a regulator and gas hose in the kit. Each regulator comes with dual gauges and brass connections for attaching them to the gas tank.
For both welders, the two gauges indicate the gas flow in cubic feet per hour ("CFH") and the gas left in the tank as pounds per square inch ("PSI").
Lincoln supplies a Harris regulator that is compatible with Argon and Argon blends (e.g., C25). It can also run pure CO2 if you use a special CO2 tank adapter (the adapter is not included in the Lincoln kit).
The Miller-branded regulator supplied with the Hobart 140 works with Argon and Argon blends. But it is not recommended for use with 100% CO2.
As you can see, the major difference is the Lincoln 140 can run pure CO2 with the supplied regulator (if you buy the adapter). Since CO2 is cheaper to use, some welders consider that to be an advantage for the Lincoln welder as supplied.
Overload Protection Circuits
The Hobart 140 has an overload LED light on the control panel to let you know if you hit the duty cycle limits and the welder has overheated. The Lincoln welder doesn't have such a warning system. This is not a huge difference, but something to keep in mind.
This LED lets you know if the welder has cooled off. But if there is no warning LED, you must try to weld and see if the welder strikes an arc.
Operator's Manual
This might be splitting hairs, but the Hobart manual appears to contain the useful information a welder wants in a clear, easy-to-use format. The Lincoln manual also includes understandable and adequate information. But it does lack a welder settings chart.
For some, those little things make a difference. But the links to each manual are included in the paragraph above, and you can see for yourself if you are so inclined.
Warranties
Lincoln Electric offers a 3-year part and labor warranty. The exceptions are the MIG gun, covered for 90 days, and the gas regulator, which is warranted for 1 year. Wear and tear on the cables is not covered at all.
Hobart offers a 5/3/1 warranty. It includes parts and labor for 5 years on the transformer and 3 years on the wire drive system, control boards, and the regulator. The MIG gun, contactors, and relays are covered for 1 year (or 90 days for industrial use).
While the Lincoln warranty is strong, Hobart does have an edge in this category.
Welding Aluminum
We saved this topic for last. Depending on how important it is for you to weld aluminum, it may be the deciding factor for which unit you should buy.
The Hobart 140 can technically weld aluminum. It doesn't support a spool gun, but its MIG gun liner accepts the aluminum wire. Hobart does officially supports it, but they do have fine print saying that the wire feedability is not the best and that you should keep the MIG gun lead as straight as possible.
MIG welding aluminum without a spool gun is challenging. It can lead to wire nesting and ruining your spool. MIG wire is not cheap, but the worst part is cleaning up the mess.
The Lincoln 140 with a spool gun accessory can weld 22 to 10 gauge aluminum. The Lincoln spool gun is well designed and eliminates common problems like birdnesting. Overall, it might even be a bit easier for welding aluminum than the Handler 140.
If your work involves aluminum in the 22 to 10 gauge thickness range, the Lincoln Easy Mig 140, plus the spool gun, may be your best choice.
An Alternative
We mentioned a few times that Lincoln 140 and Hobart 140 are somewhat outdated by today's standards. To make our point better, we decided to provide you with an alternative model that beats both Lincoln and Hobart in many ways.
Eastwood MIG 180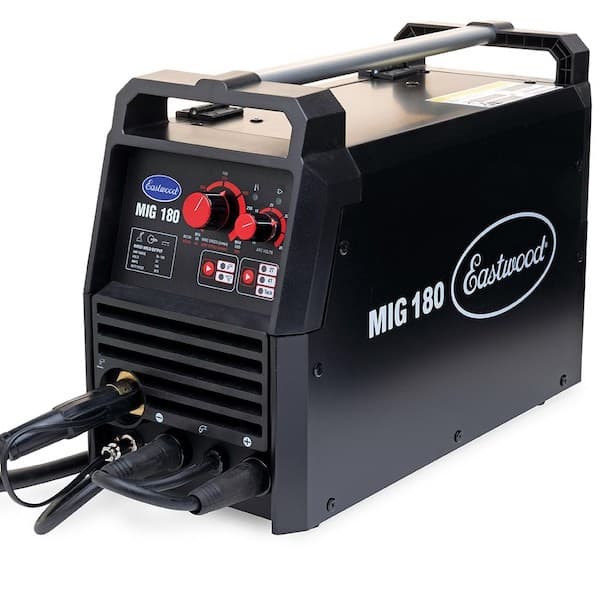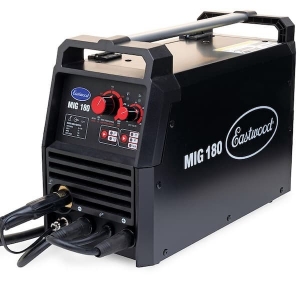 The Eastwood MIG 180 is an inverter welder with a higher output and duty cycle than Lincoln and Hobart offer. It's less costly and has a 3-year warranty just like the leading brands.
With a maximum output of 180A and a duty cycle of 30% at 180A (100% at 100A), you'll be able to weld thicker metal for longer periods. It supports the infinite adjustability of wire feeding speed and voltage output, making it significantly better at fine arc adjustments.
Weighing just 25 lbs, the Eastwood MIG 180 is more than 50% lighter than the transformer-based Lincoln and Hobart units. It is much more portable, and you can easily maneuver it around the work area.
The Eastwood MIG 180 uses standard DINSE sockets for ground clamp lead, so you can replace it with ease, if necessary. The leads are slightly shorter than Lincoln's and Hobart's, but changing polarity is much easier. All it takes is one DINSE socket switch, and you can go from MIG to flux-cored welding.
This welder includes some advanced settings too. The tack weld function lets you lay consistent tack welds regardless of how long you press the MIG gun trigger. This is especially useful in car auto body work.
The 2T/4T setting lets you weld in regular (2T) mode or 4T mode, which is excellent for long welds. The 4T (four touches) lets you start the arc by pressing and releasing the torch trigger and keep welding until you repeat the action. It's very handy for sheet metal work, but since this welder outputs 100A at 100% duty cycle, you could indefinitely weld at 100A without keeping the trigger depressed.
With a build and arc quality on par with Hobart and Lincoln, 3-year warranty, higher amperage output, significantly longer duty cycle, much lower weight, additional functions, standard DINSE sockets, and infinite voltage adjustability, the Eastwood MIG 180 is a bargain welder.
Eastwood MIG 180
Hobart 140
Lincoln 140
Technology
IGBT Inverter
Transformer
Transformer
Dual Voltage Input
Yes
No
No
Weldable Mild Steel Thickness
Up to 5/16 in.
Up to 1/4 in.
Up to 3/16 in.
Amperage Output
30-180A
25-140A
30-140A
Duty Cycle
30% at 180A
20% at 90A
20% at 90A
Spool gun ready?
✅
❌
✅
DINSE Sockets
✅
❌
❌
Integrated Ground Clamp
No
Yes
Yes
Digital Display
✅
❌
❌
Infinite Voltage Adjustability
✅
❌
❌
2T/4T
✅
❌
❌
Tack Weld
✅
❌
❌
Weight
25.3 lbs
57 lbs
50 lbs
Warranty
3-Years
5/3/1
3-Years
Weld Guru Rating
★★★★★
★★★★☆
★★★★☆
Price
$$
Best Price
Eastwood
$$$


Check on Northern Tool


—
Check on Amazon

$$$


Check on Northern Tool


—
Check on Amazon

Conclusion
The Lincoln Easy MIG 140 and Hobart Handler 140 are two great welders. Either should provide years of reliable service in a home or small business shop. Plus, both options are reliable, portable, and easy to use, even for first-time welders. 
But in general, if you do a lot of aluminum work in the 22 to 10 gauge range, that may push you towards the Lincoln 140 welder plus the add-on spool gun. It is a good choice in this situation.
With a solid wire drive and strong warranty, the Hobart 140 does edge out the Lincoln 140 when aluminum is not a major part of your work. It is more versatile as supplied with more voltage control and a wider WFS range than the Lincoln 140.
However, both of these welders offer fewer features and lower specs than the Eastwood MIG 180. While many cheap import welders claim higher specs, Eastwood is a reputable brand. The Eastwood MIG 180 became a serious competitor to Hobart and Lincoln by providing much better value for the money, new technologies, and similar build quality.
Other Product Comparisons