Not every welding hobbyist has a 240V outlet in their shop. Let's be honest, the thick lines, circuit breakers, and electrical outlet are expensive and a pain to install.
But if you do have it in your shop, the increased power expands the scope of work you can do.
If you are looking to step up your welding game with the higher amperage also offered by a 240V outlet, two welders are likely to come onto your radar; the Hobart Handler 190 and the Handler 210MVP.
For over 100 years, Hobart has designed and made welders in the USA. Their products have earned respect from the welding community for ease of use and reliability. Both the Handler 190 and 210MVP are compact and easy to use and either unit can probably do a great job for you.
However, depending on your work, the details matter when picking one over the other.
With that in mind, we researched each welder and a summary of the findings is presented below for your convenience.
Side-by-Side Comparison
Handler 190
Handler 210 MVP
Image
Manufactured In
USA
USA
Welder Type
MIG, Flux Core
MIG, Flux Core
Input Voltage
220/230/240 V
110/115/120 V & 220/230/240 V
Duty Cycle
30% @ 130 A (21.5V)
30% @ 150A (23V)
Amperage
25 – 190A
25-210A
Voltage Control
7 Positions
7 (230V) & 4 (115V) Positions
Wire Feed Speed Control
Infinite
Infinite
Weldable Materials
Mild Steel, Stainless, Aluminum
Mild Steel, Stainless, Aluminum
Mild Steel Thickness (Single-pass)
24 gauge to 5/16 in.
24 gauge – 3/8 in.
Wire Thickness

0.023 – 0.035 in. solid wire
(0.030 – 0.045 in. flux-cored wire

0.023 – 0.035 in. solid wire
(0.030 – 0.045 in. flux-cored wire)

Wire Feed Speed
40-740 ipm
40-770 ipm
Wire Spool Sizes
4-in. and 8-in
4-in. and 8-in
Spool Gun Ready
✅
✅
Welder Dimensions (H x W x L)
12.375 in. x 10.625 in. x 19.5 in.
12.375 in. x 10.625 in. x 19.5 in.
Weight
68 lbs.
79 lbs
Warranty
5/3/1 years
5/3/1 years
User Ratings
★★★★★
★★★★★
Price
Latest Price
NorthernTool
Latest Price
NorthernTool
Hobart Handler 190 (500554)
If you have access to a 240V outlet, the Handler 190 is a substantial entry-level MIG welder. It is affordable, simple to use, versatile, reliable, and comes with a good warranty.
A lower duty cycle prevents this welder from being used in heavier, industrial applications. But as supplied, even beginner welders can produce quality welds.
For most hobbyists, this compact unit has plenty of power and can weld both aluminum and steel. It works with materials from 24 gauge up to 5/16 in. thick which provides you with flexibility in the work you can do.
The 190's versatility means it can handle construction, repair/maintenance, and automotive work, as wells as most DIY home projects. It is also recommended by Hobart for metal art and farm/ranch work.
If money is tight, the Handler 190 can be found in an affordable package that includes a spool gun. The price on this package is very attractive and it allows welders to get into some serious welding of aluminum, on a tight budget.
What's Included with the 190
10 ft. (3 m) HR-100 gun
Owner's manual
10 ft. (3 m) work cable with clamp
Built-in gas solenoid valve and dual-gauge regulator with gas hose.
Sample spool of .030 in (0.8mm) self-shielding flux-cored wire
.030 in. (0.8mm) contact tips
Quick Select™ drive roll for .024 in (0.6mm) or .030/.035 in. (0.8/0/9 mm) solid wire, and .030/.035 in. (0.8/0.9 mm) flux-cored wire
Power cord with plug
Welding guide and material thickness gauge
Hobart Handler 190 Compared to the Hobart Handler 210MVP
Pros
Less expensive
11 lbs. Lighter
Package with spool gun is less than base 210MVP welder
Cons
230V input voltage only
Shorter duty cycle
Less control with thin stock
Where to buy
Retailers are often running small discounts on this model, so it's worth shopping around to see where it is cheapest at the moment. Some places I found that run offers now and then are:
Hobart Handler 210 MVP (500553)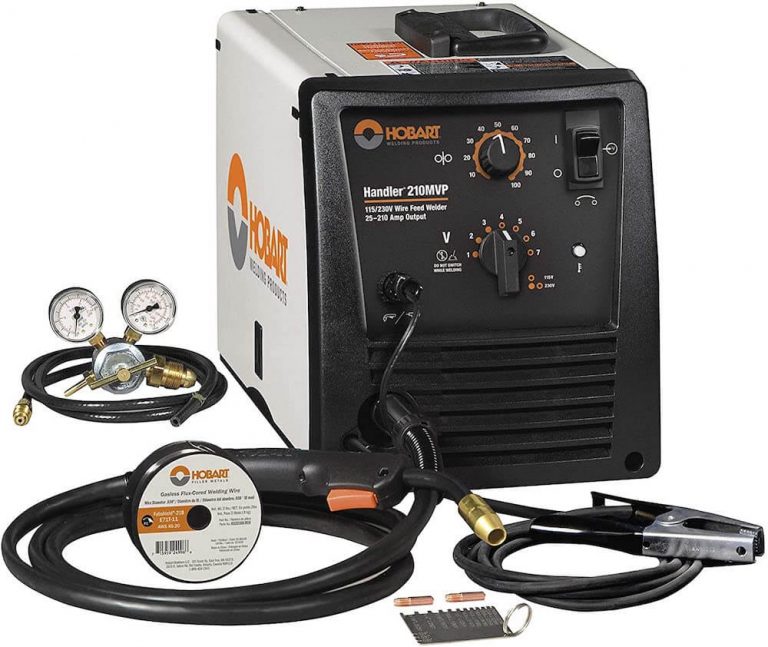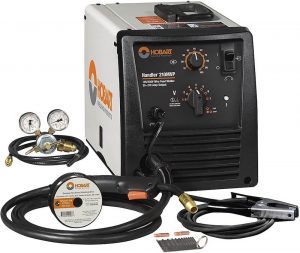 For the novice welder, the Handler 210 MVP makes getting up and running a snap. Unlike the 190, the 210MVP can use 115V or 230V to power the unit. It is compact, easy to use, and comes with everything you need (except the gas) to get welding right out of the box.
It also handles mild steel in the 24 gauge to ⅜ in. thick range, which is slightly thicker than the 190. Plus, the higher duty cycle means more welding time (vs. the 190) before you need to let the unit cool.
The ease of use is great for novices, but experienced welders will enjoy using this unit, too. In fact, for maintenance and repair, construction, and metal art, this unit is quite capable. And that also includes autobody, boat/marine and farm/ranch work.
With power, simplicity, and versatility, the 210MVP provides the features many welders want. Plus, this model produces a good arc, with both voltage inputs, and less spatter. So, the Handler 210MVP also helps to keep your pieces clean.
Related: Hobart 210 vs Miller 211 MIG Comparison
What's included with the 210 MVP
10 ft. (3m) HR-100 gun
Owner's manual
10 ft. (3m) work cable with clamp
Built-in gas solenoid valve and dual-gauge regulator with gas hose
Spool hub assembly accommodates 4 or 8 in. spools
Sample spool of .030 in. self-shielding flux-cored wire
.030 (0.8mm) contact tips
Quick Select™ drive roll for .024 in. (0.6 mm) or .030/.035 in.
Power cord with 5-15 P (115 V, 15 A) and 6-50 P (230 V, 50 A) MVP (TM) plugs
Welding guide and material thickness gauge
Hobart Handler 210 compared to the Hobart 190
Pros
Choice of 115V or 230V power input
Slightly faster wire feed speed
Strong 5/3/1 warranty
Higher amperage
Longer duty cycle vs. the Handler 190
Better control of thin gauge material
7 (230V) and 4 (115V) voltage settings
Supplementary protection switch is on the control panel in front
Overheating light on the control panel
Cons
Heavier, will likely need a cart
More expensive
Professional welders will find the duty cycle comes up a bit short
Where to buy
Again, the same retailers sell this model as well and occasionally run promotions. It's worth checking who has it at the best price at this time:
Related: Hobart Handler Full Review
Hobart 190 vs 210: What's different?
Both welders are compact, powerful, easy to use, and versatile. Plus, both can use a spool gun to weld aluminum. Some of you may have noticed the housing dimensions are even identical. And both use a reliable wire feed mechanism that is easy to change over.
But there are some significant differences and you may want to know what they are in advance before choosing one or the other. These are summarized below.
Power Supply
Alright, this point may be obvious by now, but it needs to be stated…
If you want or need dual input voltages, the Handler 210MVP runs on both 115V and 230V inputs. This may be important if you plan on welding in multiple places, some of which may only have 115V outlets.
The "MVP" on the 210 stands for "multi-voltage plug" and it is simple to use.
To change the input power of the 210MVP, you simply attach the right prongs (both are included) to the end of the power line. Nothing else is needed. It automatically knows what voltage you are using.
If you plan on always using your welder in your shop, you may not need the ability to switch over to 115V.
The Handler 190 only uses 230V. So, the power cord is fixed and only plugs into a 240V outlet.
Material Thickness
The Handler 210MVP can weld 24 gauge to ⅜ in. thick materials. The 190 in comparison, works on 24 gauge to 5/16 in. mild steel. So, a slight edge to the 210MVP on thicker stock.
Another advantage the Handler 210MVP brings, control with thinner materials. Scanning the welding settings chart that Hobart provides for its welders, you will notice the adjustments for thin gauge material are more numerous with the 210MVP.
This is an important difference. For those who work on thin gauge material often, the 115V power feature found on the 210MVP may also be useful to provide you with more control over weld quality on thin stock.
Control Panel
At first glance, the two control panels look almost identical. But look again, there are some significant differences.
First, the 210MVP has different style dots for the voltage selections. That helps remind you which settings can be used with 115V (only 4 of the 7 are usable) and all 7 are usable with 230V. On the 190, you have 7 voltage settings for 230V, but no other options.
Then, you will notice that on the 210MVP, there is an overtemperature light. It is not included on the 190 panel. This is convenient if your unit does overheat, just wait until the light goes out, and you are ready to weld again. With the 190, you have to pull the gun trigger to check if it is cool.
Also, the supplementary electrical protection is reset with the on/off switch on the 210MVP control panel. On the 190, the on/off switch does not include this feature and the supplementary protection reset button is separate and located on the back.
Wire Feed Speed
The wire feed mechanism of both units is reliable and easy to use. Also, on both units, the "infinite" speed control is used to fine-tune your welds. But there is a small difference.
The Handler 210MVP can feed wire at 40-770 inches per minute (ipm). The 190 feeds wire at 40-740 ipm.
If you weld thick steel and aluminum often, this difference may be important to you to ensure you feed enough wire for the weld. Plus, since the wire feed speed is used to fine-tune your welds, the 210MVP would be considered to have a slight advantage over the 190.
Related: Full Hobart Handler 210 Review
Amperage
Power, we always want more. And with these two welders, there is a difference between them. The Handler 210MVP outputs 25-210A and the Handler 190 puts out 25-190A.
The 190 can weld mild steel up to 5/16 of an inch, while the 210MVP works on mild steel up to ⅜ in thick. So, there is a small difference. For some, though, it might be important to have that little extra amperage.
Cost
The Handler 190 is more affordable than the 210MVP. In fact, if you buy a "package" that includes the spool gun, the 190 is still a few dollars less than the 210MVP alone. If you know you have 230V available, that makes the Handler 190 a great deal for a powerful MIG welder.
But if you want a little more power, or need the versatility of a unit that can use 115V or 230V, the Handler 210MVP will be a better choice. As always, to get more features you will pay more compared to the Handler 190.
Weight
Welders debate portability when it comes to both of these Handler units. Technically, the Handler 190 is a bit more portable at 68 lbs. For comparison, the Handler 210MVP comes in at 79 lbs. The 11 lb. difference may make a difference for some.
But for both units, add the MIG gun, ground cable and clamp, and a gas bottle, and it means you will likely need a welding cart. Some welders would consider both welders portable. However, if you transport the welder often, at around 100 lbs., the setup can get tedious to move.
Warranty
Okay, this is not a difference, but there was no other good place for this topic. But it is worth ending this section with a description of what the 5/3/1 warranty offered on both units means since you may not know what this means.
The transformer, stabilizers, and rectifier are warranted for 5 years; the generators, PC boards, and drive systems for 3 years; and MIG gun for 1 year.
Conclusion
So, these two solid welders at first appear to be pretty similar. But drill down on the features and you will find the Handler 190 has a little less power, and a shorter duty cycle.
However, the low price and features found on the Handler 190 make it perfect for the welding enthusiast or small shop that will not need to run their welder on 115V.
For a little more amperage and a welder that can run on both 115V and 230V, the Handler 210MVP is your choice. It also edges out the 190 in a few other features, such as a slightly higher wire feed speed.
You will pay more for the additional 210MVP features. But for many welders, a longer duty cycle, the ability to work with slightly thicker materials, and more heat control with thin stock are worth the higher price tag.
Other Product Comparisons
Resources
Spec sheet: https://www.hobartwelders.com/-/media/hobart-imported-mam-assets/spec-sheets/e/2/8/handler-190-251091.pdf
Spec sheet: https://www.hobartwelders.com/-/media/hobart-imported-mam-assets/spec-sheets/b/4/d/handler-210mvp-250822.pdf