Welding horseshoes makes a great DIY welding project. They are rustic and provide a unique twist no matter what you create.
While there are thousands of horseshoe welding project ideas, we rounded up those that require little welding skill and necessary supplies.
Any horseshoe project can serve a decorative purpose or have a specific use. This makes them profitable to sell too, so it's no wonder that many hobbyist welders make a good dollar on the side with such cool welding project ideas.
Use the table of contents below to jump to projects quickly.
30 Horseshoe Welding Project Ideas
1. Weld a Horseshoe Wine Rack
If you are looking for a simple welding project with horseshoes, this wine rack is an excellent choice. It takes a few tack welds, some cutting and grinding, but that's about it. The resulting wine rack looks great and makes a perfect gift for friends and family.
---
2. Horseshoe Cowboy Candle Holder
With just a few horseshoes, some metal prep, and a couple of welds, you can make this fantastic horseshoe project. The cowboy will look great anywhere in the interior, especially when you light a candle.
---
3. Making a Horseshoe Boot Rack
You can do this project with any welder, a little bit of skill, and some metal tubing. It's practical and looks great. Your guests will have to comment on your welding skills when removing their boots.
---
4. Horseshoe Christmas Tree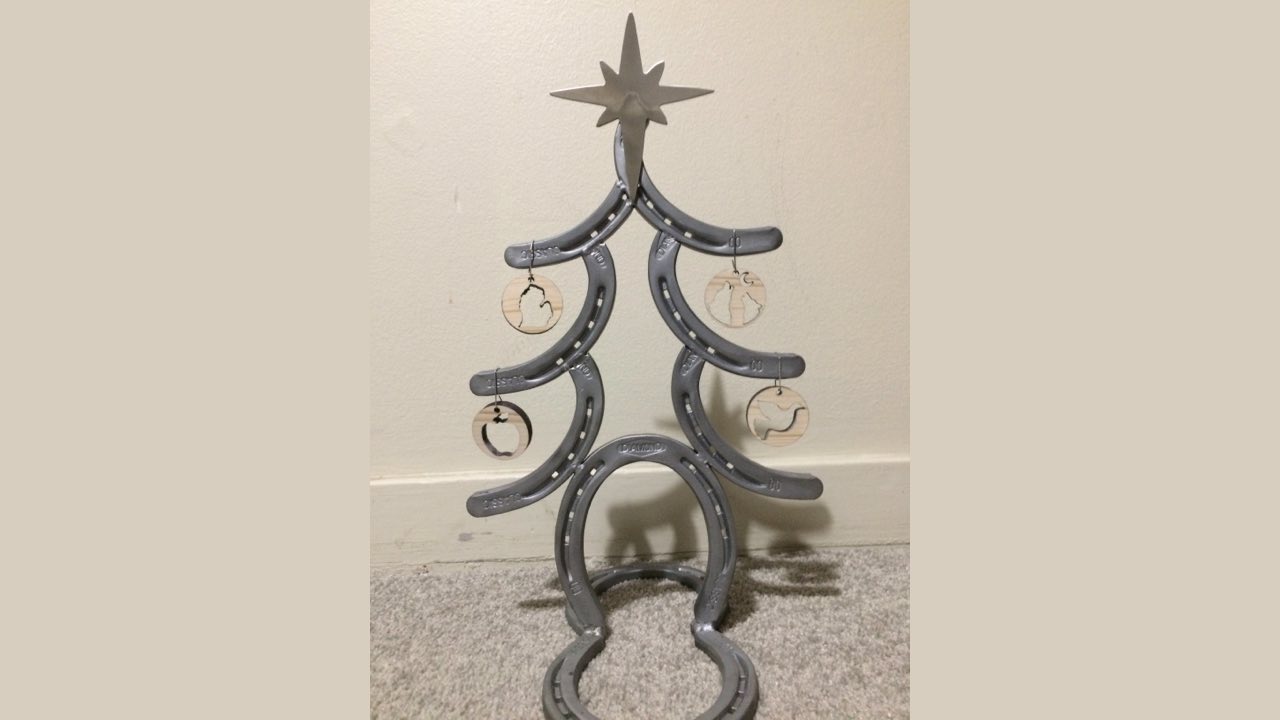 Making a horseshoe Christmas tree is one of those easy projects you can make quickly and entertain the whole family. But, even if you have a regular Christmas tree, you can make this one from metal for your shop.
---
5. Outside Drink Stand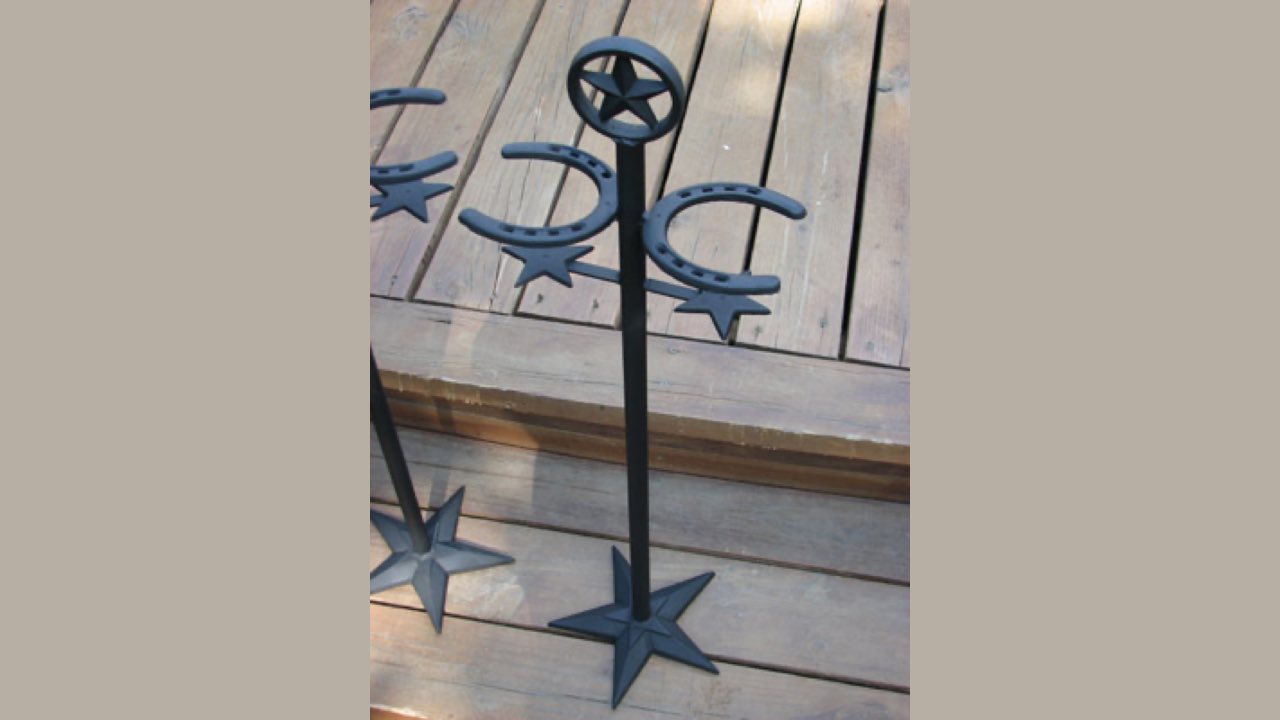 Having a drink with friends is much more comfortable if you can set the bottle or the cup aside. Making the drink stand holder from horseshoes is simple but gives a lot of creative freedom in terms of the decoration of the stand.
---
6. Horseshoe Boot Jack
View this post on Instagram
This is a worthwhile project you'll use every day. Removing boots, shoes, and sneakers is much easier if you have the proper support and this boot jack provides it. It's simple to make, and all it takes is just two horseshoes.
---
7. DIY Horseshoe Bench
Horseshoes are perfect for a unique garden bench. The holes allow vine plants to encompass the bench and create beautiful scenery in your garden. This is an easy project to do, but it requires a lot of patience because there are hundreds of welds to make.
---
8. Classic Horseshoe Puzzle
Puzzles are an excellent gift for your friends, but projects like these can also be sold for a reasonable amount of money. You can weld the shape with any technique, but it'll look the best if you do it by TIG welding.
---
9. Welding a Horseshoe Cross
Horseshoes have a perfect shape for making a cross. It takes some cutting and light welding, but the finished design looks fantastic. Again, it's best if TIG welding is your process because the welds will be much cleaner and require less post-welding clean-up.
---
10. Horsehead Art
Making a hosehead from horseshoes is as punny as it can get. But that's what makes it so attractive. This project requires little welding skill but takes some patience to prepare everything and weld it together.
---
11. Quilt Rack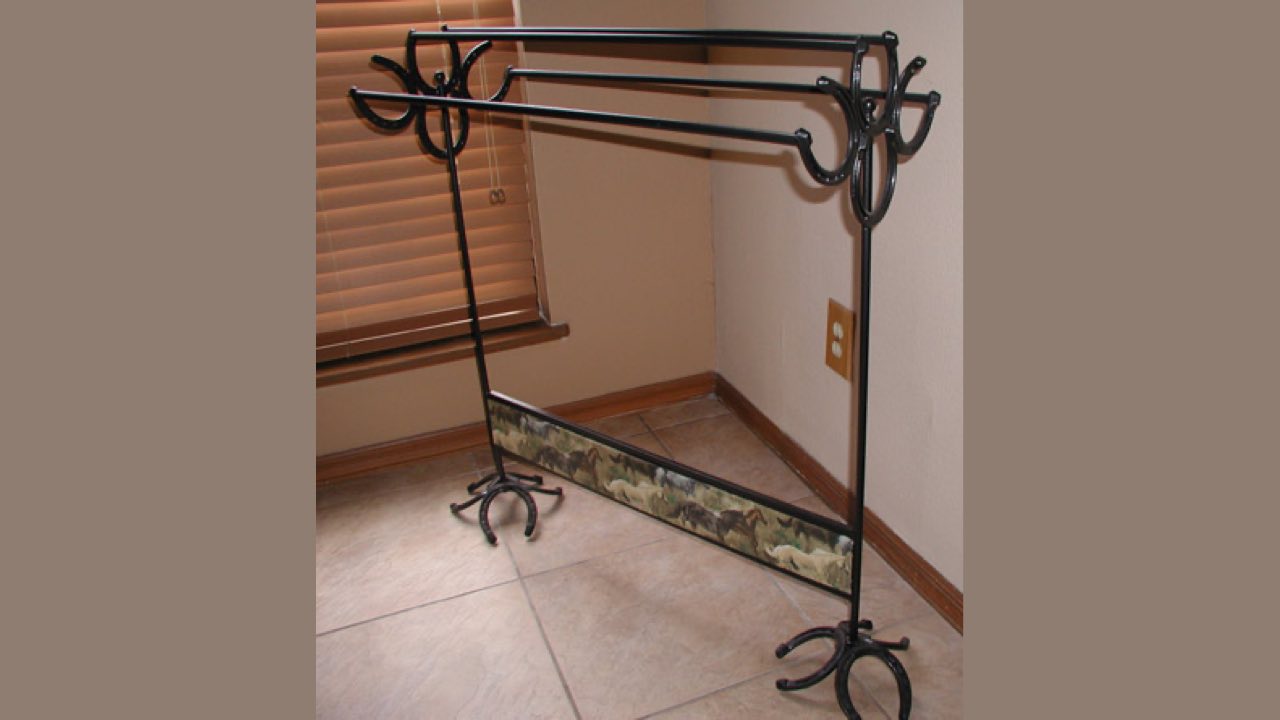 You can make a great looking quilt rack with horseshoes and steel tubing. It's a perfect way to repurpose old scrap metal and create something worthwhile. This simple project can significantly impact the interior decor, especially if you give it a matte black finish.
---
12. Welding a Horseshoe
View this post on Instagram
This horseshoe welding project idea can significantly improve your living area. The chandelier looks stunning, and everyone will know that you made it yourself. It's relatively easy to make, but it takes a lot of time to weld all of the horseshoes together.
---
13. DIY Horseshoe Towel Rack
Repurposing old horseshoes as a towel rack gives them a new everyday purpose. It looks great, and it'll feel good seeing it every day in your home, knowing that it's your creation. Alternatively, it's a great project to make and sell if you are a novice welder and looking to make some money on the side.
---
14. Horseshoe Dutch Oven Holder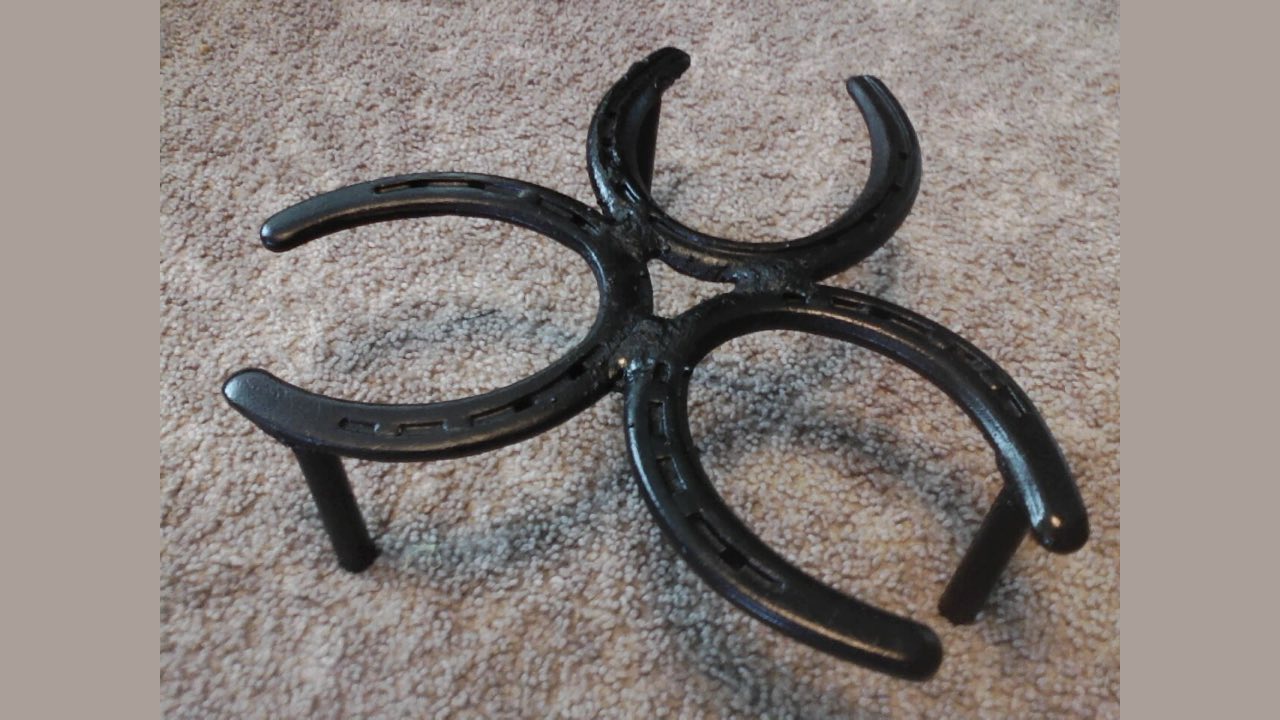 Horseshoes are perfect as a dutch oven holder, thanks to their shape. Making this project requires three horseshoes and a steel rod. After a few tack welds, it's ready for use. You can use it when cooking outdoors, camping, or as a gift for friends and family.
---
15. Horseshoe Bowl Welding Project
Making a bowl from horseshoes is pretty simple, but it takes some adjusting to form a bowl shape. TIG welding will provide the cleanest results but using a MIG welder will also work well. The bowl will look great in your living room or dining area, but it's also a great gift or something you can sell.
---
16. Fish Art Horseshoe Project
This welding project requires quite a lot of cutting, so it's best if you have a plasma cutter. Horseshoe shape resembles a fish if its ends are crossed with one another. Adding a ball bearing as a fish-eye gives the "fishes" life and makes this a great art piece.
---
17. Horseshoe Coat Rack Welding Project
Coat racks are used daily, so why not make one yourself? This is an easy project even a beginner welder can make without any complex instructions. It's a great way to upcycle old horseshoes lying around and get something useful.
---
18. DIY Fire Pit From Welded Horseshoes
You can weld a great firewood rack with a wheel and some old horseshoes. It's a useful way to upcycle scrap steel a beginning welder can do. If you want the rack to feed new wood into the fire pit automatically, just weld the horseshoes with a more steep angle and make another ring on top of the first one.
---
19. Horseshoe Hook
Instructions to make a horseshoe hook are straightforward. You can use MIG welding or even stick because it takes just a single weld you can grind in no time. A single hook is useful as a towel hanger, or you can use it in a garage to hang portable light on it.
---
20. Welding a Heart From Horseshoes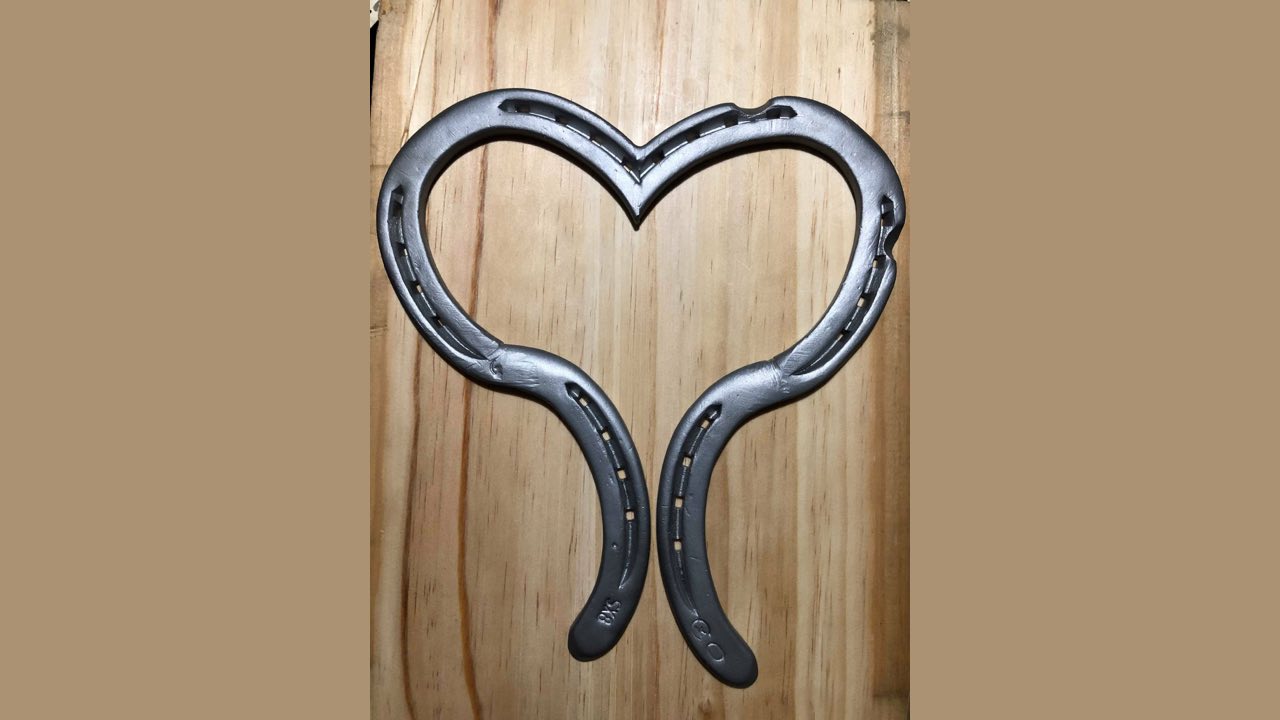 Welding a heart shape from horseshoes is a universal thing every welder has done for their significant other. Alright, maybe not every welder, but it's something you should consider. This timeless gift lets someone know just how much you care about your relationship.
---
21. Horseshoe Butterfly
Horseshoe crafts like this butterfly welding project are perfect gifts. Or, if you are looking for something easy to enter the scrap metal art market, the butterfly sculpture is probably something you can sell.
---
22. Welding a Simple Cat Sculpture From Horseshoes
This is another simple DIY welding project for beginners. All it takes is a couple of horseshoes, two washers, and some wire. It's a nice gift for children and makes a great project for first-time welders.
---
23. Horseshoe Words and Signs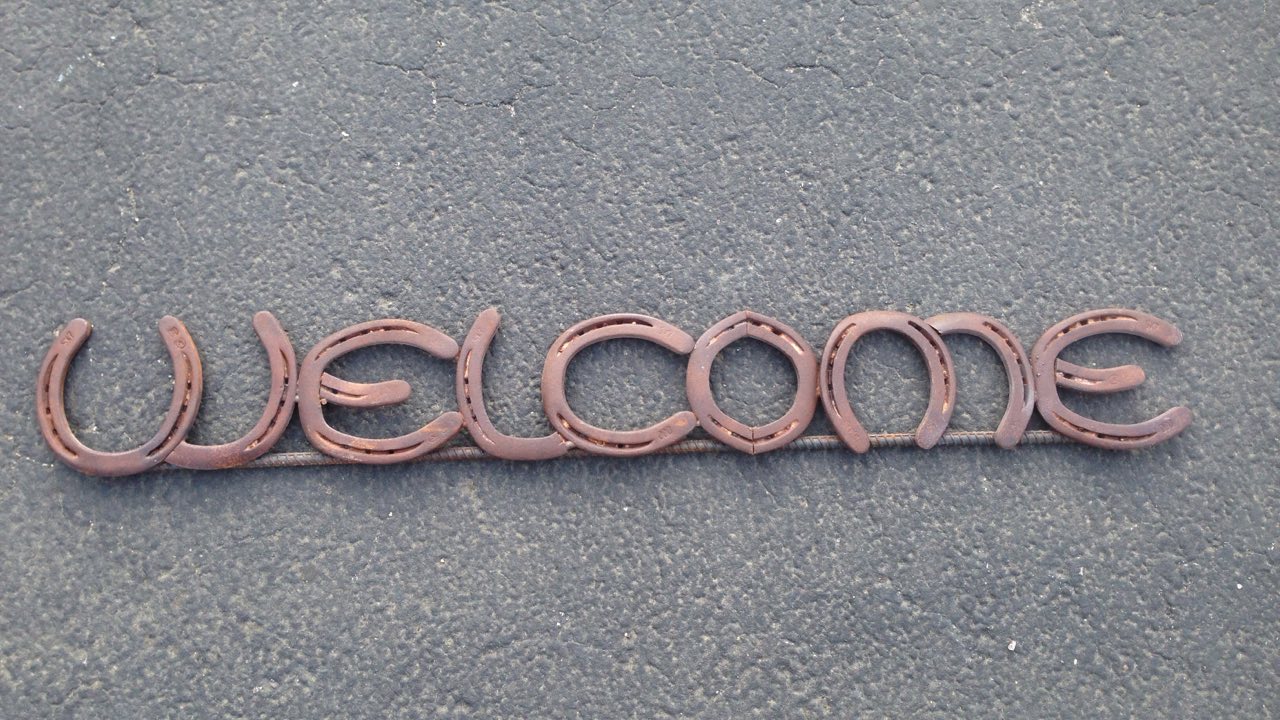 Horseshoe shape makes them perfect for welding signs. They can easily be shaped, cut, or otherwise modified and arranged to create a sign.
---
24. Weld and Elegant Horseshoe Business Card Holder
This is an excellent project to make for your welding shop. Keeping your business cards in your office on a custom welded stand from horseshoes lets your customers know how serious you are about welding. Or, you can sell these cardholders to other businesses. Their appearance makes them eye-catchy and will attract people to take a business card.
---
25. Simple Bottle Opener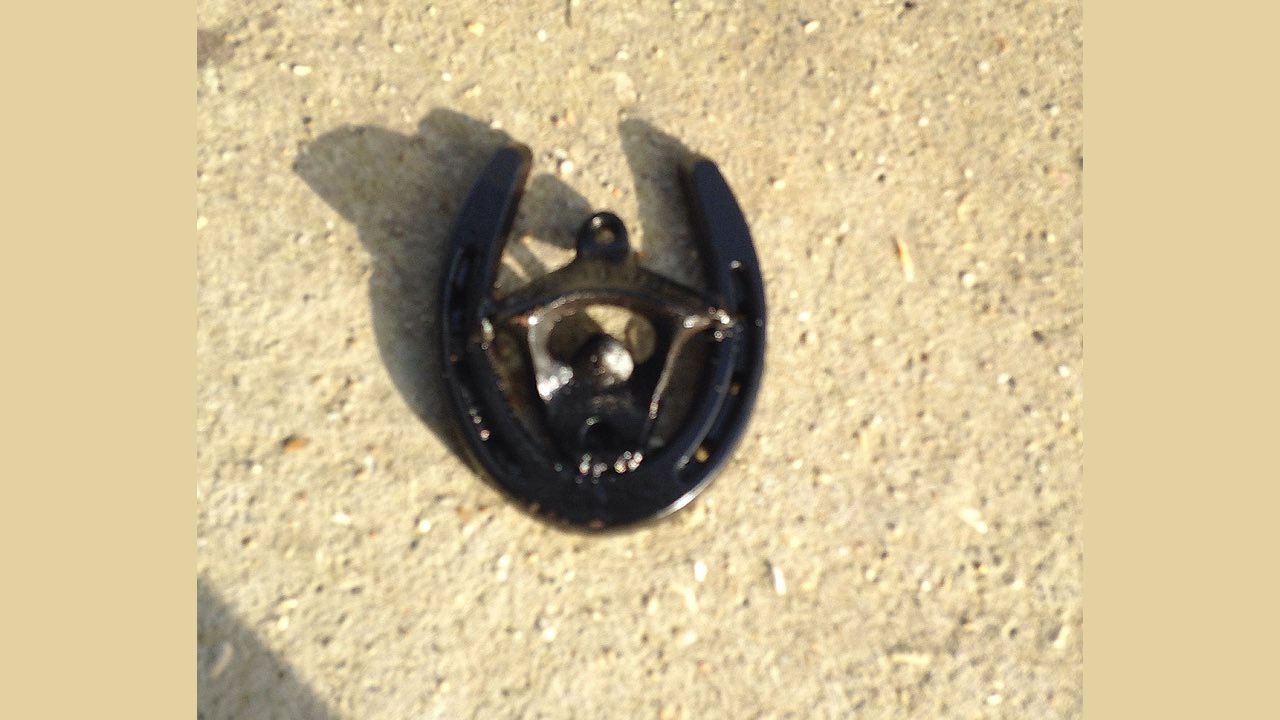 Making a bottle opener from horseshoes is the most straightforward project on this list. Tack welding the metal bottle opener on the unmodified horseshoe takes less than a minute. However, you can play around with the finish. Grinding it down to shiny metal would give it a distinct character but so would painting it in matte black.
---
26. Welding Horseshoes Snowman
If you want to have a unique snowman this season, weld one from steel horseshoes. This DIY welding project is guaranteed to draw looks from friends and neighbors and inspire others to get creative during the holiday season. It may also encourage people to hire you to make sculptures and gadgets for them.
---
27. Shamrock Art
You can create this beginner-level horseshoe welding project with just a few welds and a single cut using a grinder or a plasma cutter (if available). You can make more of these and decorate your garden or gift them to friends that love gardening.
---
28. Welding Horseshoe Pumpkins
The horseshoe's pronounced "U" shape makes it look like a single cross-section, or a slice, of a pumpkin. So, combining multiple horseshoes with a central axis of rotation makes an easy way to create a permanent pumpkin. This is a perfect decor for Halloween, but you can also sell them to people and businesses looking for creative ways to decorate.
---
29. Creating a Turtle from old Horseshoes
Turtles have a distinct oval shape with a similar radius to the oval sides on the horseshoes. This DIY welding project takes some cutting, prepping, and welding, but the finished turtle model looks great. It's an excellent project for people into welding art who have at least some previous welding experience.
---
30. Welding a Horseshoe Flower
This is an easy-to-make flower sculpture you can make from old horseshoes and a scrap metal rod. It doesn't take many skills since there is no cutting, grinding, and bending involved. So, it's a great horseshoe project for a beginner.
---
Wrapping Up
Horseshoe crafts are an excellent way to upcycle and use ingenuity. There are many ways to be creative when welding horseshoes but these horseshoe welding project ideas are some of the best you can start with, regardless of your welding skills.
It's best to start with simple projects if you have never welded before. After a few simple horseshoe crafts, you'll improve your welding skills and gain more confidence to try more complex projects like the horseshoe bench or the chandelier.
Other Welding Projects
35 Small Welding Projects From Scrap
40 Rebar Welding Projects for Your Home
20 Easy Welding Projects For Beginners