Getting your hands on scrap metal is easy. Most people already have some to begin with, so it makes sense to turn that scrap into something beautiful and useful.
Small scrap welding projects require only the basic metalworking skills which you can learn as you go.
In this article, you'll find many unique scrap metal welding ideas that are easy to make.
Use the table of contents below to quick jump to projects.
35 Small Welding Projects From Scrap
1. Dragon From Scrap Chain
Dragons are cool and, believe it or not, easy to weld, especially from scrap motorcycle chains. Arranging a chain in the shape followed by a few tack welds is all it takes. It's best to do it by TIG welding because the tacks will be cleaner and easier to grind. You can gift this beautiful sculpture to someone or keep it on a shelf for decoration.
---
2. Stool From Old Nuts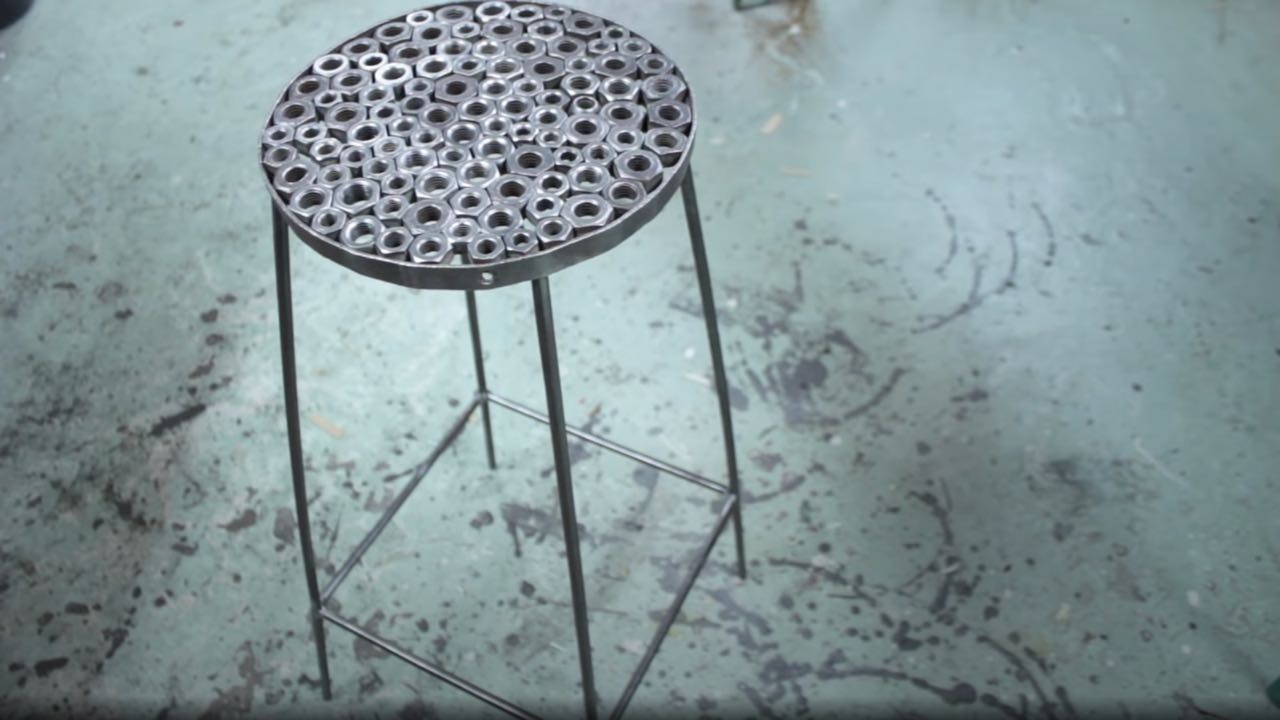 Every welder or a DIY hobbyist has that drawer full of old nuts. You know how every time you keep them "just in case?" Well, here is a good use for the various nuts lying around. The more they vary in diameter, the more beautiful the stool will look. This welding project takes a little bit of patience but requires no special welding skills.
---
3. Scrap Metal Bell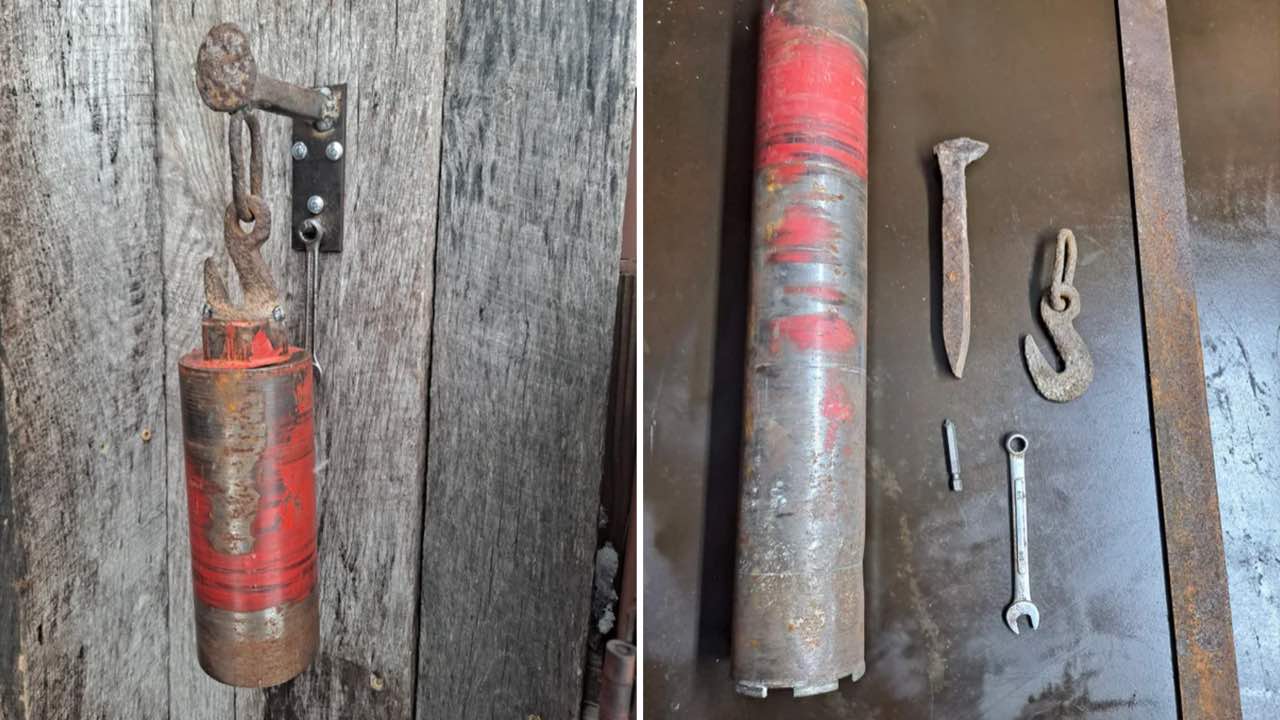 This is an excellent welding project idea if you have an old pipe or some scrap from a fire extinguisher. You can make a separate striker according to the guide or thinker around and position it in the center, as with the real bells.
---
4. Infinity Cube From Old Bicycle Chain
Infinity cube is guaranteed to draw looks from your friends and family. It's beautiful, clean, and leaves everyone in awe. Thankfully, it takes just basic TIG welding skills. You can also make it with a motorcycle chain, but it needs to be bigger.
---
5. Scrap Metal Artistic Lamp
Table lamps are usually a neglected interior decor. This scrap metal build involves many different elements like nuts, forks, spark plugs, bolts, and others. But this is what makes it so beautiful. You should try to recreate it and give it your personal touch with the scrap lying around.
---
6. Formula One Car From Discarded Metal
You can make a formula with functional wheels using a couple of old wheel bearings, spoons, and sheet metal. This is a beautiful welding project you can do with a MIG welder and an angle grinder. You can quickly sell it thanks to its appearance or keep it as a decorative piece.
---
7. Jewelry Tree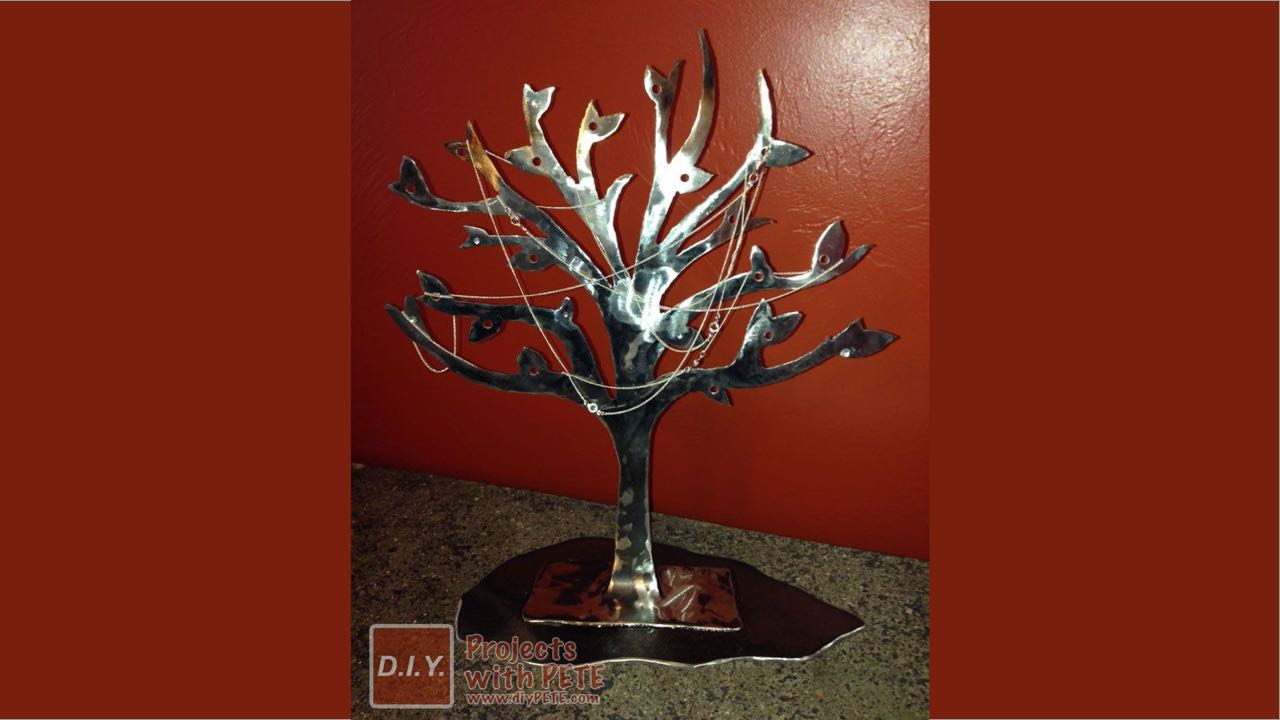 This is an excellent welding project idea for beginners, especially if you have never used a plasma cutter before. All it takes is a scrap piece of sheet metal and your imagination. Make the tree however you like and hang the jewelry on it.
---
8. Beer Bottle Opener from Scrap Metal
This easy welding project takes some ingenuity to think of but not to recreate. It takes TIG welding steel nuts into the construction shape, a rod for a lever, a piece of bicycle chain, and its chain wheel.
---
9. R2D2 Starwars Sculpture
While this project looks phenomenal, don't let it intimidate you. It's easy to make as long as you have the necessary scrap metal. Since it looks so cool, you can sell it for good money or gift it to your geeky friends.
---
10. Anvil From Scrap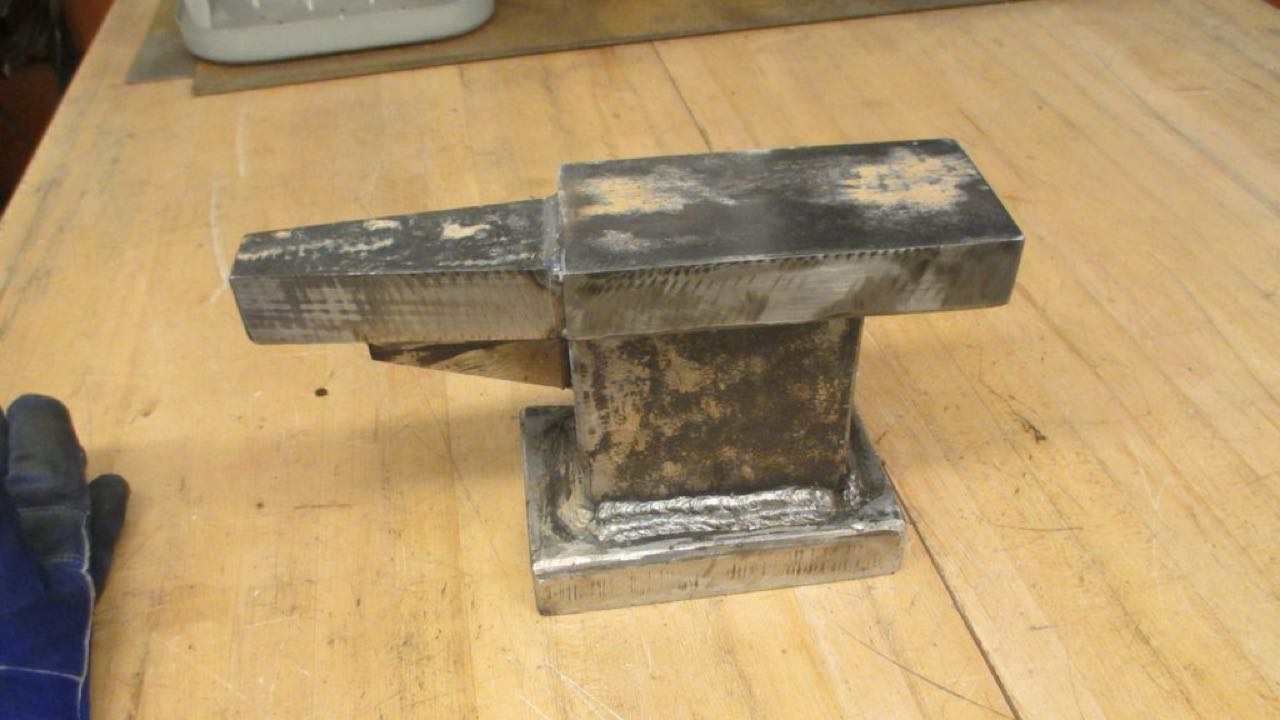 Every welder or metalworker in general needs an anvil. But if you have some thick metal pieces lying around, or you find them on the scrapyard, you can make an anvil yourself.
---
11. Weld a Table Lamp From Steel Nuts
Creating this lamp requires little welding skill. It's beautiful, eye-catching, and will amaze anyone who sees it. It's a small welding project, but it does take patience to weld all of the nuts together. It requires essential welding equipment and basic metal you can find in the scrap yard.
---
12. Useful Tool For Welding
This little tool made from scrap metal can help you hold things together before making a tack weld. Sometimes it's challenging to clamp two pieces together, and this DIY tool helps by applying concentric force from above, allowing you to "clamp" together things like pipe and a flat metal piece.
---
13. Small Metal Rose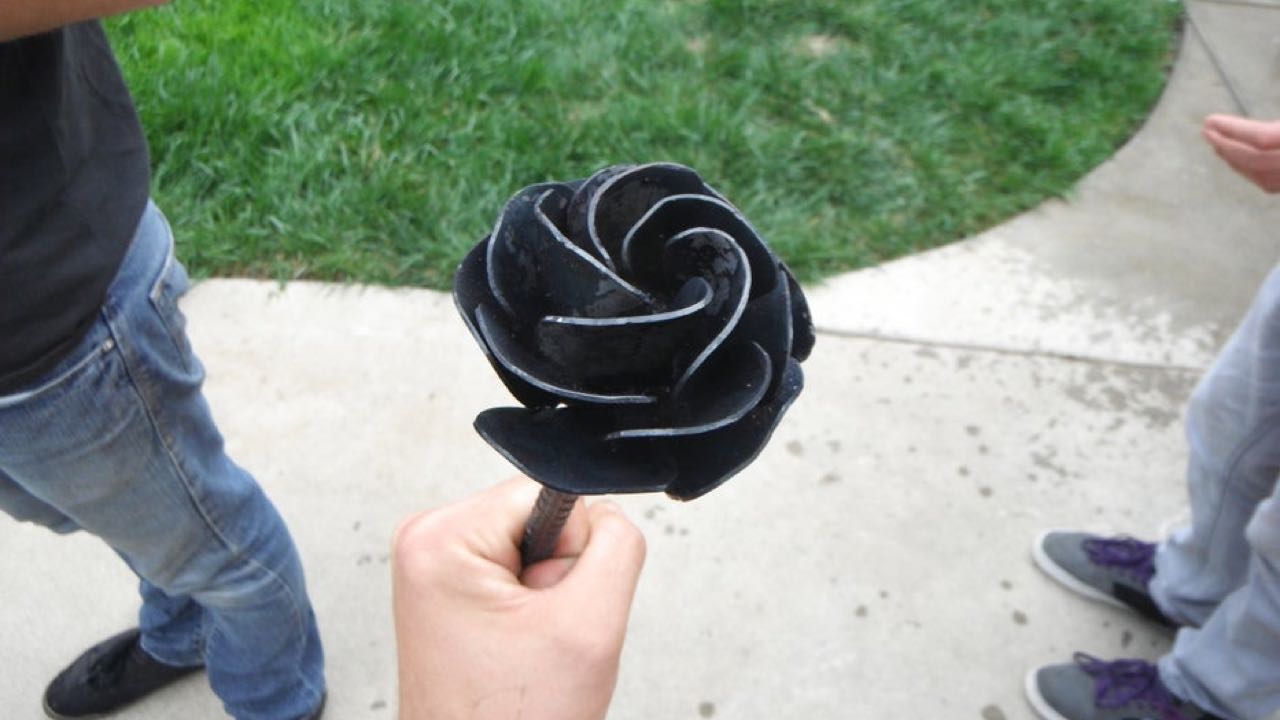 You can make a rose from stainless steel or mild steel scrap metal. Stainless requires more welding skills. This is a beautiful gift to give to your significant other; you can even make a bouquet that will never dry out, unlike real roses.
---
14. Metal Skull Mask From Scrap
Making a mask like this requires a bit more experience. Keeping the face elements proportional is not easy for beginners, so you should make some easier stuff first. Still, cool welding projects like these are fantastic gifts and can be sold for good money.
---
15. Flower From Old Nails or Screws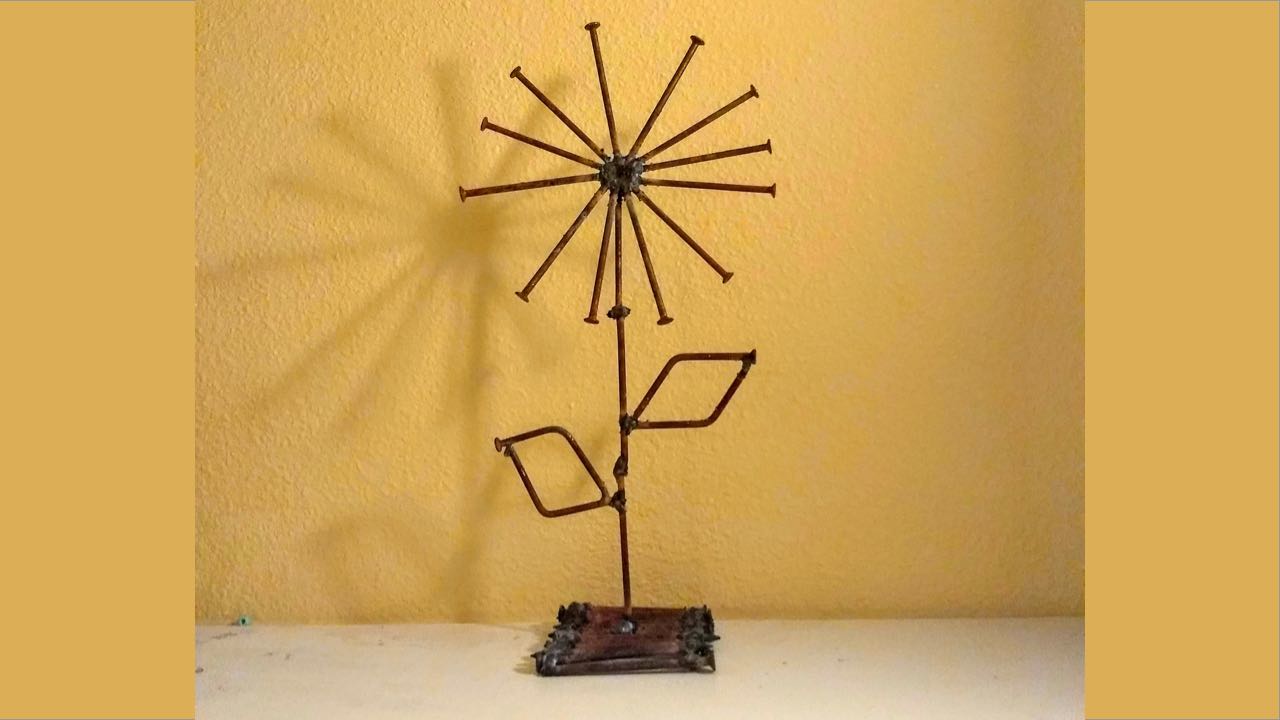 This is a perfect small welding project if you are a novice welder. It looks nice, especially if you do another layer of nails on top of the first one. Projects like these are suitable for practicing welding and making thoughtful gifts.
---
16. Suspension Stools From Scrap Steel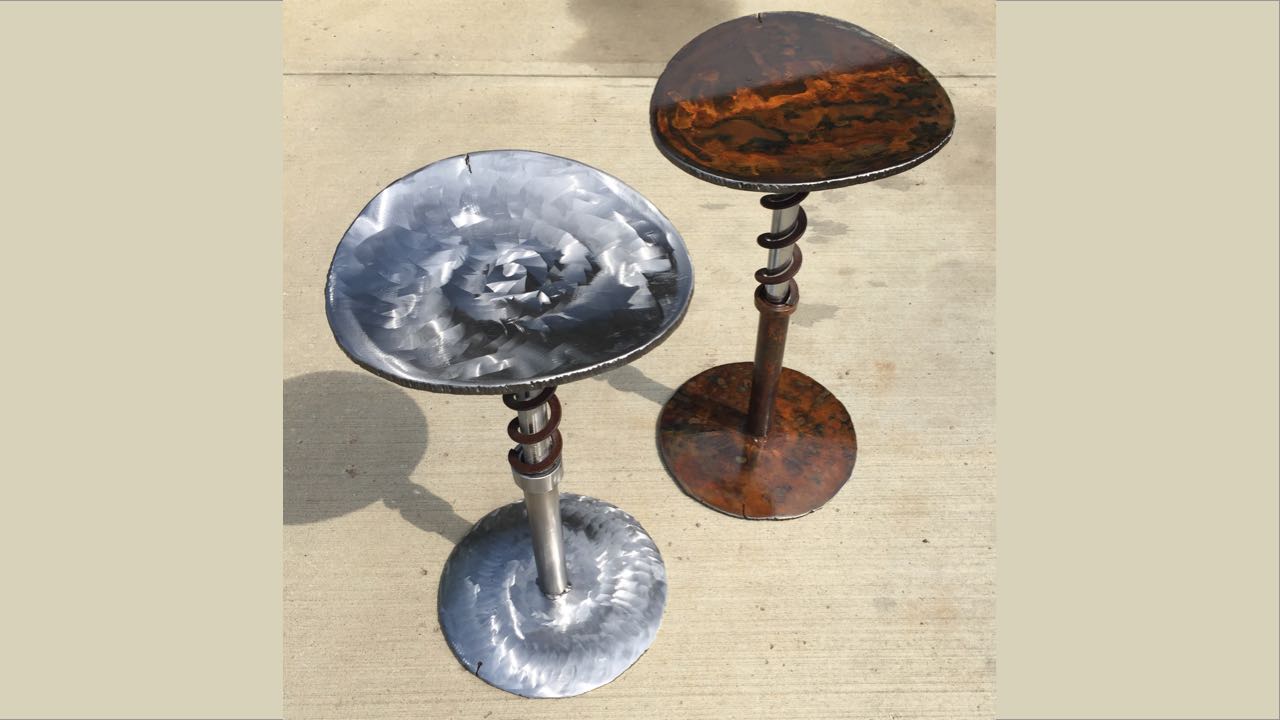 Welding suspension stools from scrap metal can turn into a lucrative opportunity, especially if you live in an area with lots of modern bars. Metal interior furniture is popular, and you can use various finishing methods to suit any interior design needs.
---
18. Eagle Sculpture
Working on animal-inspired designs like these requires basic research on the animal's anatomy. After you get the idea for the shape and contour, you can start welding. Such advanced scrap welding projects are a testament to the welder's craftsmanship and are costly as art pieces.
---
19. Coat Rack Using Old Horseshoes
This small welding project is for people with extra horseshoes, but you can also get them from the scrapyard. Upon painting, this coat rack can look good in the interior, and your guests will surely comment on it when hanging their jackets.
---
20. Simple Bird From Scrap Utensils
View this post on Instagram
That eagle sculpture before needed a lot of welding skill, but a simple project like this requires only an oxy-acetylene setup. After tack welding, the utensils together, heating them, and shaping a bird is all it takes.
---
21. Hay Hook
With just one weld and some oxy setup heating process, you can make a useful hand hook for hay or pallets dragging. Since the weld strength is not very important here, you can even repurpose dissimilar metal rods.
---
22. Scrap Metal Bonsai Tree
Bonsai trees are beautiful but having one from bare metal is a next-level interior detail. You can make a giant one like in the video or repeat the same process with smaller scrap metal. Either way, you can sell it for a lot of money or keep it in your home.
---
23. Christmas Tree Ornaments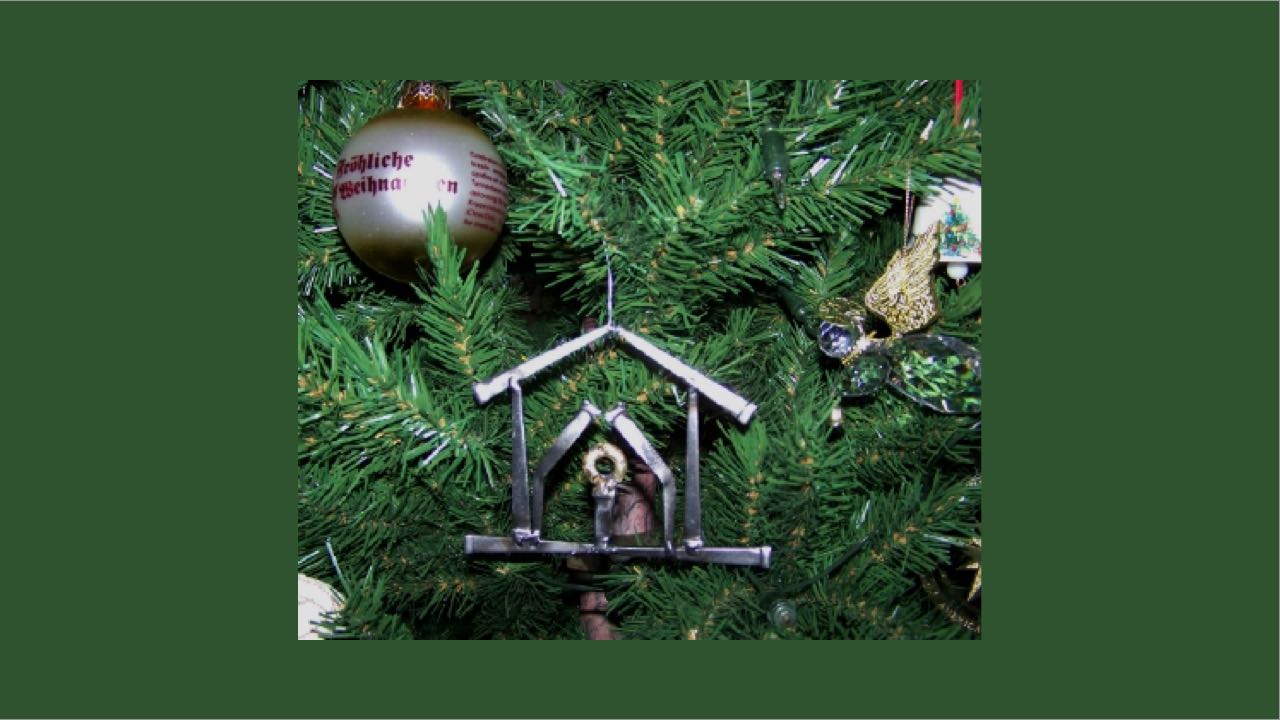 This is a great project to do with your family. While the Instructables show how to make one ornament, you can modify the process and build various ornaments for original tree decoration.
---
24. Old Compressor into a Smoker
If you find a compressor on a junkyard and you need a smoker, you can repurpose it with some welding. It doesn't take a lot of welding skills, but it does take time to put everything together. Metal sheets, tubes, and steel tubing are also needed to create parts of the smoker.
---
25. Crab Model
This is a simple scrap metal art you can make with any welding process and some hammering of the scrap metal. It's best to find old pliers since they already resemble the crab's claws.
---
26. Repurpose Old Washers into a Bowl
Making a washer bowl can be done with any welding machine, but it's best to use a TIG welder. You will need to use a "base" bowl underneath the washers as you weld them together. Be careful not to weld washers to the base. It's best to use a ceramic bowl for the base if it's heat resistant.
---
27. Corner Clamping Tool From Old Brake Pads
This is an awesome way to repurpose old brake pads with a bit of arc welding. You will also need one mild steel sheet metal and some steel tubing. This DIY tool keeps pieces you want to weld locked at a 90-degree angle, but it can also bend metal, so it's a multi-purpose tool you can make from scrap.
---
28. Scrap Metal Motorcycle Model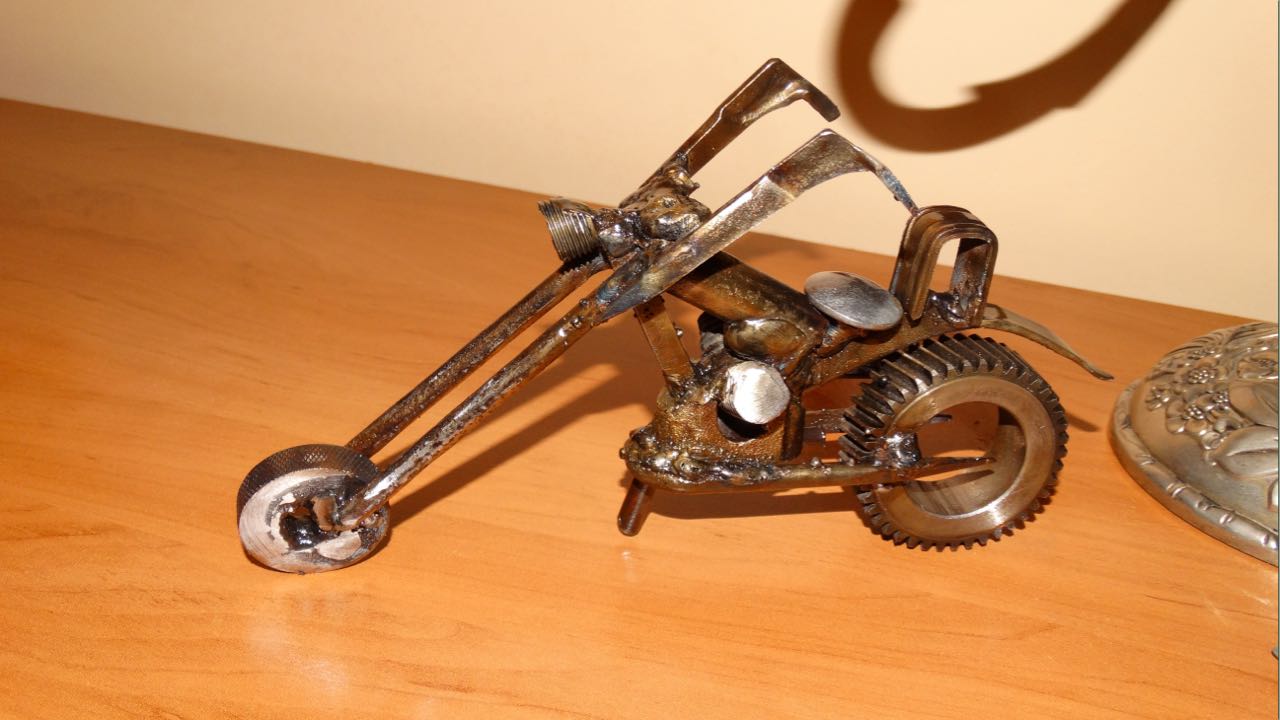 A motorcycle has a simple shape, but it's challenging to arrange all pieces without messing up the overall structure. This makes it a great small welding project for beginners who wish to try scrap welding art but have mastered the simple stuff like welding nails, nuts, and bolts.
---
29. Wind Sculpture
Kinetic sculptures are profitable welding projects you can make from scrap. It takes only a couple of tack welds per hand on the sculpture. It's straightforward yet effective because it looks very dynamic thanks to the varying angles and lengths of the composing elements when it starts spinning on the wind.
---
30. Small Model Hot Rod
This welding project requires advanced engagement. While necessary welding skills are basic, you need to find many appropriate scrap metal parts. However, the beauty of welding scrap metal is in project adaptability, so you can weld it with what you have and still make a great-looking hot rod. Just make sure you plan the entire process.
---
31. Rocket Stove
Rocket stoves are fantastic for outdoor camping. They output a significant amount of concentrated heat and will have you cooking in a flash. If you have some scrap metal tubing and a MIG welder, you can make a rocket stove and save some money.
---
32. Key Holder
This is one of the most straightforward small welding projects from scrap you can make. All it takes is two different diameters of rebar, some metal clean-up, and a couple of welds. If you clean the rebar down to shiny steel, it will look very attractive on your wall.
---
33. Octopus Lamp From Scrap Bicycle Chain
View this post on Instagram
Like how you can weld the bicycle chain dragon we saw at the beginning of this article, you can create this octopus lamp. It's a great way to practice welding the slippery stuff like chains while making something beautiful.
---
34. Dustpan From Scrap
Having a metal dustpan guarantees that it'll outlive any plastic dustpan you can get from the dollar store. Plus, you get to have some fun welding and grinding the scrap metal. It's a great small welding project you can do with any old sheet metal and some bolts.
---
35. Recycle Spark Plugs into Miniature Airplanes
Old spark plugs are an excellent base for miniature airplane models. You can sell these, gift them, or give them to your kids to play. This is a great welding project idea requiring little to no welding skill, and you are guaranteed to have the necessary scrap metal.
---
Wrapping Up
Welding is an excellent hobby. Once you start, you won't be able to stop. Project after project, you'll be improving your skills and if selling your creations, improving your income.
Small welding projects from scrap are a great way to learn how to weld or create something for the people in your life. Everyone loves getting a unique, handmade gift, and what's a longer-lasting gift than the one made from literal steel?
Other Welding Projects
30 Horseshoe Welding Project Ideas
40 Rebar Welding Projects for Your Home
20 Easy Welding Projects For Beginners