Rebar welding projects are easy to make, and the material is readily available.
There are fewer variables with steel rebar than tubing and sheet metal plates. So it's a great base metal for new welders.
This article provides the most useful rebar welding projects you can make without many skills and tools.
However, we considered all skill levels, so you'll also find a few projects requiring more welding skills.
Use the table of contents below to jump to projects quickly.
40 Rebar Welding Projects
1. Weld an Industrial Style Drinks Container From Rebar
Making a bottle container from rebar is one of the simplest projects you can make. It's practical and looks great. Why buy a plastic bottle container that can break when you can weld one from steel rebar that'll last you for life?
---
2. Make a Powerful Rake From Steel Rebar
Having a reliable rake for your garden and barn is vital for any homestead. Unfortunately, most rakes you buy can break. But that's not the case with the reinforcing steel rebar. You can rake dirt, leaves, hay, or anything else with this DIY welding project.
---
3. Weld an Industrial Style Halloween Lamp
Steel rebar is excellent for welding spiders and similar scary creatures. This makes it a good base metal for welding Halloween decorations like this lamp.
---
4. Weld a Wall-Mount Hay Feeder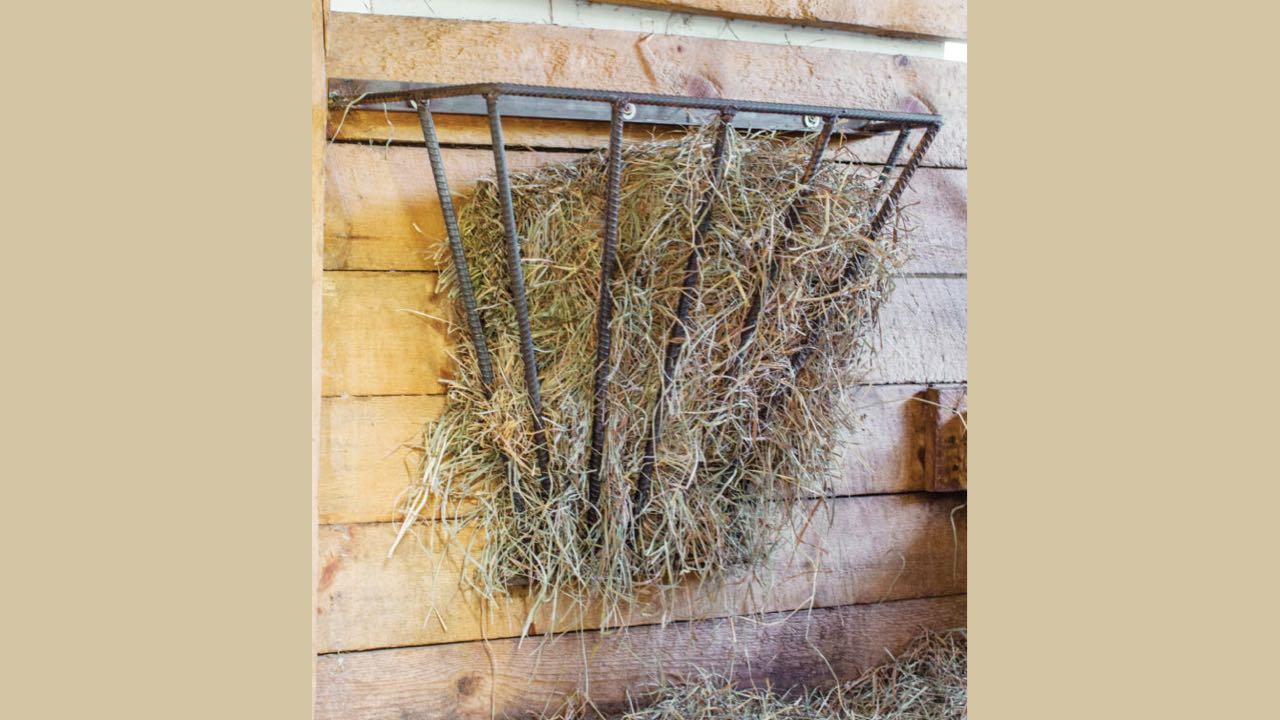 Feeding hay to horses, goats, or other farm animals is very efficient with wall-mounted hay feeders. Fortunately, you can weld one with little to no welding skills. Using just a MIG welder and steel rebar, you can get this project completed in less than an hour.
---
5. DIY Fireplace Grate
Making a fireplace grate from rebar is straightforward. Cut rebar into even lengths and weld it all together. It takes more effort if you use bigger diameter rebar. This project doesn't require anything thicker than rebar size #3.
---
6. Make a Firewood Splitter – Kindling Splitter
Kindling splitter breaks firewood into smaller pieces, and it's easier than using a wood ax, especially for older people. This welding project requires a couple of rebars and a sharpened flat bar. Make sure you weld everything together correctly. Deep penetration is welcome, considering the number of vibrations the kindling splitter is subjected to.
---
7. Rebar Welded Signs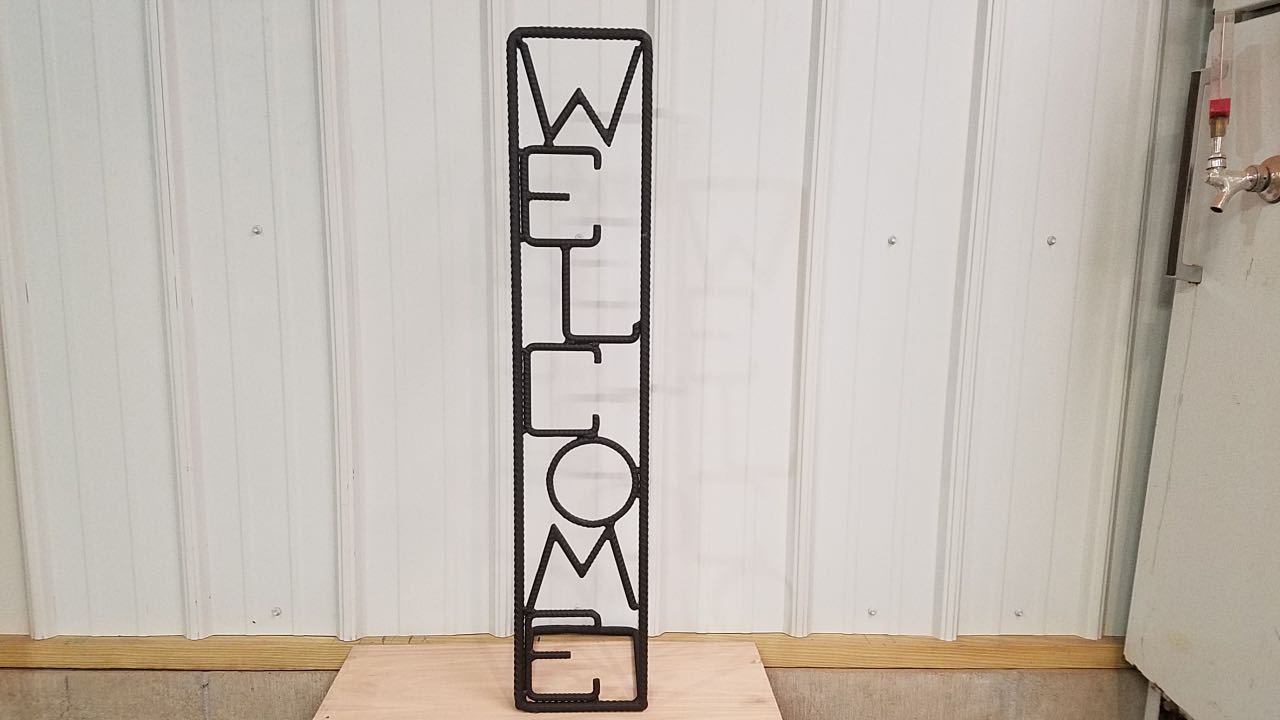 Rebar is easy to bend cold, but it's even easier if you use some oxy-acetylene. This makes rebar perfect for welding signs. While these signs may be basic in looks, they can look quite attractive if you apply paint.
---
8. Rebar Welded Chipping Hammer
Making your chipping hammer from rebar is a easy welding project for. Most welding machines come with a basic chipping hammer which is almost always of poor quality. So, instead of spending additional money, you can repurpose some old rebar and make a chipping hammer yourself.
---
9. Weld a Handle From Rebar
Many DIY projects require a handle. If you are making a wardrobe, chests, doors, or just replacing a worn-out handle, it's very easy to make an industrial-looking handle from rebar.
---
10. Make a Coat Hook Hanger
It takes some work to bend the rebar in a suitable shape, but this is a simple project overall. Everyone will have the necessary resources for this project, requiring just scrap metal, a plain steel flat bar, and some nuts.
---
11. Weld a Simple Dutch Oven Trivet
This is an excellent welding project for new welders. A dutch oven trivet requires a triangle shape and some legs to stand on. It's easy to weld from rebar because it doesn't require any welding skills. Even if your welds don't achieve full penetration, it won't matter because the trivet won't have to take up any big loads.
---
12. DIY Clamp – ReBar Clamp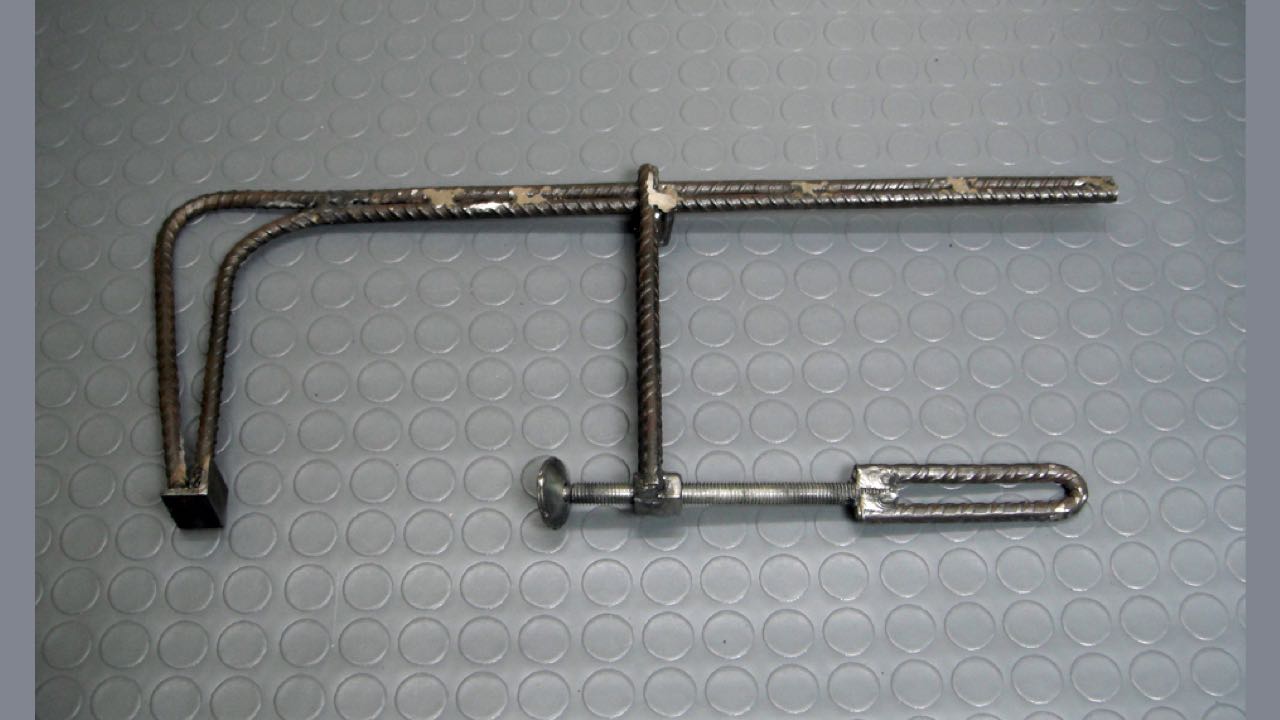 Clamps are essential to welding. You can't weld things together unless they are correctly clamped. This is a valuable welding project for people that love making their own tools. A few things are as satisfying as using the tools you made.
---
13. Third Hand Welding Tool
Sometimes you don't need to clamp down on the base metal, but a simple touch-hold will do the trick. The third hand is a tool for welders that lets you hold two plates together before welding them.
---
14. Vegetable Support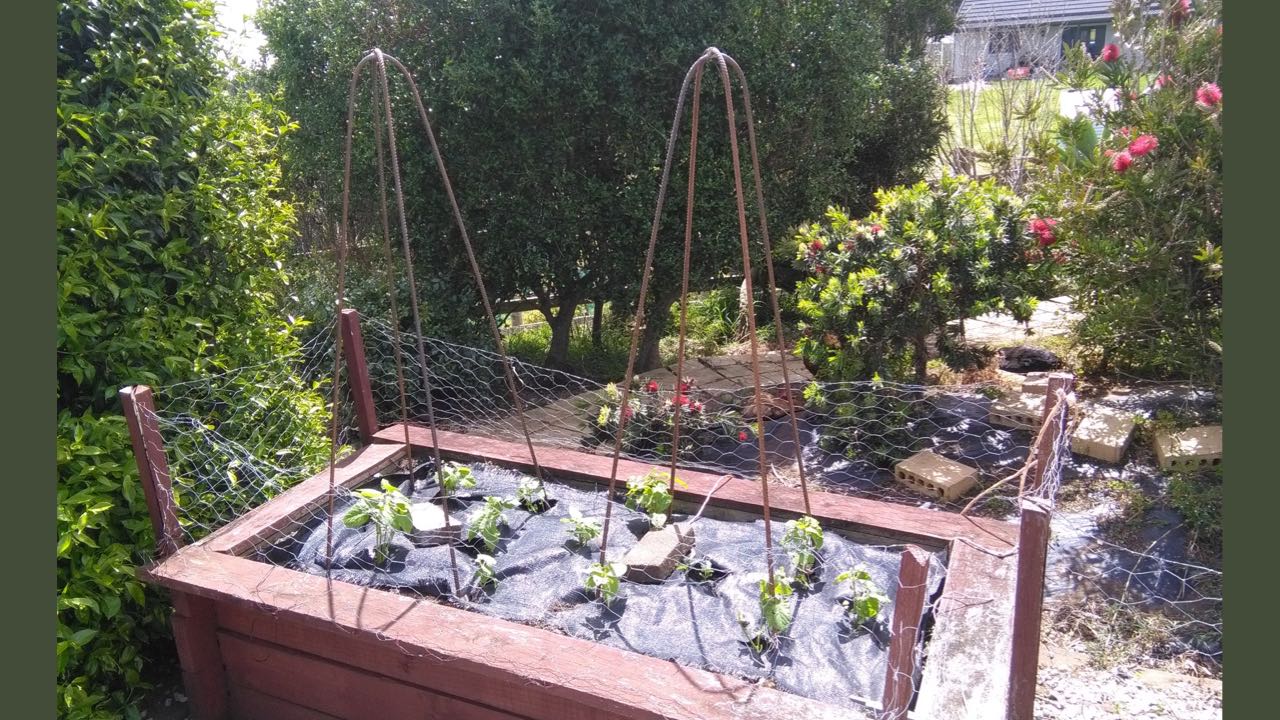 There are many ways to support the growth of vegetables in your garden but welding a support stand is a great idea. It takes just a few tack welds and some rebar bending. It's best if you use a thin #1 rebar size.
---
15. Weld a Mug From Rebar
While this mug is too heavy and probably not safe to drink from (unless you insert the glass base inside it), it makes a great gift. Projects like these are quickly sold, too, thanks to their intriguing appearance.
---
16. Make a Hammer
Rebar steel is strong and ductile enough to be used as a hammer. Making a hammer from rebar is not that difficult, and it requires no special skills to do it. However, depending on your metal finishing skills like etching and engraving, its esthetics will vary.
---
17. Create an Industrial Style Shelf Bracket
You can make a great-looking industrial-style shelf bracket with some bending, cutting, and welding. Pair it with a dark wood shelf, and you'll get an awesome interior decor piece.
---
18. Weld a Christmas Tree From Rebar
You can make a permanent Christmas tree from steel rebar for your shop or even your home as a lawn decoration. Holidays always get a special feel if you invest yourself in some decorative DIY project, so why not make that a welding project?
---
19. Welding a Hexagonal Fire Pit
This welding project idea has a complex geometry, but the welding part is quite simple. It looks great, and it's pretty portable. You can easily take it anywhere when camping outdoors or use it in your backyard.
---
20. DIY Metal Stool
Using a scrap carbon steel rebar to weld a metal stool makes a great practical project. It's straightforward to make but complex enough to pose a challenge. Welding furniture will teach you the importance of precision because there is lower tolerance for dimensional mistakes.
---
21. Industrial Style Wall Key Holder
With some steel rebar scrap rods and a bit of welding work, you can make an excellent-looking industrial key holder. If you give it a shiny brushing, it will look great in the interior, but you can also paint it according to your style.
---
22. Welding a Spider Web
This is an excellent project for Halloween decor or just as an art piece. It takes quite a lot of work to bend the rebar in the necessary oval shapes and some tack welding, but the result is stunning.
---
23. Make Hairpin Table Legs
Hairpin table legs look elegant and give off the modern vibe to any interior. They are easy to make too, and you can sell them for a quick buck. But if you are considering making a DIY table, they are a good choice if you are looking for something light.
---
24. Making a Hay Hook
Making a hook from steel rebar is helpful and very simple. All it takes is a single bend and a tack weld. You can do this in less than ten minutes and get yourself a hook for dragging pallets or working with hay.
---
25. MIG Cables Hanger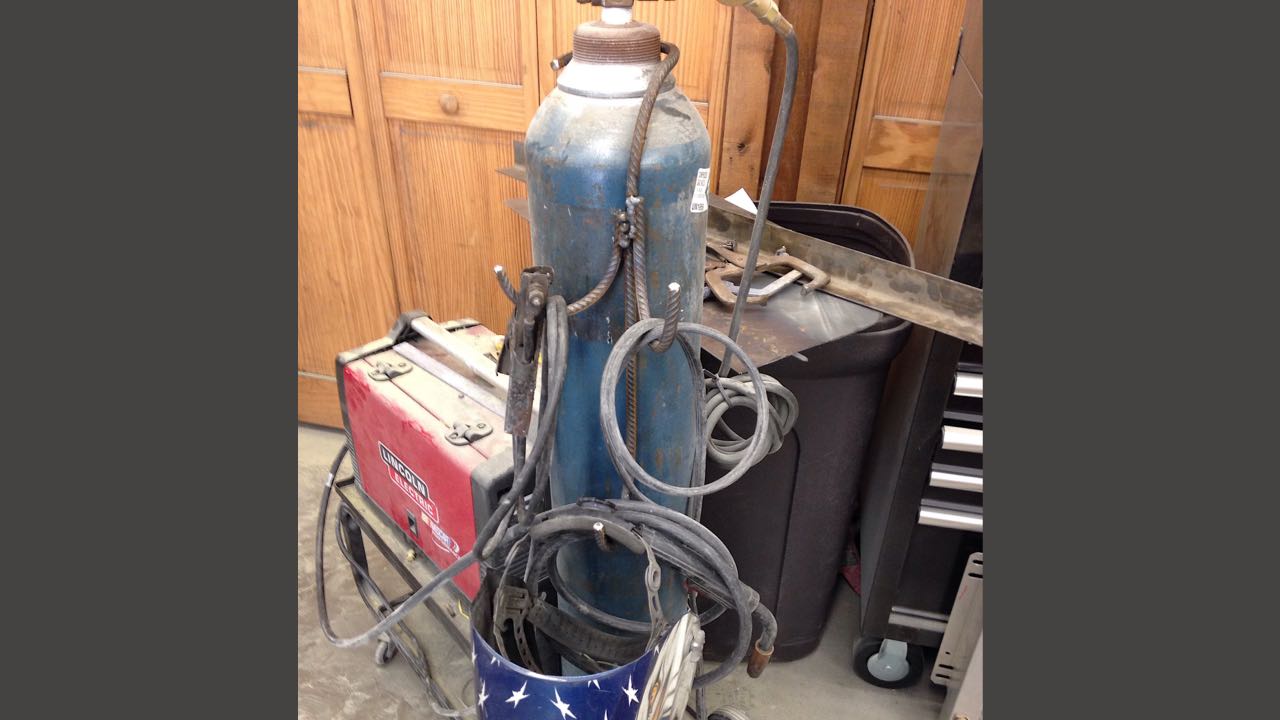 Working with a MIG welder can get messy. Leads, gas hoses, and power cords can easily create a hectic work environment. You can weld a cable hanger from the reinforcing steel rebar and use it to hang everything on your MIG gas cylinder.
---
26. Welding a Rebar Sofa Table
This is another welding project idea if you are into welding steel furniture. It's pretty simple to make, requiring cutting rebar into a few pieces and welding it all together. The table looks great but make sure you use thicker rebar for the legs to avoid any wobbliness.
---
27. Making a Simple Cross
This simple cross is easy to make. It takes just four welds and some post-welding clean-up. This welding project is suitable for beginners looking for anything simple to see how the entire welding process works.
---
28. Weld a Spider Web Base Stool
If you use the idea of the spider web and stool projects we discussed above and apply them to this stool, you'll get a great seat for any interior. Welding projects like these are expensive to sell. If you attract the right people's attention, like bar owners looking to renovate, you can be commissioned to weld tens of such stools and earn a lot.
---
29. Create Tomato Cages
Tomato cages are an excellent addition to any garden, and making them from solid steel rebar is a long-term investment. Luckily, you can make the cages yourself for little money if you get the rebar from a scrapyard.
---
30. Weld a Rebar Construction For a Glass Table
If you have a couple of glass panels lying around, you can create a fantastic table with a rebar construction. This is a simple project to do. All it takes is welding a grid from a rebar of the same diameter by tack welding the rebar together. Just make sure that the rebar contact point with the glass is even and that some silicon separates the two.
---
31. Make a Snowflake
You can easily weld a snowflake shape with a few welds and rebar. It's an excellent decoration for holidays; you can sell it or decorate your yard. While this welding project idea is simple enough, it still takes basic alignment skills. Before welding, make sure you use angle magnets to hold rebar parts in symmetric shape.
---
32. Welding Pyramids Shape From Rebar
Steel pyramids make good interior decor pieces, especially if used as a base to hold lights. This is an easy welding project for anyone trying interior welding elements.
---
33. Rebar Heart Model
No matter what base metal you choose, there are heart-welding projects for it. However, for rebar, there is bending involved first. So, make sure you choose a smaller diameter. After you bend the rebar in the right shape, all it takes is to weld it all together.
---
34. Abstract Art
Thanks to its linear shape, rebar makes an excellent choice for welding two-dimensional welding art. Instead of painting, you can weld a canvas by arranging and welding the rebar in intriguing shapes.
---
35. DIY Bottle Cage Gift Made From Rebar
This is an excellent welding project idea you can sell for good money or gift it to friends and family. Everyone loves puzzles, and a handmade gift like this creates a long-lasting bond between friends. It takes a few additional tools to make this cage other than a welder, but most of it comes down to grinding, cutting, drilling, and welding.
---
36. Rebar Chandelier
Rebar is a good base metal for a DIY chandelier because you can modify it the way you like it. It takes some cutting, bending, and of course, welding to do this project, but it looks great. You can add a personalized touch to your interior because the chandelier is one of the most visually impactful elements of a room.
---
37. Weld an Arrow Model
Welding an arrow is another simple welding project that anyone can tackle. It's a fun little project if you have some rebar lying around and you wish to try welding for the first time. You can use it as a sign for the yard or gift it to someone.
---
38. DIY Rebar Welding Table
While this is not a perfect welding table, it's a good project for a beginner, and it will serve you well while you are still learning how to weld. But I wouldn't rely on a rebar welding table for clamping things to it. Rebar can wobble and distort your clamping efficiency.
---
39. Rebar Bottle Holder Model
With just a few welds and clever rebar use, you can make this model holding a bottle. Using a knurled wire brush wheel to clean it to shiny bare metal can look very attractive. It's one of those easy welding projects you can make in under an hour that can be sold for decent money.
---
40. Weld a Hat Rack
Welding a hat rack from rebar is straightforward. It takes a couple of tack welds to create a fork-like shape and weld it to a base. You can paint it or clean it with wire to the bare metal.
---
Wrapping Up
Using typical carbon steel rebar for welding projects is what most welders opt for. It's an easy metal to weld regardless of whether you use MIG, TIG, or stick welding. The process doesn't matter for most projects as long as you do some post-weld grinding.
Most projects here are meant for beginners but don't be discouraged if something doesn't work out immediately. Remember, practice is the only way to learn how to weld and get better at it.
Other Welding Projects
35 Small Welding Projects From Scrap
30 Horseshoe Welding Project Ideas
20 Easy Welding Projects For Beginners