The Titanium Unlimited 140 is a multi-process welder designed for light shop use, DIY applications, and welding on the go.
The MIG, FCAW, DC TIG, and stick welding processes function well and provide the necessary features for basic hobby welding.
However, this machine is not without its cons.
In my opinion, it has a significant shortcoming that makes this Titanium welder overpriced.
So, this article covers the pros and cons and compares it to the competition since some other brands may offer a better deal for your shop.
Meet the Titanium Unlimited 140
The Titanium Unlimited 140 is an inverter-based, lightweight machine powered by a 120V input. So, you can use it in your garage or home without installing a 220V circuit.
The included welding processes support only basic settings. So, you can modify voltage, amperage, wire feed speed, hot start, and inductance values. Some competing welders provide more features, but we'll get to that later.
It has an easy-to-use front panel interface, but the spool gun button location is not user-friendly. The two digital displays use bright red for easy reading, and the infinite adjustability knobs let you fine-tune the available settings.
The worst aspect of the Titanium Unlimited 140 is the manufacturer's warranty of a mere 90 days. This is unacceptable at this price, considering that competing brands offer up to 3 years for the same cost. But we'll discuss this issue soon in more detail.
What's Included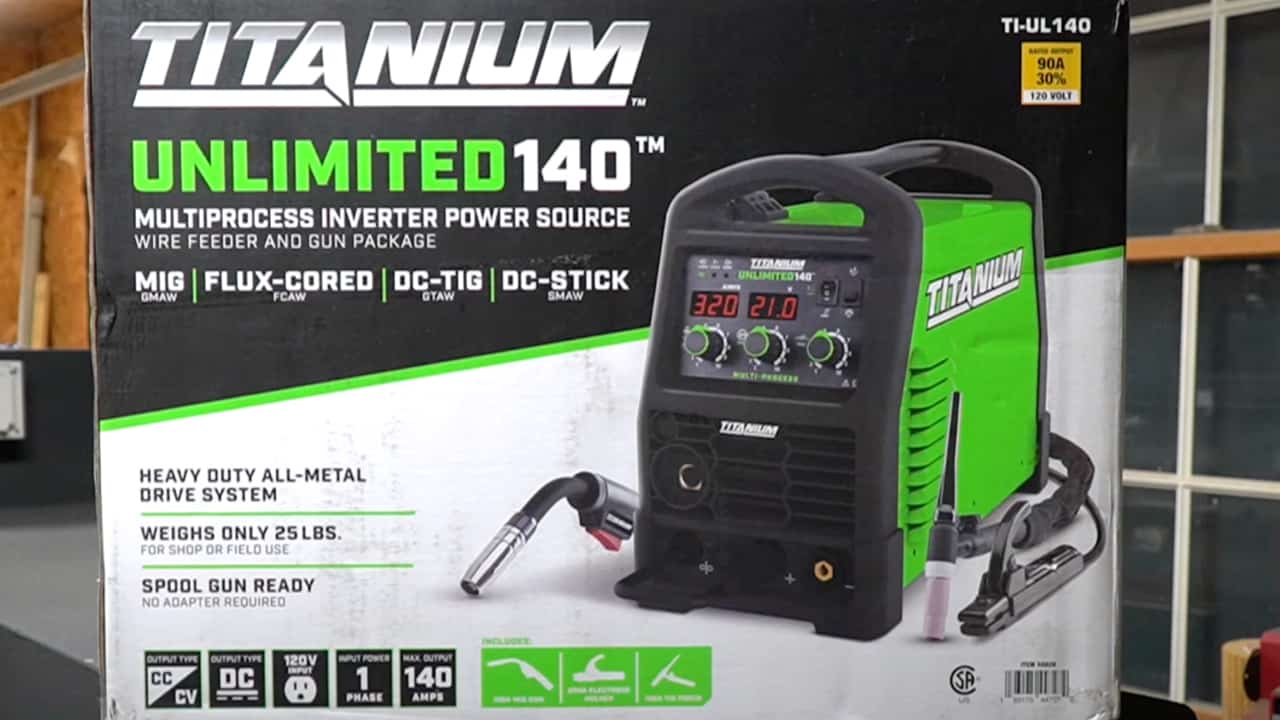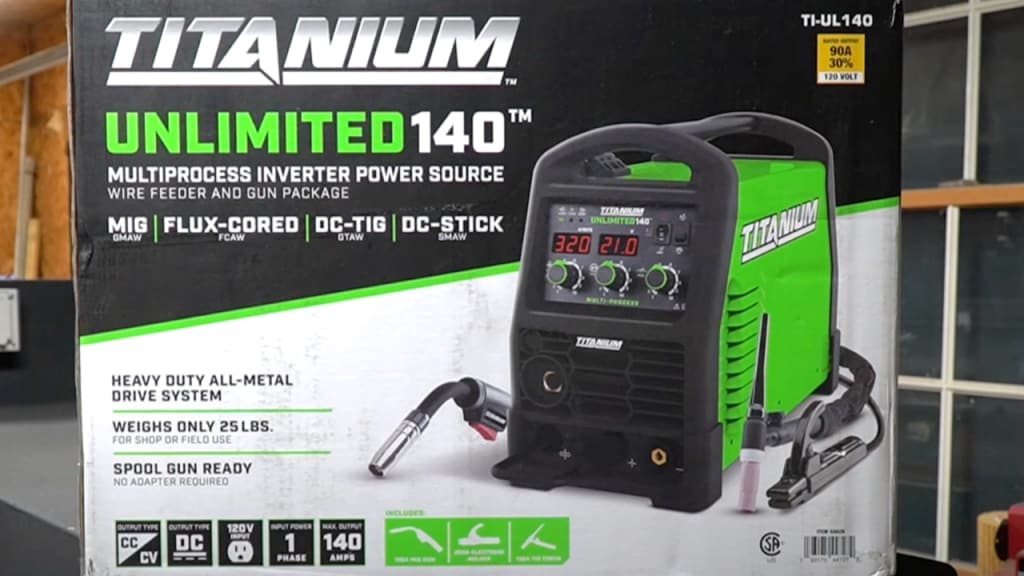 Titanium Unlimited 140 welder
180A MIG gun, 10 ft.
150A TIG torch with gas valve, 10 ft.
200A stick electrode holder, 10 ft.
Ground clamp, 10 ft.
Power cord, 8 ft.
Spindle adapter for 8 in. and 2 in. diameter spools
Shielding gas regulator with a 6 ft. gas hose
Extra 0.030 in. contact tips, gas, and gasless MIG gun nozzle
Instruction manual
The Titanium Unlimited 140's package contents are scant compared to its competitors in the same price range. For example, a competing multi-process welder from Eastwood includes stick welding rods, a tungsten electrode, and 2 lbs of solid wire. That's an additional $50-60 value. Now, you may start to see why we consider this Titanium welder overpriced.
Tech Specs
Welder Type
MIG, Flux Core, DC TIG, Stick
Input Voltage
120V
Output Current Type
DC
Technology
Inverter
Amperage Output
MIG: 30A – 140A
TIG: 20A – 110A
Stick: 30A – 75A
Duty Cycle
MIG: 30% at 90A
TIG: 20% at 110A
Stick: 40% at 75A
Weldable Materials
Mild steel, stainless steel, aluminum (optional spool gun)
Ground Clamp Cable Length
10 feet
Electrode Holder Length
10 feet
TIG Torch length
10 feet
MIG Gun length
10 feet
Weldable Mild Steel Thickness (Single-pass)
Up to 1/8 in.
Wire Drive Rolls
Solid wire: 0.025 in., 0.030 in., 0.035 in.
Flux-cored: 0.030 in., 0.035 in.
Wire Feed Settings
Manual
Wire Feed Speed ("WFS")
80–275 in./min
Wire Spool Sizes
Up to 8 in. spools (10–12 lbs.)
Spool Gun Ready
Yes
Open Circuit Voltage (OCV)
69V
Weight
25 lbs
Warranty
90-days
Weld Guru Rating
★★★☆☆
Price

Best Price Here
Pros
Good arc stability
Long welding leads
TIG torch and stick electrode holder are included
Supports optional spool gun
Lightweight
Good build quality
Cons
Limited 90-day warranty
Relatively low duty cycle
The spool gun button is located inside the welder
You can't weld out of the box because electrodes are not included
Low maximum wire feed speed
It doesn't support Synergic MIG like some competing brands
Spot timer not supported
What To Know Before Buying The Titanium Unlimited 140
While the Titanium Unlimited 140 makes for a decent hobby welder well suited to light shop use, we must warn you about the warranty, additional costs, and sparse features.
So, before discussing Titanium's strongest points, let's address its biggest cons.
Poor Standard Warranty And Additional Fees
This is a well-built multi-process welder, no doubt about it. So, its 90-day warranty is disappointing. No other big or small welding brand provides such a short warranty. Naturally, this raises some questions about the machine's durability.
If the Titanium Unlimited 140 is durable, why not vouch for it?
Harbor Freight does offer a paid 2-year warranty extension for about $100. But why should you pay an additional cost when other brands offer a one of three-year warranty for the same price? If your budget allows a $100 wiggle room, buying a more powerful welder is better.
Additionally, Harbor Freight ("HF") charges a 20% restocking fee if you return the machine. Many brands offer money-back guarantees to appease the market. But the HF "punishes" the consumer if they don't like the product.
All of these additional fees are not worth the trouble. We sincerely hope that HF will increase the "free" warranty to at least 1-year in the future. That way, they could at least stay competitive with Chinese import brands. All USA welding brands offer at least 3-year warranties. So, while HF likes to compare their welders to Hobart, ESAB, and other big brands to showcase value, they conveniently avoid comparing warranties.
For example, HF compares the Titanium Unlimited 140 to ESAB Fabricator 141i to show that the Titanium costs 50% less. But, ESAB offers a 3-year warranty, a significantly higher maximum wire feed speed, a better MIG gun, more features like burn back control, etc. Obviously, the ESAB Fabricator 141i is out of Titanium's league and price range.
But there are also multi-process welders with a similar price to the Titanium Unlimited 140 that provide good warranties. We'll cover those direct comparisons at the end of this review.
Relatively Low Duty Cycle
The Titanium Unlimited 140 offers a duty cycle of 30% at 90A when MIG welding, which is acceptable for light shop use and DIY jobs. It's always better if you have a higher duty cycle, but since this is a 120V input machine, we can't really complain. Still, some competing brands offer higher duty cycles.
If you are a hobbyist, you will do fine when MIG welding with this Titanium machine. But, its 20% duty cycle at 110A for TIG welding is limiting. So, consider the alternatives if you wish to TIG weld with it.
Not Enough Advanced Features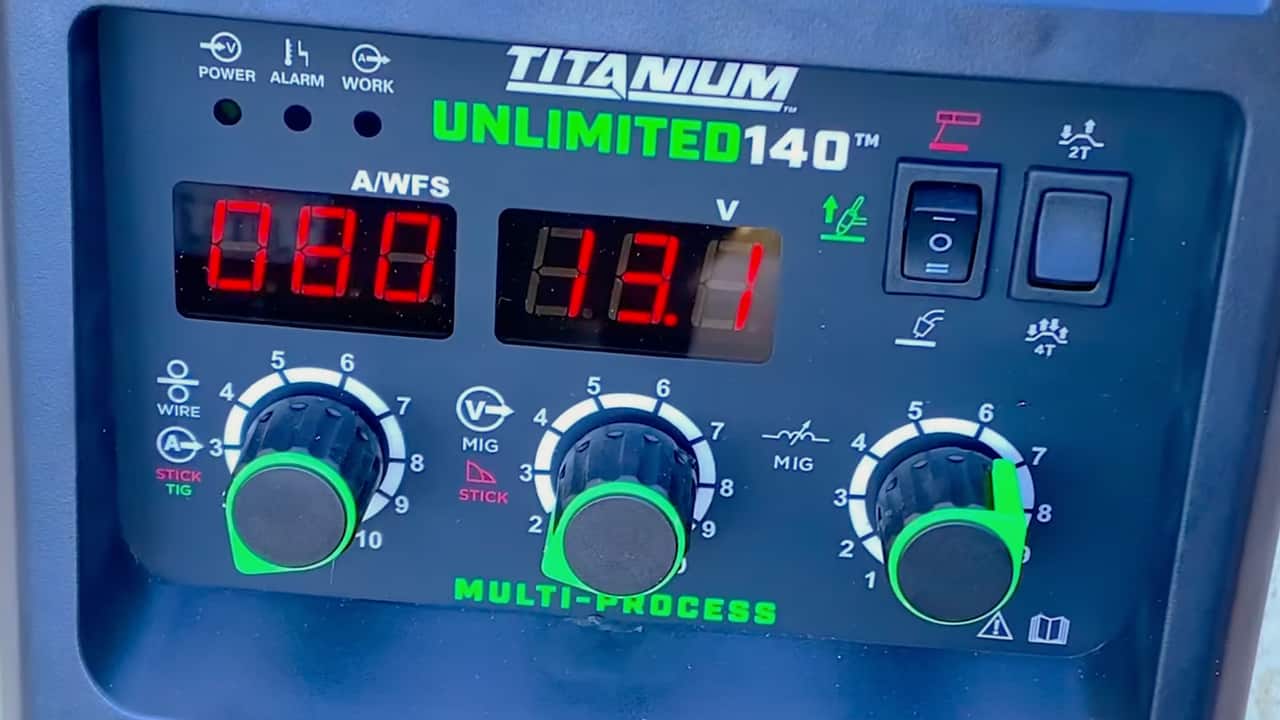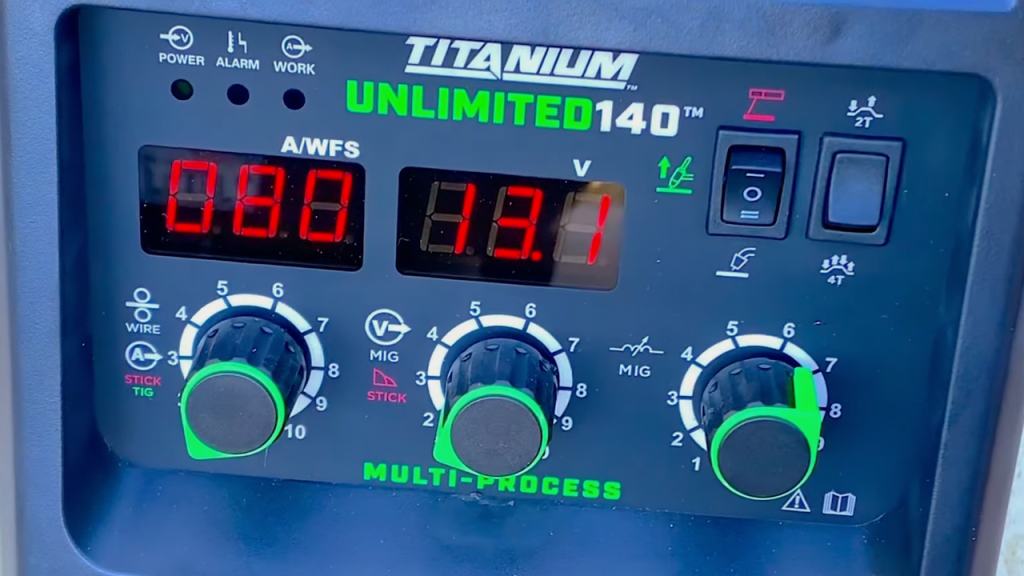 While the Titanium Unlimited 140 offers plenty of settings for the average hobby welder, competing welders from YesWelder, Eastwood, WeldPro, and other brands offer more.
The most beneficial feature missing is Synergic MIG. This mode automatically matches the voltage and the wire feed speed. Of course, welders supporting Synergic MIG also let you set everything manually, but auto settings do benefit beginners.
Additionally, the Titanium Unlimited 140 doesn't include a spot timer for creating uniform tack welds. This feature is beneficial when working on auto bodies, so it's a shame the Titanium doesn't have it.
Top Features – What Makes This Welder Useful
We don't consider the Titanium Unlimited 140 the best multi-process welder in its price range.
But that doesn't mean that the welder doesn't have good qualities. So, the Titanium may still be a good choice if the short warranty and limited features don't bother you.
Fine Arc
The Titanium Unlimited 140 outputs a stable arc for all included welding processes. It's in line with competing brands, so you don't lose anything on one of the essential welding aspects — excellent arc stability.
Good Build Quality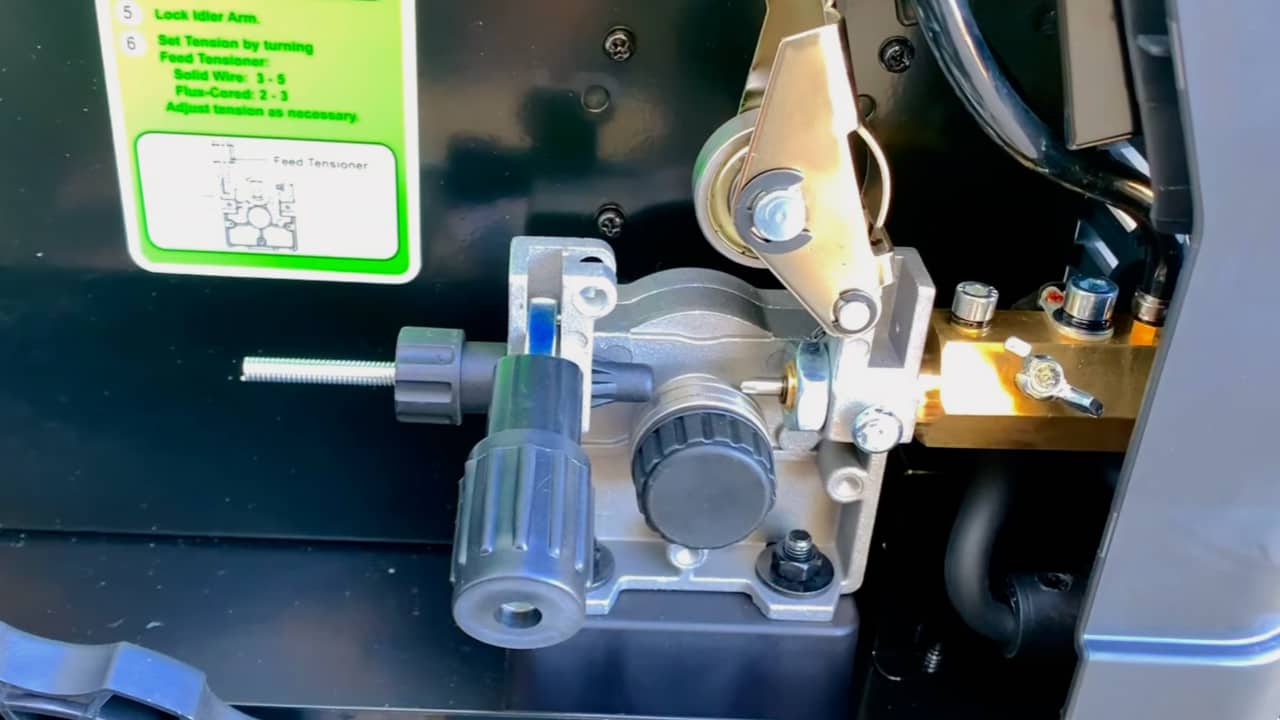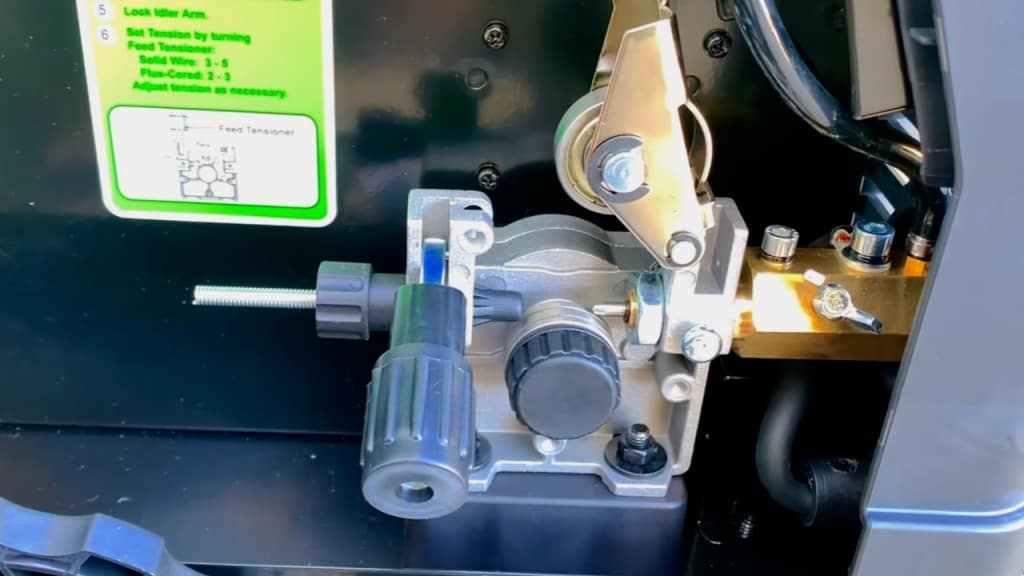 With rugged plastics and a sturdy sheet metal body, the Titanium Unlimited 140 doesn't feel cheap at all. The front panel houses two bright-red LED displays, three infinitely adjustable knobs, and two buttons for process switching and 2T/4T modes. All the knobs and buttons are sturdy and well-made. 
Low-end welding machines often omit DINSE plugs. So, we are pleased Titanium designed this welder to use standardized DINSE connectors for the welding leads.
The all-metal wire feed mechanism is housed in a cast aluminum body and uses a brass-to-gun connection for better electrical conductivity.
However, many entry-level multi-process machines also offer good quality control panels, DINSE connectors, and the same cast-aluminum wire feed system. So, if you haven't looked at many welding units, you should know that this is considered standard nowadays.
Included Features
While we did complain about "not enough" included features before, the Titanium Unlimited 140 includes some worth noting. The provided inductance setting lets you modify the bead shape when MIG welding. Plus, the hot start allows you to set the arc power to prevent the electrode from sticking to the base metal when stick welding.
Additionally, the 2T/4T option is useful when making long welds. By switching to 4T (four touches), you don't have to keep the MIG gun trigger depressed to keep the arc going. But combined with the low duty cycle of this welder, you can't fully employ the 4T mode to your advantage.
Spool Gun Ready
Spool gun support is rare at this price. But some competing machines like the Eastwood MP140i are spool gun ready. Nevertheless, we must give credit where it's due. The Titanium Unlimited 140 is a low-cost, 120V input inverter welder that can weld aluminum, which is impressive.
Similarly Priced Alternatives
If you want to get more out of your budget, you should consider at least two alternatives.
The YesWelder MIG-205DS and the Eastwood Elite MP140i are similarly priced but offer extended warranties and additional features.
Eastwood Elite MP140i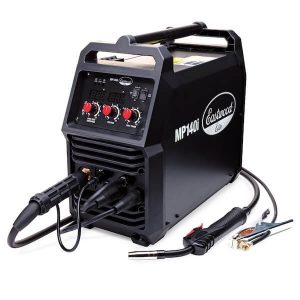 The Eastwood Elite MP140i provides everything found in the Titanium Unlimited except the inductance settings and 2T/4T modes. Instead, the MP140i provides a spot timer which is more valuable considering that the MP140i also has a relatively low duty cycle (not much use for the 4T mode). A spot timer is an excellent tool for welding thin sheet metal and working on car body parts.
The front panel also includes two digital displays and infinitely adjustable knobs. However, unlike the Titanium Unlimited 140, the Eastwood Elite MP140i positions the spool gun mode switch conveniently on the front panel.
Eastwood's spool gun also has a 3-year warranty, just like the Elite MP140i. The Titanium's spool gun warranty is once again a meager 90-days. Plus, Eastwood's spool gun officially supports MIG brazing using the CuSi3 wire spools, while Titanium doesn't provide this data.
The Eastwood Elite MP140i is rated for 3/16 inch thick steel, while Titanium officially supports welding up to 1/8 in. thickness. Both have the same duty cycle ratings, good quality MIG/TIG/Stick torches, and the same wire feeding mechanisms. However, Eastwood's 3-year warranty, 90-day return policy, and more included accessories make it a bargain. This is a high-quality, entry-level welder you should consider.
YesWelder MIG-205DS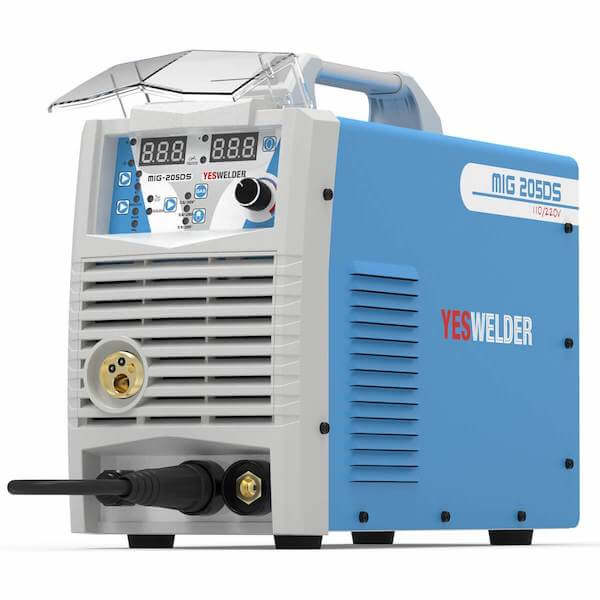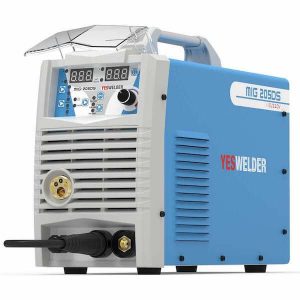 Unlike the Titanium Unlimited 140 and the Eastwood model above, the YesWelder MIG-205DS doesn't support a spool gun, so welding aluminum is not an option. However, the MIG-205DS is a dual-voltage input welder with a 60% duty cycle at 205A (its maximum output). So, it's a more powerful multi-process machine.
That said, YesWelder is also a hobbyist-grade brand. We wouldn't push it to the limit daily. However, the MIG-205DS has a 100% duty cycle rating at 123A when plugged into a 110V outlet. So, you can weld indefinitely at a lower amperage. Titanium and Eastwood can't compete with that.
The MIG-205DS includes 2T/4T modes and can utilize the 4T feature considering the high duty cycle. The two digital displays are bright, allowing you to fine-tune numerous settings.
However, the control panel is more complex compared to Eastwood's welder. But, that's because YesWelder offers far more features, including the Synergic MIG that helps beginners by automatically synchronizing the wire feed speed to the voltage output.
Other prominent functions are inductance adjustment, auto settings based on the material thickness, gas purge, and manual wire feed mode.
As for price, the YesWelder MIG-205DS costs less than the Titanium and Eastwood models. However, its build quality is lower, and it comes with a 1-year warranty. But, if you are a hobbyist, the MIG-205DS is a better choice than the Titanium Unlimited 140 because it's less money, provides far more welding power, has a longer duty cycle, includes more features, and has a more extended warranty.
Titanium
Unlimited 140
Eastwood
Elite MP140i
YesWelder
MIG-205DS
Input Voltage
120V
120V
110/220V
Maximum Output Amperage
140A
140A
205A (160A with 110V input)
Duty Cycle
30% at 90A
30% at 90A
60% at 200A,
100% at 123A
Electrodes included
❌
✅
❌
2T/4T Mode
✅
❌
✅
Inductance Setting
✅
❌
✅
Spot Timer Ability
❌
✅
❌
Setting Adjustments
Manual
Manual
Manual/Automatic
Spool Gun Support
✅
✅
❌
Weight
25 lbs
34 lbs
23 lbs
Warranty
90-days
3-Year
1-Year
Weld Guru Rating
★★★☆☆
★★★★☆
★★★★☆
Price
$$$


Best Price Here

$$$


Best Price Here

$$


Best Price Here
Final Verdict
The Titanium Unlimited 140 is a good welder. It's well-made, has a stable arc, and supports many useful functions. However, Harbor Freight's 90-day warranty is poor when other brands offer far better warranties.
If you are a hobbyist or are getting a first welder to learn, the YesWelder is probably a better choice.
However, if you need a better-quality machine or a spot timer, the Eastwood MP140i won't let you down.
And both the Yeswelder and Eastwood options provide more extended warranties for peace of mind. 
Related read: The Best Multi Process Welders For The Money
Other Titanium Reviews
Titanium Unlimited 200 Reviewed
Titanium MIG 140 Reviewed
Titanium Easy-Flux 125 Reviewed