The Titanium Unlimited 200 multi-process welder is aimed at home hobbyists and light shop welding.
It supports the main welding processes, including MIG, Flux-cored, stick, and DC TIG.
However, this welder has some drawbacks, and some of the important specifications fall short of the competition.
So, in this article, you'll learn about the Unlimited 200's prominent features, its downsides, and a noteworthy competitor with a slightly better value.
Overview of the Titanium Unlimited 200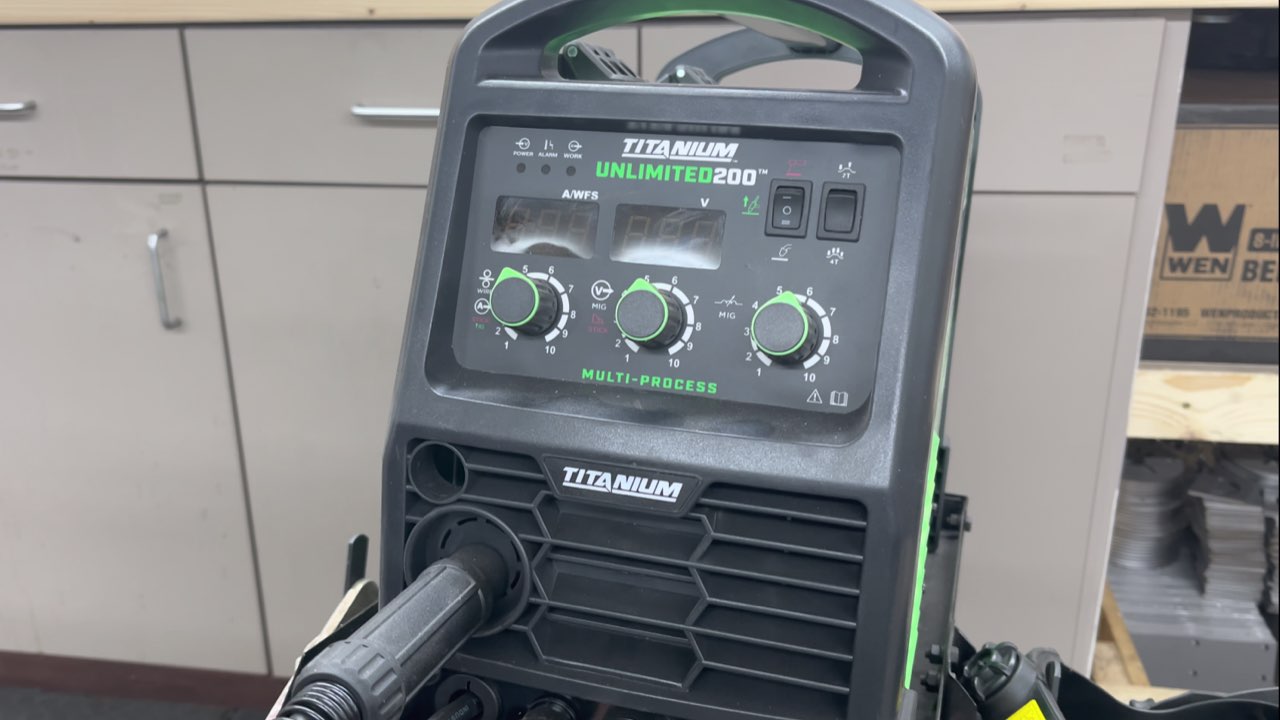 The Titanium Unlimited 200 is an inverter multi-process welder that supports dual voltage inputs. Weighing only 24 lbs., it's portable and easy to move around the shop. But keeping it lightweight comes at the cost of sturdiness and durability.
With a maximum power output of 200A, this welder is good enough for the home hobbyist welder. Its duty cycle is not on par with competing models for anything more demanding.
The build quality of Titanium Unlimited 200 is better than average in this price range. However, there are more robust units on the market. The provided accessories, front panel, and plastics of this model are slightly below the upper-quality limit within its price bracket.
Perhaps the worst element regarding its durability and life span is the manufacturer's 90-day warranty. This is uncommon at this price point, but we'll discuss this issue more later in the article.
What's Included
Titanium Multiprocess 200 Welder
180A MIG gun, 10 ft.
150A TIG torch, 10 ft.
Stick electrode holder 200A, 10 ft.
Work clamp, 10 ft.
8ft. Power cord with a 6-50P Plug
120V Power adapter
2 in. spindle adapter for 8 in. diameter spools
Flow gauge regulator
Gas hose, 6 ft.
MIG gun consumables: 0.030 in. tips, gas and gasless nozzle 0.025 in., 0.030 in., 0.035 in.
Solid wire drive rolls 0.030 in., 0.035 in., and 0.045 in. cored wire rolls
The package includes a relatively large number of accessories. However, some brands include even more than Titanium.
For example, the Eastwood Elite MP200i is equipped with a better MIG gun and includes a 2lb MIG wire spool, E6013 welding electrodes, and additional TIG accessories. The Elite MP200i also includes the TIG tungsten electrode.
Tech Specs
Welder Type
MIG, Flux Core, DC TIG, Stick
Input Voltage
120/240 V
Output Current Type
DC
Technology
Inverter
Amperage Output

MIG: 30A – 200A
TIG: 20A – 200A
Stick: 30A – 170A

Duty Cycle

MIG: 15% at 200A
TIG: 15% at 200A
Stick: 15% at 170A

Weldable Materials
Mild steel, stainless steel, aluminum
All cable lengths
10 feet
Weldable Mild Steel Thickness (Single-pass)
Up to 3/8 in.
Wire Drive Rolls

Solid wire: 0.025 in., 0.030 in., 0.035 in.
Flux-cored: 0.030 in., 0.035 in., 0.045 in.

Wire Feed Settings
Manual
Wire Feed Speed ("WFS")
80–400 in./min
Wire Spool Sizes
Up to 8 in. spools (10–12 lbs.)
Spool Gun Ready
Yes
Open Circuit Voltage (OCV)
69V
Welder Dimensions (H x W x L)
17in. x 12in. x 21in.
Weight
24 lbs.
Warranty
90-days
Weld Guru Rating
★★★☆☆
Price
Latest Deal Here
Pros
Lightweight
Many accessories included
Spool gun supported
High amperage output
Dual voltage
Cons
Low duty cycle
Maximum wire feed speed on the low end
MIG gun quality doesn't match the price
Knobs make it difficult to fine-tune the settings
Loud cooling fan
Supplied flow gauge regulator is basic and may require replacement
It doesn't automatically detect input voltage, requires manual selection
Poor warranty period of just 90 days unless you pay for a warranty extension
You can't weld out of the box. MIG wire spool & stick electrodes are not included
What To Know Before Buying The Titanium Unlimited 200
The Titanium Unlimited 200 is a good multi-process welder for hobbyists. But it's got room for improvement. You should carefully consider its drawbacks to determine if this machine is for you.
Usable Power
While this welder offers an impressive 200A of welding power, it's difficult to weld for a prolonged period. Due to the low duty cycle, the actual usable power is lower. Having just a 15% duty cycle at 200A, the Titanium Unlimited 200 will only endure about 90 seconds of welding before needing 8 minutes and 30 seconds to cool down. Having such long downtimes may get frustrating if you plan on welding thicker materials.
Additionally, the maximum wire feed speed of 400 inches per minute ("IPM") means you can't bombard the weld with molten steel if needed. This limits your ability to fill large joints quickly and reduces penetration.
Quality Issues
The provided MIG torch doesn't suit this price range. It's made of cheaper plastics and can get hot. This MIG torch is better than the torch included with Forney Easy Weld 140 MP. But that Forney multi-process welder is much cheaper and sits at the entry-level price.
The Eastwood MP200i competitor offers a professional Tweeco MIG gun with a better grip and trigger. Since the MP200i costs about the same as Titanium Unlimited 200, it makes me wish the Titanium included a more robust torch.
The machine also comes with a very basic gas regulator that may require frequent adjusting. Additionally, the cooling fan gets very loud, which may bother some people. This is often the case with cheaper welders, but it's something to consider since this is priced as a mid-tier unit.
Poor Warranty
While machines offer 3-year warranties in this price range, and some have a 90-day no-questions-asked return guarantee, Titanium only provides a basic 90-day warranty for this welder.
They offer a warranty extension plan costing $100 for an additional two years. I don't think many people will buy it without this warranty extension. But it increases the price of this machine. So, add another $100 to the total, and you are beginning to enter the next tier of welders that offer more features with more welding power.
The instruction manual specifies the conditions of this 90-day warranty, limiting it to defects and workmanship only. Plus, if something goes wrong within that time frame, you must return the product and prepay the shipping charges. They also have a restocking fee amounting to 20% of the price. Meaning that if you return it for whatever reason, you have to cover the cost unless the welder is replaced under warranty or if a few other conditions are met.
This isn't easy to navigate, and it feels unlikely that the warranty will be honored. They should have increased the price and provided the customers with a 2-year warranty. Eastwood offers a 3-year warranty and lifetime tech support for their welders, and Hobart has its 5/3/1 warranty. Many cheap import inverter units are backed by at least a 1-year warranty.
Minor Design Details
You should know about a few minor design oddities found in the Titanium Unlimited 200. For example, it doesn't automatically detect the input voltage. Instead, you need to flip the switch located on the back of the unit to select the 110V or 220V input. Most welders at this price point have auto voltage detection.
Also, the adjustment knobs on the front panel spin too easily. It's difficult to fine-tune the settings with the welding gloves because the knobs provide little resistance, often resulting in settings overshooting.
Review of The Top Features
The issues outlined above don't necessarily make the Unlimited 200 a bad welder. It's just a bit overpriced and won't satisfy every user's needs. But if you are okay with the additional costs to extend the warranty and the other cons, you may find this welder suits your needs.
So, let's take a look at some of the better features this Titanium unit offers…
Useful Settings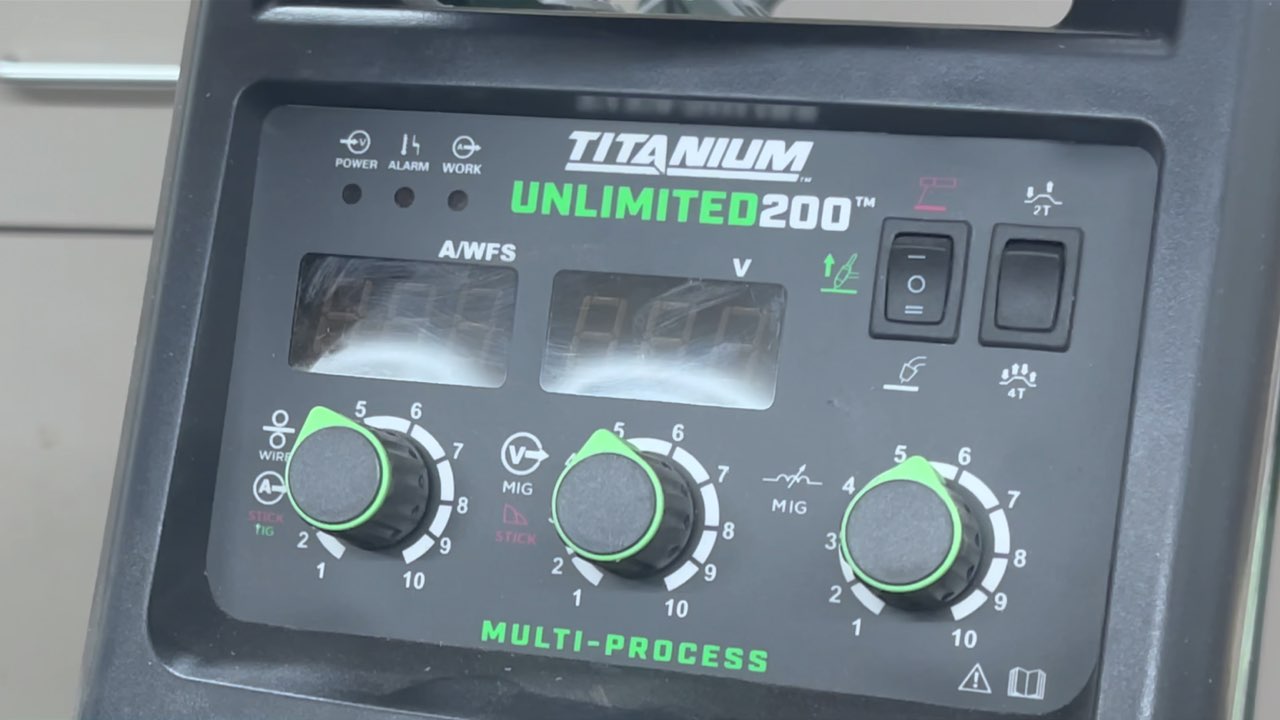 The Titanium Unlimited 200 supports a 2T/4T setting allowing you to adjust the MIG gun trigger operation to fit your needs. If you are making long welds, the 4T is an excellent option to have.
But 4T to make long welds only helps if you work on thinner metal because of the unit's low duty cycle. There isn't much use for a 4T setting if you are welding at 200A with a 15% duty cycle.
Another great feature is the inductance control. This allows you to modify the welding arc, resulting in a "softer" arc with better metal transfer. This means you have more control and can tailor the results to your needs. Sometimes this can reduce the amount of spatter and the grinding needed to clean it up. Or, you may even eliminate the need to grind altogether.
Portability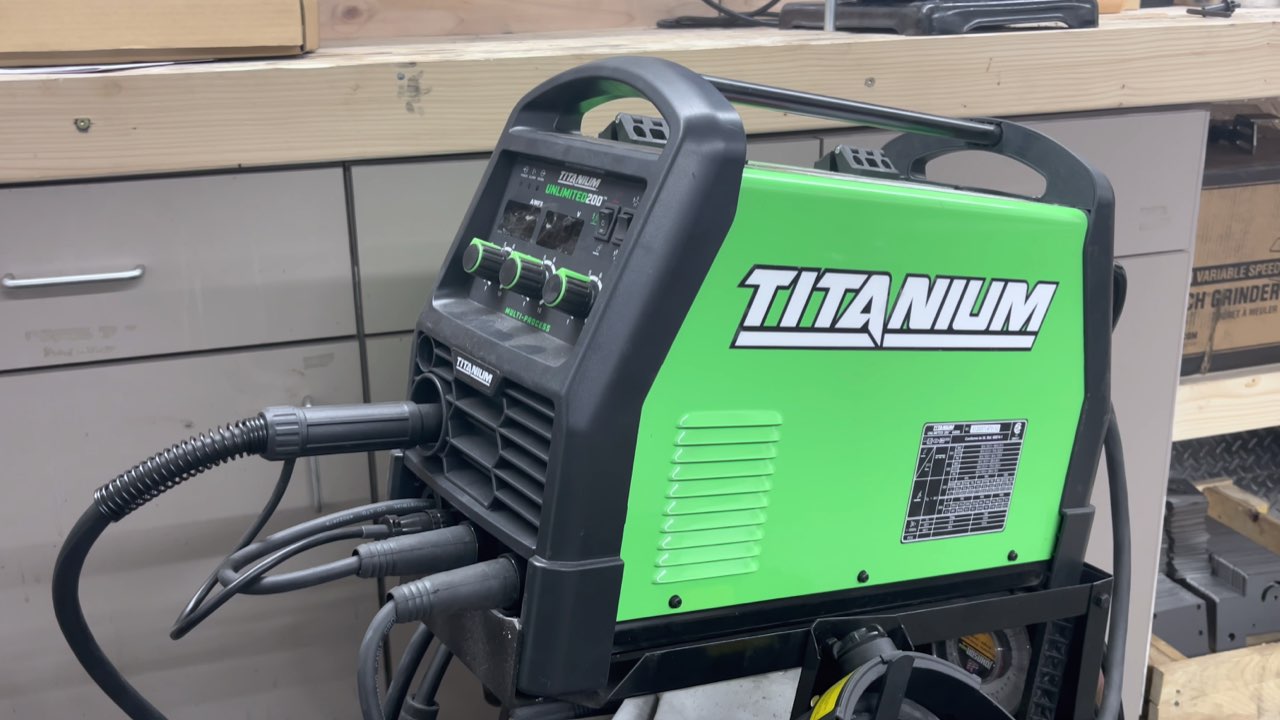 With its compact size, built-in handle, and weight of just 24 lbs., this is one of the most portable multi-process welders in the market. The Forney mentioned above also weighs about 24 lbs. but offers less welding power and features.
Packing everything in a tight and light package provides portability, but it also means more heat generation, which may be the reason for its low duty cycle.
Ease of Use
This welder's owner's manual rivals those found in Eastwood and ESAB. Titanium went above and beyond to describe every step with detailed illustrations. This is good for beginners who don't have previous experience with inverter welders.
The front panel is straightforward and very similar to the panel of Eastwood Elite MP200i. The wire feed speed and voltage controls knobs are neatly located underneath the digital displays for intuitive use. But the spool gun mode is located inside the Titanium unit. I don't see why they couldn't just keep it on the front panel, too, but this is a minor nuisance.
A Real Alternative
The Titanium Unlimited 200 is a very good machine. But there are other competing machines worth your attention. You may find them better suited for your work.
The most notable is the Eastwood Elite MP200i. It offers better specs, whereas the Titanium Unlimited 200 fell short.
Eastwood Elite MP200i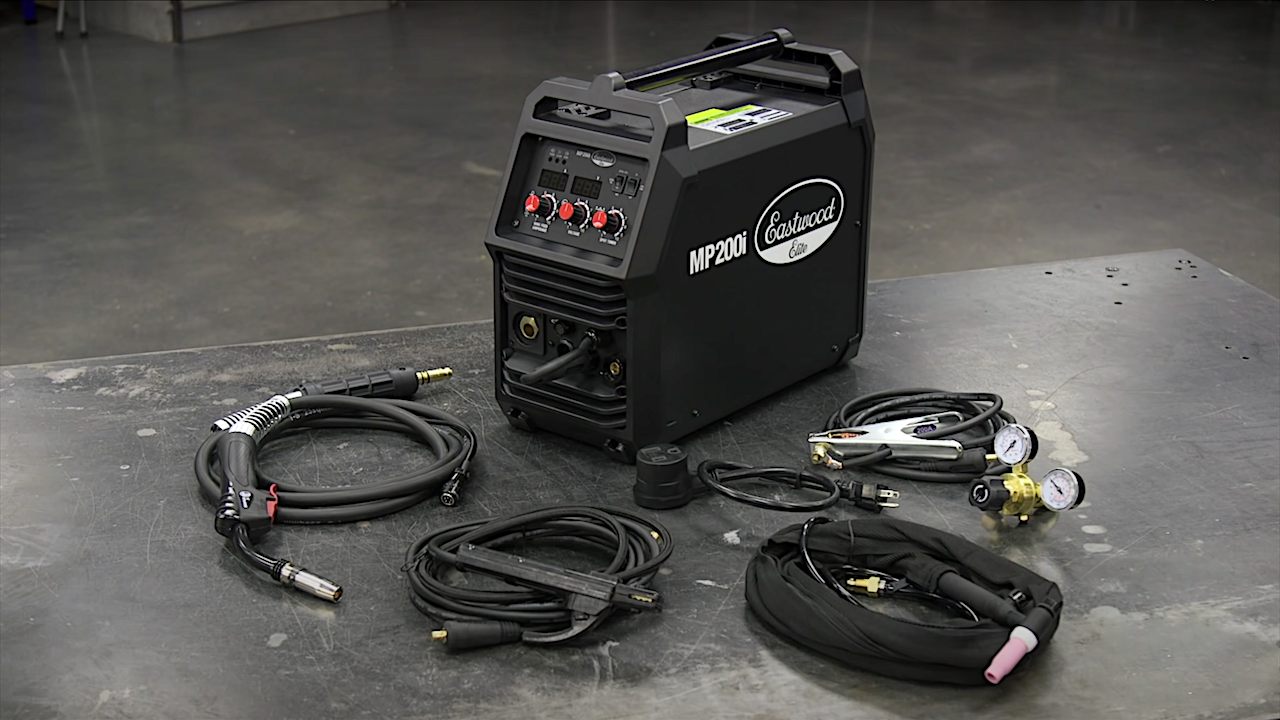 The Eastwood Elite MP200i multi-process welder offers the same welding processes as the Titanium unit. But it also has a slightly better duty cycle and a 3-year warranty. You can also pay for additional two years of warranty, but you don't have to because the product is backed for three years, standard. Lengthy warranties like these are typically reserved for high-end brands like Hobart, but Eastwood has proven itself an excellent brand for hobbyists and professional welders alike.
Also, this welder offers a spot timer instead of the inductance setting found in Titanium's machine. The spot timer allows you to lay consistent spot welds, which is helpful for people working with sheet metal and auto body repairs.
This welder also auto-detects the input voltage. Plus, the spool gun setting is located on the front panel.
It offers a higher wire feed speed range, allowing you to go up to 500 IPM for an increased weld deposition rate. It welds up to 3/8 in. steel and weighs 10 lbs more than the Titanium. This additional weight is reflected with a slightly sturdier metal case and plastics.
Both machines use a full metal wire drive system and support flux-cored and solid wire welding. The TIG torch and stick stinger quality are similar, but the Eastwood offers a noticeably better torch for MIG welding. Additionally, Eastwood provides more accessories for welding out of the box with all the welding processes.
Comparison of the differences
Feature
Titanium
Unlimited 200
Eastwood
Elite MP200i
Duty Cycle
15% at 200A
20% at 200A
Wire Speed Range
80 – 400 IPM
0 – 500 IPM
Electrodes included?
❌
✅
Inductance Setting
✅
❌
Spot Timer Ability
❌
✅
Input Voltage Selection
Manual
Automatic
Weight
24 lbs
34 lbs
Warranty
90-days
3-Year
Return Fee
20% restocking
None
Weld Guru Rating
★★☆☆☆
★★★★☆
Price
$$$
Latest Deal Here
$$$
Latest Deal Here
Final Verdict
While the Titanium Unlimited 200 has its flaws, it remains a good value for the money. But, competing welders like the Eastwood Elite MP200i offer a better experience, in my opinion. Add Eastwood's 3-year warranty and lifetime tech support to the spec differences, and it makes the MP200i a worthy alternative.
So, if you choose to purchase the Titanium Unlimited 200, go into it with the right expectations. A major issue to keep in mind, after the 90-day warranty period, you have no coverage should there be an issue with your welder unless you buy the warranty extension.
References
Titanium Unlimited 200 manual: https://manuals.harborfreight.com/manuals/64000-64999/64806.pdf
Related read: Multi Process Welders for Aluminum
Other Titanium Reviews