Titanium's Easy-Flux 125 is one of the more affordable welders on the market. But a low price means no advanced features, so this is a basic machine.
In this article, you'll learn about its pros, cons, and some alternatives that provide more value for the money. While this is a machine for beginners, there are better welders in this category, in our opinion.
Overview of the Titanium Easy-Flux 125
This affordable welder is lightweight, welds up to 3/16 in. steel, and is designed for hobbyist use. You will notice the low price of buying this welder. However, there is an additional "hidden" cost associated with the warranty, which we will discuss soon.
Also, the included leads are short, and it misses a digital display for easy readouts. These and a few other cons are good reasons to consider an alternative – in my opinion.
So, let's go over the specifications and then dive into a full review to help you determine if this machine is for you.
What's Included
Titanium Easy-Flux 125 unit
150A FCAW gun, 6 feet lead
Ground clamp, 6 feet lead
0.030 in. contact tips
Gas-less nozzle
The package contents are scarce, which is expected considering the low price.
However, the alternative welders we cover in this article include longer leads and more accessories, and one of these even costs less than this Titanium welder.
Tech Specs
| | |
| --- | --- |
| Welder Type | Flux-Cored |
| Input Voltage | 120 |
| Output Current Type | DC |
| Technology | Inverter |
| Amperage Output | 30A – 125A |
| Duty Cycle | 30% at 90A |
| Wire Drive Rolls | .030″ /.035″ V-Knurled Roller |
| Wire Feed Speed Range | 60 – 200 IPM |
| Wire Feed Settings | Manual |
| Wire Spool Capacity | 2 lb spool |
| Weldable Materials | Mild steel |
| Weldable Mild Steel Thickness (Single-pass) | Up to 3/16 in. |
| Open Circuit Voltage (OCV) | 42V |
| Welder Dimensions (H x W x L) | 15-5/8in. x 8-3/8in. x 19-7/8in. |
| Weight | 15 lbs. |
| Warranty | 90-days |
| Weld Guru Rating | ★★☆☆☆ |
| Price | Latest Deal Here |
Pros
Affordable
Lightweight
Simple to operate
Infinitely adjustable knobs
Cons
Short leads
Low duty cycle compared to competing models
Flimsy ground clamp
No digital display
Low maximum wire feed speed
The vertical shape is easier to tip over
What To Know Before Buying The Titanium Easy-Flux 125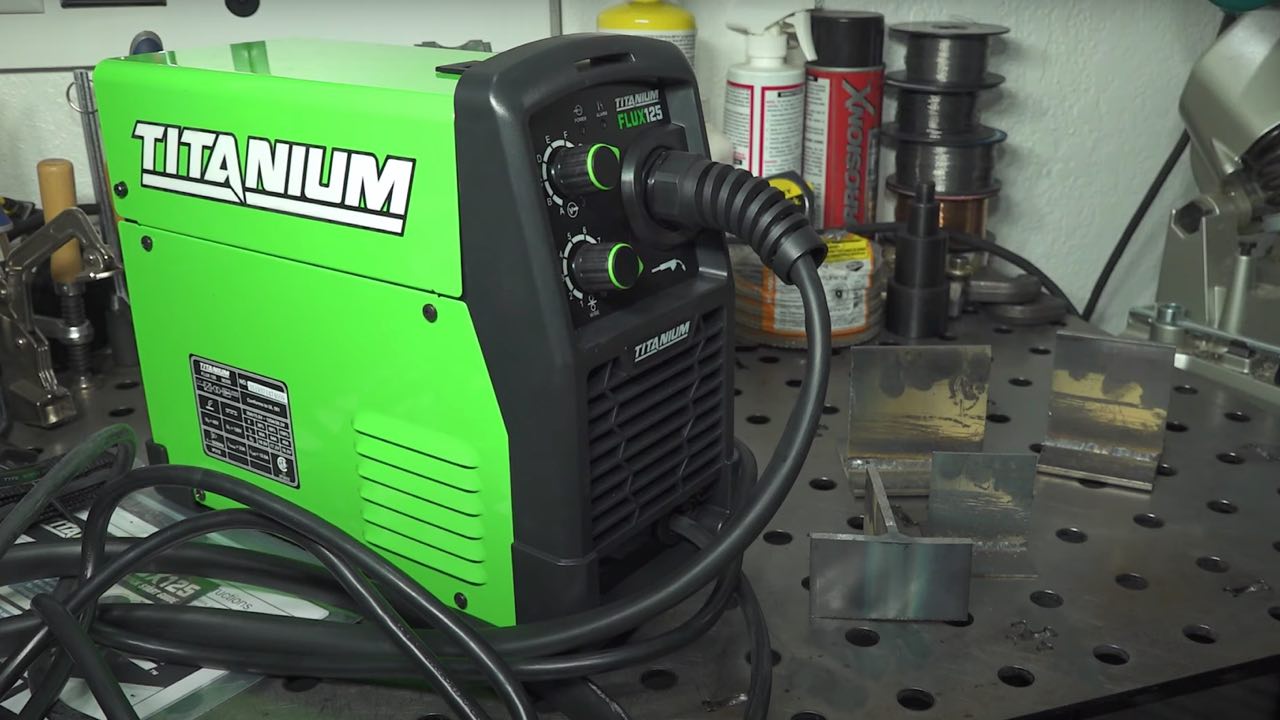 Welders with an extremely low price often have many downsides compared to typical entry-level welders like Eastwood's 140 or Hobart's Handler 140.
However, a low cost doesn't always justify the lack of features, especially if competitors provide more for the same price.
So, let's review the shortcomings of this Titanium flux-cored welder to help you set realistic expectations.
No Digital Display
Hobbyists and beginner welders benefit from a digital display for reading output values. The Titanium's arbitrary range of 1-10 for voltage and wire feed speed doesn't provide the best user experience.
Having even the most basic digital display to see the exact values you are working with helps you learn better and get a feel for welding in general.
Typical low-cost welders don't include digital displays, but competing flux-cored welders come with a digital display for the same price.
Low Duty Cycle
The Titanium Easy-Flux 125 offers a duty cycle of 30% at 90A output, which is expected at this price. However, the YesWelder we'll review as one of the alternatives has a 60% duty cycle at 135A output that allows you to weld significantly longer before the welder needs to cool down.
With Titanium's model, you are limited to about 3 minutes of welding at 90A. But if you use its maximum output of 125A, you will get even less welding time. Its instruction manual doesn't state the duty cycle at maximum amperage, but it's probably less than two minutes depending on the room temperature.
Watching on your welding time adds hassle that beginners do not need. So, I wish the Titanium's welder had at least a 40% duty cycle at 90A.
Unable to Quickly Deposit Filler Metal
The Easy-Flux 125 is a cheap welder, so a maximum wire feed speed of 200 inches per minute ("IPM") doesn't come as a surprise. While not a con per se, it's something you should keep in mind.
This means you can't bombard the weld and keep a big, liquid weld puddle while achieving the needed penetration. This isn't an issue when welding thin metal, but if you wish to weld two 3/16 in. pieces with a root gap, you might not realize full penetration.
Some Quality and Design Issues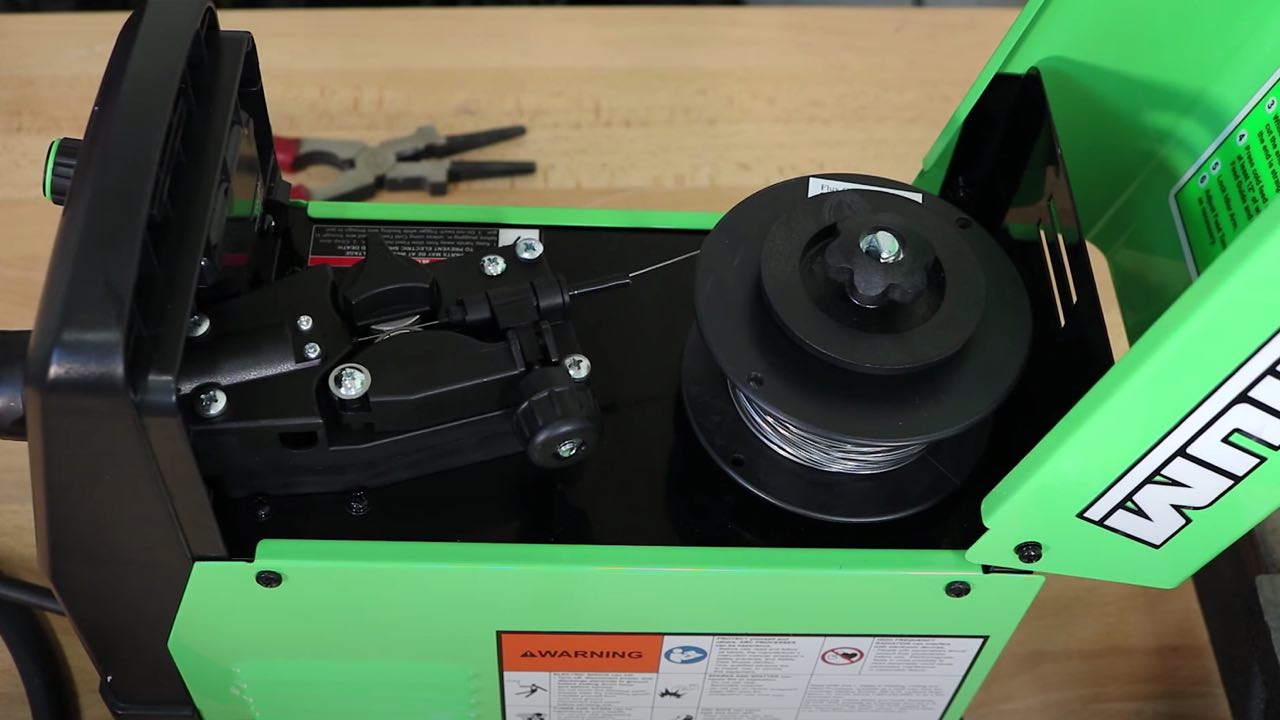 The included ground clamp is a bit too thin, and you are likely to burn it quickly. While this is the case with many inexpensive welders, the alternative models come with slightly more durable clamps. But more importantly, their clamps are much easier to replace if they burn up. The clamp of Titanium Easy-Flux 125 doesn't have an easy-to-access nut connecting the ground wire to the clamp.
This Titanium welder also has a unique vertical design, making it more compact than many small welders. However, this makes the welder easier to tip over, especially since its MIG gun and ground clamp leads are very short. It's much too easy to tug the machine and knock it over.
But what I find most troubling with this design is that it limits the wire spool capacity in the machine. Since it accommodates the spool horizontally, the spool size is limited by the welder's width instead of its length.
As a result, this welder can only fit 4-inch, 2 lbs flux-cored wire spools, which are not cost-effective.
It's cheaper to buy an 8 inch 10 lbs spool than five 2 lbs spools, so the welder's design will burn a hole in your pocket long term. Plus, you'll be changing spools more often, which gets old quickly when you want to be welding.
Poor Warranty
The manufacturer's 90-day warranty doesn't inspire confidence, even if this machine is built well. Most inexpensive welders come with at least a 1-year warranty, so it's a shame this little machine isn't covered for longer than three months.
Harbor Freight does offer an extended 2-year warranty for an additional $40, but then the welder costs as much as the Forney 140FC-i, which provides more power, longer leads, and a better build. So, buying the extended warranty invalidates its position as an ultra-cheap welder.
Review of The Top Features
While this inexpensive machine has its flaws, it's still one of the better choices for beginners. Harbor Freight is a good brand, and many people love their welders. So let's proceed with a review of what makes this welder great.
Arc Quality
All flux-cored welding machines produce high spatter, smoke, and unattrractive welds. But the Titanium Easy-Flux 125 performs quite well in this department, laying decent-looking beads. Don't expect Hobart's level of quality, but for an inexpensive welder, you can't ask for more.
Lightweight and Portable
While I didn't like the vertically-shaped design, it does make the unit very compact and easy to store or transport. You can carry this welder with a supplied shoulder strap to weld on-site and easily move it around.
But one side note here is that it doesn't have any built-in handles. Every inverter welder nowadays has a dedicated handle on top. But since the top of this welder opens for wire spool access, I guess they decided not to install a handle.
Maybe the latch wouldn't hold if the welder was suspended from above with a grip. So if you prefer a handle instead of a shoulder strap, the YesWelder and Forney we will cover in a bit are a better option for portability.
Infinite Adjustability
With its two infinitely adjustable knobs for the voltage and wire feed speed control, you can fine-tune your welds. While you don't know exact values, the welder does allow you to make incremental adjustments. This is an advantage over welders like Hobart Handler 100, which provides four fixed voltage values limiting your welding experience.
There are many different reasons you would want a small addition of voltage or wire speed. Maybe the metal is cold, or you feel comfortable with a higher welding speed. So, infinite adjustability is always preferred.
Build Quality
The full sheet metal body and sturdy plastics on the front make this little machine quite durable for everyday use. Plus, the two enforced bottom corners on the rear add to the overall ruggedness. The Forney's eight-corner protection provides much better durability. Still, the Titanium's two rear corner pieces and the full, plastic frame on the front give the essential protection when in contact with the rough surfaces.
The wire feeding mechanism is made of plastic, but this is standard at this price range. While metal is preferred, YesWelder's 135A, Forney's 140 FC-i, and even Hobart's 100 handler have a plastic wire feeding mechanism, and all of these are in a similar price range as the Titanium 125. The drive is well built, and the durability is in line with the competition. The only flaw here is the design that cannot accommodate 10 lbs spools.
Better Value Alternatives
The Titanium Easy-Flux 125 is a good welder with several flaws, but that's expected given the price. However, we found two alternatives that offer more value for the money.
The YesWelder 135A is usually cheaper than Titanium's model, and the Forney 140 FC-i is slightly more expensive.
Yeswelder 135A MIG Welder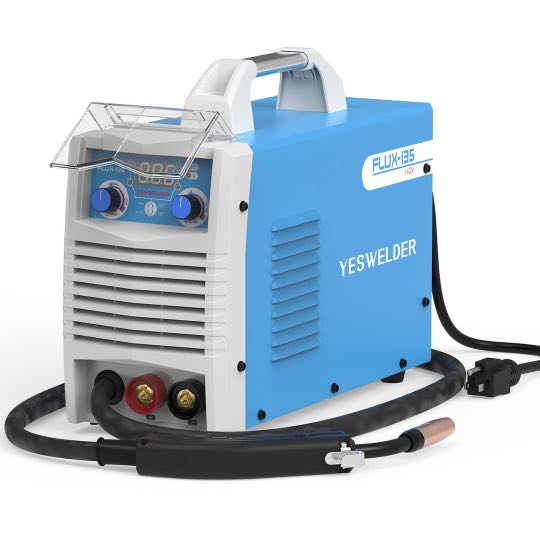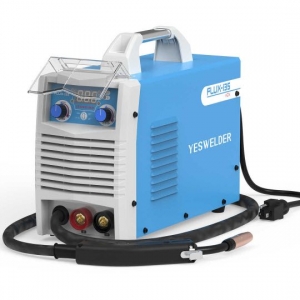 The YesWelder 135A gasless MIG welder is a flux-cored machine, but it also includes stick and basic DC TIG welding processes. It also offers more welding power and a higher duty cycle while providing decent arc quality for a beginner machine.
This welder is so compact that it has the same issue as the Titanium Easy-Flux 125. It can't accommodate spools larger than 2 lbs even though the wire feeding mechanism is installed on the side of the welder. But at least this allowed the YesWelder to include a handle on top for portability. Plus, it's about 3 lbs lighter than the Titanium unit, making it even easier to move around.
Plus, the Yeswelder 135A has a digital display. These features make it an excellent choice for beginners with infinitely adjustable settings. This makes it much easier to use because you don't have to rely on recommended settings chart.
YesWelder has recently updated this welder to support stick and DC TIG welding processes. The quality of the supplied MIG gun, stick electrode holder, and ground clamp is in line with the unit's price. In addition, the leads are 2 feet longer than the Titanium.
With an included 1-year warranty, higher amperage output, longer leads, two additional welding processes, digital display, and improved portability, this welder offers better value than the Titanium model, especially if you purchase Harbor Freight's extended warranty.
Titanium Easy-Flux 125 vs. Yeswelder 135A MIG Welder
Here's a quick breakdown of the main differences between these two flux core welders:
| | Titanium Easy-Flux 125 | YesWelder 135A Gasless |
| --- | --- | --- |
| Welding Processes | Flux-Core | Flux-Core/Stick/DC TIG |
| Amperage Output | 30A – 125A | 30A – 135A |
| Duty Cycle | 30% at 90A | 60% at 135A |
| Leads | 6 feet | 8 feet |
| Digital Display | ❌ | ✅ |
| Wire Spool Size | 2 lbs | 2 lbs |
| Weight | 15 lbs | 12.5 lbs |
| Warranty | 90-days | 1-year |
| Weld Guru Rating | ★★☆☆☆ | ★★★☆☆ |
| Price | Latest Deal Here | Latest Deal Here |
Forney Easy Weld 261, 140 FC-i Welder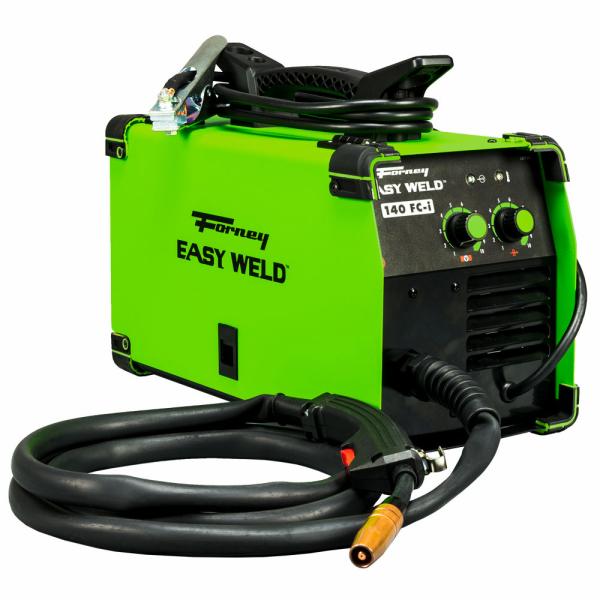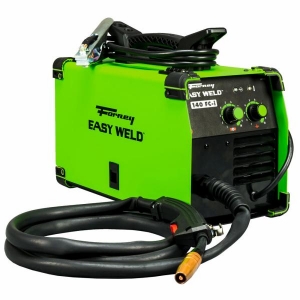 The Forney Easy Weld 140 FC-i offers better build quality, more welding power, and a 1-year warranty at a slightly higher price than Titanium's welder. It can handle up to 1/4 in. mild steel, but it has the same duty cycle as the Titanium Easy-Flux 125, so it's limited to 3 minutes welding time at 90A output.
This welder doesn't have a digital display or multi-process capabilities like the YesWelder unit, but it supports 10 lb wire spools making it economical long term. Plus, its MIG torch and ground clamp are the best of all three compared welders, and the leads are 8 feet long.
It's heavier than the Titanium and YesWelder, weighing in at 19 lbs. Even so, thanks to the ergonomic handle on top, it's easy to transport and move around the garage.
Forney is a good choice if you weld frequently because you can save money by getting 10 lb spools, and you have to change spools less often. But due to the lower duty cycle, a higher price, and a lack of digital display, the YesWelder is likely to be a better choice for many users.
Titanium Easy-Flux 125 vs. Forney Easy Weld 140 FC-i
Here's a quick breakdown of the main differences between these two flux core welders:
| | Titanium Easy-Flux 125 | Forney Easy Weld 140 FC-i |
| --- | --- | --- |
| Amperage Output | 30A – 125A | Maximum 140A |
| Leads | 6 feet | 8 feet |
| Wire Spool Size | 2 lbs | 2-10 lbs |
| Weight | 15 lbs | 19 lbs |
| Warranty | 90-days | 1-year |
| Weld Guru Rating | ★★☆☆☆ | ★★☆☆☆ |
| Price | Latest Deal Here | Latest Price Amazon |
Final Verdict
The Titanium Easy-Flux 125 is a good, inexpensive welder for beginners. But in our opinion, the YesWelder 135A and Forney 140 FC-i offer better value.
All three of these welders have pros and cons, but the YesWelder 135A is the best overall choice for a hobbyist.
Forney's model provides more welding power and supports bigger spools, while Titanium's welder is the most compact.
If you have any experience using the welders mentioned in this article, please let us know in the comments below.
Other Titanium Reviews
Titanium Unlimited 140 Review
Titanium MIG 140 Welder Review
Titanium TIG 200 Welder Review
Titanium 200 Multiprocess Welder Review
Titanium MIG 170 Welder Review