Offering a quality build and high amperage outputs when running on a 110V input, the Titanium MIG 140 is a solid MIG welder for a hobbyist.
However, it's also slightly overpriced compared to similar models. In this article, you'll learn about its pros, cons, and possible alternatives to get the most out of a MIG welder in this price range.
Quick note: After reviewing this machine, we found better alternatives on the market. Read on to find out why.
Overview of the Titanium MIG 140
While this Titanium MIG 140 offers better value than the Lincoln Electric and Hobart Handler equivalents, it fares worse when compared to the entry-level machines offered by other brands.
Still, with 140 amps of output and a decent hobbyist-level duty cycle, this is a MIG welder worth considering. The unit is well built and was designed with simplicity in mind. Exactly what a hobbyist needs.
However, some features could be simplified further. For example, Eastwood offers a similar model with an even better user interface.
This is one of the lightest MIG welders on the market. That makes it a good choice for a professional welder who needs a light-duty MIG welder on the go. While there are lighter machines, like the Forney Easy Weld 140 FC-i, they typically have a mediocre build quality.
What's Included
Titanium MIG 140 Welder
180A MIG gun
Ground clamp
Spare 0.030 in. contact tips
Gas regulator and a gas hose
Gas and gasless nozzle
Drive rolls for solid MIG wire: 0.025 – 0.035 in. and flux-cored wire: 0.030 – 0.035in.
Instruction manual and quick start guide
The package contents are limited. I expected more accessories, even if this is an entry-level machine. While almost all cheap MIG welders come with a bare minimum of extras, a few brands like Eastwood offer slightly more than the rest.
For example, the Eastwood 140A MIG welder includes more contact tips, MIG wire, brush/hammer combo, and a cheap face shield that some beginners might find helpful.
Tech Specs
Welder Type
MIG, Flux-Core
Input Voltage
120v
Output Current Type
DC
Technology
Inverter
Amperage Output
30A – 140A
Duty Cycle
30% at 90A
Wire Drive Rolls
.025″ /.030″ V-Groove Roller
.030″ /.035″ V-Groove Roller
.030″ /.035″ V-Knurled Roller
Wire Feed Speed Range
80 – 275 IPM
Wire Feed Settings
Manual
Wire Spool Capacity
Up to 12 lb spool
Spool Gun Ready
Yes
Weldable Materials
Mild steel, stainless steel, aluminum
Weldable Mild Steel Thickness (Single-pass)
Up to 5/16 in.
Open Circuit Voltage (OCV)
69V
Welder Dimensions (H x W x L)
15-5/8in. x 8-3/8in. x 19-7/8in.
Weight
24 lbs.
Warranty
90-days
Weld Guru Rating
★★☆☆☆
Price
Latest Deal Here
Pros
Affordable
High-quality build
Lightweight with compact size
Spool gun compatible
Easy to use
Cons
It doesn't provide the best value in this price range
Very limited warranty
Maximum wire feed speed on the low end
Knobs are difficult to fine-tune when wearing gloves
The spool gun mode switch is located inside the welder
Minimal number of included accessories
What To Know Before Buying The Titanium MIG 140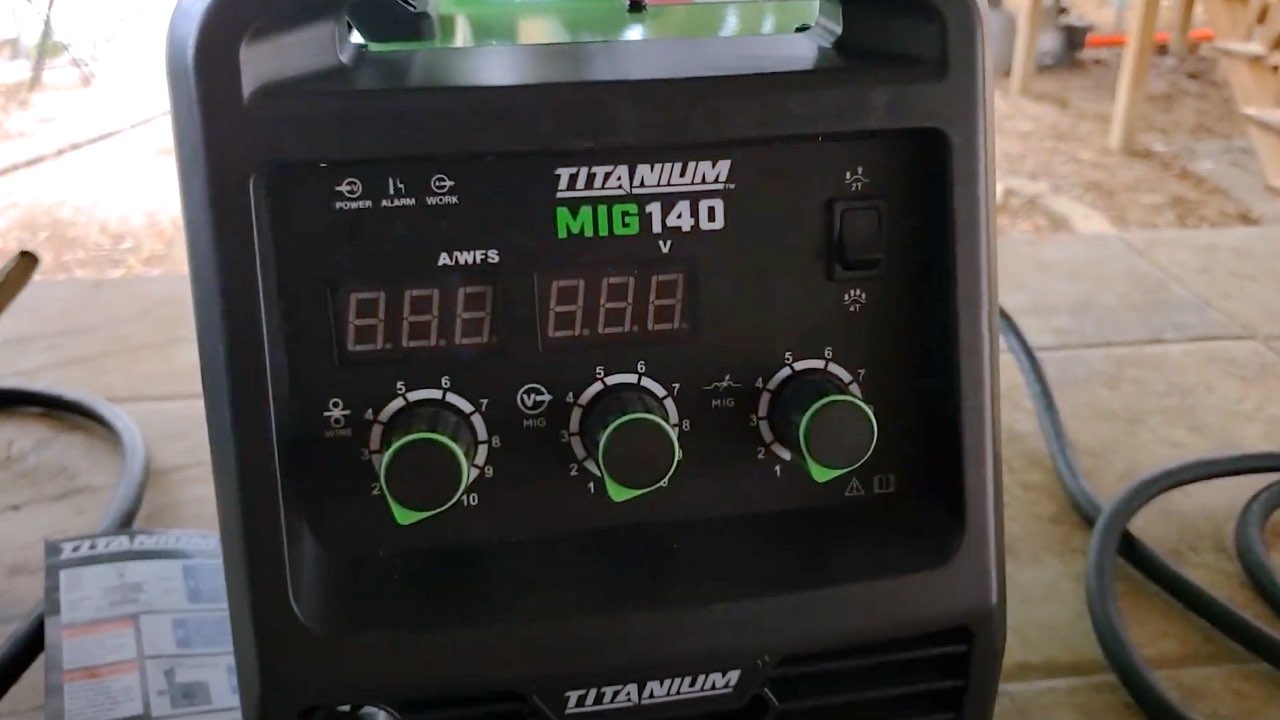 The Titanium MIG 140 is a decent welder offering good arc quality for beginners and hobbyists. But there are some shortcomings when compared to competing models. So let's first review these downsides to help you decide if this machine is for you.
Limited Warranty
Surprisingly, the biggest issue of the Titanium MIG 140 welder is unrelated to its capabilities. The limited 90-day warranty makes you think this is some cheap piece of hardware that won't see the next season in your garage.
While the welder is built well, the warranty speaks otherwise. At least that's the way many people will feel. No one wants to spend hundreds of dollars just to be left on their own if something goes wrong after just three months.
Thankfully, there is a solution. Harbor Freight offers a paid 2-year warranty extension for $100. However, this places an already overpriced welder in a completely different price bracket.
Add the extended warranty to the Titanium MIG 140, and you could get the more powerful, dual voltage Eastwood 180A MIG welder with a 3-year warranty included as standard, and have spare change.
But the Eastwood MIG 180 is not a direct comparison, so let's stay in our lane here. Eastwood offers the 140A MIG, which costs the same as the Titanium MIG 140 while offering slightly better features and an included 3-year warranty.
This Titanium welder should provide a competitive warranty without extra cost. Instead, the standard 90-day warranty is outmatched by cheap import welders, backed by a 1-year warranty.
Low Maximum Wire Feed Speed
This welder can keep up with most hobbyists' needs by offering decent welding power and an adequate duty cycle for the price. However, you should know that the maximum wire feed speed is 275 inches per minute ("IPM"), which falls short of the competition.
With a higher wire feed speed, the faster you can deposit metal into the joint. The rate of 275 IPM will satisfy most users. But Eastwood, YesWelder, Weldpro, and Everlast offer similarly priced MIG welders with a higher maximum wire feed speed.
For example, Eastwood's MIG 140 offers about 40 IPM more than the Titanium welder while costing roughly the same.
Miscellaneous Design Issues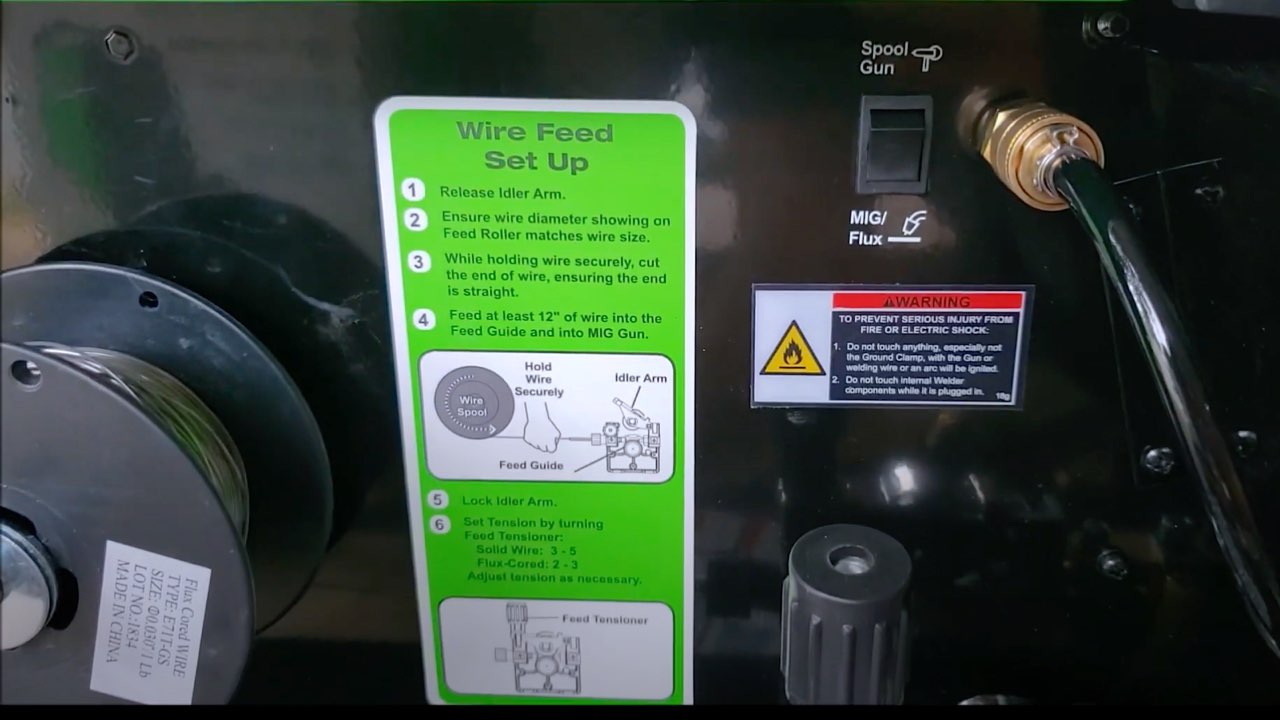 The Titanium MIG 140 also has a few minor design flaws you should be aware of. While not a deal-breaker, if you often switch between a spool gun for aluminum and your MIG gun, an inaccessible switch makes things harder than necessary. Most welders locate it on the control panel, but this Titanium welder has the switch placed inside the unit.
Also, the infinite adjustability knobs on the front panel spin too easily. This means small increments can be difficult to adjust with gloves. As a result, you may not be able to perfectly dial in the desired settings every time.
Review of The Top Features
If you don't mind the short warranty, this is still a great welder as it provides many competitive features. The best aspects of this welder are summarized below.
Power, Duty Cycle, and Arc Quality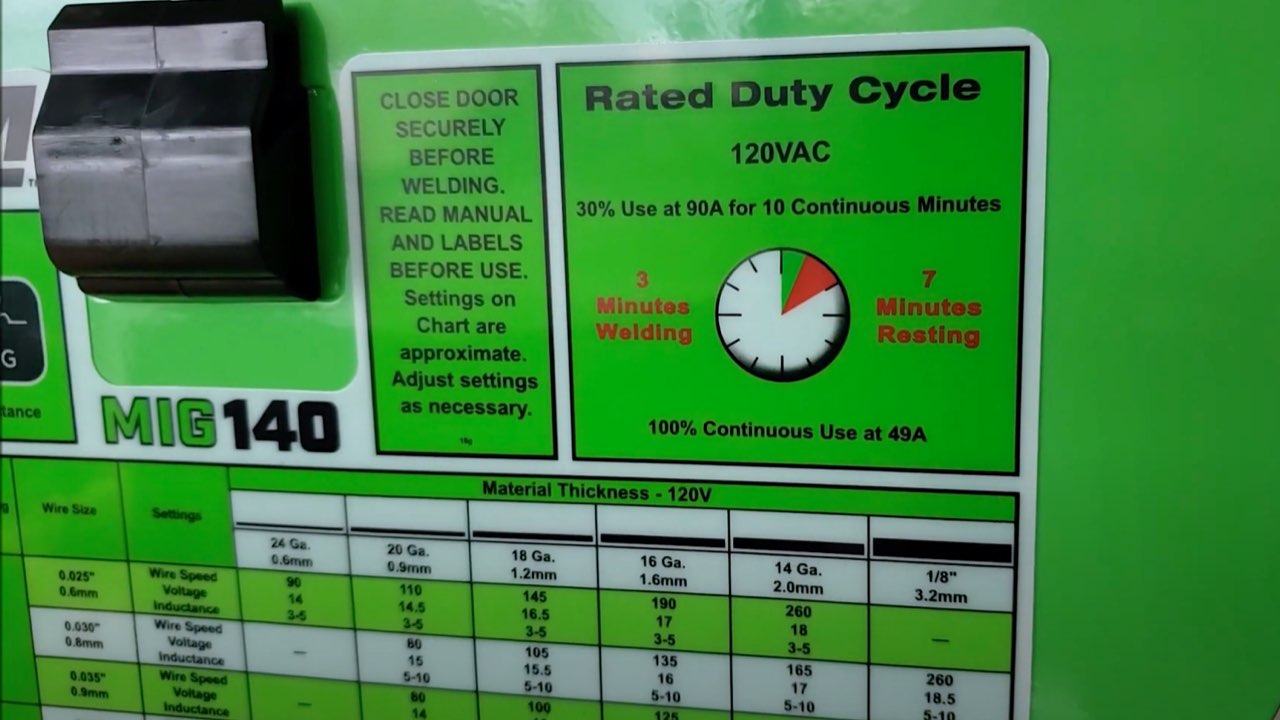 For light hobby work, this Titanium welder has enough power, accompanied by a decent duty cycle. While a 30% duty cycle at 90A won't satisfy every user, those who weld thinner sections and sheet metal will get the job done. Additionally, its stable arc is predictable and in line with what a beginner MIG/flux-cored welder should offer.
Useful Settings
The Titanium MIG 140 includes several features a beginner may find handy. If nothing else, you'll learn how to use them. When you get a more powerful welder, you will know how to employ these settings and get the most out of them.
The included 2T/4T setting allows you to switch between press and release (4T) and the regular press-hold (2T) settings for the MIG gun trigger. While you can't use the 4T setting to its full potential with an entry-level welder's low-duty cycle, it's still useful when welding something in a hard-to-reach place, and you need to release the trigger to fit the gun's tip in the joint.
Another nice feature is the inductance control. This setting allows you to modify the welding arc, and changes in inductance make a significant difference in the "wetting" of the puddle. You can tailor it for a softer arc with less spatter or a narrow bead with more spatter.
Ease of Use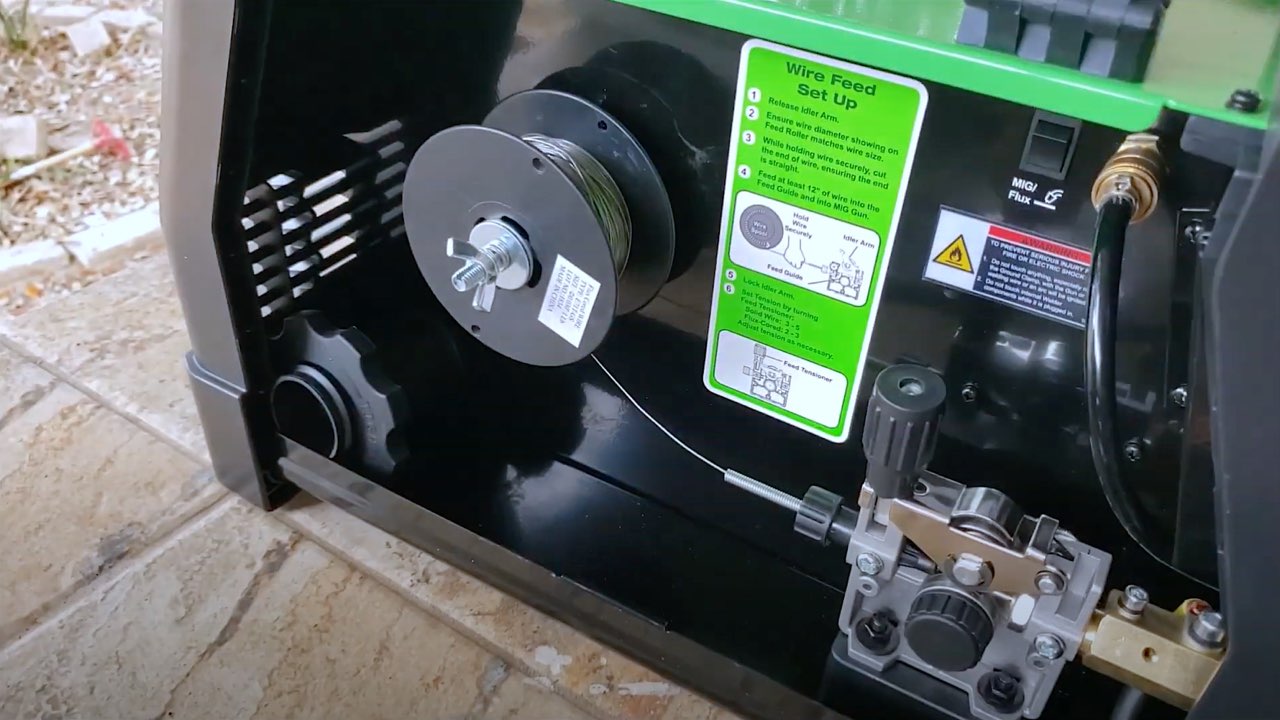 This welder's layout is straightforward and intuitive to use. The front panel is simple, and the included digital displays let you easily see your settings, and that even makes your adjustments or tweaks easier.
Additionally, installing the wire spool and a gas hose is easy. Both of these procedures are explained in detail in the included user manual.
The unit also includes a quick settings chart on the inside, like most competing models. Overall, this Titanium model is an easy-to-use, accessible entry-level MIG welder. Apart from placing the spool gun switch on the inside, everything else is done well, and users will find it simple to set up and weld.
Portability
Weighing in at just 24 lbs, a compact case with a built-in handle houses this unit. The Titanium MIG 140 certainly qualifies as a portable welder. Thanks to inverter technology, it's a good choice when taking the welder to the workplace. Plus, the wire feed mechanism requires no tools to switch the wire spool or the grooved wheel.
A Real Alternative
Offering fewer features than some of its competitors and providing a significantly lower warranty than the established industry standards, there are many competitive models on the market.
However, we analyzed the Eastwood MIG 140 to provide you with an apples-to-apples alternative. It costs less than this Titanium model, offers a more extended warranty, and slightly better specs. Otherwise, it's a good model for direct comparison.
Quick note: The Eastwood 140's bigger brother, MIG 180, made it onto our list of Best MIG Welders for the money.
Eastwood MIG 140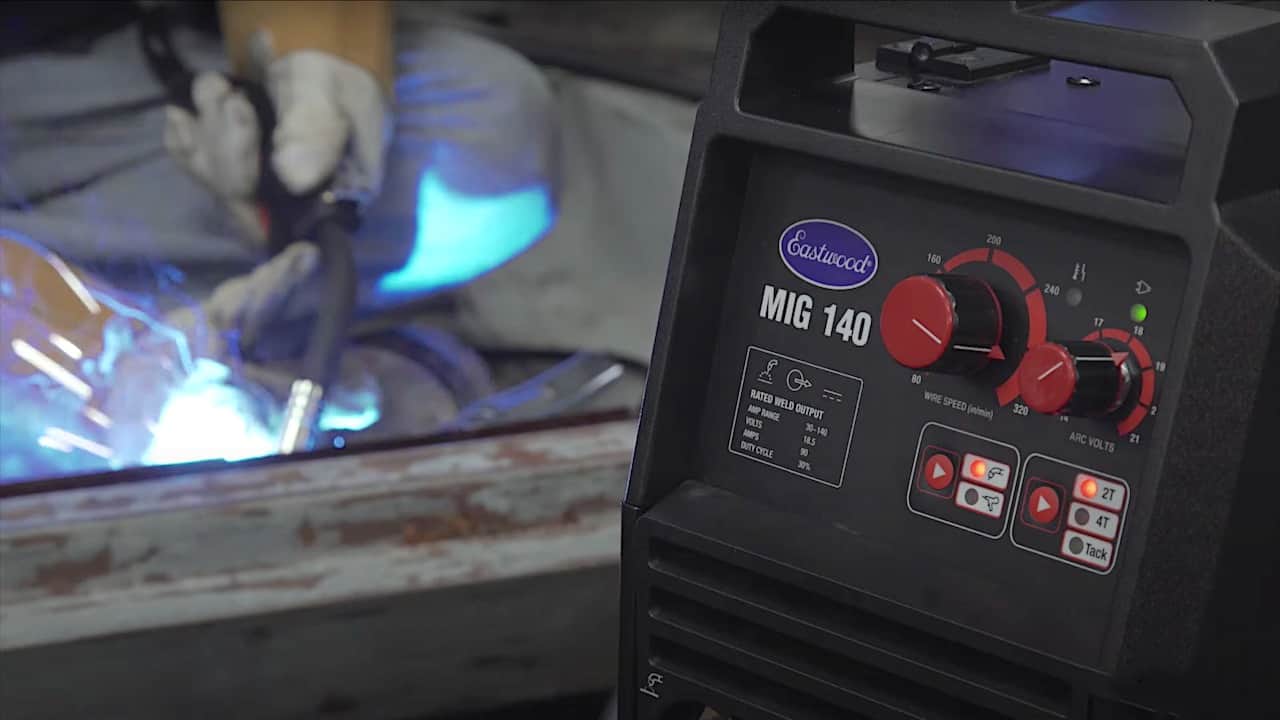 Recently improved to utilize the latest IGBT technology, the Eastwood MIG 140 weighs the same as the Titanium MIG 140. It offers the same typical duty cycle found in most hobbyist-grade machines, making it best suited for light work, focusing on sheet metal welding.
The Eastwood MIG 140 includes the 2T/4T setting like the Titanium unit, but it also has a tack weld feature. This helpful addition lets you make consistent tack welds regardless of how long you press the trigger. It's especially useful when working on sheet metal and car auto bodies.
While missing a digital display, the infinite adjustability knobs provide better reliability, and their units are well-defined. However, the Titanium uses an arbitrary 1-10 range. Additionally, Eastwood's spool gun setting is located on the front for easier switching.
Eastwood's welder can fill gaps faster and achieve better penetration thanks to a higher maximum wire feed speed. With the extra features and 3-year included warranty, the Eastwood MIG 140 is a strong alternative worthy of your attention.
Feature / Welder
Titanium MIG 140
Eastwood MIG 140
Maximum Wire Feed Speed
275 IPM
314 IPM
Tack Weld Setting
❌
✅
Display
Digital
Analog
Warranty
90-day
3-year
Return Fee
20% Restocking
None
Rating
★★☆☆☆
★★★☆☆
Price
$$
Latest Deal Here
$$


Latest Deal Here
Final Verdict
The Titanium MIG 140 is good for the DIY welder or hobbyist. But in our opinion, the Eastwood MIG 140 provides better value and better features. Both offer MIG and flux-cored welding, with most differences in Eastwood's favor.
A poor warranty is Titanium's biggest shortfall. A 90-day backing period is risky, and paying for an additional protection plan makes the Titanium welder overly expensive.
Other Titanium Reviews
Titanium Unlimited 140 – Is it Worth It?
Titanium Unlimited 200 – Is it worth buying?
Titanium TIG 200 – Is it worth it?
Titanium Easy-Flux 125 Review – Is It Worth It?