The last ten years have seen incredible strides in the features and details on budget MIG welders for $500 or less.
The number of available options and extra goodies increases all the time, making for some tempting offers in this low-cost price range.
Surprisingly, some of the leading names in welding offer feature-packed machines for under $500.
We've done the hard part for you, wading into the market to retrieve seven worthwhile cheap MIG welders.
Note: The past year has seen many welders increase in price. This means many quality machines have been pushed above $500. This guide still includes quality picks under $500, in addition, we have included some just over to ensure you are not missing out on quality finds. This guide does NOT include super cheap Chinese brands.
---
A Quick Comparison
Product
Image
Product
Details

Yeswelder MIG205DS

Best seller model

Dual voltage support

Multiple processes

Eastwood MIG 180

Alternative to Hobart 210

Excellent quality - Metal drive motor

Runs on IGBT Inverter technology

Hobart Handler 100

Excellent no-frills model

Ease to use for rookies

Extremely portable

Klutch MP140Si

MIG, DC TIG, Stick & Flux-Cored

Spool gun ready

120V Input

Lincoln K2278-1

Top seller

Compact, portable, lightweight

Plugs into household 115V

Forney Easy 140 FC-I MIG

Excellent intro model

Incredible value for money

Very popular & highly reviewed

Hobart Handler 140

Most popular model at this price

Excellent reviews from users

Now more than $500
Best Budget MIG Welders for under $500
Here's some of the cheapest MIG welders we found for under $500
1. Yeswelder MIG205DS Multi-Process MIG Welder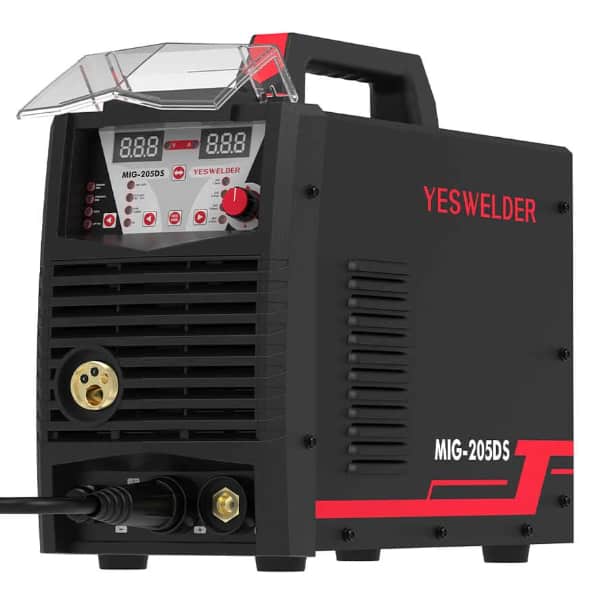 MIG, Flux-core, TIG & Stick welding processes
Dual voltage support - 110v/220v
Synergic MIG controls - automated and manual mode
10 lbs wire spool support
Digital display
205A of power output - welds up to 3/4 in.
Pros
Best value for the money considering it's a multi-process welder
Very good MIG welding experience - stable arc and minimal spatter
High duty cycle - 60% at 205a, 100% at 158a
Supports 2T/4T modes
IGBT technology - lightweight at just 23 lbs
Cons
Doesn't support a spool gun - no option to weld aluminum
TIG torch and MIG gas regulator not included
Overview
The YesWelder MIG-205DS is a great MIG welder, especially for its price under $500. It's a budget machine, but it performs above its market value. This makes it an excellent choice for hobbyists, especially if you wish to do some TIG and stick welding.
It supports both MIG and gasless flux-cored welding, and it can weld up to 3/4 in. thick thanks to its maximum output of 205A at 220V. However, since many DIY welders don't have access to 220V, the YesWelder offers up to 166A output at 110V. This is very welcome because most people won't even need to use its full power at 220V.
Regardless of the input voltage, it has a minimal output of 30A. This is low enough for welding thin metal without burn-through. Thanks to the high duty cycle, you can weld for prolonged periods without waiting for the unit to cool down.
This is the most popular machine from YesWelder, and for a good reason. Thanks to its affordability, portability, multi-process features, and decent arc quality, we consider it one of the best budget MIG welders with multi-process capabilities. Plus, the dual voltage support and a full metal wire feed are greatly appreciated.
You can get a 10% discount by getting it on YesWelder's official site by using our coupon code "WELDGURU10".
---
2. Eastwood 180 AMP MIG Welder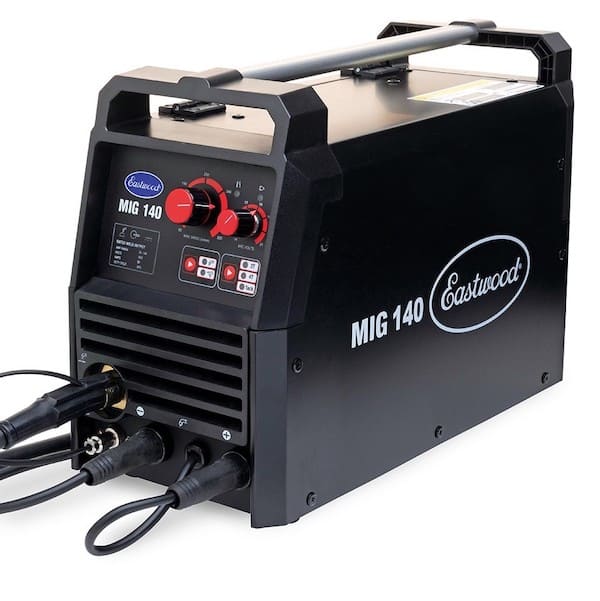 MIG & flux core processes
Dual 120/240 volt input
All-metal wire drive
2T/4T trigger lock
30-180 amps output
24-gauge sheet to 5/16-inch steel
Pros
Upgraded Metal drive motor for smooth operation
Runs on IGBT Inverter technology
Includes regulator
Tweco-style MIG gun
Optional spool gun if needed
Cons
Leads are only 10 feet long
120 amps instead of 140 on 120v power
Overview
The Eastwood MIG 180 MIG Welder is slightly more than $500, but it is worth mentioning. It is a new release by Eastwood, upgraded from its former MIG 175 model. This is a dual-input power machine that rivals the Hobart 210 for half the price.
The main difference between the machines is that the Eastwood is built with inverter technology and the Hobart is transformer based. Transformers-based machines are usually better in real dirty conditions, however, inverter technology has come a long way and is almost just as reliable. You can read more on inverters vs. transformers here.
When running under 240-volt power, the Eastwood MIG 180 MIG Welder puts out 180 amps of power, good enough to weld 5/16-inch thick steel. This machine gets down to 30 amps on either power source, fine enough control for 24-gauge sheet metal. It's got an all-metal wire drive and mounts both 2-pound and 10-pound spools.
The Eastwood MIG 180 MIG Welder uses a Tweco-compatible MIG gun, meaning consumable parts are easy to find. Some owners wish the leads were longer but are otherwise pleased. It's equipped with a 2T/4T trigger lock, comes with a regulator, and can weld aluminum if you purchase the optional spool gun. Eastwood offers a MIG 180 package that bundles the spool gun at a discount price.
This wins as our favorite as you'll be hard-pressed to find a quality MIG welder with dual voltage input at this price range and it is a highly recommended alternative to the Hobart 210. If 1/4-inch thick capability is enough for your needs, and want to save around $150, Eastwood also offers a 120v-only version, the Eastwood MIG 140, itself an upgraded version of the MIG 135.
---
3. Hobart Handler 100 Cheap MIG Welder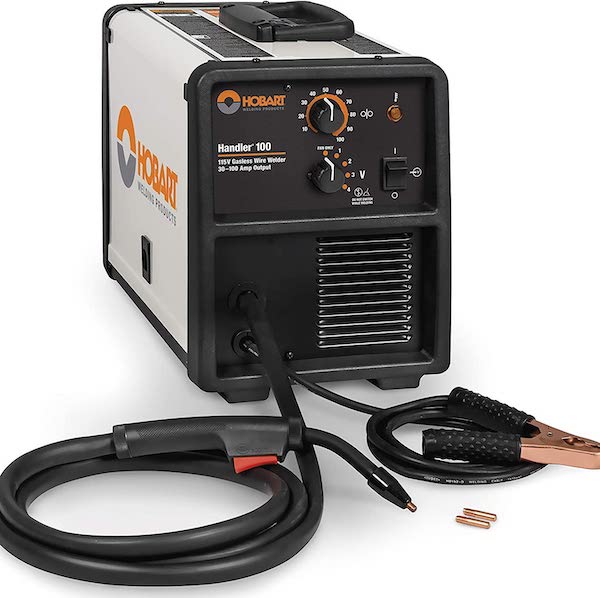 Weld up to 3/16-inch steel
Wire is electrically "cold" until triggered
Positive feed with adjustable tension
Feeds both .030 and .035 flux core wires
30 to 100 amp output range
Pros
Easy access when threading new wire
120 volt input lets you weld anywhere
Uses standard Hobart and Miller consumables
60 percent duty cycle at 45 amps
Temperature indicator light
Overview
For a cheap entry-level gasless MIG welder, the Hobart Handler 100 offers some outstanding features. It comes with Hobart's 5-year warranty on the transformer. This welder's not intended for heavy work, welding a maximum thickness of 3/16-inch plate.
The wire drive fits both 4-inch and 8-inch spools. This little machine offers a range from 30 to 100 amps. The 3/16-inch maximum would let you repair things like gate hinges and the 24-gauge sheet metal capability would handle auto body metal like doors, floor pans, and rear panels or garden wagons and wheelbarrows.
That would be around 45 amps, where the Handler 100 features a 60 percent duty cycle. The ability to enjoy 6 straight minutes of continuous welding time could get you a long way with an automobile floor pan, repairing a rain gutter, fixing holes in the bottom of garbage cans and such.
It should be understood that a welder this inexpensive and low-powered is a flux core wire feed welder only, with no gas MIG capability. The Hobart Handler 125 is the same machine but has the ability to run gas if needed. The Handler 100 runs standard Hobart / Miller consumables, meaning parts and services are readily available.
---
4. Klutch MP140Si Multi-Process MIG Welder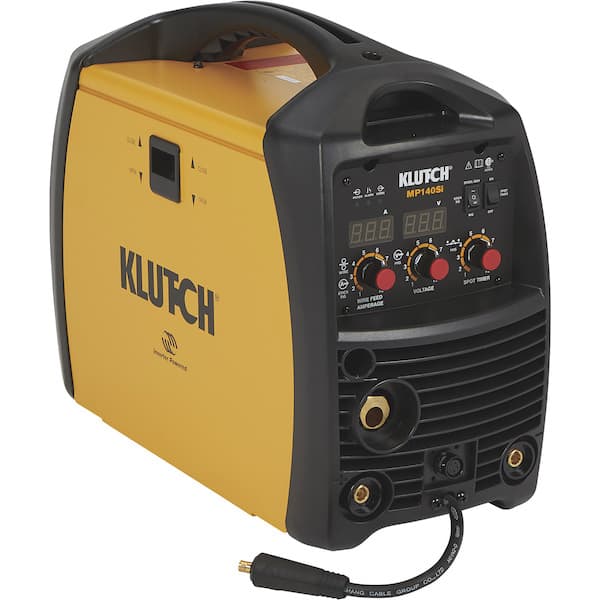 MIG, DC TIG, Stick, and Flux-Cored welding capabilities
Welds steel, stainless steel, aluminum, and cast iron including up to 3/16in. steel in a single pass
Digital meters allow the operator to preset settings
Comes complete with 10ft. MIG torch
Pros
Excellent value for the quality
Great choice for beginners
Highly portable at 28 lbs
Clean digital display
Spot timer for consistent spot welds
Long 10 ft. MIG torch
3-year warranty
Cons
No 2T/4T feature
120V only
No TIG torch included
Not enough amperage to run 6010 stick rods
Overview
The Klutch MP140Si is a Northern Tool brand and is another solid machine slightly above the $500 mark. It is a 120V-only multi-process welder, making it a great pick for beginners who want to do light MIG welding and try their hand at DC TIG, stick, and flux-core welding. It's highly portable thanks to its size and the inverter technology making it comfortable to carry at 28 lbs.
The main complaint about the Klutch MP140Si is that when MIG welding, the screen only shows voltage and no amps. For beginners, this is probably not a big deal as you won't need that granular control, but it might annoy professionals who are used to it on other welders. The other complaint is that there is not enough amperage to run 6010/6011 stick rods properly, which is to be expected on a 120V machine.
This welder is spool gun ready so that you can weld aluminum, but a spool gun is not included and must be purchased separately as an add-on. With this, you can weld aluminum from a 16-gauge sheet to a 3/16-inch thick plate. Lastly, there is a lengthy 3-year limited warranty, which is above average in this range to give you peace of mind.
---
5. Lincoln K2278-1 MIG Welder
35-88 amps output.
Welds up to 1/8-inch steel.
Plugs into household 115V, 20 amp outlet.
Wire is electrically "cold" until triggered
Pros
Easy to set even for novice users
One year warranty
All leads factory pre-connected
Cons
Some users feel the grounding clamp is cheaply made
Overview
Like the Hobart Handler 100, the Lincoln K2278-1 Handy Core welder is an entry-level flux core welder for light-duty repairs. The current rating runs from 35 to 88 amps, which will get you down to 18 gauge sheet metal, which is thick but not unreasonable. You'll be able to repair shovels, kid's wagons and mailboxes, for instance.
At the other end of the scale, 88 amps can get you a single pass weld on ⅛-inch steel plate. That's enough juice to repair door and gate hinges, fix lighter weight box steel like that found on garden furniture and let you repair brackets on appliances.
Lincoln includes a gun and cable assembly, work lead, work clamp and power cable pre-attached at the factory, saving beginning welders a little aggravation setting up the machine. The welder includes a spool of flux core wire, a hand-held welding mask and a chipping hammer with a brush.
The K2278-1 Handy Core is offered with a 1-year warranty on parts and labor. Lincoln is known for rugged construction and this little welder is no exception.
---
6. Forney Easy Weld 140 FC-i MIG Welder
Welds 24-gauge sheet to 1/4-inch plate
20-amp to 15-amp adapter
30 percent duty cycle at 90 amps
Built-in live fan
Pros
8-foot arc gun and work clamp
Holds 10 pound spools
Weighs only 19 pounds
Infinite adjustment on voltage and feed
Convenient 120-volt power
Cons
This machine won't run hard wire
Flux core welding only
Overview
Although it isn't as well-known as brands like Lincoln and Miller, Forney is a cheaper brand that has been building welders in the USA since the Great Depression. With the Easy Weld 140 FC-i, Forney went with inverter technology and stayed with flux core welding without a gas MIG ability to keep the weight down to 19 pounds.
Even though this budget MIG machine is so light, it still features a live fan for component cooling and sports a 30 percent duty cycle at 90 amps. That's better than the top two picks in this roundup.
That's the main reason we call this cheap MIG welder our amazing find. 140 amps is enough for welding ¼-inch plate and it's sensitive enough for 24-gauge sheet, pretty nice for a 120-volt home welder.
If there's a machine at this price with a bigger number of happy owners, we haven't seen one. That's why we chose the Forney Easy Weld 140 FC-i as the Weekend Warrior selection in both other shootouts.
---
7. Hobart Handler 140 MIG Welder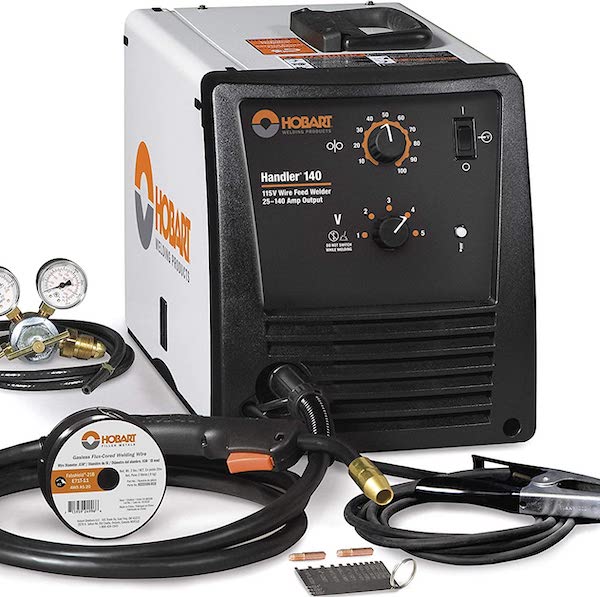 Miller regulator included
Lightweight 65 pounds
25 amps to 140 amps
20 percent duty cycle at 90 amps
Heavy duty work clamp
Pros
Convenient 120 volt input
24-gauge sheet metal to 1/4-inch steel
Generator ready
Gas MIG and flux core
Solid metal wire drive
Cons
Wrench needed to adjust wire tension
Inconsistent packing, many dents reported
Overview
Even though it has increased in price by over $500, we still couldn't leave this out. The Hobart Handler 140 is one of the most popular models and our favorite in this price range. With the gas shielding, you can weld aluminum and stainless steel – something flux core alone can't manage.
If this is over your $500 budget, I recommend looking at the Eastwood alternatives that provide excellent value compared to the Hobart 140. I covered this in the updated Hobart 140 review here.
The 140 amps let you weld steel up to ¼-inch thick. However, the duty cycle on this welder is only 20 percent at 90 amps so you couldn't weld continuously for more than a minute at full power. If you need to do hitches, suspension components, or roll cages, you should look at 240-volt welders.
For a budget model, the Handler 140 has professional features like a solid aluminum wire feed drive and is a great alternative to the Lincoln 140. It also mounts 4-inch and 8-inch spools, letting you mount up to 15 pounds of wire. Dual sizes are great because you might want to get the machine on top of a boat and that's a lot easier with a 4-inch spool weighing 5 pounds than it is with an 8-inch spool.
The 3-year warranty and Hobart's industrial build quality led us to include the Hobart Handler 140 as a budget pick (nearly) under $500.
---
Under $500 MIG Buying Guide
Even in this inexpensive price range, wading through all the choices can be overwhelming.
Here's what you're looking for…
Welding Power
When you're looking at cheap MIG machines under $500, most of the 240-volt machines are pushing the quality envelope and aren't likely to last.
Realistically, you're looking at 120-volt welders in this price range unless you're really bumping up against the 500-dollar ceiling. Even then, if it's not a recognized name (Lincoln, Miller, Hobart, Forney, Century) or a major tool brand, you're better off biding your time and saving more money to buy a 240 welder.
With that out of the way, your main limitation on the output for 120-volt power is around 140 amps. That's just a limitation imposed by physics, and there's not going to be a way around that until there's a major technological breakthrough. This limit has been around since the 1940s, so don't expect this to change anytime soon.
Related read: Best 110v MIG Welders
What's the Duty Cycle?
The duty cycle is expressed as the percentage of 10 minutes the machine can run before it cools down.
A 20 percent duty cycle means when you're welding at the amperage that says 20 percent, you can go continuously for 2 minutes before the welder will overheat.
At a higher amperage, the duty cycle will shorten considerably. Check with the manufacturer to find out at what amperage the machine will run continuously.
You Might Need Gas
If you don't need gas MIG capability to weld aluminum or stainless steel, you can choose a flux-core-only machine and look for extra features, longer warranty, or choose a name brand over a generic welder for peace of mind and easy-to-find parts and service.
There are actually quite a few budget machines in this class that does offer gas MIG ability, so consider carefully before you decide. You can run flux core on a MIG-capable machine and then add gas later if you need to, but you can't add gas MIG to a flux core-only welder.
The Decision is Yours
This selection covers a full range of budget MIG welders under $500, from gas MIG-capable machines bumping against our self-imposed limit down to entry-level welders good for occasional DIY repair work.
In this roundup, we selected the Yeswelder MIG205DS as the best pick overall for under $500 for its dual-voltage capabilities, advanced features, popularity, and value for the price.
The next recommended machine is the Eastwood MIG 180, which also has dual-voltage capabilities and is a real rival to the Hobart 210. Though it is now slightly above $500, it's should be a real consideration for the quality. Alternatively, you can opt for the smaller Eastwood MIG 140.
Northern Tools's Klutch MP140Si also deserves serious consideration if you're a beginner; with its ease of use, multi-processes, and portability, you can weld pretty much anywhere.
Because the Handler 140 can weld capably on thinner sheet metal, offers a better warranty and duty cycle, and it's made in the USA (better quality and higher parts availability), it's no wonder the Hobart Handler 140 is a favorite choice, low-cost MIG Welder.
More MIG Information:
MIG Welders for less than $1000