The Titanium MIG 170 is a good welder for hobbyist work and light fabrication. It's well built and offers adequate welding power, but it's not without some shortcomings.
In this article, you'll learn about its advantages, disadvantages, and what might be a better alternative for some users.
Overview of the Titanium MIG 170
This MIG welder outputs 170A of power with a capacity to weld up to 3/8 in. thick steel, but the duty cycle lags behind some competing models.
The unit is easy to use and has a stable arc with even heat input, providing beautiful welds with excellent penetration. It's also very light and portable, making it a good choice for welders on the go.
But it does have a few oddities. The spool gun switch location and manual voltage input selection, for example.
However, Harbor Freight priced the Titanium MIG 170 slightly higher compared to other brands that offer more for less money, and the MIG 170 warranty is extremely short. While a good choice for beginners and light shop welding, it doesn't offer the best value for the money.
What's Included
Titanium MIG 170 unit
Titanium 180A MIG gun, 10 feet
Ground clamp, 10 feet
Gas flow gauge regulator with 6 feet gas hose
120V Power adapter
Solid MIG wire drive rolls: 0.030 in., 0.025 in., 0.030 in., 0.035 in.
Flux-cored wire drive rolls: 0.030 in., 0.035 in.
Extra MIG gun consumables
The Titanium MIG 170 comes with adequate accessories given the price range, but there are brands offering more extras for the same money. However, I do appreciate the 10 feet leads for the MIG gun and the ground clamp.
Tech Specs
| | |
| --- | --- |
| Welder Type | MIG, Flux-Cored |
| Input Voltage | 120/240V |
| Output Current Type | DC |
| Technology | Inverter |
| Amperage Output | 30A – 170A |
| Duty Cycle | 25% at 160A |
| Wire Drive Rolls | .025″ /.035″ V-Knurled Roller.030″ /.035″ V-Knurled Roller |
| Wire Feed Speed Range | 80 – 400 IPM |
| Wire Feed Settings | Manual |
| Wire Spool Capacity | Up to 12 lb spool |
| Weldable Materials | Mild steel, stainless steel, aluminum |
| Spool Gun Ready | Yes |
| Weldable Mild Steel Thickness (Single-pass) | Up to 3/16 in. |
| Open Circuit Voltage (OCV) | 69V |
| Welder Dimensions (H x W x L) | 16in. x 11in. x 21in. |
| Weight | 24 lbs. |
| Warranty | 90-days |
| Weld Guru Rating | ★★★☆☆ |
| Price | Latest Deal Here |
Pros
Good build quality
Smooth, stable arc
Supports dual voltage input
Spool gun ready
Lightweight and portable
Cons
Low duty cycle
Low maximum wire feed speed
The spool gun switch is inside the welder
No automatic input voltage detection
Infinitely adjustable knobs turn too fast
What To Know Before Buying The Titanium MIG 170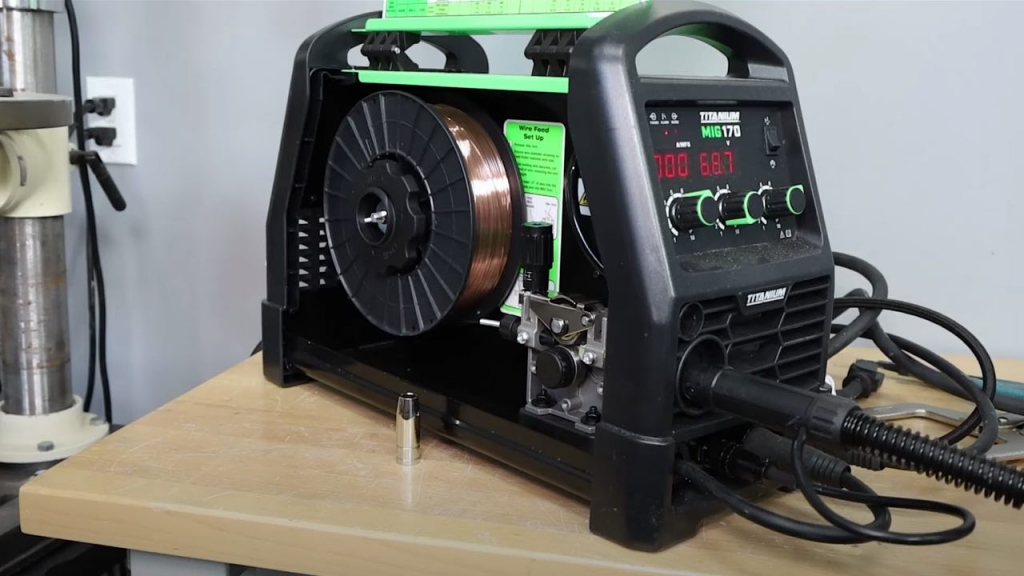 The Titanium MIG 170 is a very good machine, but it has multiple limitations you should be aware of before making your purchase decision. In our opinion, it doesn't provide maximum value in this price range and will not meet every user's needs. So let's review the biggest cons before we proceed to its stronger points.
Power Struggle
While powerful with 170A of output, the low-duty cycle cripples this welder for the high-volume welding typically done in welding shops. So unless you are a hobbyist or a smaller fab shop, the 25% duty cycle at 160A will hinder your work efficiency.
When welding thick steel like 3/16 in., you get a maximum of two and a half minutes of welding time before the unit needs to cool down for another seven and a half minutes. While many brands struggle to provide high-duty cycles, there are competitors that provide more welding time while costing the same, which we'll cover in a bit.
Additionally, the Titanium MIG 170 has a maximum wire feed speed of 400 inches per minute ("IPM") which is less than competing models from Eastwood, Everlast, Hobart, and others. This means that it can't deposit filler metal as rapidly as the competition, and as a result, can't achieve the deep penetration possible with other models, especially on open root welds.
Poor Warranty Period
The Titanium MIG 170's warranty of 90 days doesn't inspire confidence in the product. This is a shame since this welder is built quite well. Some people may be uncomfortable buying a welder in this price range if the manufacturer doesn't offer at least a 2-year warranty.
Eastwood provides a 3-year warranty, so does Miller, Hobart, and even YesWelder for some machines (which is an affordable entry-level brand). So, I hope Harbor Freight improves its warranty policy.
There is also an option to buy an extended 2-year warranty plan from Harbor Freight – for an additional $100. But then the Titanium MIG 170 should be compared with more expensive competing units that provide more power and functions and include a longer warranty in the price.
Miscellaneous Design Issues
While not deal-breakers, there are a few minor design issues with Titanium MIG 170. The biggest is the speed and resistance of infinitely adjustable knobs. They easly turn quite fast, and adjusting them with heavy-duty gloves for MIG welding is not easy. As a result, you overshoot your desired settings a few times before dialing them in.
Also, the spool gun switch is located on the inside of the unit. It's above the wire feeding mechanism, so it's easy enough to access. But still, most brands just place the switch on the main panel where it's easier to use. Since it's an important button, I don't see the reason to hide it inside and keep it away from the rest of the control panel.
Another essential shortcoming is the machine doesn't support auto input voltage detection. Switching from 120V to 240V input requires manually switching a button located on the back of the unit. This button is situated next to the gas input valve, which can be obstructed by the gas cylinder if the welder and the cylinder are on a standard welding cart. It would make life easier if Harbor Freight just included an auto voltage detection mechanism like most competing machines.
Review of The Top Features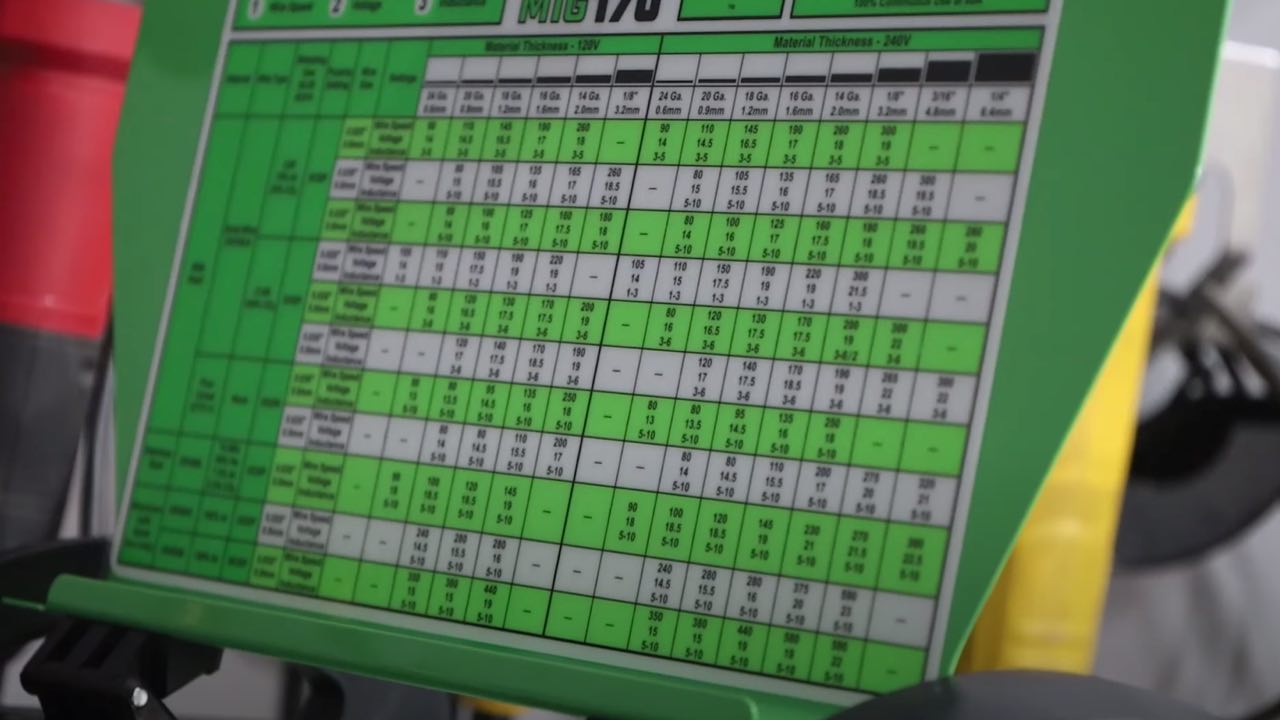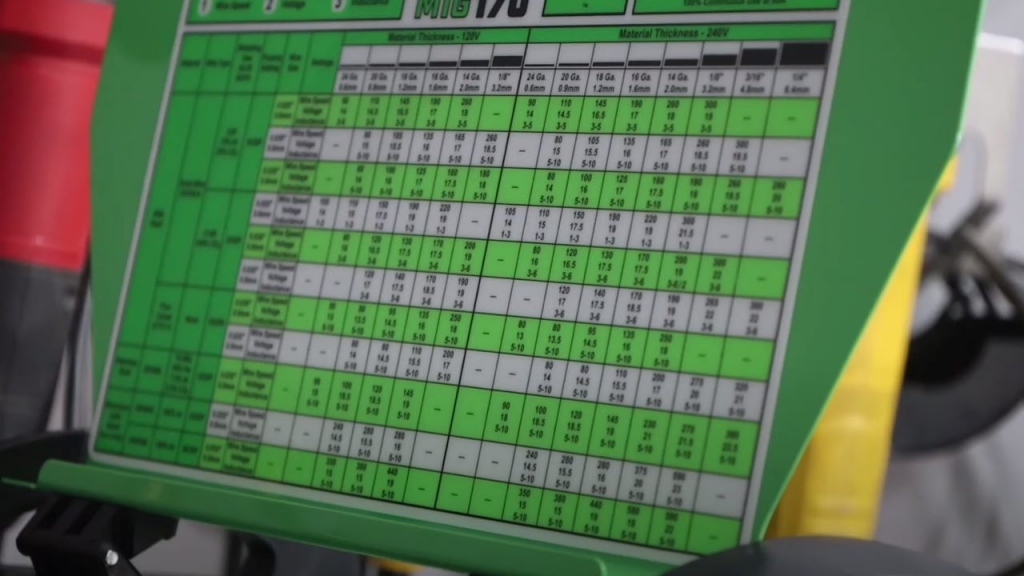 Besides the warranty and a few design flaws, this is a decent welder. While slightly overpriced, it does offer a first-rate welding experience for hobbyists and DIY weekend warriors. So let's move on to its best selling points.
Arc Quality
The Titanium MIG 170 has a smooth, stable, and reliable arc. You won't have to worry about hiccups or overpowered delivery. It lays even beads, and as long as your welding technique is consistent, you can achieve full penetration in both welded pieces equally.
Having a reliable arc is a vital feature for a beginner, and the Titanium welders offer an arc on par with Eastwood, Hobart, and similar brands. You don't want to learn using a welder with an erratic arc because you'll develop bad habits, and it'll be difficult to weld with quality welders later.
Infinite Adjustability And Digital Displays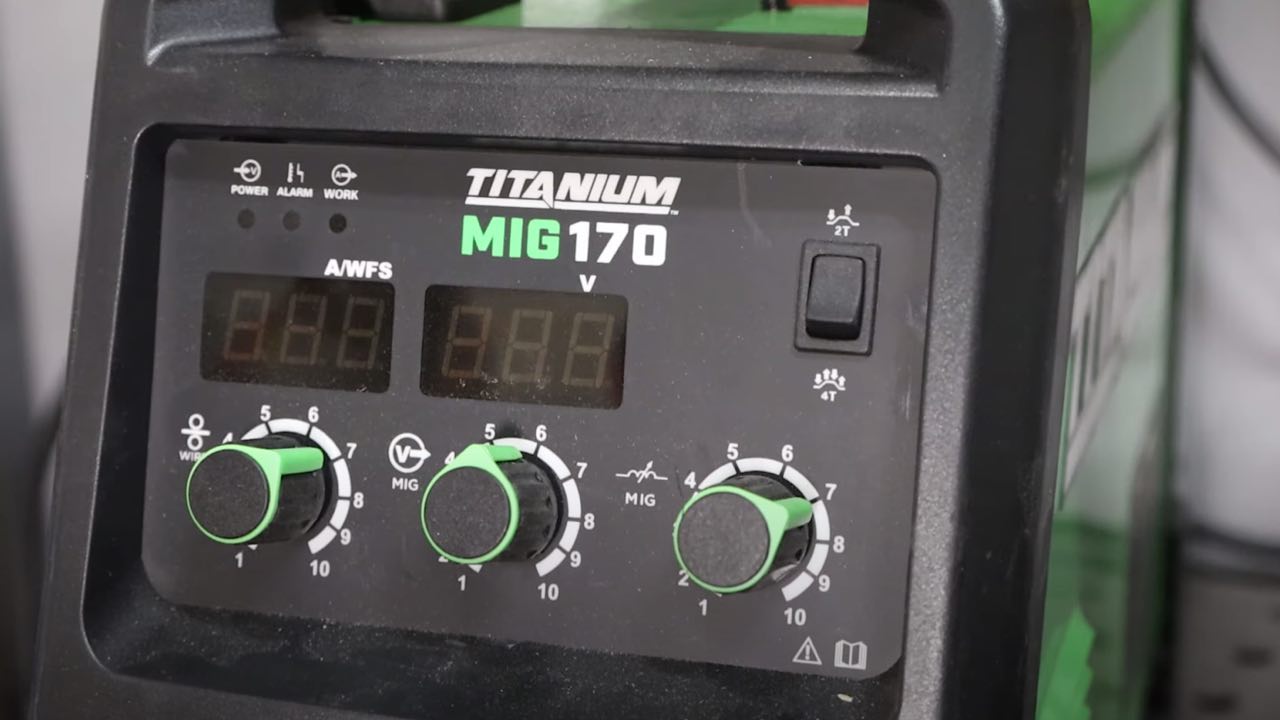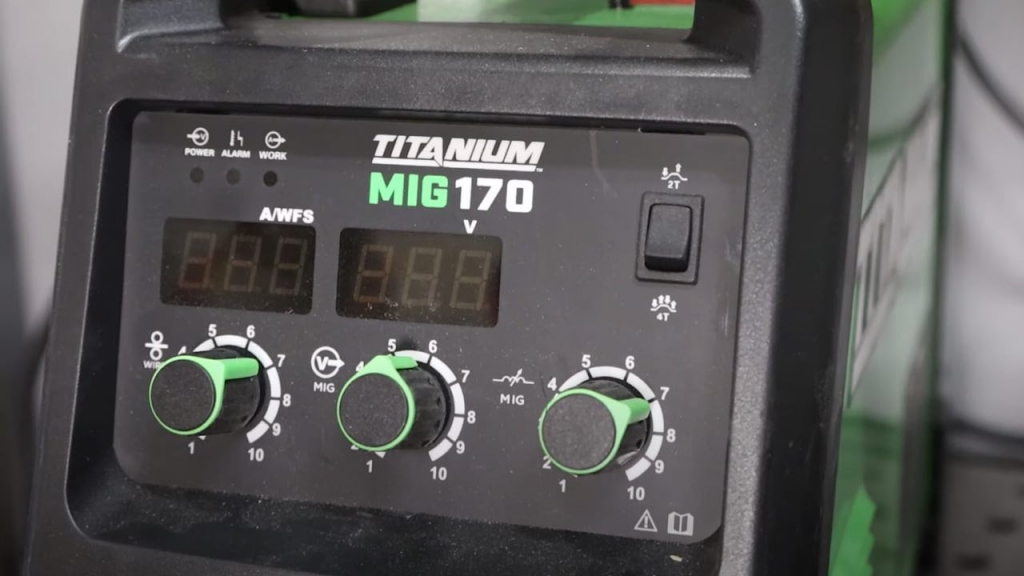 Offering infinite adjustability and digital displays allows you to tune your voltage output and wire feeding. This allows you to modify the resulting bead's width, depth of penetration, travel speed, and other characteristics to your liking.
This is important for pros and beginners alike. Rookies get to try multiple setups and see what they prefer for each metal thickness, while experienced welders will achieve better welds thanks to precise control.
Advanced Features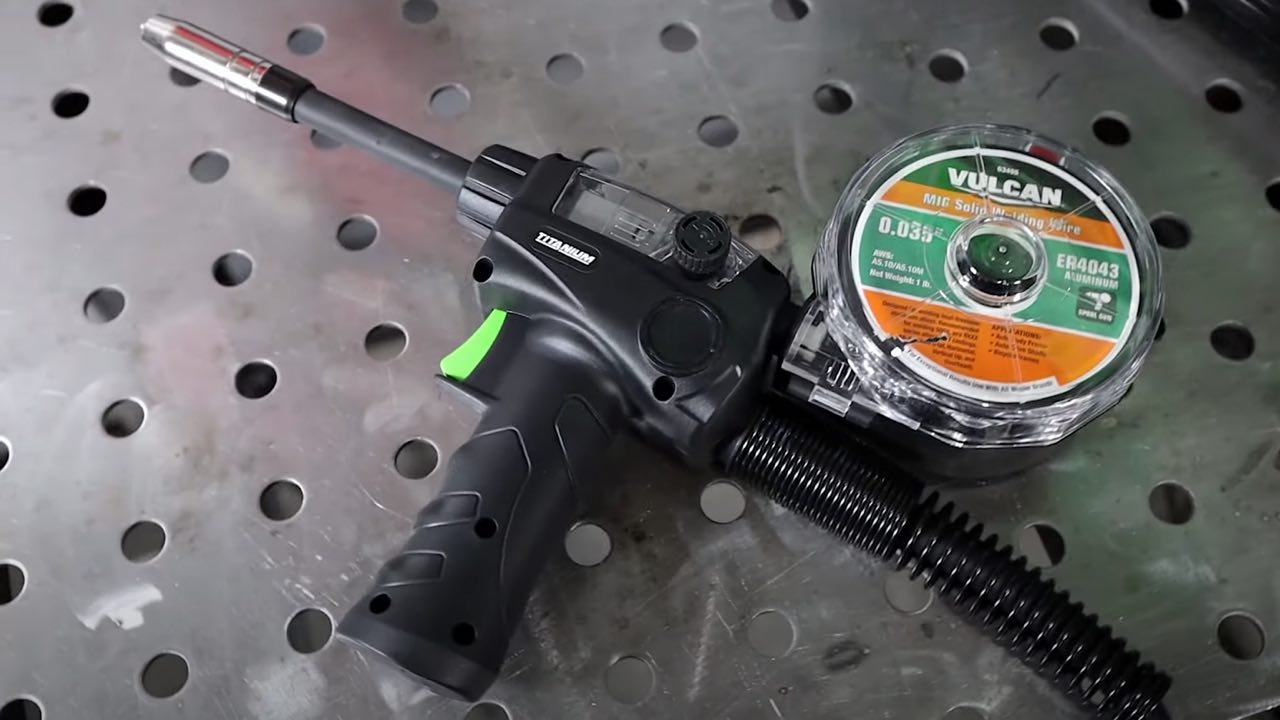 The included 2T/4T, and inductance adjustments are a welcome addition, even for beginners. While the Titanium MIG 170 doesn't have sufficient duty cycle to fully utilize the 4T function, it's still helpful when welding thin metal. The 4T mode allows you to start the arc, release the trigger on the MIG gun, and keep welding until you press the trigger again. This mode prevents hand fatigue and lets you access hard-to-reach areas with the MIG gun because you can let go of the trigger without losing the arc.
The inductance setting modifies the "wetting" of the puddle. This allows you to tailor the arc. You can make it softer with less spatter, or create a more narrow bead with more spatter. Plus, going from low to high inductance also helps when welding thick metal, and vice-versa, because it modifies the bead's width, which affects penetration.
Build Quality
The full sheet metal body and quality plastics on the front and back make this a well-built welder. The front panel houses three adjustability knobs, two digital displays, LEDs for diagnostics, and a 2T/4T switch, all of which are ergonomically placed for intuitive use.
A cast aluminum wire drive system contains the feed tensioner, idler arm, and roller knob. All are well made and durable. Pretty much the same design as you'll find in Eastwood's MIG welders.
The included MIG gun is in line with the welder's price, and the ground clamp is better than necessary for a 170A output. If you do wish to install a better ground clamp, that's simple to do, thanks to the easily accessible nut holding the ground wire to the clamp.
A Real Alternative
While the Titanium MIG 170 is a good welder, we decided to compare it to the Eastwood MIG 180, which is a better alternative, in our opinion. It's cheaper and offers more functions, better power, and a stronger warranty.
Eastwood MIG 180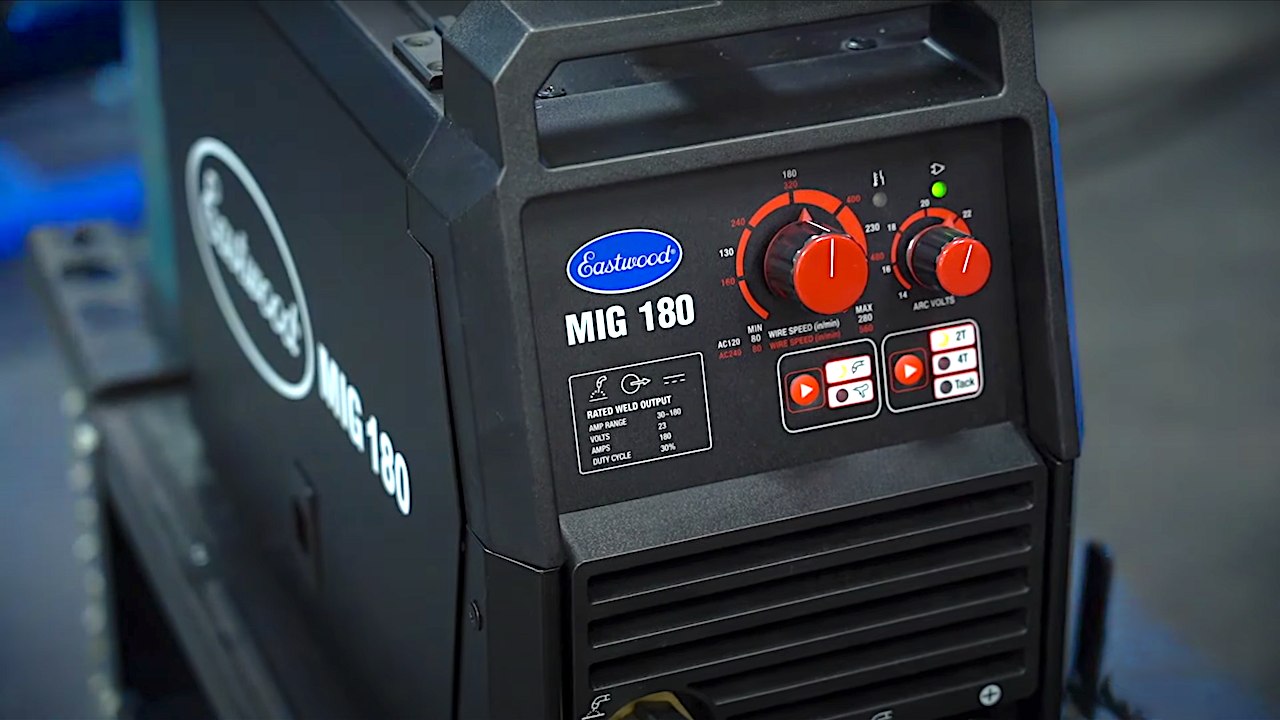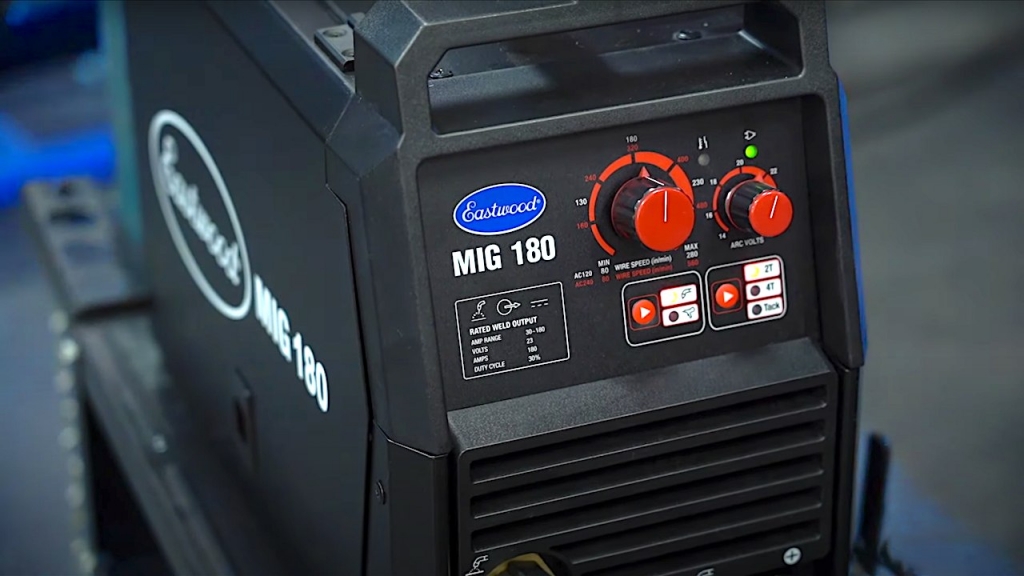 You can purchase the Eastwood MIG 180 with a spool gun or without, and both packages are cheaper than the Titanium MIG 170. Plus, Eastwood's welder includes a 3-year warranty, unlike Titanium which requires an around an additional $100 for 2 years worth of protection.
This welder doesn't include a digital display, but the infinite adjustability knobs have values printed around them in actual units. Volts for arc, and IPM for wire feed speeds. So, you know the exact values of your settings.
The Eastwood MIG 180 also includes a 2T/4T setting and a tack weld function which is very helpful when welding sheet metal. The tack weld feature lets you lay consistent tack welds regardless of how long you hold the MIG gun's trigger, and it's a must-have feature for working on a car auto body.
The Eastwood's most significant advantage over the Titanium model is its higher duty cycle of 30% at 180A (60% at 130A), and the overall higher amperage output. Plus, it provides a superior maximum wire feed speed of 551 IPM, allowing you to achieve better penetration and more easily keep bigger puddles fluid.
With a 3-year warranty, better duty cycle, more welding power, advanced features, and a lower price (even if you buy it with a spool gun), the Eastwood MIG 180 offers a better value than the Titanium MIG 170. Additionally, Eastwood is a USA brand with more than 40 years of experience and strong lifetime customer support. So, if you need any help from them, you are covered.
Note: The Eastwood MIG 180 made it on our list of one of the best MIG welders for the money.
Titanium MIG 170 vs. Eastwood MIG 180
Titanium MIG 170
Eastwood MIG 180
Weldable thickness mild steel (single pass)
Up to 3/16 in.
Up to 5/16 in.
Amperage output
30A – 170A
30A – 180A
Duty cycle
25% at 160A
30% at 180A
Maximum wire feed speed
400 IPM
551 IPM
Tack weld setting
❌
✅
Display
Digital
Analog
Return Fee
20%
None
Warranty
90-day
3-year
Weld Guru rating
★★★☆☆
★★★★☆
Price
$$$
Latest Deal Here
$$
Latest Deal Here
Final Verdict
The Titanium MIG 170 is an adequate welder for hobbyists. But it's not the best choice for welding shops that work on thick metals due to the lower duty cycle.
Interestingly, its biggest flaw is not related to the machine at all. Choosing between a 90-day or paid 2-year warranty doesn't compete when the Eastwood MIG 180 offers a 3-year warranty standard while costing less.
The Eastwood MIG 180 is a better choice for most people, except if you value the digital displays over a better duty cycle, higher wire feed speed, and lengthy warranty.
Other Titanium Reviews
Reviewed: Titanium MIG 140
Reviewed: Titanium Unlimited 200
Reviewed: Titanium TIG 200
Reviewed: Titanium Easy-Flux 125