The Titanium TIG 200 is an AC/DC, semi-professional TIG welder that offers plenty of welding power but some features are limited.
For example, this welder does provide a few advanced features like an AC output and HF start, but without the necessary adjustments needed to make the most out of them.
In this article, you'll learn about the advantages, downsides, and an alternative to help you choose the right TIG welder for your needs.
Overview of the Titanium TIG 200
The Titanium TIG 200 is priced in the middle of the pack and competes with brands like Eastwood, Weldpro, Everlast, YesWelder, and others who provide affordable AC/DC TIG welders.
However, most of these brands offer better control than the Titanium TIG 200, while costing roughly the same.
This TIG machine is built well, outputs a lot of amps, and provides basic accessories. But it's overpriced in my opinion compared to competing models.
What's Included
Titanium TIG 200
150A TIG Torch 10 ft.
6AWG work clamp 10 ft.
Gas nozzle (#4, #5, & #6), collets and bodies (0.040 in., 1/16 in., & 3/32 in.)
Gas regulator
Gas hose 6 ft.
Foot pedal
Power cord 8 ft. with a 115V input adapter NEMA 5-15P
The package includes the accessories you need to get started except tungsten electrodes. But that's a minor issue.
I find the TIG torch and foot pedal more troubling. While decent in quality, this basic TIG torch offers beginner-level design and no advanced features. The foot pedal is subpar compared to other options offered in this price range.
A similarly priced welder, the Eastwood TIG 200, includes a flex-head, 17-series TIG torch, which offers a much better welding experience and control over the shielding gas – we will come back that further on in the article.
Tech specs
Welder Type
AC/DC TIG, DC Stick
Input Voltage
120/240 V
Output Current Type
AC/DC
Technology
Inverter
Amperage Output
TIG: 10A – 200A
Stick: 10A – 160A
Duty Cycle
TIG: 20% at 200A
Stick: 20% at 160A
Weldable Materials
Mild steel, stainless steel, aluminum, chrome-moly
Torch & Ground Clamp Cable Length
10 feet
Weldable Mild Steel Thickness (Single-pass)
Up to 1/4 in.
AC Balance
Preset
Open Circuit Voltage (OCV)
13.5V
Welder Dimensions (H x W x L)
13-3/8in. x 8-5/8in. x 21in.
Weight
39.6 lbs.
Warranty
90-days
Weld Guru Rating
★★☆☆☆
Price
Latest Deal Here
Pros
Supports dual-voltage input
Simple to set up and use
Lightweight and portable
Built well
Offers AC TIG and a High-Frequency start
It has a digital display
Cons
Provided TIG torch offers basic welding experience
The gas regulator is too cheap
Low duty cycle
No AC balance adjustability
It doesn't support pre and post flow settings
Minimal warranty period
What To Know Before Buying The Titanium TIG 200
While this welding machine does support basic AC TIG welding with a quality arc, it's got a few negatives.
These may be a dealbreaker to a professional welder or even a hobbyist. So let's review the flaws to help you determine if this machine suits your needs.
Lack Of Settings
Providing only an amperage output setting, this is a very limited AC TIG welder. Its AC balance is preset, so you can't modify the DCEP and DCEN ratio. This means that you can't adapt your arc for better penetration or cleaning action when welding aluminum. Since this is a crucial setting any professional welder needs for aluminum, having a preset is a significant drawback to this TIG welder.
The pre-flow shielding gas time is predefined at 0.3s, while the post-flow is preset and automatically adjusts based on the amperage output. These are also important settings a welder can use to their advantage when welding various metals and thicknesses. But with a preset, you are limited.
Many brands sold at a similar cost offer adjustability for parameters that are preset on the Titanium TIG 200. So if you like to tweak your arc, you should look elsewhere.
Low Duty Cycle
Compared to competing models, the Harbor Freight Titanium TIG 200 has a notably low duty cycle. With just 20% duty cycle at 200A, it can weld for 2 minutes before requiring 8 minutes to cool down. This is acceptable for a hobbyist that will rarely weld at the maximum output. But since there are competing welders with a better duty cycle, it's a significant downside for the Titanium welder.
The Everlast PowerTIG 185DV has a duty cycle of 35% at 185A, for example. Plus, the Eastwood TIG 200 offers a 60% duty cycle at 190A. Both cost almost the same as the Titanium TIG 200.
Limited Accessories With Beginner-Level Quality
The included TIG torch is suitable for beginners and is fine for someone new to TIG welding. However, if you need better accessories, you'll have additional costs. Buying a better torch, foot control pedal, and a gas regulator can cost you several hundred dollars, which is unfortunate. It's more economical to get a welder that includes at least mid-range accessories like the Eastwood mentioned above.
Poor Warranty
This is the weakest point of the Titanium TIG 200 welder. Harbor Freight offers only a 90-day limited warranty for their welding machine. While they do provide an additional 2-year paid protection plan, it ramps up your price. I don't know a single brand with less than a 1-year warranty that offers quality welders. So, this is unusual considering this is a good welder, even with the noted limitations. It's built well and produces a quality arc. But the 90-day warranty doesn't communicate confidence in the quality of the welder.
Most people who buy this Titanium welder will tack on the additional 2-year plan for about $100. While this provides you with a better warranty, it pushes the price into a price range where competitors offer much better value.
For comparison, Eastwood offers a minimum of 3-year warranty without any additional paid plans, and so do many other brands. Even the popular and cheaper YesWelder AC/DC TIG 250A provides a 3-year warranty.
Review of The Top Features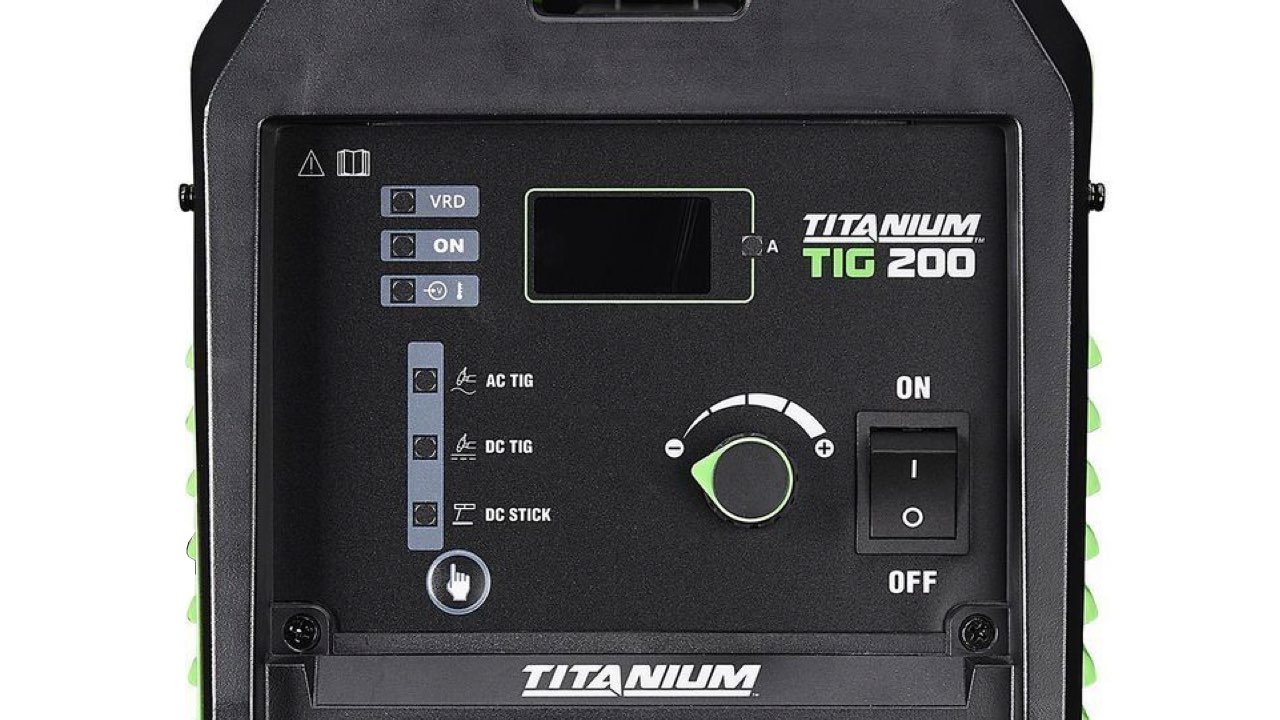 This Titanium inverter welder has it strong points, too. While overpriced, many people love the brand and find the Titanium welders reliable.
So if the above-described issues are not a deal-breaker for you, let's dive into the pros before moving on to a possible alternative.
Simple To Use
Lacking professional settings and control, this TIG welding machine is easier to use. It may not always provide the best results because certain welds may require a different AC balance, which you cannot change. But you won't have to bother yourself with it, either. So while limiting, it makes the welding process easier.
The front panel is as straightforward as it gets with TIG welders that can weld aluminum. Usually, such machines are stuffed with knobs and buttons that you must set. But if you prefer a very clean interface, the Titanium TIG 200 is a great choice if you don't need advanced settings.
Additionally, its instruction manual is excellent. Titanium welders come with detailed owner's manuals offering some of the most in-depth explanations in the industry. Very similar to the level of detail that Eastwood and ESAB provide.
Portability
Offering a dual-voltage input capability and a low weight, it's an excellent choice for someone who needs to weld AC TIG welder on the go. This is especially true when you consider its compact design.
The Titanium TIG 200 has a square box design with minimal dimensions. No fancy curvature or complex body elements means easier storage in your truck alongside the other tools.
Build Quality
With a solid metal frame and decent plastic quality, this TIG welder is well built. The digital display adds to the overall design and user-friendliness.
The buttons, central knob, and DINSE connectors are good quality and should satisfy most welder's expectations. The unit's build quality fits the price range and it is comparable to competing welders.
A Real Alternative to the Titanium TIG 200
The Titanium TIG 200 is a good TIG machine if you buy it with the proper expectations. However, many welders offer better value at a similar price.
To help you narrow down your choice, we analyzed the Eastwood unit below because it provides the most value for an AC/DC TIG welder at this price.
Eastwood TIG 200 vs. Titanium TIG 200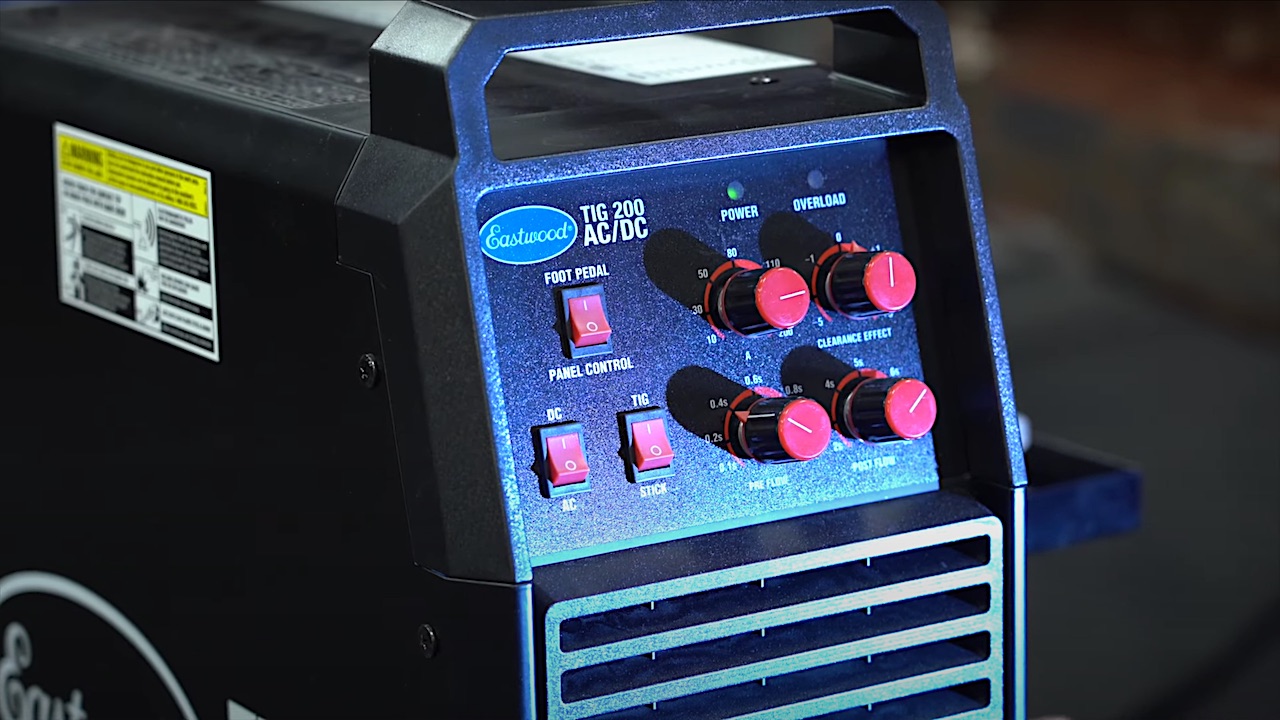 Eastwood's TIG 200 was recently updated in 2021. It offers multiple parameter settings with fixed values, providing better control than the Titanium TIG 200. The Eastwood also provides better accessories, a 3-year warranty as standard, and a significantly better duty cycle.
This is all included at a price similar to the Titanium TIG 200.
Offering an AC balance setting and a wide range of control for the pre and post-gas flow, Eastwood meets the minimum requirements to be considered a professional welder.
The 60% duty cycle at 190A and 100% duty cycle at 143A will have you welding without frequent pauses unless you are doing heavy fabrication work. Eastwood recently updated this model with the latest IGBT and MOSFET inverter technology, which allows it to weigh just 38 lbs., while still offering a high duty cycle and amperage output.
However, while lighter in weight than Titanium TIG 200, the Eastwood TIG 200 does have a slightly larger body casing.
It comes with more accessories that are of better quality. Shipping with a flex-head, 17-style TIG torch, gas flow meter, rocker-style foot pedal which alot easier to control, and gas lens kit for the torch. In short, this package provides mid-range accessories instead of equipment meant for beginners.
Besides AC/DC TIG, it includes AC/DC stick welding. While stick welding is usually done with DC, sometimes stick welding with AC is necessary.
But the real bonus is that it provides AC Square-wave TIG welding instead of AC Sine-wave. Without getting too technical, AC Square-wave will give you greater balance control over your welds and is a must-have when welding a variety of aluminum or magnesium alloys.
Costing about the same and offering a longer warranty, more accessories, and the latest inverter technology, the Eastwood TIG 200 is a better value, especially for aluminum welding.
Quick comparison
Feature
Titanium TIG 200
Eastwood TIG 200
Duty Cycle
TIG: 20% at 200A
Stick: 20% at 160A
TIG: 60% at 190A
Stick: 60% at 185A
Power Source
Sine-wave
Square-wave
AC Balance
Fixed
Adjustable
Gas Pre-Flow
Fixed
0.1-1.0s
Gas Post-Flow
Preset (auto adjusts)
2 – 8s
Provided TIG torch
Basic
17-style flex head
Tungsten electrodes included
❌
✅
Foot pedal style
Standard
Rocker
Display
Digital
Analog
Warranty
90-Day
3-Year
Weight
39.6 lbs.
38 lbs.
Weld Guru Rating
★★☆☆☆
★★★★☆
Price
$$$
Latest Deal Here
$$$
Latest Deal Here
Final Verdict
The Titanium TIG 200 is a good quality welder, but in our opinion, the Eastwood TIG 200 provides much better value all around for the small price difference – It may even work out cheaper if you catch it on offer.
If you do decide to get Titanium's welder, make sure you don't need the missing features and get the extended warranty for peace of mind.
The 2-year protection plan is expensive, but I wouldn't advise buying a costly machine-backed just by a 90-day warranty, no matter how reliable you think  Harbor Freight is as a brand.
Other Titanium Reviews