Those looking for a MIG welder that runs on dual voltage, and handles ⅜ steel or aluminum in one pass, will likely consider the Handler 210MVP or the Millermatic 211.
While the Hobart and Miller units offer similar abilities, their differences do cause buyers to lean to one or the other.
However, those on a budget may be disappointed if they want the light, portable inverter-based technology offered in the Millermatic 211. Yes, it comes with the newest power management tech and other advanced features. But the 211 is also expensive; you have to pay to get them.
Enter the Vuclan MIGMax 215…
It comes with inverter technology, an advanced synergic interface, and a smooth arc start function. So, it is remarkably similar to the Millermatic 211, except with a smaller price tag. The MIGMax 215 is even a few bucks less the 210MVP.
So, what do you give up with the Vulcan MIGMax 215? It is a "budget-priced" welder after all. Well, the answer might surprise you. For a small to medium-sized shop, this welder has a lot to offer at an affordable price point and deserves a look if you are in the market.
Quick Overview of the MIGMax 215 [VW215-MM]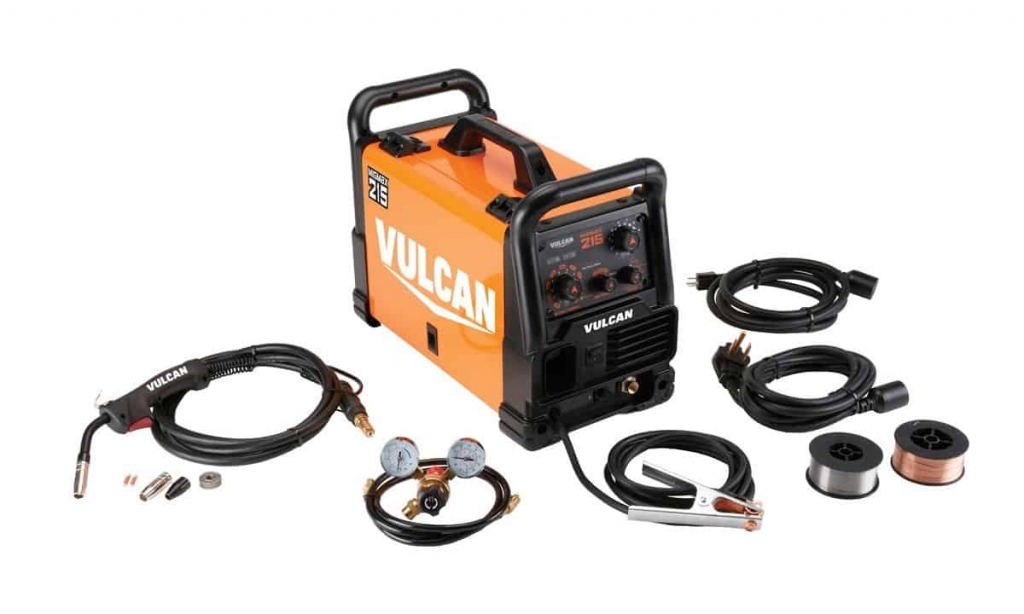 What's Included
Vulcan MIGMax 215 welder
Vulcan 180A MIG welding gun (10 ft.)
Power cords for both 120 and 240V
Gas and gasless nozzle (1 ea.)
Cable liner
0.030 in. contact tips (2 ea.)
Work cable (10 ft.) and clamp
Ar & Ar/CO2 flow gauge regulator and hose (6 ft.)
2 lb. spool of 0.030 in. Vulcan flux core wire
2 lb. spool of 0.030 in. Vulcan MIG wire
Adapter for 12 lb.s spools of wire
0.025 in. – 0.035 in. v-groove drive roll
0.030 & 0.035 in. knurled drive roll
Circular thickness gauge
User Manual
Technical Specifications
Welder Type
MIG, Flux Core
Input Voltage
120 V
240 V
Technology
Inverter
Weldable Materials
Mild & stainless steel, Aluminum
Duty Cycle
120V: 30% @ 115A (19.75V / 20.7A)
240V: 25% @ 200A ( 24V / 24.8A)
Amperage
120V: 30 – 140A
240V: 30 – 215A
Voltage/Stock Thickness Settings
Infinite between min. and max.
Torch Lead Length
10 ft.
Ground Cable Length
10 ft.
Mild Steel Thickness (Single-pass)
120V: 24 ga. – 1/8 in.
240V: 24 ga. – 3/8 in.
Aluminum Thickness (w/ spool gun)
120V: 16 ga. – 1/8 in.
2400V: 16 ga. – 3/8 in.
Wire Thickness
0.025 – 0.035 in. (solid)
0.030 – 0.045 in. (flux-cored)
0.030-0.035 in. (aluminum, w/ spool gun)
Wire Feed Speed ("WFS")
50 – 500 IPM
Wire Feed Speed Settings
Infinite between min. and max.
Wire Spool Sizes
4-in. (2 lbs.) and 8-in.(12 lbs.) w/ adapter
Spool Gun Ready
✅
Welder Dimensions (H x W x L)
16 in. x 11 in. x 21 in.
Weight
44 lbs.
Warranty
90 days
Harbor Freight Rating
★★★★★ (4.9)
Price
See The Latest
Deal Here
Pros
Welds steel and aluminum (w/ optional spool gun) to 3/8 in. thick
Dual input power (120 or 240V)
Twist locks cables for both 120V and 240V, no adapters used
Uses newer inverter technology
Lightweight, portable
Synergic interface for ease in getting the right settings for your weld
MIG and flux-core wire feed rollers included
Cold wire feed switch
Smooth arc start feature
Spool gun ready
Thickness gauge is a quality, handy freebie
Cons
Heavier wire rolls may exceed 12 lb. spool adapter limit
In synergic mode, settings are stepped (not infinite) between stock thickness settings
Only goes to 30A for thin stock
Short warranty
Where To Buy the MIGMax 215
As you may already know, Vulcan is sold exclusively via Harbor Freight so there is no other retailers you can buy this from.
It's always worth checking the online price, as I have found they run deals from time to time, that may not be available in store.
What to Know Before Buying the Vulcan MIGMax 215
Duty Cycle
For those looking for an industrial machine that can run all day long, this is not your welder. When running on 240V, the duty cycle is 25% @ 200A and rises to 100% at 115A.
That duty cycle is fine for most auto, maintenance, farm/ranch, and DIY shops, as well as metal sculpting studios. But if you expect to run for long periods of time at higher amps, the thermal protection circuit may shut the welder down every now and then.
Warranty
Three to five-year warranties are offered for the Hobart and Miller welders. However, the 90-day warranty on the Vulcan is noticeably shorter. If you place the security of a warranty high on your wish list, this Vulcan welder may not satisfy your needs.
Wire Spool Weight
This might be considered a nitpick, but the spool adapter used to hold the bigger rolls of wire is rated up to 12 lbs. That may feel limiting to some.
As you may know, some rolls weigh more than 12 lbs. It is likely you could still use the "heavier" rolls, but Vulcan could have beefed up the adapter to work with the various wire rolls found on the market.
Continuous Fan
Some welders use an on-demand fan. The noise of a constantly running fan can annoy some, and they like the fan to go off when not welding.
But the MIGMax 215 has a continuous fan; it runs all the time. The sound is not obnoxious, but you will hear it.
Features that Make the MIGMax 215 Great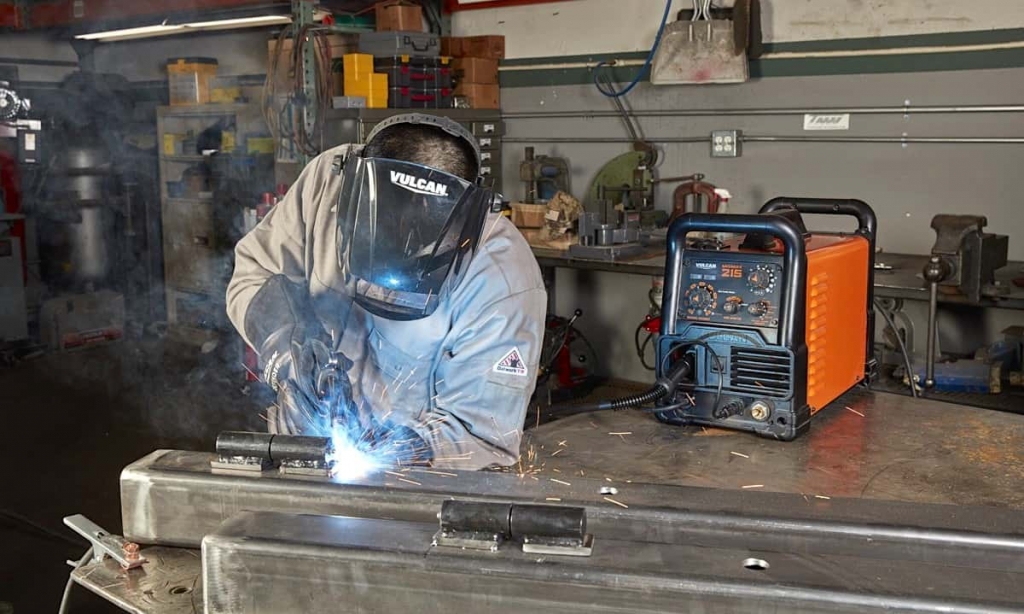 Power Input Options
Dual power input has become a must for some users and the MIGMax 215 embraces the concept. It runs on 120V and 240v and comes with separate power cords for each. No adapters are required, and at this price level that comes as a nice surprise.
You can also run on a generator if needed (what size generator for welding?). The bottom line, you have flexibility with how you power up your welder with the MIGMax 215.
Inverter Technology
Vulcan designed the MIGMax 215 to use inverter technology. So, it is smaller and lighter than welders that use transformers. This results in an easy-to-move and transport unit.
But inverters also allow advanced features to be built into the welder, like a synergic interface (also called "auto settings" by some, but more on that later) and a smooth arc starting feature. Setup is fast and while welding, users notice the smooth, reliable arc that results.
Output Power
One reason that many users consider spending a little more on a welder, more power to handle thicker stock. The ability to work with various thicknesses means you can do more with your machine. If you own a small to medium-sized shop, versatility in every tool is important.
The Vulcan MIGMax 215 puts out up to 215A when running off of a 240V power supply. This is plenty for most automotive and maintenance shops. Also, on 120V, you can put out 140A which compares well to other welders that run on 120V.
But on the low end, you can also down to 30A and that allows you to tackle 24 ga. stock. The power range in this unit lets you weld a wide range of stock thicknesses, which can make it a valuable tool in many shops.
Wire Feed Mechanism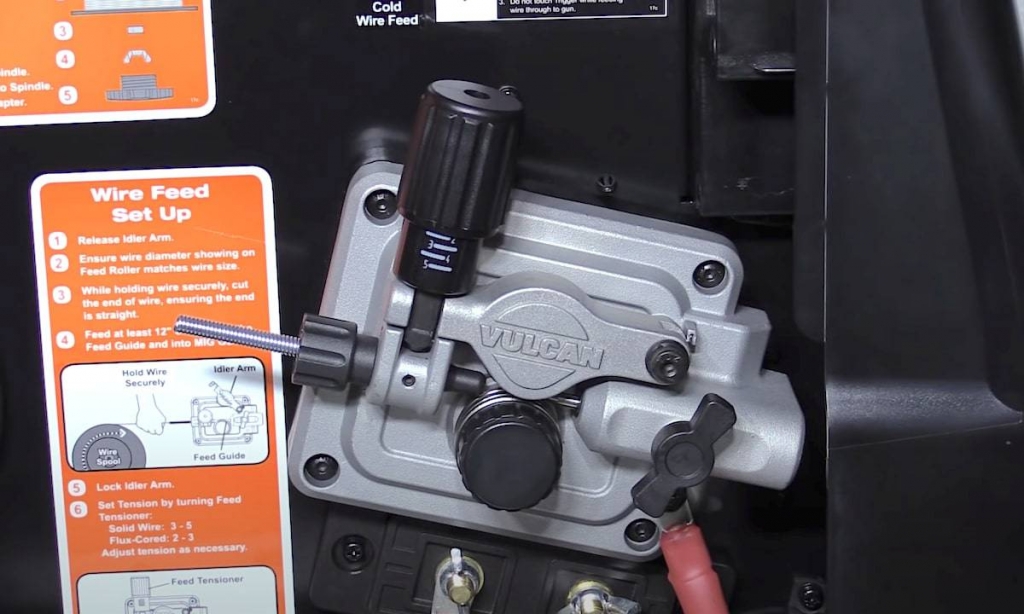 Inside this welder, you will find a robust, cast aluminum housing for the wire feed mechanism. That is not something you might expect in a "budget welder."
When switching wire sizes, the rollers are easy to swap without tools. The design works well and is easy to use.
On the inside of the wire compartment, you also have detailed instructions on how to set up and feed the wire feed, a nice touch for first-time users.
You will also find the 215 has a momentary cold feed switch. That means no pulling the trigger and activating your gun to feed the wire through to the tip. It is a nice little feature that makes using this Vulcan welder safe and easy.
Spool Gun Ready
If you are one of those who work with aluminum on a regular basis, the MIGMax 215 comes spool gun ready.
You simply need the compatible spool gun, bought as an extra, and you plug it directly into the welder.
Most importantly, the 215's performance with aluminum impresses even experienced welders. Plus, when running on 240V, you can handle up to ⅜ thick aluminum in a single pass.
Synergic Interface
While this is a fancy name, it simply means you an auto settings feature. You select a wire thickness, the welding "process," and your stock thickness, then you let the machine do the rest. Wire feed speed and voltage are set automatically.
For thicker stock, many found the auto settings to be fine. But with thinner stock, the welder ran a little hot in synergic mode.
The voltage is stepped by stock thickness while running in synergic mode, but not in manual mode. So, if the stepped settings are a little hot, you can still tweak the arc quality by using the 215 in manual mode.
The knobs themselves are ribbed and can be used while wearing gloves. There is no LCD screen, but a number of users liked this as the screens were considered a liability in the shop.
Overall, you have options with how to set up and run this welder. If you do run in manual mode, Vulcan even included a handy settings chart on the inside of the wire compartment door to give you a good starting point for the particular weld you need to make.
What other users say about the MIGMax 215
After reading hundreds of reviews, and watching dozens of videos, two words came up repeatedly; smooth and reliable. The arc quality is good and many users noted less spatter with this welder.
The knobs feel a little less "tight" compared to the competing Hobart 210 MVP and Miller welders. But they have held up fine in actual use. There are even some videos where users were so surprised with the durability after a couple of years that they felt compelled to provide an update.
This is not an industrial welder by any definition. But with a little care, it appears this welder was designed and built well enough to hold up in the small to medium shop.
Conclusion
For those who need a light, powerful, portable welder that comes with a dual power input feature, the Vulcan MIGMax 215 should be on your shortlist to consider. Especially if you are mulling the Millermatic 211, but are holding back because of the 211's high price.
If you buy the MIGMax 215, you get many of the same features, like auto settings and smooth start function, found in the Miller offering, but for hundreds less. With the money you save, you get needed accessories like spools of wire, more bottles of gas, a spool gun, etc.
The arc quality and reliability surprised many skeptics and this model has been around long enough to now have a track record. The short warranty concerns many, and it should, but there are now plenty of users that have shown this unit can survive real-world use.
So, if you are on a tight budget, and want the inverter technology, the Vulcan MIGMax 215 fits the bill. What you get is power, versatility, and reliability at an affordable price, which will satisfy the automotive, maintenance, farm/ranch, artists, and DIY shop needs.
Related Reads
Miller 211 vs Hobart 210 MVP – A Detailed Comparison