There may be nothing more valuable around the home than a welder.
Even if it's not used very often, when you need one, nothing else will do.
But welders cost a lot and take up a lot of room, right?
Not any more. Today's welders are compact, portable and inexpensive.
Look at the home welders we've found for you in the marketplace.
---
A Quick Comparison
Product
Image
Product
Details

Eastwood MIG 180

Best bang for the buck

Recently updated in 2021

Packed full of features

YesWelder MIG-205DS

One-touch process change

120/240-volt power input

Stick, flux core, MIG, TIG

Hobart Handler 140 - MIG

Popular among homeowners

All metal wire drive

Miller brand regulator

Hobart Stickmate 160i - Stick

Dual 120/240 volt input

Weighs only 20 pounds

Extremely portable

Lincoln Electric K2278-1 Handy Core

Runs on household current

Easy set up

Highly reviewed with homeowners

Forney Easy Weld 140 MP - Multi Process

MIG, TIG and stick welder

Best value multi-process welder

Highly rated

PRIMEWELD TIG225X - TIG/Stick

AC and DC TIG

Includes foot pedal

Excellent reviews
Best Welders For Home Use
Here's a list of some of the best welders for home use on the market:
1. Eastwood MIG 180 Home MIG Welder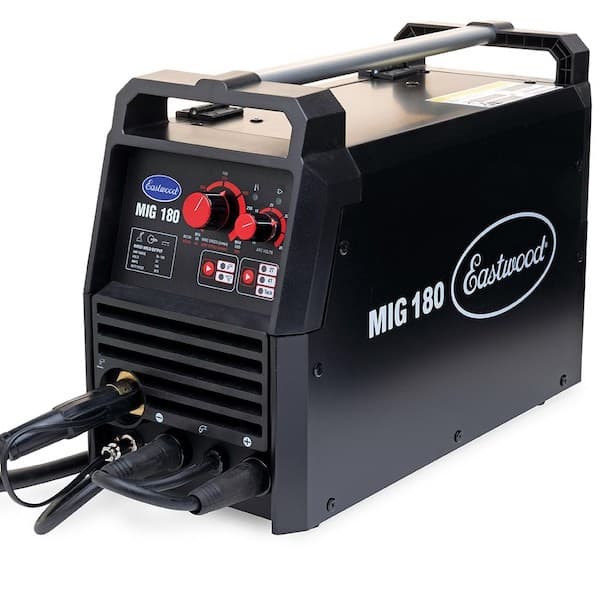 Solid metal drive
30-180 amp range
2T/4T trigger hold
Dual powered 120/240 volts
New upgrade to the MIG 175
Pros
IGBT Inverter powered
Optional spool gun if needed
Tweco-style MIG gun
Includes regulator
Mounts 4- and 8- inch spools
Cons
10-foot torch leads are a little short
Most 120v welders reach 140 amps
Overview
The Eastwood MIG 180 MIG Welder is an upgraded version of Eastwood's MIG 175 with a new all-metal drive. It features a Tweco-style MIG gun, which makes finding parts less of a chore. This machine runs on either 120-volt power at 120 amps or delivers 180 amps on 240. There's also a 140-amp version that runs on 120-volt input only. If you want to save some money or don't need to weld thicker than 1/4-inch steel, the Eastwood MIG 140 is a great deal.
This versatile MIG welder gives you a lower limit of 30 amps for sheet metal down to 24-gauge, perfect for auto bodywork, ducting, and garden tool repair. On 240 power, the Eastwood MIG 180 MIG Welder can weld steel up to 5/16-inch thick. It's got a tack welding feature that pulses the arc to let you stitch two panels together quickly. The 2T/4T trigger lock allows long bead runs without hand fatigue.
Note: This machine also made it onto our list of top-rated MIG welders overall.
The Eastwood MIG 180 MIG Welder mounts either 4-pound or 10-pound spools. Eastwood offers a discount for buying this machine with an aluminum welding spool gun. This is a versatile and capable machine that stacks up well next to the Hobart 210 MVP at a better cost.
---
2. YesWelder MIG-205DS Multi-Process Home Welder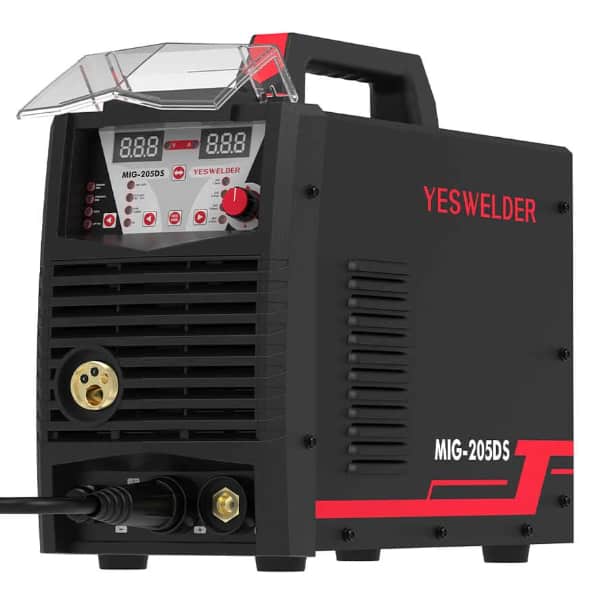 2T/4T locking trigger
One-button mode selection
20- to 200-amp range
DC TIG, MIG, flux-core, stick
Dual input: 120 or 240 volts
Pros
Lightweight 33 pounds
LCD digital display
Lift-start TIG
Synergic arc settings
Flip cover for front panel
Cons
TIG torch not included
Can't accept MIG spoolgun
Overview
The YesWelder MIG-205DS Multi-Process Home Welder delivers 20 amps on the lower limit, giving you the ability to weld 24-gauge sheet metal, repairing wheelbarrows and wagons or working on air ducting. It's a dual-input machine that runs on 120-volt or 240-volt power, reaching up to 160 amps on 120 volts and 200 amps on 240 power. You can weld steel as thick as 3/16-inch thick with 120-volt input and 1/4-inch thick when running on 240 volts.
Because it's a DC TIG, the YesWelder MIG-205DS Multi-Process Home Welder is intended for steel only. Without spool gun compatibility, MIG and flux core aren't good for aluminum, either. However, this is where the beauty of multi-process welders comes into play. You can still turn to the stick arc process by using aluminum welding rods. With a 2T/4T trigger lock, you can make long runs on sheet metal without hand fatigue. YesWelder also equips this machine with a flip-up dust cover for the front controls.
The YesWelder MIG-205DS Multi-Process Home Welder makes setup easy with automatic settings based on material thickness. You switch with a single button to change welding modes. This box includes a 12.5-foot MIG gun and a 10-foot electrode holder, but the TIG torch will cost extra.
---
3. Hobart Handler 140 - Best Home MIG Welder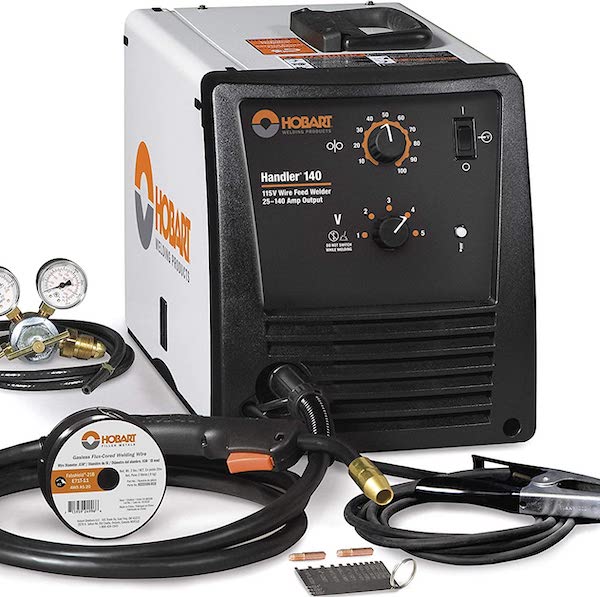 Convenient 120 volt power
25–140 amp output range
Both flux core and MIG process
Duty cycle is 20% @ 90 Amps
24 gauge sheet to 1/4-inch thick
Pros
Miller brand regulator
Ground clamp is rugged
Weighs only 65 pounds
Solid aluminum wire feed
Includes a 10-foot MIG connection
Cons
Need a wrench to adjust spool tension
Some complaints of wires not connected
Overview
The Hobart Handler 140 is one of the most popular MIG welders for homeowners and has enough power to do most jobs you'll ever tackle in a home shop setting. With an output range from 25 to 140 amps, this machine is able to take care of business with a lot of different materials.
25 amps can weld as thin as 24 gauge sheet metal using the MIG process, and with 140 amps running flux core, you can weld up to 1/4-inch thick steel. The 20 percent duty cycle at 90 amps is plenty of working time to deal with just about any home repair chores that are likely to need a welder.
With the ability to run off a 4000-watt generator and a weight of 65 pounds, the Hobart Handler 140 is substantial but portable and versatile. Hobart's famous for making durable machines that can take the abuse of all-day work on a construction site. Some owners have complained about random disconnected wires, but these reports aren't numerous. Others don't like the fact that it takes a wrench to adjust the spool tension. This machine takes 4 and 8-inch spools and comes with a 3-year warranty.
TIP: If you don't want to splash out on the Hobart 140, I highly suggest checking out the Eastwood MIG 140. It is almost half the price, runs on newer inverter technology, has more features, and is recommended by many beginner welders.
---
4. Hobart Stickmate 160i - Best Home Stick Welder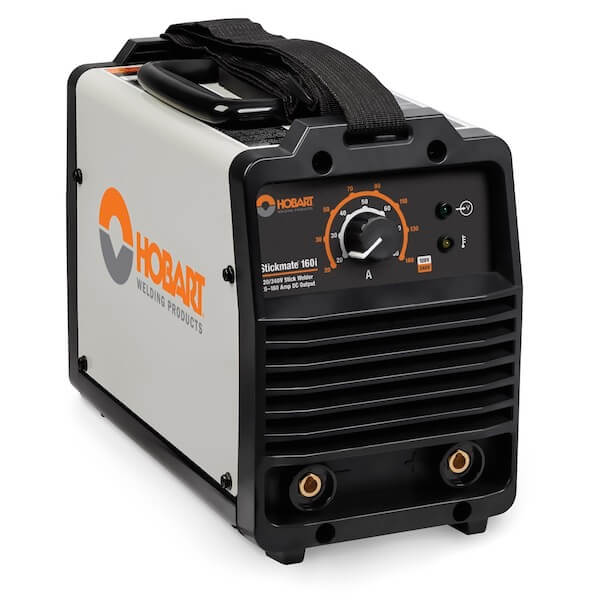 Dual 120 and 240 volt power
DC stick arc welder
Welds 3/8-inch steel
3-year warranty
Hot Start for easy arc strikes
Pros
Weighs less than 20 pounds
Infinitely adjustable amperage control
Includes a shoulder strap
30 percent duty cycle at full power
20-160 amps output power
Cons
240 power requires a 40 amp circuit
Hobart brand, but Chinese made
Overview
Known for durability and industrial quality, Hobart has been an industry leader since 1917. The Hobart Stickmate 160i is a great arc welder homeowners that run on 120 volt or 240 volt input power, delivering an output range from 20 to 160 amps. You can weld from 28 gauge sheet metal up to 3/8-inch thick steel plate. It has an infinitely adjustable current setting with increments as small as 1 amp.
Home owners praise this machine's performance, mentioning the arc quality and how easy it is to strike and maintain an arc with the Hobart Stickmate 160i. The Hot Start feature is a technology known as "synergic design" that dynamically monitors voltage, current and arc distance while welding and changes settings in real time to maintain an optimum arc.
One drawback for some people is that this machine is made in China. It is a high-quality machine by all accounts, but for those who buy an American brand hoping to buy American built, that's not the case with this particular product. The Hobart Stickmate 160i comes with a 3-year warranty and weighs less than 20 pounds.
---
5. Lincoln Electric K2278-1 Handy Core
Runs on household current
Flux core welder for beginners
Output range 35-88 amps
Electrode wire isn't hot until triggered
1-year warranty
Pros
Four output ranges
Leads are factory-connected
Easy settings for beginners
Great for appliances and carts
Can weld 1/8-inch steel
Cons
Duty cycle is only 20 percent at 70 amps
Some owners say the ground clamp is cheap
Overview
The Lincoln K2278-1 Handy Core is a beginner-level flux core welding machine that's perfect for light repairs around the home. Able to weld as thin as 18-gauge sheet metal, it's great for repairing garden tools, appliances and gutters, to name a few. It maxes out at 88 amps, which will weld 1/8-inch thick steel in a single pass. With that amount of welding power, you can take care of automotive chores like welding brackets, repairing exhaust systems and handle things around the yard and garden like fencing and gate hinges.
Some owners report that the Lincoln K2278-1 Handy Core ships with a cheaply made ground clamp, which can affect the quality of your welding. Other users feel that the duty cycle isn't robust enough to do serious work. It's rated for 20 percent at 70 amps, which doesn't sound like much, but that would let you weld for two straight minutes on thick sheet or a thin bracket before having to rest the machine.
The Lincoln K2278-1 Handy Core comes with a gun and lead, ground clamp, and the power cable already assembled and backed by a 1-year warranty.
---
6. Forney Easy Weld 140 MP Multi-Process Welder
120 volt input power
Settings are infinitely adjustable
MIG, TIG, flux core and stick welder
10-foot MIG gun
Output range 10 to 140 amps
Pros
Generator friendly
32 gauge sheet metal to 1/4-inch steel
Tweco-style MIG parts
Mounts both 4 and 8-inch rolls
Solid metal wire drive
Cons
TIG accessories not included
No gas regulator
Overview
The Forney Easy Weld 140 MP is an inexpensive welding machine for the home featuring MIG, DC TIG, DC stick and flux core processes, all in the same box. Running on 120 volt household power, it's convenient to use anywhere.
With an all-aluminum wire feed drive that mounts both 4-inch and 8-inch wire spools, the build quality of the Forney Easy Weld 140 MP is evident throughout the machine. DC TIG isn't really suitable for welding aluminum, but with the MIG process and an optional spool gun, you can weld aluminum up to 1/8-inch thick (full review here).
The Forney Easy Weld 140 MP has an infinitely adjustable output range from 10 to 140 amps, allowing you to weld from 32 gauge sheet metal up to 1/4-inch steel. To use the gas MIG or TIG processes rather than stick and flux core, you'll need to buy a gas regulator and a TIG torch.
---
7. PRIMEWELD TIG225X - Tig/Stick Welder
AC and DC TIG and stick welder
Powered by IGBT inverter
3 year warranty
Gas regulator included
Wide output range 10 to 225 amps
Pros
Pulse Width Modulation
High frequency arc starts
AC and pulse frequency 200 hertz
CK-17 torch made in USA
Metal foot pedal included
Cons
Reports of inconsistent quality
Manual is completely illegible
Overview
The Primeweld TIG225X is a versatile, full-featured AC/DC TIG welder with an awful lot of features for its price range. Pulse width modulation and AC phase adjustment provide the ability to modify bead width and depth characteristics. The AC waveform function cleans the weld puddle, removing impurities to eliminate bead cleaning chores.
This welder features a 100 percent duty cycle at 108 amps. This means you can weld continuously on 1/8-inch steel plate. Some owners report inconsistent build quality, with some machines arriving without wires hooked up and missing accessories. At the full 225 amps The Primeweld TIG225X has a 40 percent duty rating, meaning you can weld at max power for four minutes on 1/2-inch steel plate.
The Primeweld TIG225X gives the homeowner the same power as professional fabrication shops. This machine has a 3 year warranty. It ships with a metal foot control, a regulator and a CK17 torch with flex lines. With dual 120 volt and 240 volt input, huge adjustability and a very wide ouput range, the Primeweld Tig225X costs more than others in this roundup, but it's well worth considering.
---
Buying Guide for Home Welders
Among the things to consider, when shopping a welder for home use are:
Input power rating
Output power
Type of work you plan to do
Type of welding process you either need or prefer
Space considerations
Pricing
Most machines are designed to prioritize one or two of these needs over the others, so a balance of features is what you're striving to achieve here.
Power Requirements
Input Power
When we talk about power needs as they relate to a welding machine, there is an input power rating and output power rating.
For now, it's important to realize that some machines are designed to run on 120 volt household power, some on 240 volt power like you may have for a dryer or furnace (and sometimes in the shop) and there are others that run on both 120 and 240 volts.
Related read: 110 volt MIG Welders – Our top picks
Output Power
When it comes to output power, your choice here is going to depend primarily on the type of work you plan to do.
Machines with an input side that only takes 120 volts are limited to 140 amps output, which is still enough to weld steel up to about 1/4-inch thick. If you need to weld thicker steel than that, you need a machine powered by 240 volts.
If you want to work on thin metal like ducting or auto bodies, you need a machine that gets down to a low amperage, preferably 10 amps or less. Usually, the best control at lower power levels is found on 240 volt machines, though not always, and it can also be a function of higher cost.
Type of Work
The type of work you want to do should always be the main factor influencing your choice of a welder. The way you intend to use your machine at home affects decisions about which process you need to use and the power needed. These factors, in turn, will partly determine the size, weight and price of your final choice.
If you know for certain that your primary use is going to be building furniture or fencing from large-diameter tubing that's 1/8-inch thick, for instance, you need 90-plus amps and the best process would be stick or flux unless you're building roll cages for race cars, in which case TIG is the better choice.
If you plan to weld mostly very thin metal, TIG and MIG are the usual ways this is done. For angle iron used to patch and repair quick and dirty fixes, stick arc welding has been the tool of choice for well over a century.
Welding Processes
Each type of welding process carries particular advantages and disadvantages for the home welder.
Arc or Stick (SMAW)
Stick Metal Arc Welding, usually abbreviated SMAW or just called stick welding or arc welding, is the one you're likely most familiar with.
It uses a ground lead that's clamped to the workpiece and a clamp that holds a rod-shaped electrode that's struck like a match on the metal piece to create and arc, and the rod is consumed to fill the gap in the metal and join the pieces as they melt.
Stick welding is the only process that can weld cast iron.
The main advantages are the minimal cost of machinery and ease of setup. The drawbacks are the messy welds that need cleanup time and the necessity for a good deal of practice before you're very good at it. That being said, there are some good stick welders you can buy for under $500.
Flux Core (FCAW)
Flux Core Arc Welding uses a spool of metal wire that's fed from a motor drive through a hollow lead to the arc gun, taking the place of the rod used in stick welding.
It's easier to learn and get good at than possibly any other type of welding, the machines are inexpensive and you can weld outside in a breeze.
Flux core wire is hollow and filled with a material called flux, similar to the powder coating on the outside of a stick arc welding rod. As the electrode wire is consumed, the flux melts and forms a gas shield around the weld puddle, making for a cleaner bead than stick welding.
MIG Welding
Metal Inert Gas welding uses a wire feed system like flux core welding, with a gas shielding hose that flows gas from an attached cylinder around the weld to shield it from the atmosphere, preventing impurities. The electrode wire can be either hollow flux core wire or solid wire.
It's easier than stick welding and is usually a good place to start for beginners, but it's not as easy as flux core to set up or to learn the skills. In addition, MIG doesn't perform well outside in a breeze.
TIG Welding
Tungsten Inert Gas is a type of gas shielded arc welding that uses a tungsten electrode in the torch that is consumed only very slowly and incidental to the welding process. The electrode is shielded by inert gas from an attached cylinder.
Unlike MIG welding, TIG is unable to weld aluminum in a practical sense using DC current. It can be done, but takes special skills and a lot of power. To be practical, TIG welding for aluminum needs an AC machine to do the work.
In addition, TIG is a special skill, requiring two hands, one for the torch and the other for a filler rod similar to what you see in oxy-acetylene torch welding. As you move the torch along the seam and melt the metal, you have to feed the rod into the weld puddle.
That's not all.
The best TIG work requires the ability to tell when you're getting the metal too hot or not hot enough and control the heat level, usually using a foot pedal-type of control, but there are also rigs with a thumb button or dial on the torch for this.
If you're willing to do the practice at home and gain the skill, it's very rewarding, and TIG makes the most beautiful beads in welding and the strongest joints in aluminum or titanium tubing. It can also be used to weld copper.
The disadvantages for homeowners are the initial cost of equipment and the practice time.
Size and Space
The more powerful your welder and the more complicated the processes you've chosen the bigger the welder will be. Some of the machines with dual-voltage input and three processes can weigh upwards of 90 pounds.
Make sure you have room at home in a corner or on your bench for a machine like this. You may want a cart that's dedicated to the welder, gas bottles, accessories like different types of torches, rods, wire spools, tools like chipping hammers, wire brushes, helmets, gloves, wrenches and the like. These things take up room!
Pricing
It should come as no surprise that the more powerful and feature-packed your choice of welder is, the more it's likely to cost. There are cheap welders available that may be suitable, but it will come down to your needs.
Take into account whether or not the original investment includes accessories like:
gas regulators
quality clamps
long leads
TIG machines often require the separate purchase of a regulator or a heat control pedal. Some of them don't even include a TIG torch, which is different than a MIG torch is.
If you want to weld aluminum without having to learn or pay for the AC TIG process, you can use a MIG machine to do it if you buy a separate accessory called a spool gun that feeds the aluminum electrode wire from a spool that's positioned at a closer distance to the tip than its usual location inside the welder.
These things can all add extra cost to your initial purchase. By contrast, most flux core and stick welders are basically ready to go right out of the box.
Where Does That Leave Us?
After careful consideration of the factors discussed here, we've selected the Hobart Handler 140 as the Best Home MIG Welder, due to its well-balanced compromise of quality, power, value, low initial investment and useful features for the average home welder.
It runs on 120-volt current, it can use both flux core and MIG processes, providing a path to upgrade your skills and capabilities, and Hobart is famous for long-lasting and durable equipment.
The YesWelder MIG-205DS makes the grade as a great multi-process welder for home use at a great price. Owners are very pleased with its price/performance ratio and with YesWelder's customer service. It's powerful with a high-duty cycle and has a 2T/4T trigger lock.
The Eastwood MIG180 is your bet for a high-value MIG machine for the home shop, especially when you bundle it with the optional spool gun for less than the separate cost. Not only does it compare favorably to the Hobart 210 MVP for home use, but you can also opt for its 120-volt-only version, the MIG 140. Keep your eyes on Eastwood.
For those interested in multiple processes, the Forney Easy Weld 140 MP lets you start on flux core, transfer those skills to stick welding, then offers the upgrade path to MIG and TIG processes in the same box. If you're in need of a good AC TIG welder, the Primeweld TIG225X is the way to go.
Still need help? See our guide: How do I choose a welder?